Erica is back on the blog with some truly luxurious summer pjs made of cotton, silk and linen. Read on to get inspired!
It feels easy when life gets busy to make do with comfortable, well-worn pajamas, but with all the time I've spent at home in the last year, I decided that my loungewear could be updated. Knit fabrics are great for comfortable clothes, and I imagined several opportunities to hack the Marais Knit Dress + Top for warm-weather sleepwear.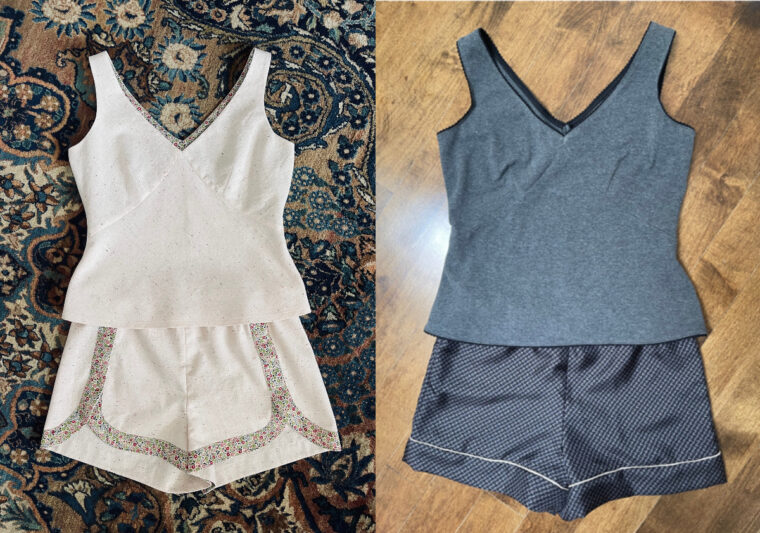 The muslin stage
My first muslin was in my usual size small, in my usual cup size. I decided to finish the edges with picot elastic instead of using the included facings. I chose fabric from my stash that I originally purchased for my children, but they now say they are too old to wear teddy bears on their clothes! The quality of this European fabric is fantastic, though, so I thought it would be perfect for a wearable muslin.

Because I didn't know the exact length of elastic to cut, I re-did the order of construction so that I could attach the elastic directly to the raw edges and then construct the seams.
I first stitched the shoulders and then attached the picot edge elastic to the right sides of the armhole and neckline edges. Then I flipped the elastic to the wrong side and top-stitched the elastic in place. At that point, I could attach the bottom of the dress and finish the hem.
As anticipated, the Marais sizing is consistent with other Liesl + Co patterns, and I have worn and washed this wearable muslin several times already.
Pajama set #1
I made the Marais again as a top in grey Kaufman Laguna, which is a light- to medium-weight cotton-lycra blend knit, with black picot-edge elastic along the edges and hem.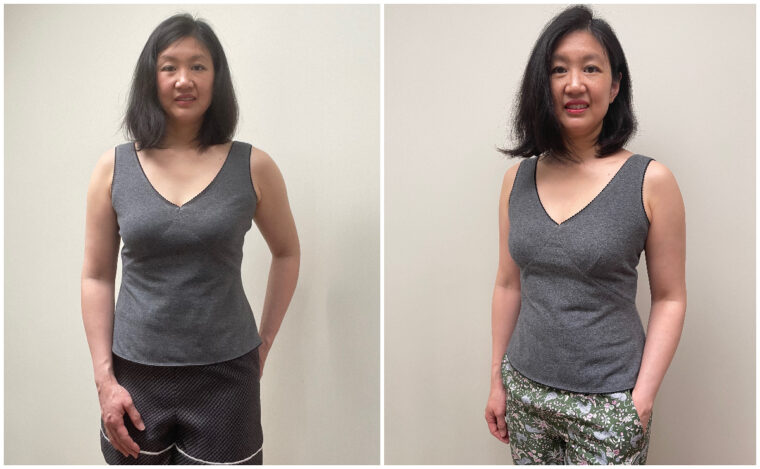 It can easily be worn as a daytime top, but I planned to make it as a pajama set. For the coordinating bottom, I made view C of Lisette B6296 out of 100% silk twill.
This particular fabric was from designer deadstock printed as a panel. Along the edges of the panel was a plain ivory border, which I used to make a flat trim for my shorts hem band. I had just enough of the printed panel left over to cut out a smaller pair of shorts for my teenage daughter, but since I didn't have any more ivory border left, I used pre-made silk piping for her hem band. In hindsight, I prefer her version with thinner piping, but I was glad to be able to experiment with every last scrap of this fabric.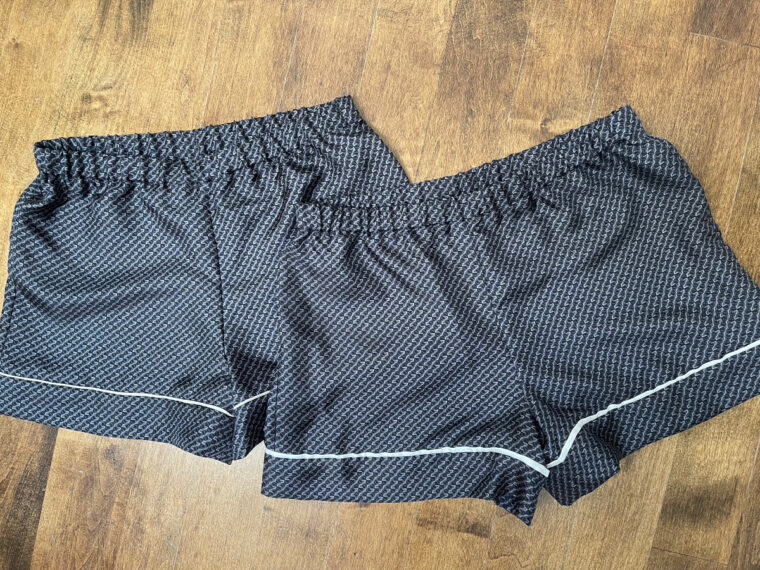 Pajama set #2
For my second set of pajamas, I made the shorts from the new Wynwood Robe + Sleep Shorts pattern. I used Kaufman Essex linen-cotton blend and Liberty of London cotton lawn from my stash. For a matching top, I cut the same woven fabrics on the bias, using the Marais pattern again.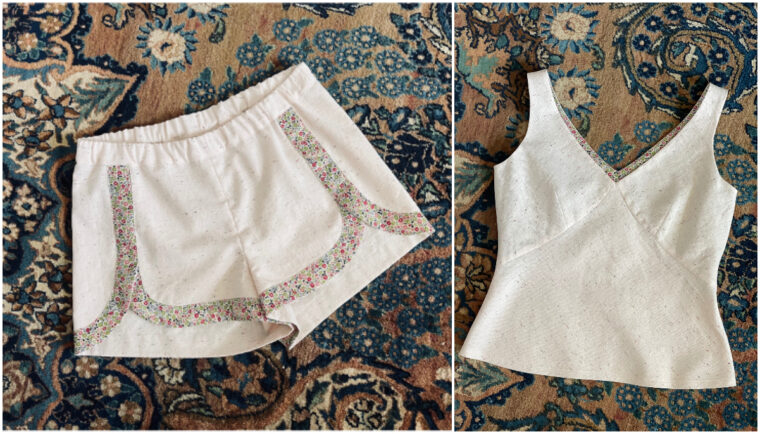 I lined just the top half of the top with the same Liberty lawn, also cut on the bias, for extra softness and a touch of luxury. The Liberty lawn print isn't visible when I wear the top, but I know it is there. I enjoyed the slow process of hand-stitching the bottom hem of the lining exactly at the seam lines of the front and back of the bodice.
Perhaps the most tricky part of the construction for this half-lined top was to work out how to sew the armholes in the most clean way, without visible stitching. Fortunately, I remembered the technique I used to make a sleeveless Rush Hour blouse. Liesl made a video tutorial about it when the Rush Hour pattern was released.
I know there must be many questions about what size to make using woven fabric cut on the bias for a pattern that is designed for stretch knit fabrics. I believe it will vary depending on the weave of your fabric choice and your style preferences.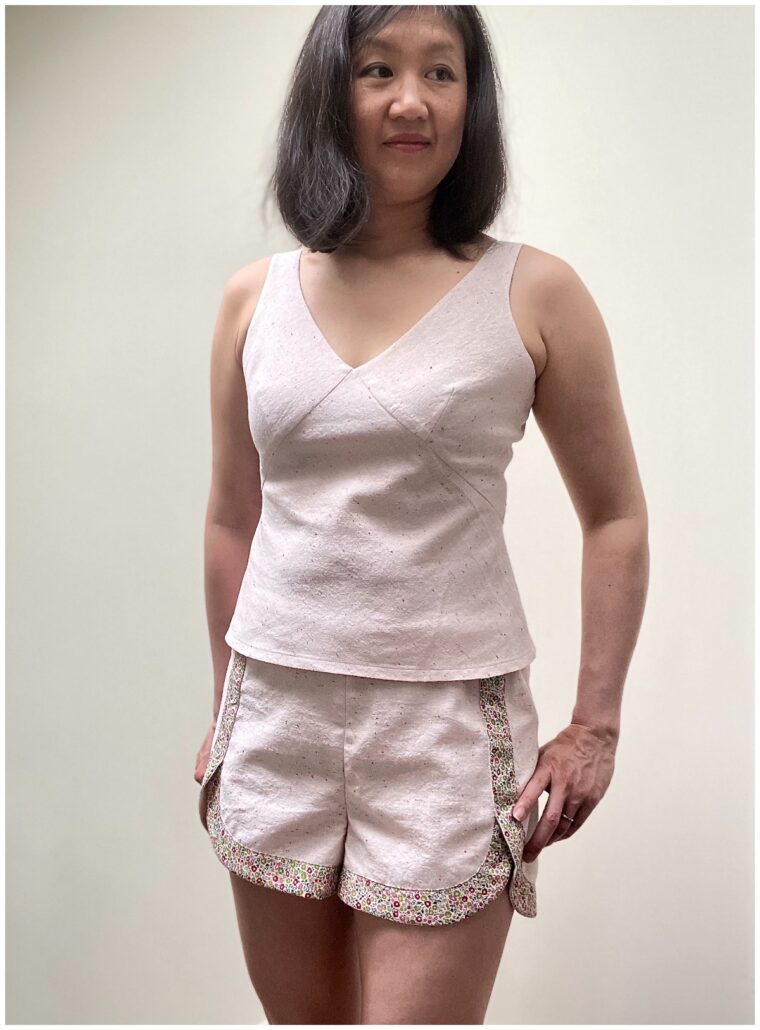 I described using woven fabric cut on the bias with the Easton Cowl-Neck Tee in this blog post, and I personally found that sizing up an entire size in that fabric resulted in a top that was slightly too loose for my taste. I did not size up this time, but made sure to cut all pieces of woven fabric and lining for the tank top on the bias in my usual cup size.
I might try sizing up just the armholes and side seams next time, while keeping the neckline and all other seams in my regular size. As it is, it slips over my head without any problems and is comfortable, but perhaps for loungewear I could have made the top with a little more ease.
All in all, I'm very happy to have refreshed my summer loungewear wardrobe with this combination of Liesl + Co. and Lisette patterns. Next up in my sewing queue is a Wynwood Robe!