Erica's found herself a new tried-and-true (TNT) pattern in the Easton Cowl-Neck Tee. She's sewn it up five times and is here to share her versions with you today.
Last year, Liesl casually polled her Advisors Circle for their favorite neckline in a knit tee. As I recall, just about all the options were mentioned: round crew, v-neck, boatneck and more. I cast my vote for the neckline of one of my favorite ready-to-wear and worn-past-its-prime summer tees: a cowl neck.
Imagine my happiness when I learned that the next pattern releases from Liesl + Co. would include the Easton Cowl-Neck Tee! Although its silhouette is quite different from the hole-ridden tee in my closet, I am ready to declare the Easton my favorite TNT t-shirt pattern. It has all the comfort and ease of a t-shirt but features a more special neckline. The cowl feels like you are wearing a statement necklace built into an easy, wash-and-wear tee. It is no more effort to sew than a basic t-shirt.
I tested the pattern before it was released, and I made two in View B, with short sleeves. The ivory-colored version is a cotton mystery-blend I picked up in a large quantity when I found the remnants of a bolt on clearance at a local big box store. I use this fabric as my muslin for new knit fabric patterns. Even though I can't figure out its exact fiber content, I believe it is mostly cotton, and I like that it has a "space dye" weave which gives this fabric a bit of textural interest beyond its no-nonsense color. This one is size XS, C cup, with the shoulders graded out to size S.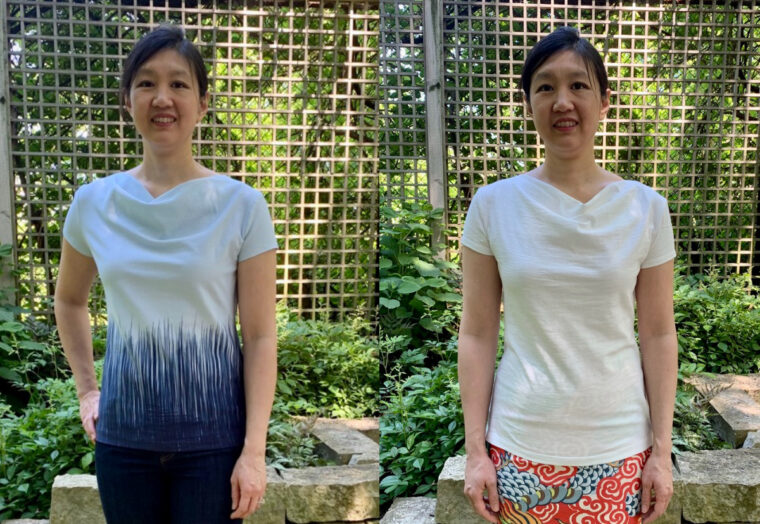 Next, I made a straight size S, C cup, with no alterations to the pattern. I used a knit jersey fabric with a border pattern. On the uncut fabric, blue blades of grass appear to grow from both selvedges of the fabric. I laid the pattern perpendicular to the grain so that the "grass" would be vertical on my body. Before I did this, I made sure that the fabric had 4-way stretch. It would not have worked if the fabric only stretched horizontal to the grain (i.e., 2-way stretch)!
I noticed I was getting a lot of wear from these two tees and was having fun experimenting with various fabrics, so I decided to make a few more long-sleeved versions.
The first was a bold black-and-white graphic print in a cotton jersey. There is a small percentage of elastane in this fabric, so it has wonderful recovery and doesn't stretch out after hours of wear.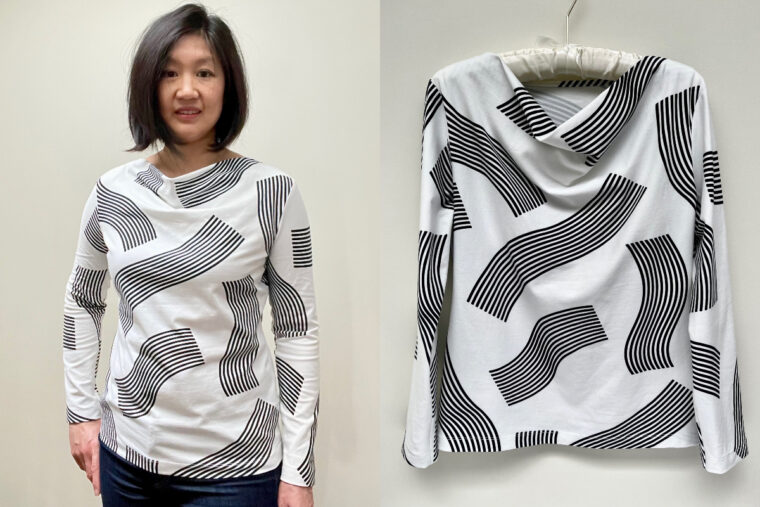 Then, I indulged in some fine merino wool knit in a mushroom color. I thought this would be a good layering piece in the winter, and I was also testing out size M. I have been enjoying the lightweight yet warm quality of this wool knit in the recent colder months.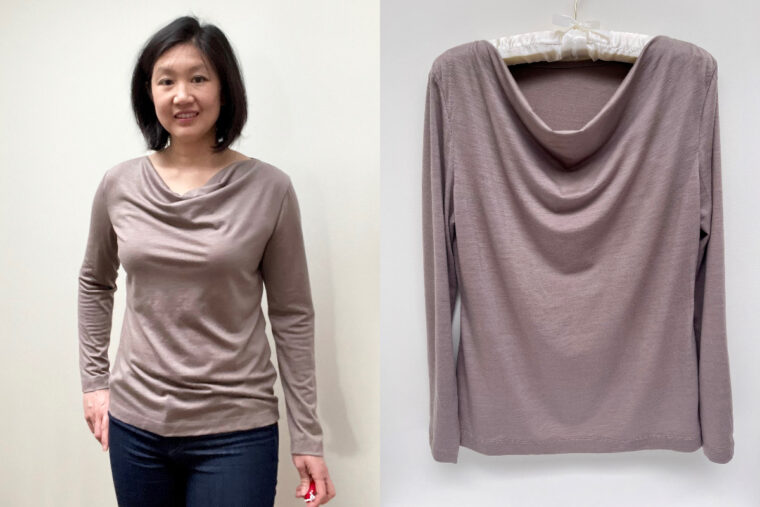 I wanted to try the fit in size M because I had in mind to make a version in a woven fabric. Here is my latest Easton, in size M, using black bamboo jersey for the back and sleeves and a Tencel twill woven fabric cut on the bias for the front. Incorporating a woven fabric can work for the front, as long as it is cut on the bias and has a good amount of drape. In hindsight, I didn't need to sew one size up. The natural stretch of this fabric cut on the bias, as well as the generous stretch of bamboo jersey cut on grain, would have provided enough ease to get the tee on and off and for comfort. Generally, I would advise caution in using woven fabrics for a pattern designed for knits, but it worked in this combination of fabrics!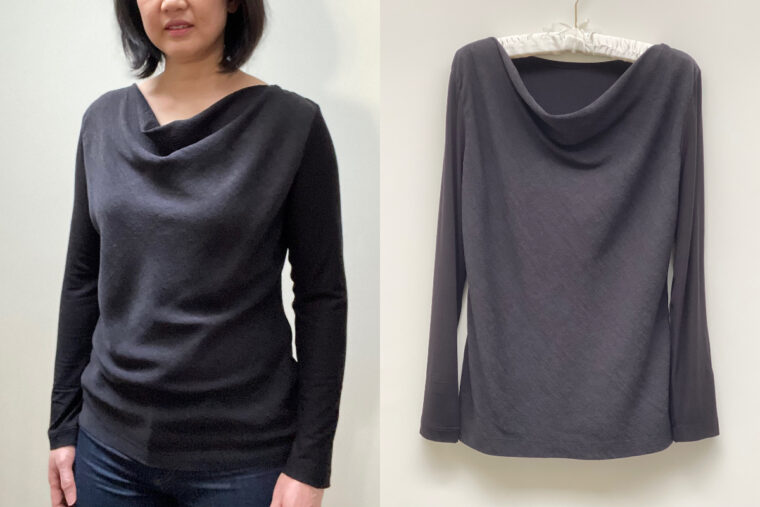 Now that I refreshed my wardrobe with five new shirts, it is safe to say that the Easton Cowl-Neck Tee is my new favorite TNT pattern.