I have sewn a wide variety of fabrics in my years of garment-making, from floaty chiffons to shifty silks and stiff canvas, but I have yet to make myself a proper winter coat.
In recent years, I've been very tempted by several of Liesl's coat patterns, including the Lisette for Butterick B6423 and more recently the Chaval Coat. I have yardage of wool and matching lining in my stash to prove my sincere desire to make a long coat.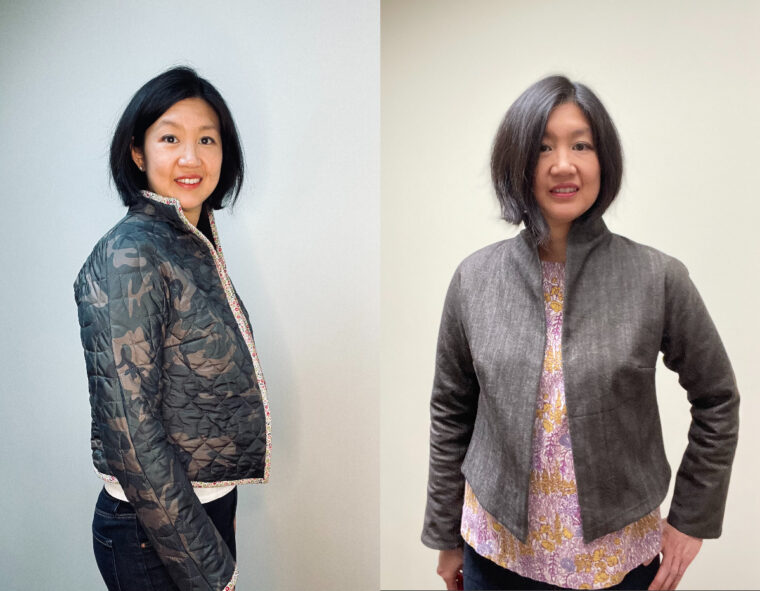 As soon as I saw the release of the Yanaka Jacket, I knew it would help conquer my fear of coat-making. Sure enough, in very quick succession, I made two of them! Here are summaries of my fabric choices, pattern notes and style recommendations.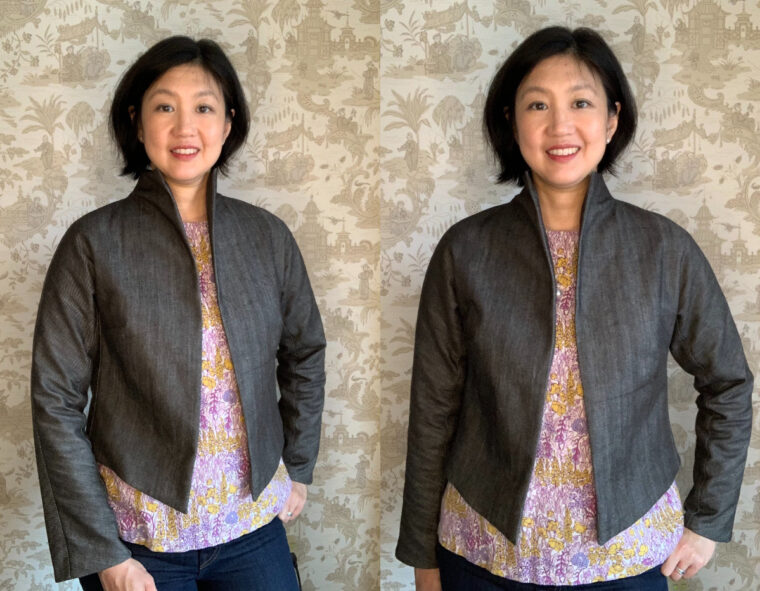 First up, and as a wearable muslin, I made a version from stretch denim. In Liesl + Co., I measure a size 4 in the chest, but I usually need to alter the shoulders for size 6. For this pattern, I decided to make myself a straight size 6 in my usual pattern cup size, since these sleeves do not have the typical shoulder seams where I would normally make that shoulder adjustment. The only alteration I made to the pattern was to shorten the sleeve length by 3/4″.
The pattern is only three pieces plus facings, so it comes together in just a few seams. I added some additional topstitching along the side gussets as a reference to a traditional jean jacket, but I chose a matching color thread, to keep the coat a little more formal. I'm thrilled with the fit and versatility in my wardrobe. From providing a little polish over track pants to a stand-in for a blazer with Hollywood Trousers or an Extra-sharp Pencil Skirt, I'm sure I will wear this denim jacket often.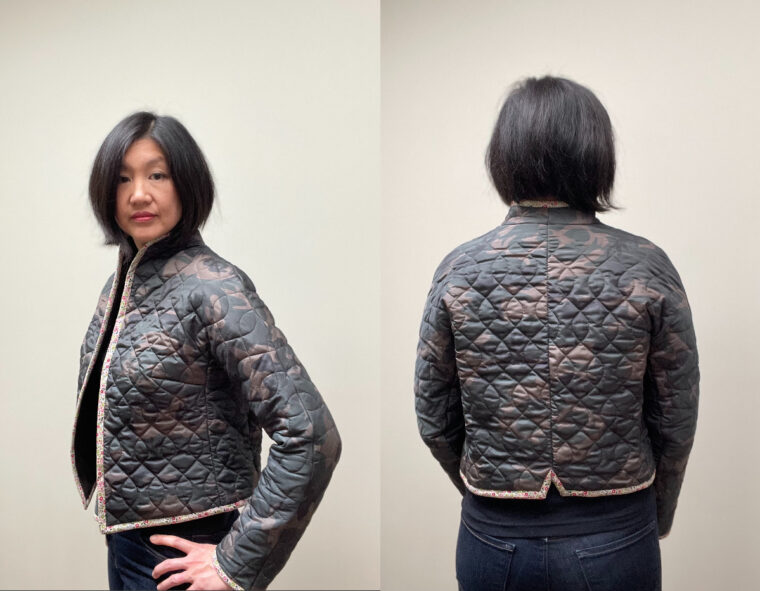 While tackling my fear of coat-making, I am also inching my way towards making my first quilt, and I think this pattern would be a fabulous base for a self-quilted coat. Can you picture it, cozy with wool batting? I can. So, I pulled out some pre-quilted fabric from my stash that I purchased from Miss Matatabi's online shop several years ago. Camouflage is not a print I typically wear, but Liberty of London floral is, so I combined the two.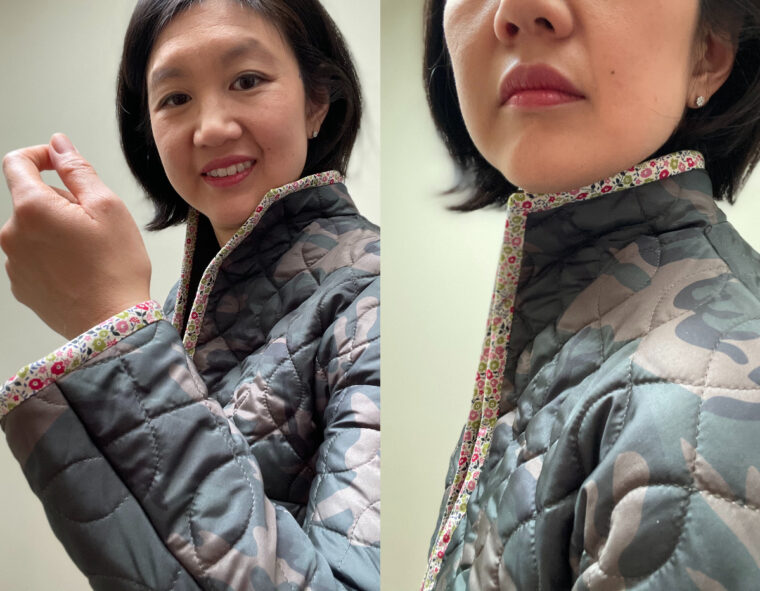 I made my own bias tape from Liberty lawn and eliminated the facings altogether to minimize bulk. I trimmed off the 1/2″ seam allowances along the collar and bodice fronts where the facings would normally attach. I decided to keep the extra 1/2″ of length along the bottom hem.
I enjoyed the slow process of hand-sewing the bias trim with blind stitches. This pre-quilted fabric is backed with a thin layer of fleece, and it feels warm to wear. Because this coat is semi-fitted, it also works well as a mid-layer underneath a heavy parka during my winters in Toronto, Canada. I made the same size in both versions, but I didn't need to shorten the sleeves of the quilted one.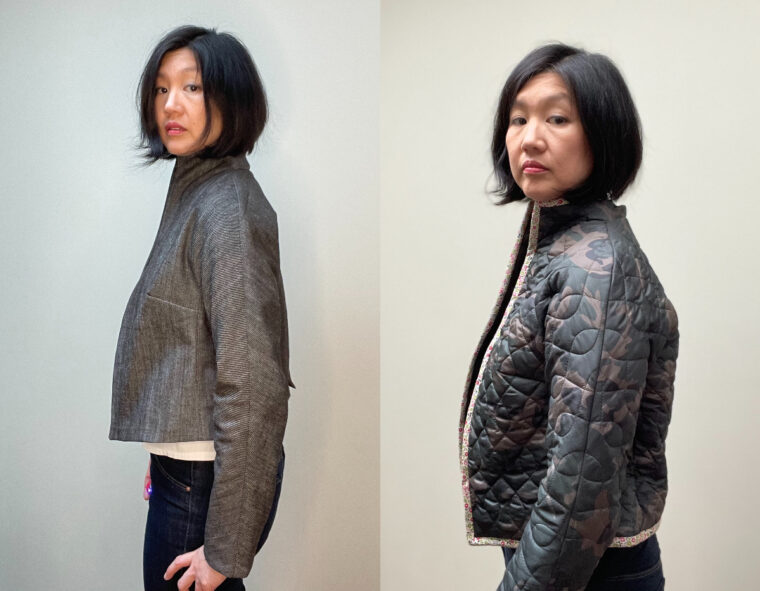 I highly recommend the Yanaka pattern, whether you are looking for a novice, unlined coat pattern or a versatile quick-make. Yanaka is my stepping stone to finally conquering a winter coat pattern.