The holidays are going to be different this year. If you're staying home, you probably won't need fancy party outfits, but it still might feel like a letdown to lounge around in the same old thing you've been wearing every day.
That's where Liesl + Co. comes in.
We've brainstormed some fun, easy and festive fabric/pattern combinations that you can sew in time for the holidays. This is the year to make your staying-at-home clothes just as fun as your going-out clothes!
Psst … if this idea appeals to you, stay tuned for our new Liesl + Co. patterns, coming to you on Monday! Some of them are also perfect for a relaxed holiday at home.
The key to glamming up casual patterns is in the fabric: think velvet and sequins. Here are some simple silhouettes in glitzy material that could be made using Liesl + Co. patterns.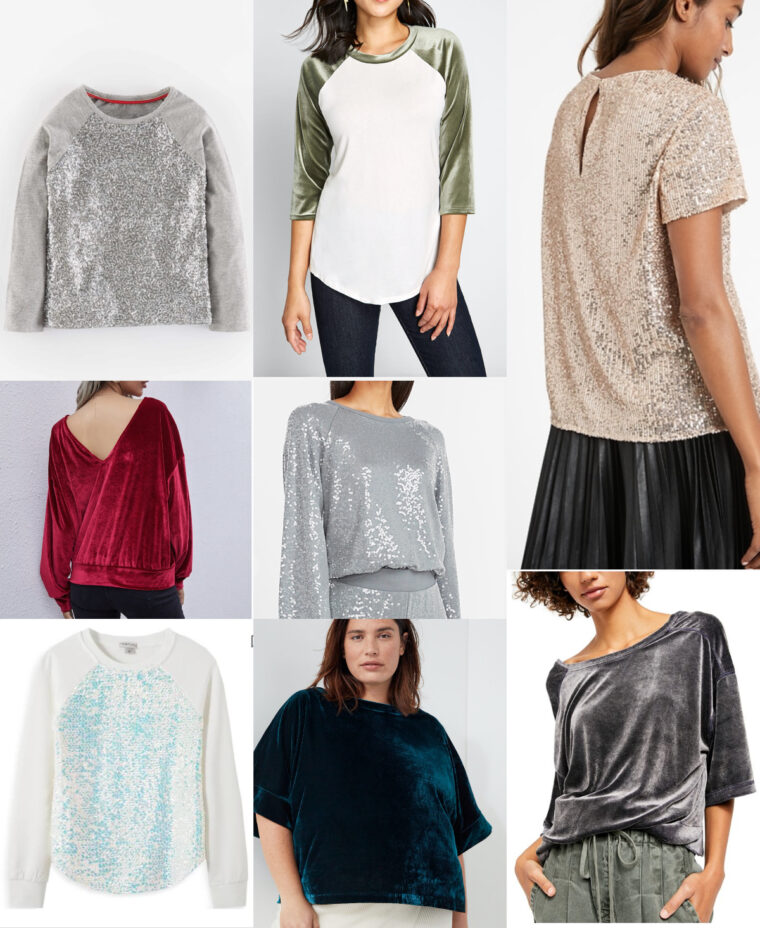 Clockwise from top left:
1: This fun Mini Boden raglan sweatshirt could be made up with the Neighborhood Sweatshirt pattern (or the Field Trip Raglan for your little one!).
2: A baseball tee like this one with stretch velvet accents is another great idea for the Neighborhood Sweatshirt or the Field Trip Raglan.
3, 4 and 5: This boxy silhouette is similar to the Bento Tee. And we even have a tutorial for a keyhole back here. (Garments from Banana Republic, Free People, Anthropologie)
6: Another fun raglan hack here. This one has cuffs too, which would be fun in a contrast fabric. (Habitual)
7: I love the deep V in the back of this Shein top, which could be made using any of our knit top patterns, including the Metro T-Shirt. Just draw the shape you want on the back neckline and finish the whole neckline with a facing instead of a band.
8: Widen the sleeves from the bottom to match this silhouette from Express with any of our knit top patterns. Sew in sequins for glittery loungewear.
We also have some ideas for bottoms.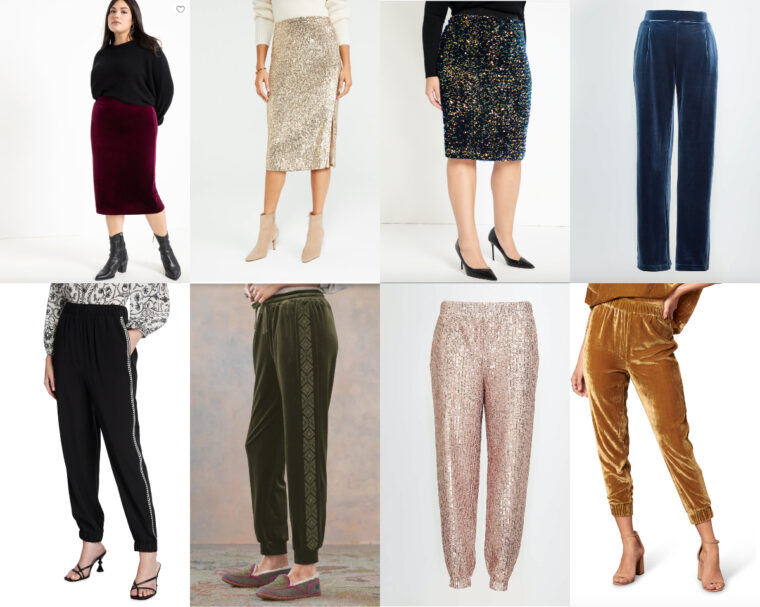 Clockwise from left to right: 1. Eloquii; 2. Ann Taylor; 3. Eloquii; 4. Loft; 5. Cupcakes and Cashmere; 6. Loft; 7. Sundance Catalog; 8. Loft.
I love these ideas for the Montauk Trousers and the Kensington Knit Skirt. The Montauk pattern doesn't have an elasticized hem, but that's an easy adjustment. Stretch velvet lounge pants sound pretty amazing to me, actually!
What about you? What are your holiday plans?
Happy Thanksgiving!