Mire is back from the Advisors Circle to show you how she mixed and matched Liesl + Co. patterns to sew pajamas. The great thing about using patterns that aren't specifically for pajamas, is that you get more bang for your buck with the patterns you buy. The Metro T-Shirt and Montauk Trousers are perfect examples of everyday patterns that make a perfect pair of pjs. 
I needed a few pairs of pajamas, but I didn't have any motivation to sew pajamas. I have often admired many beautiful button-up pajama tops, but I like to wear plain t-shirts with pajama bottoms.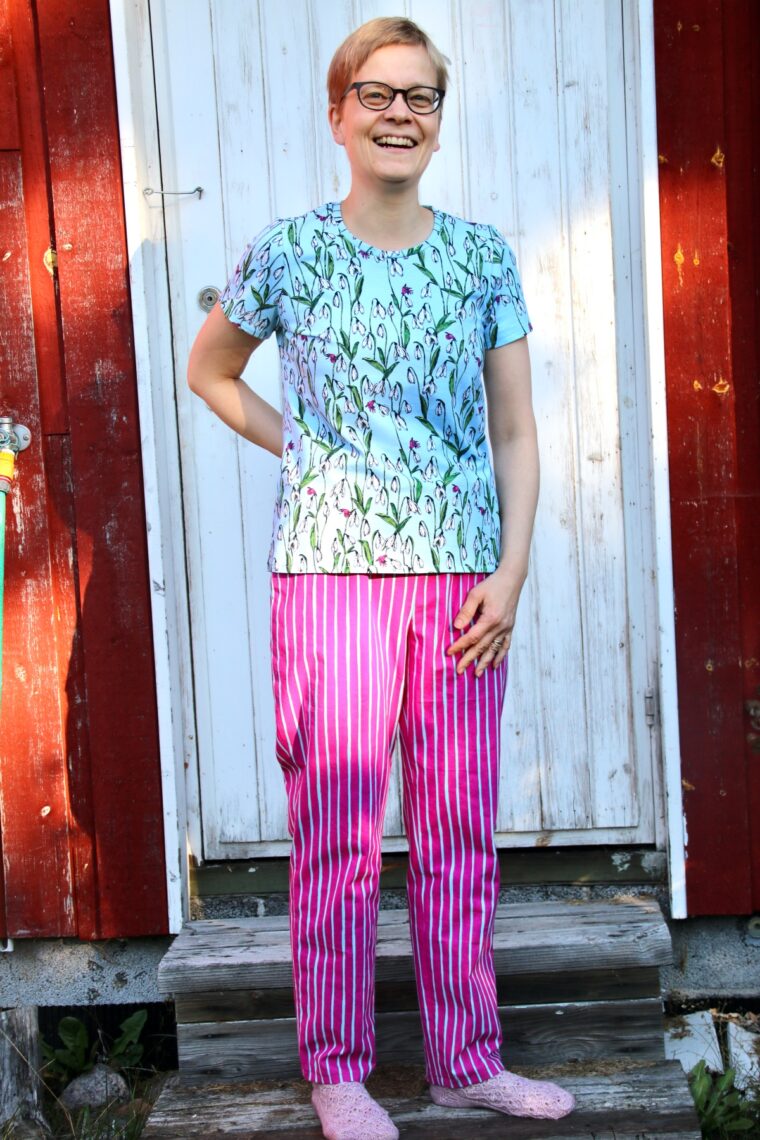 I didn't have any good patterns to sew pajamas, so instead of making a pair, I sewed something else.
Later, I read reviews of Montauk Trousers. Many people were calling them their "secret pajamas." I realized I could sew pajama bottoms using the Montauk Trousers pattern.
I had finally found my motivation.
Sew your own pajamas by mixing and matching patterns
I have sewn a lots of jersey t-shirts and I knew that the Metro T-shirt would make a great pajama top. I used single jersey for the top.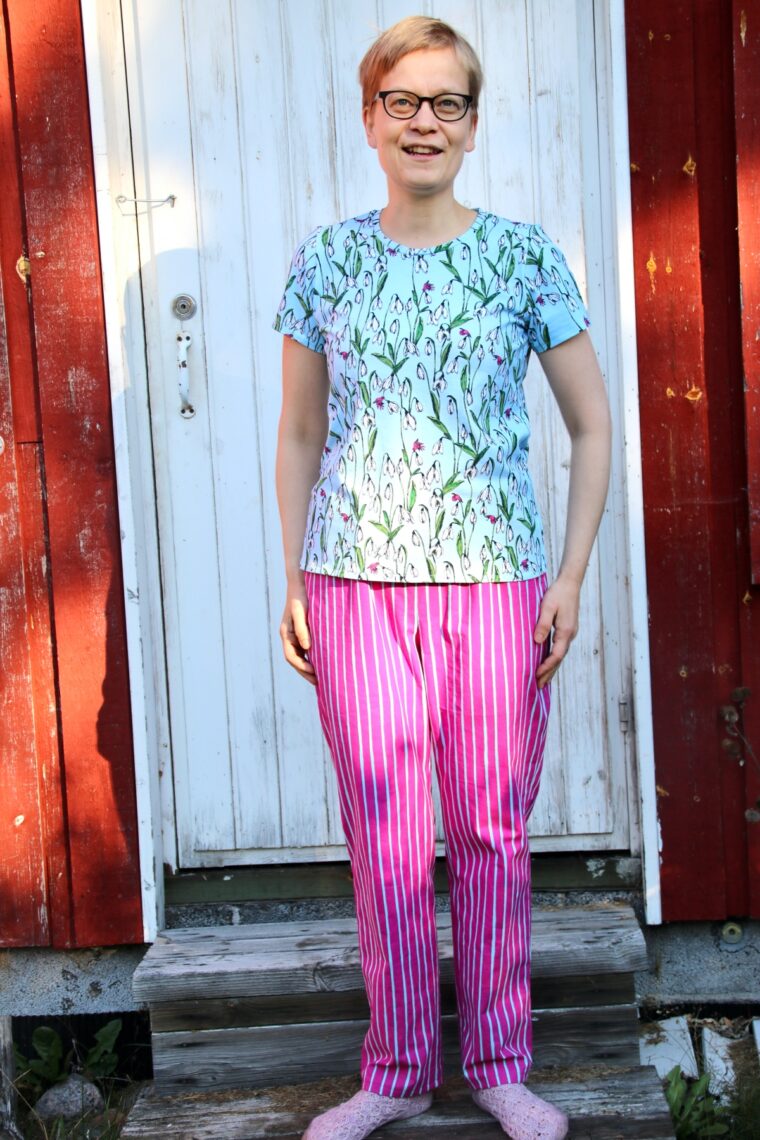 This time I didn't have enough fabric for long sleeves, but next time I will make a long-sleeved t-shirt. I usually make a size S, but because I wanted my pajama top to be loose-fitting, I sewed a size M. I didn't make any pattern adjustments.
I used a quilting cotton for my pajama bottoms. I didn't make a matching set because I wanted to use fabrics from my stash. For the pajama pants I decided to make a size 6. (I am a size 6
waist and a size 4 hip.) I also did my standard low seat adjustment for the pants: I scooped the seat curve a little bit to get a better fit.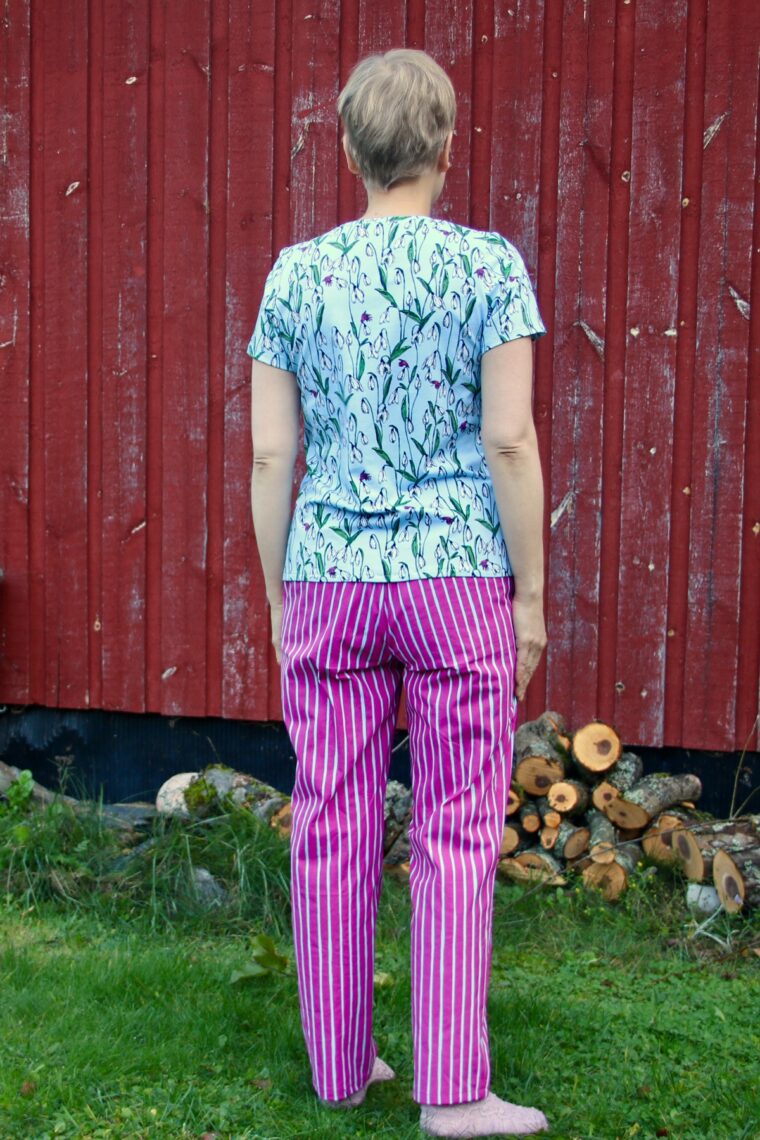 My other modifications were very simple. I decided to sew pants without pockets and also omitted the drawstring. I just cut the waistband and the back and front legs from my fabric. Then I just sewed the side seams and the crotch seam and added the waistband as instructed.
I am very pleased with the result. The fit is relaxed and comfortable. This pair of pajamas is just what I needed.
Looks like they're just what we all need! What about you? Do you like to sew your own pajamas?