Camelia made a beautiful floral Belgravia Knit Dress with a 3/4-length sleeve modification. A member of our Advisors Circle, Camelia has made a number of gorgeous pieces from Liesl + Co. patterns, and this dress is no exception. Here she is to talk about it.
The Belgravia Knit Dress was love at first sight! I love this kind of dress, so the pattern went straight to the top of my "to sew" list.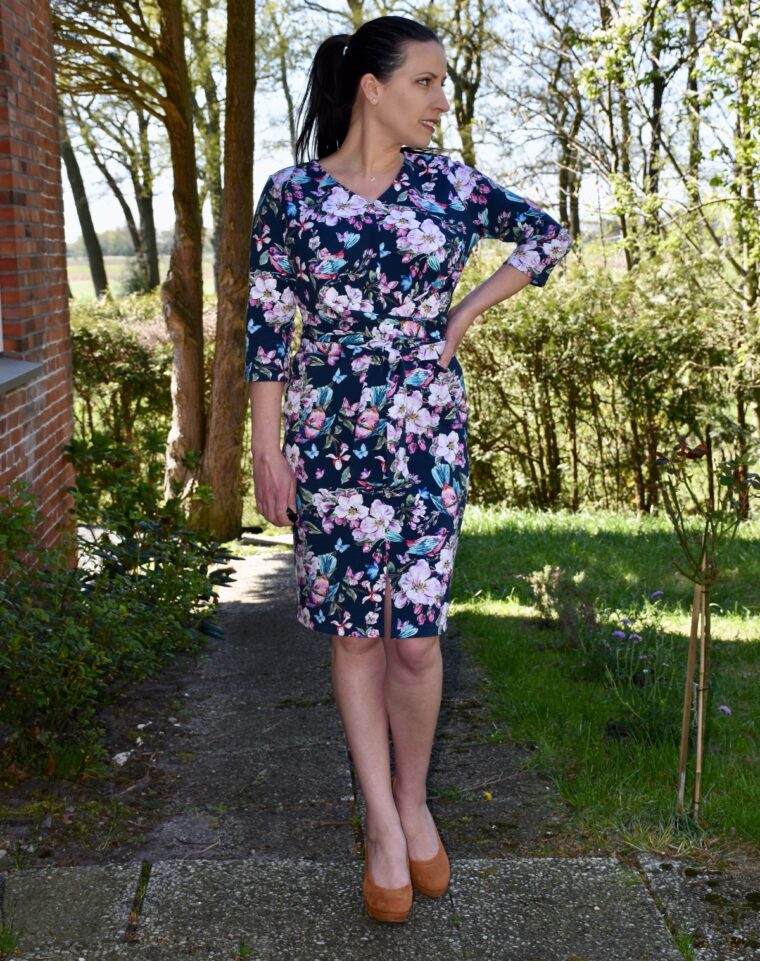 As Liesl said in her pattern release post, there is some extra room at the bust area. I know which standard alterations I need to make, so I skipped the test garment (but I don't recommend that!). I started with a size 10 for shoulder and waist, 12 for the bust, and an 8 for the hips for my measurements. My standard pattern changes were a 1/2″ narrow shoulder adjustment and a 3/4″ swayback adjustment.
Also, I chose to make the sleeves 3/4 length.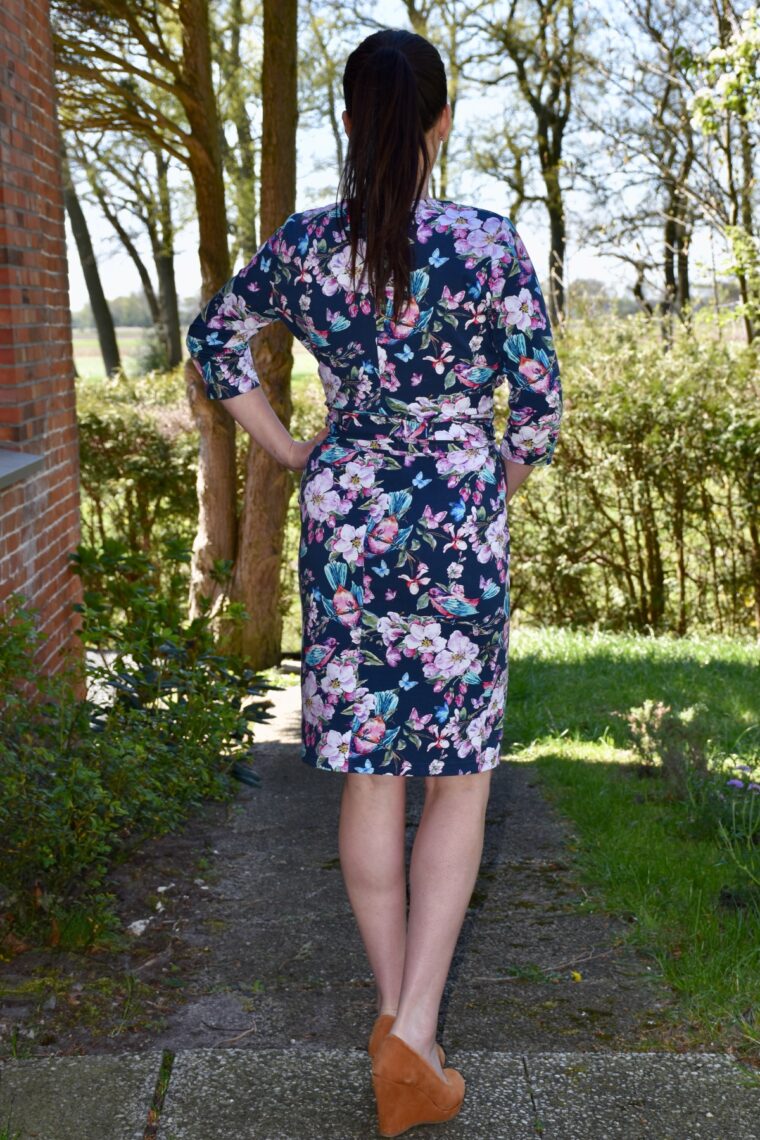 The fabric is a 6.5 oz (220 gsm) cotton jersey, perfect for this dress. I used my rotary cutter to cut my pieces out. The only challenging part was that, as is typical for this kind of jersey, the fabric curled a bit at the edges. Also, I used a bit more fabric than normal because, even if I didn't do any perfect matching, I tried to avoid getting birds or obvious big flowers in "strategic" places.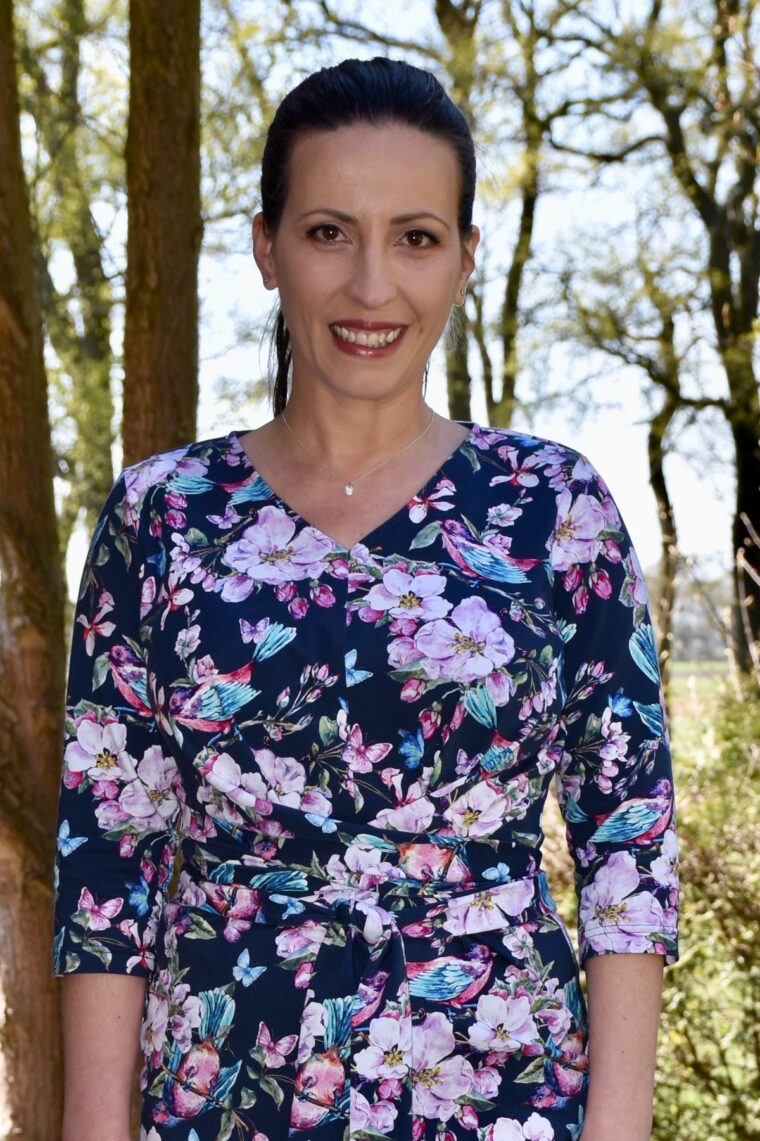 Most of the seams are sewn with the serger, but I sewed the front seam with the sewing machine.
One small change was to use a strip of fabric to bind the neckline instead of turning and stitching in place.
The hem was done with my coverstitch machine, which behaved very well with this fabric.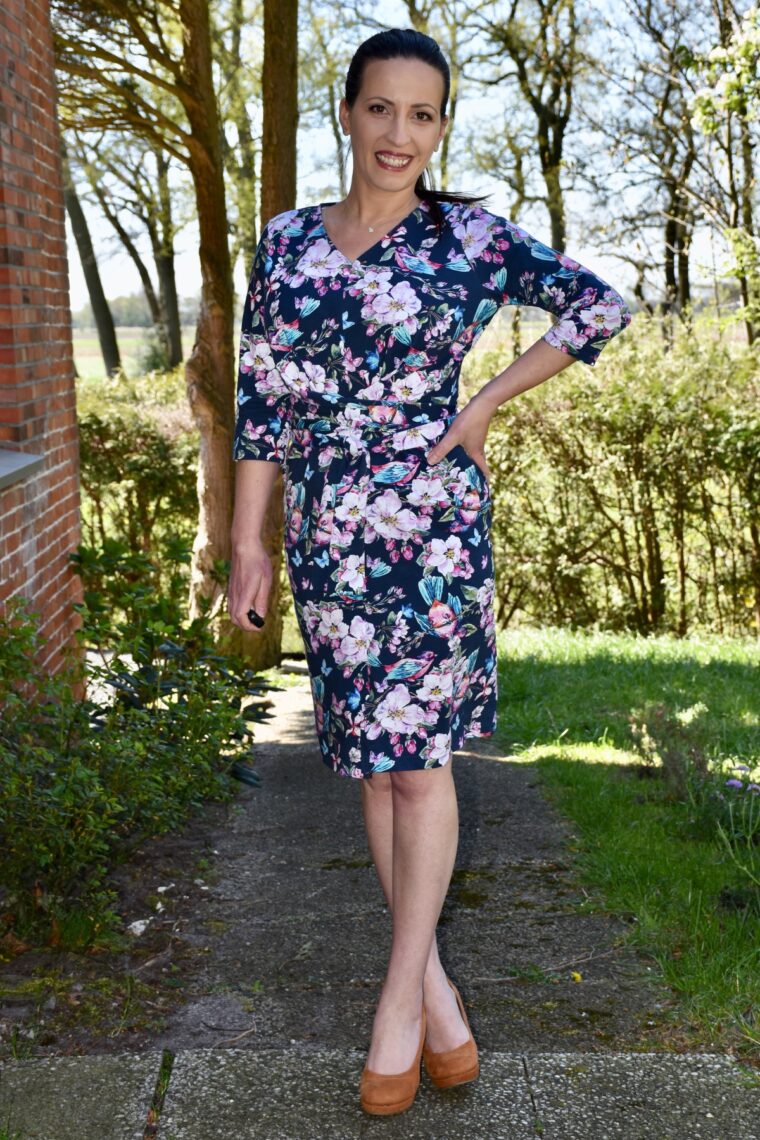 This pattern is gorgeous, I love the finished dress and I feel kind of sorry that the front wrap/ties details are not so visible, but now that I have the pattern fitted, I can sew as many as I want.
What a beautiful dress! Have you sewn the Belgravia Knit Dress pattern yet? If you have, don't forget to enter our spring pattern challenge! You can enter by sewing this pattern, our new Montauk Trousers pattern or the new Kensington Knit Skirt pattern. Also, we're donating a portion of this week's pattern sales to charity, so now is a great time to pick up the pattern you've had your eye on!