I've got a surprise for you today. It's a new pattern!
I'm pleased to introduce you to the first of our three new patterns for spring. This one seems especially appropriate for many of us right now. Introducing the Montauk Trousers.
The idea for this pattern is simple: pull-on trousers with an elastic waist and (optional) drawstring. Oh, and lots of pockets. The trousers are cut so that they are comfortable, but they are also fitted enough that they can go to work if sewn in the appropriate fabric. Call them your secret pajamas if you want. And goodness knows most of us can use something that looks a little nicer than our pajamas or sweatpants while we're stuck at home these days!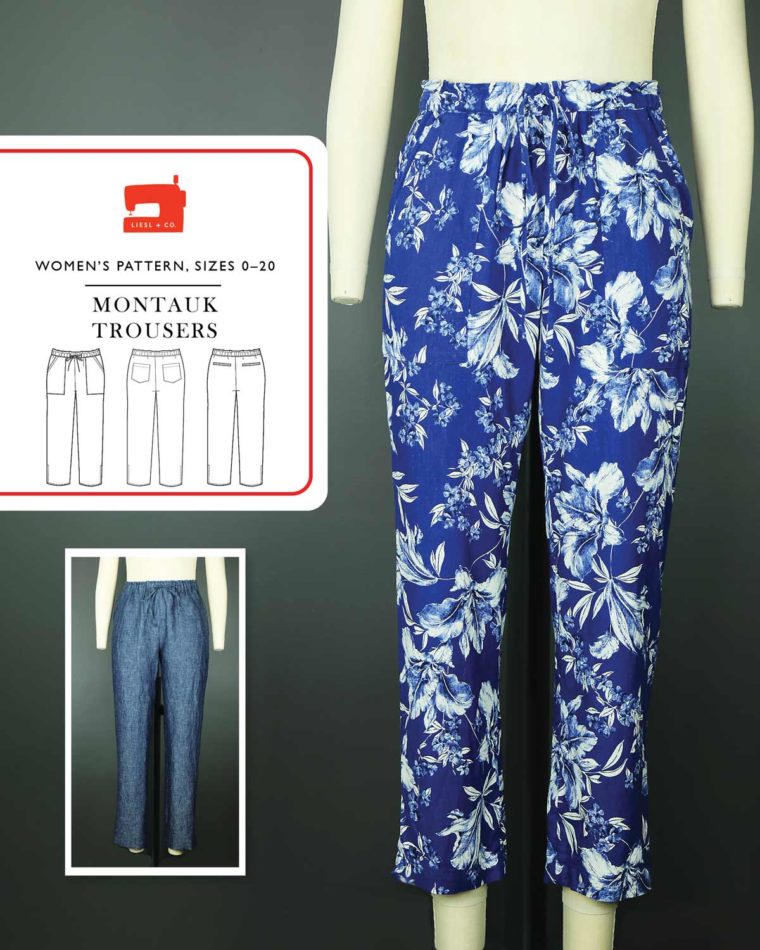 Here are the details. The pattern comes with two views. Both include angled front pockets, an elastic and drawstring waistband that I mentioned, and a small vent at the hem. Make them as cropped or as long as you like with the lengthen/shorten line on the pattern. At the back, you can include the classic patch pockets (View A) or the fancier welt pockets (View B), which elevate the style a little bit in my opinion.
So I do have to admit that I'm a little disappointed with one thing. I sewed all these samples for our models, and we were scheduled for a photo shoot. But then Madrid locked down because of the coronavirus, and we weren't able to get our models in to do photos. But who says you can't make the most of a difficult situation? (Heaven knows, this is a super minor problem in the big scheme of things right now!) We're fortunate that our models are close enough in size that the clothing fit my dress form for the photos, and I was able to put them on and model them for you as well. They weren't made for me, but I think they're close enough to give you an idea for how they should fit.
Want to see the trousers in action? Here's a little video introduction we made for this pattern.
(Ack, I just realized that I said waistband instead of ankle regarding the elastic in the third trouser. Sorry about that.)
I really love this pattern in chambray. This is a linen chambray that I'm pretty sure came from the folks at Robert Kaufman. Very lightweight and breezy, and they'll go with virtually everything in your summer wardrobe, I'm fairly certain.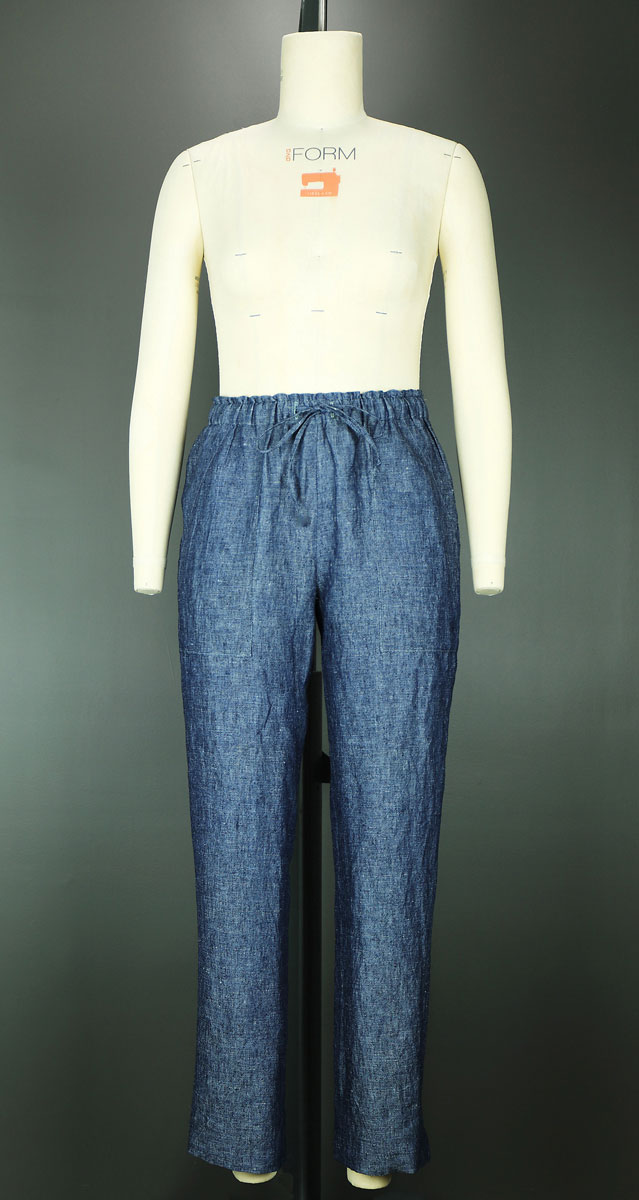 I've cut these trousers to be more of what I think of as a European fit–by which I mean that the back rise is angled much like our Hollywood Trousers to give you a good fit. (We'll also do a fit workshop on these to help you make any necessary adjustments to personalize the fit.)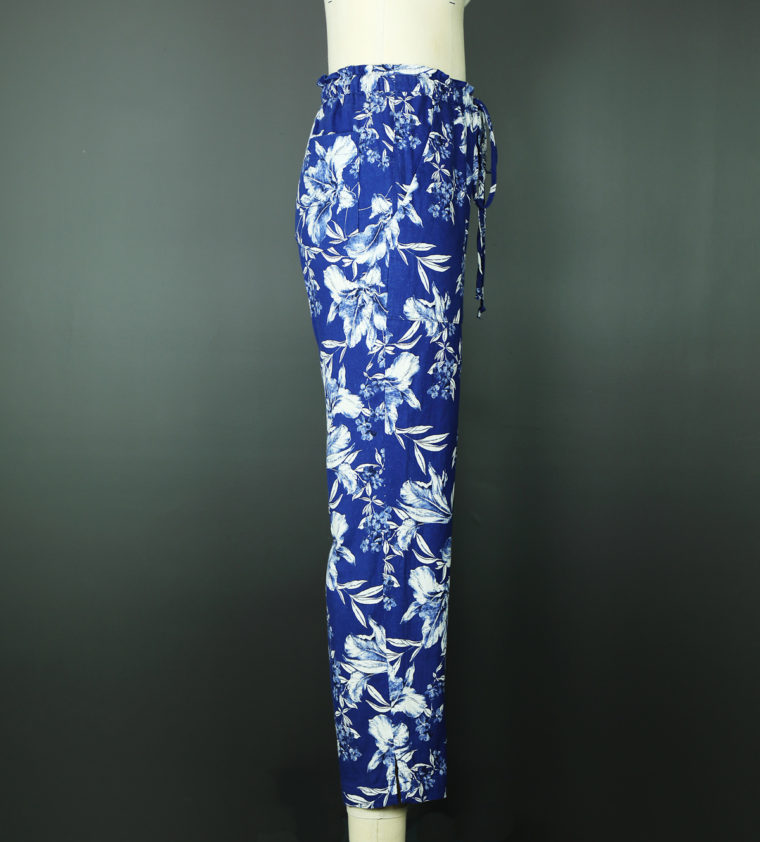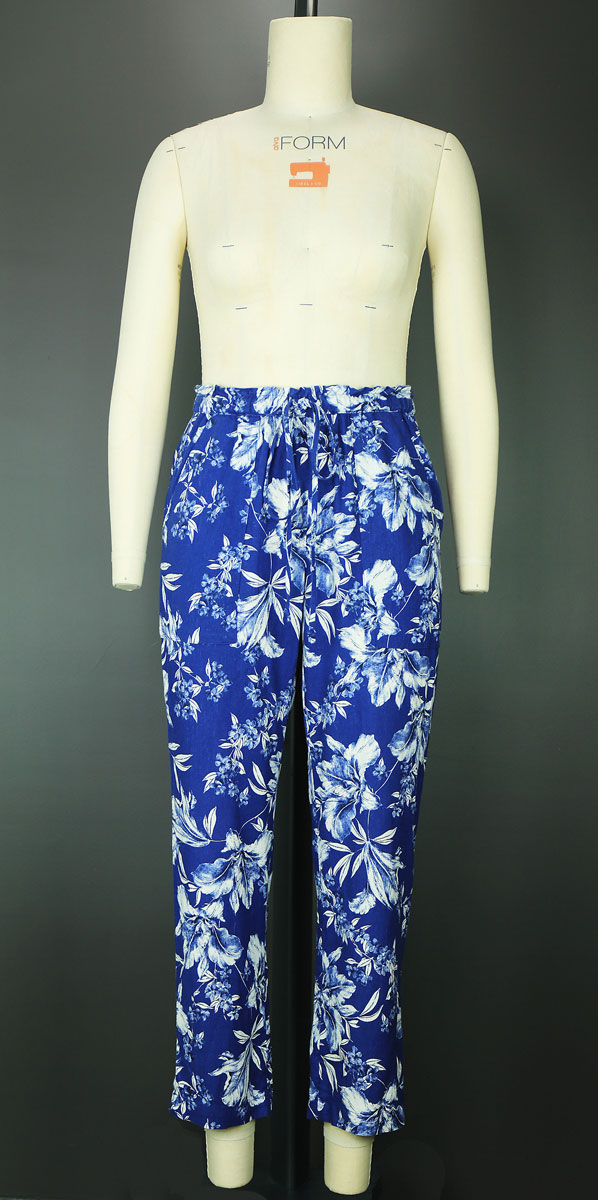 Can you see the back patch pockets on this pair? I think printed trousers like these will be great for the summer, especially for the beach. I made these with a rayon/linen blend that's really drapey and a slightly open weave so they'll be cool on really hot summer days.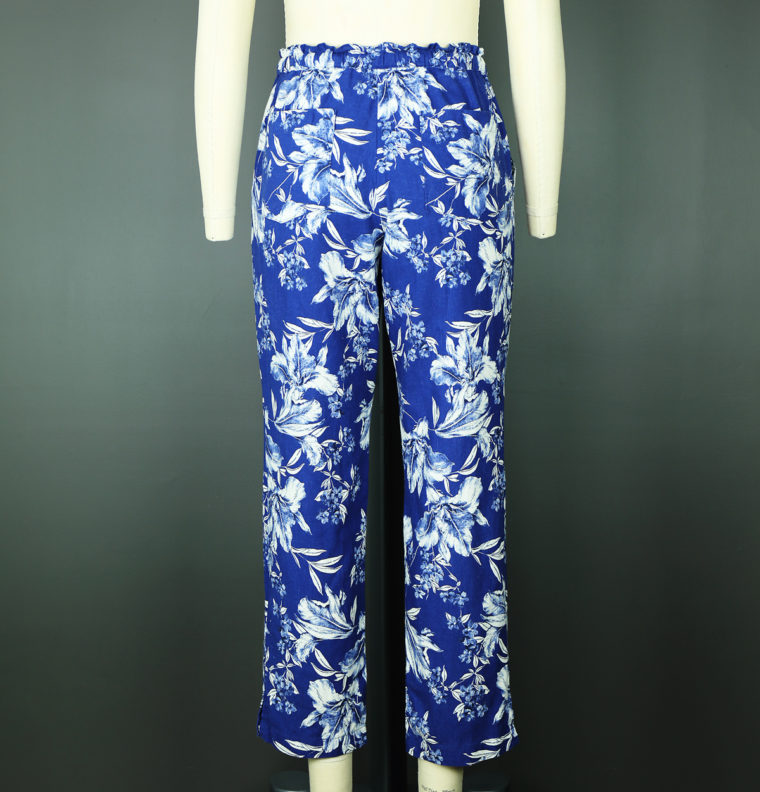 And just for fun, I added elastic to the ankle on this linen pair, sort of like dressy sweatpants.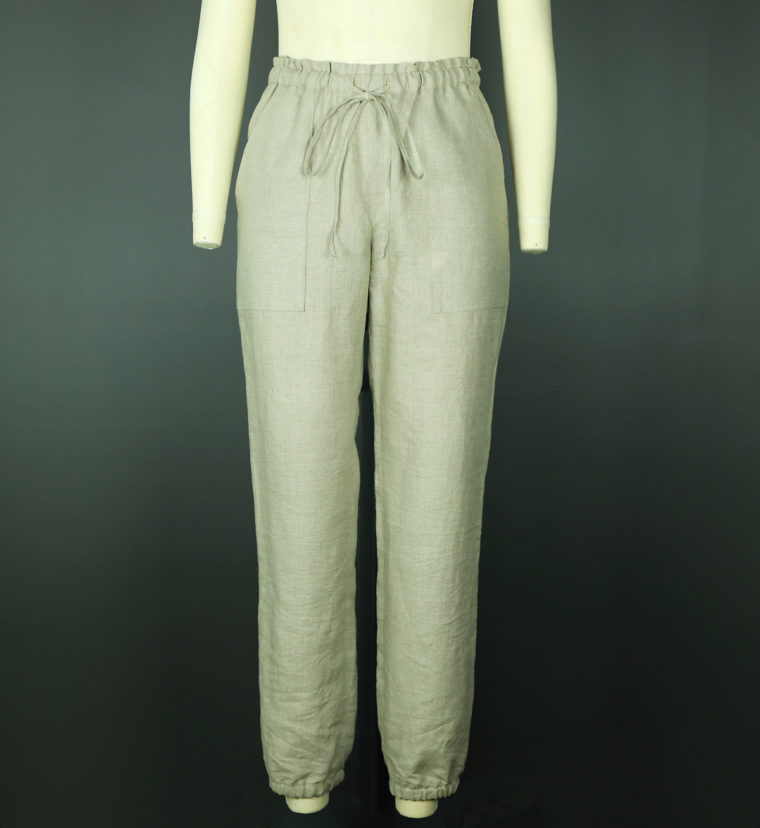 Here's a close-up of the waistband and pockets so you can see them better.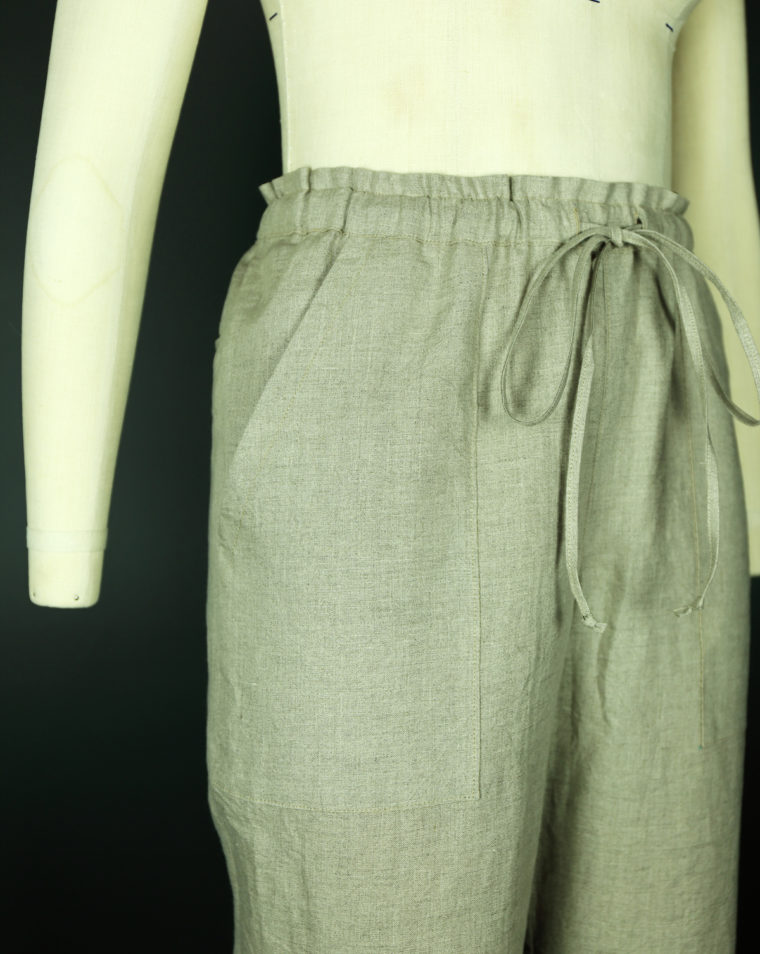 Here is a little peek at that vent at the ankle hem.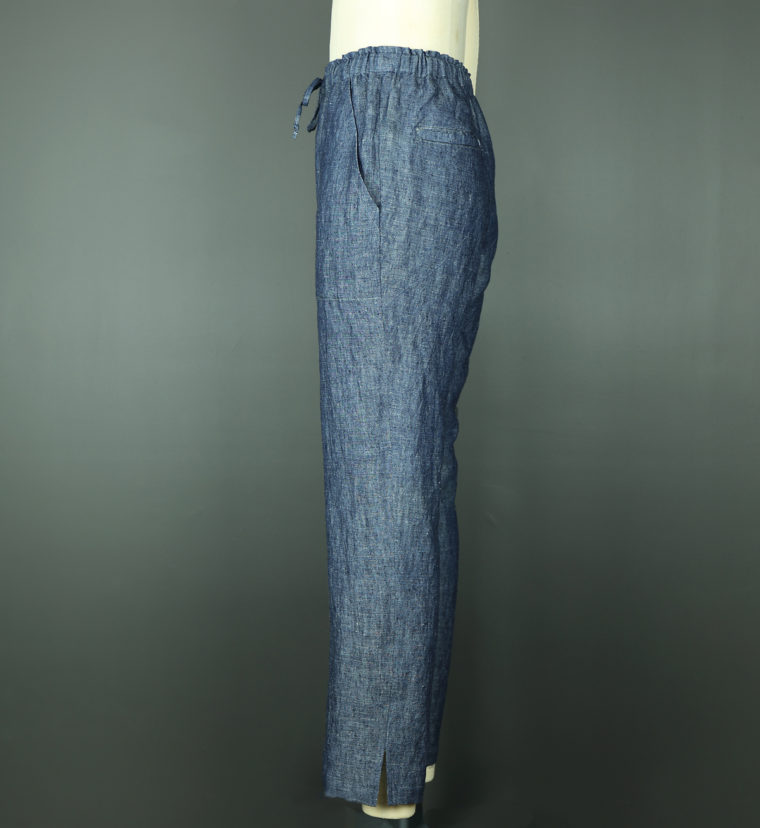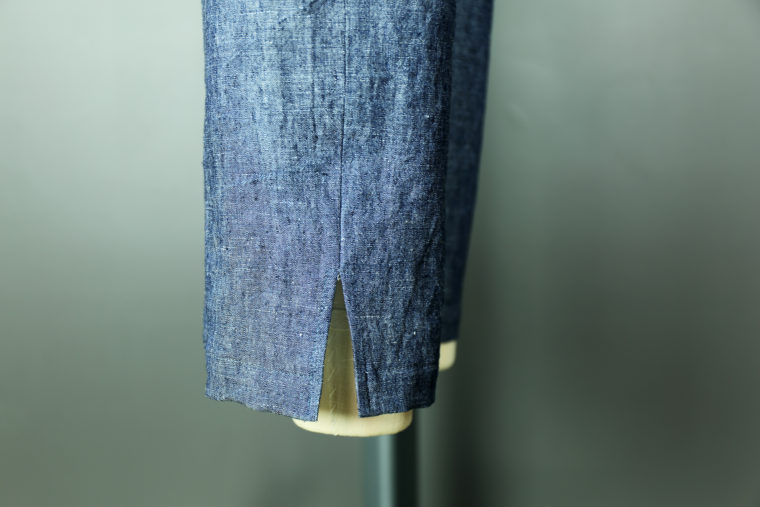 And those welt pockets on the back.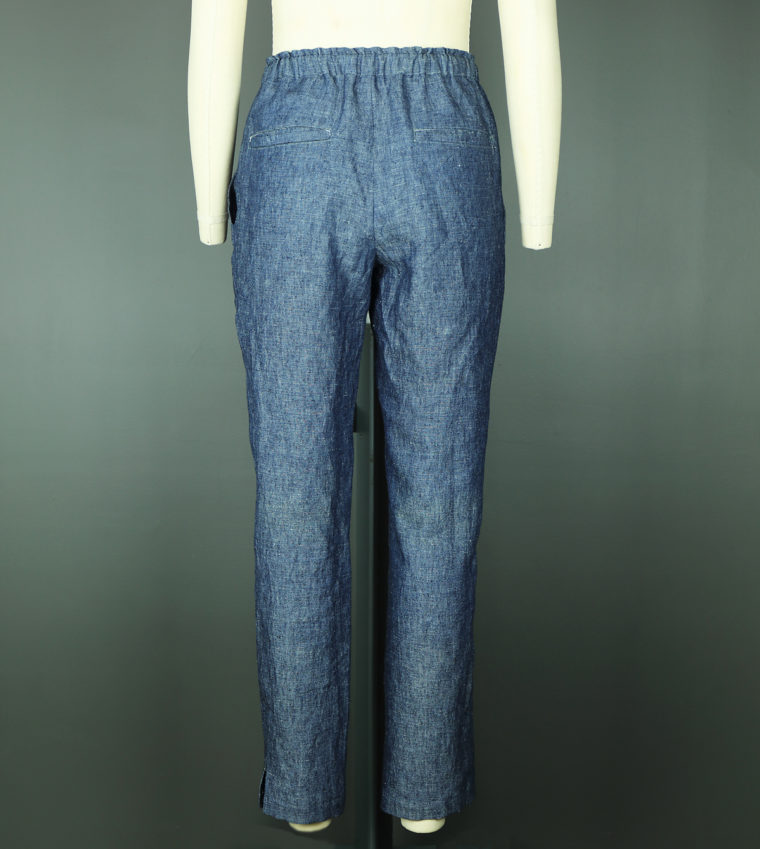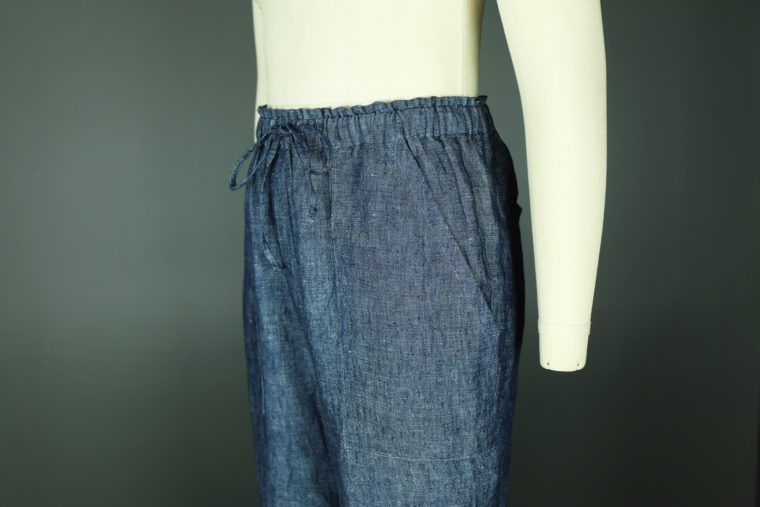 I'll be back tomorrow with some fabric and styling ideas to give you (I hope!) some more inspiration for what you can do with this new pattern.
Due to the situation with the coronavirus, we aren't able to print paper patterns right now. We would like to print them, and we may at some point in the future as soon as it's feasible. But for now that means that this pattern, and the two others we'll release over the next couple weeks, will be available only in digital format for the time being. I know many of you prefer paper patterns, and we hope that eventually we'll be able to print these, but for the foreseeable future they are available only in digital format. I can't promise paper anytime in the near future, sadly. So if you've traditionally used paper patterns but are interested in this style, this might be a good time to give a PDF pattern a try!
You can order your own Montauk Trousers sewing pattern from our website in digital format. I can't wait to see what you make from this new pattern. Be sure to show us by uploading your photos to the Liesl + Co. Flickr group and tagging them #montauktrousers and #lieslandco on Instagram.
On the following two Mondays, I'll introduce you to our other two new patterns for this season. And I'm particularly excited to tell you that both of the other new patterns will be available in our extended 16-30 size range!