What do you prefer to wear in the summer? Sometimes (or often) a simple, not-too-fitted pull-on dress is the most comfortable and the coolest option. I'm a fan of our Cinema Dress, especially. But I was thinking that you might like an even simpler style, just a pull-on-and-go type of dress without a lot of details. But of course it has to have pockets, right?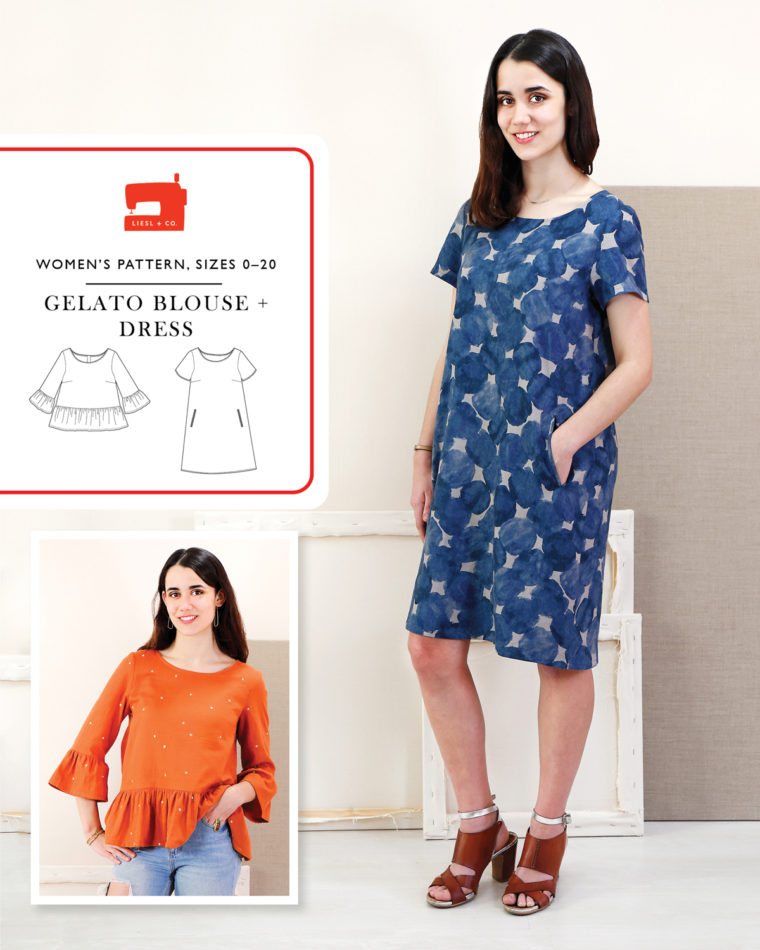 Enter our Gelato Dress. It's a gentle A-line style, not too flared and not too straight. Fitted through the shoulders so it looks neat and elegant, and then with just enough room through the body to keep you comfortable on the hottest days. The sweet angled double-welt pockets at the front are fun to sew and give you a place to stash your hands, keys, etc.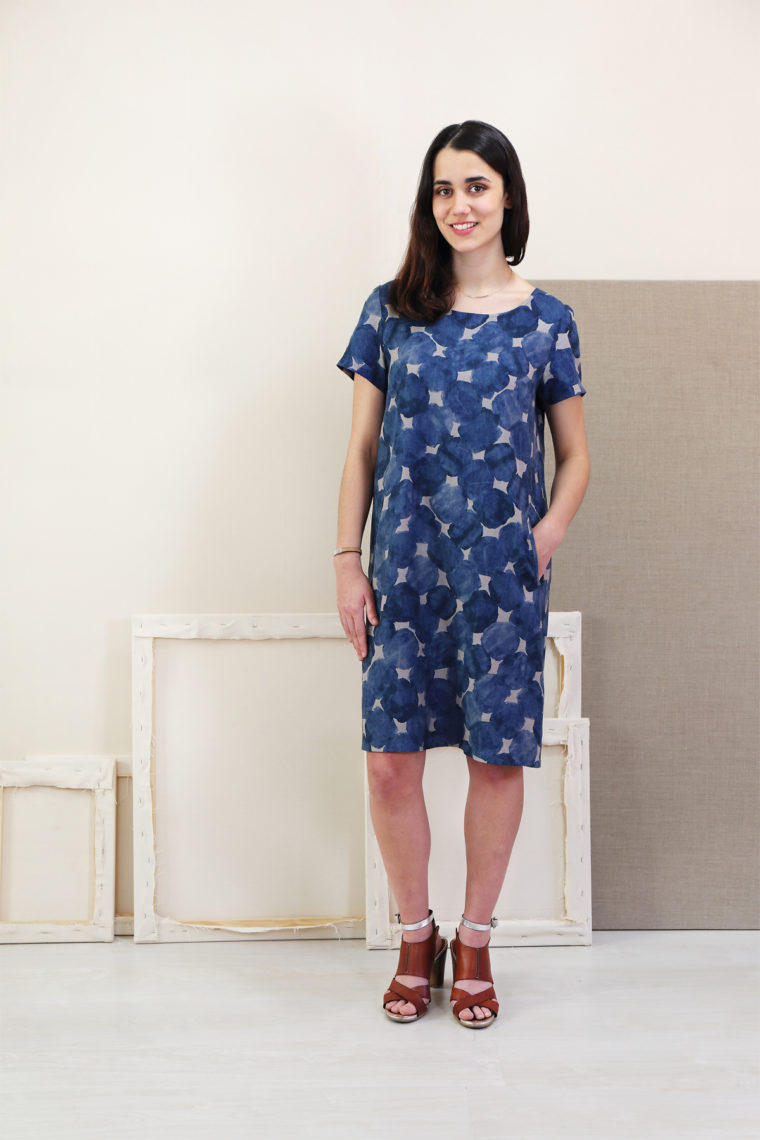 But because more is always better, the Gelato also makes a great little peplum blouse!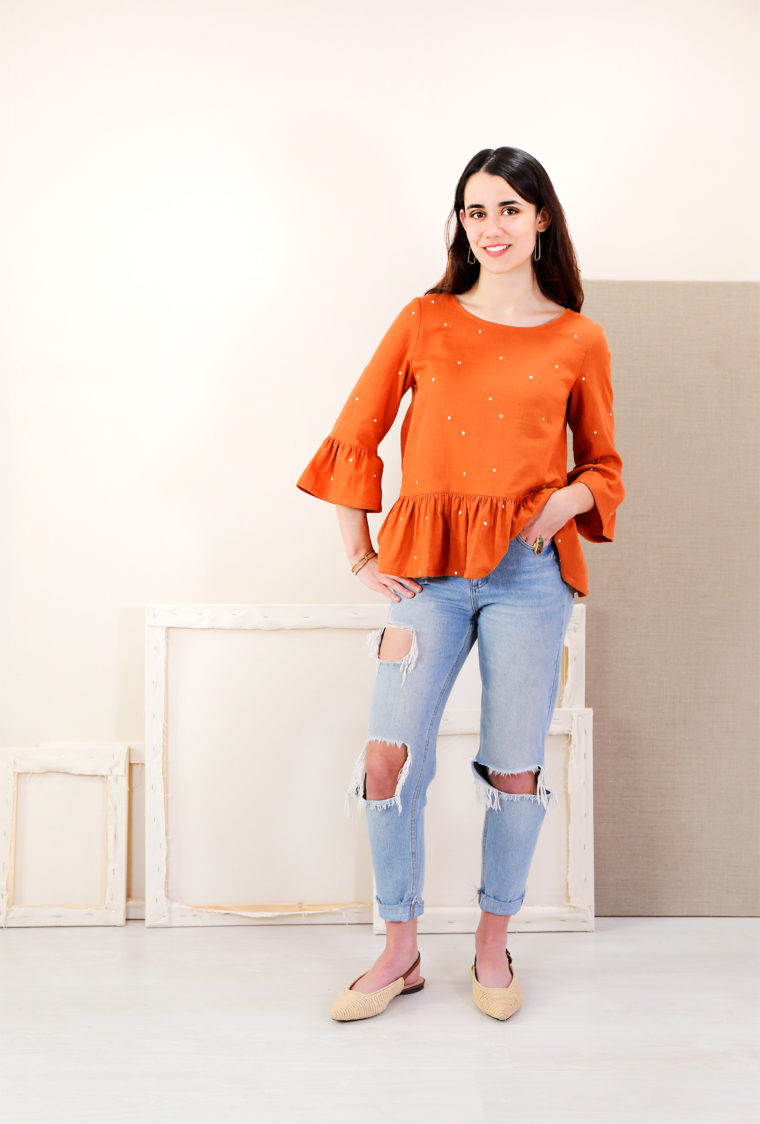 I've given you two sleeve options here: a simple short sleeve and a three-quarter sleeve with a ruffle for a little flare. The sleeves are interchangeable, of course. And while the Gelato Dress has a simple center-back seam (for more efficient fabric usage), the Gelato Blouse has a button-up back. Not because you need to fasten or unfasten the buttons, however. They're just a pretty design detail which I think is a little subtle-y sexy.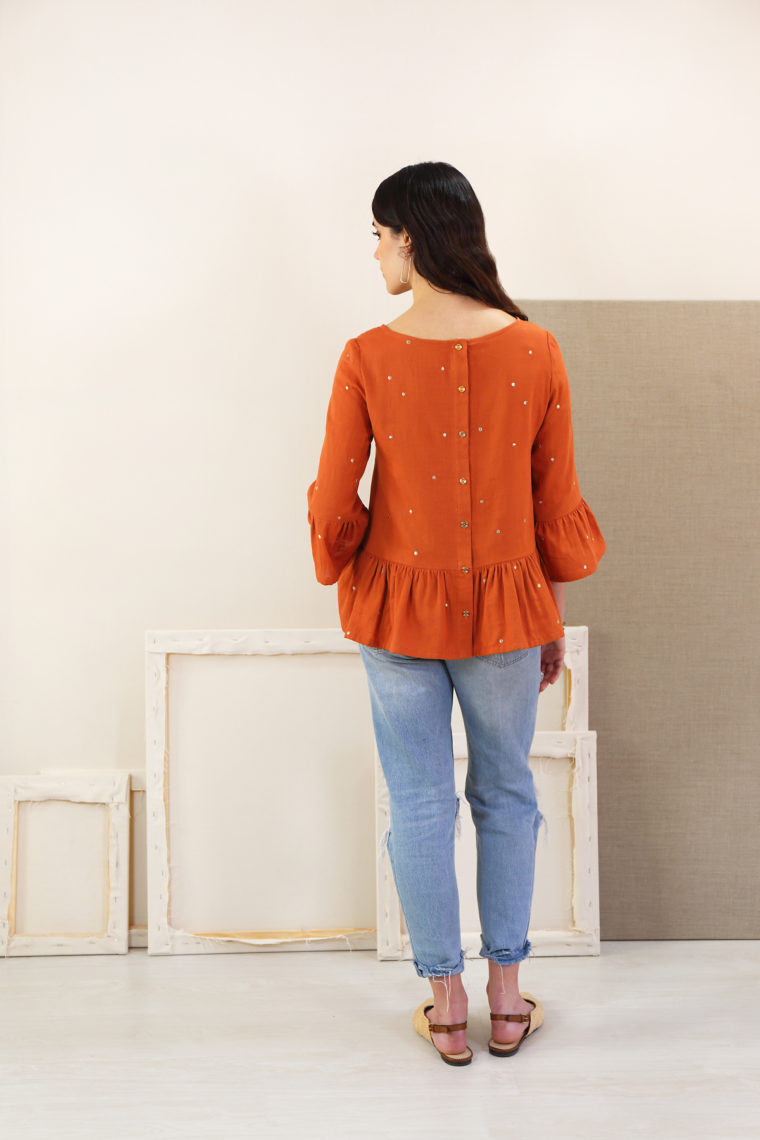 But you can easily remove them and cut the blouse with the center-back seam as well. See? Lots and lots of options. Add the 3/4 ruffle sleeve to the dress, add the buttons to the dress, sew the blouse with the short sleeve, maybe even drop the ruffle and lengthen it a bit to turn the peplum into a dress? I could keep going, believe me.
We didn't have room to offer cup sizes for this one (can you imagine how big the pattern would be with three different dress fronts?), but the instructions walk you through the full bust adjustment step by step. Stop looking at me like that. It's easy! The bust dart is already there. I just show you how to make it fit even better.
Fabrics? I'd suggest something with a little drape here, but you can work with anything from light- to medium-weight for this style. The dress on the pattern cover is a lovely Japanese linen rayon. The peplum blouse is an embroidered double gauze. Use anything from quilting cotton to chambray, voile, lawn, shirting, poplin, broadcloth, linen, rayon, silk shantung or dupioni, wool suiting, or even a lightweight jacquard for this one. You'll get different results depending on your choices but that's half the fun, I think.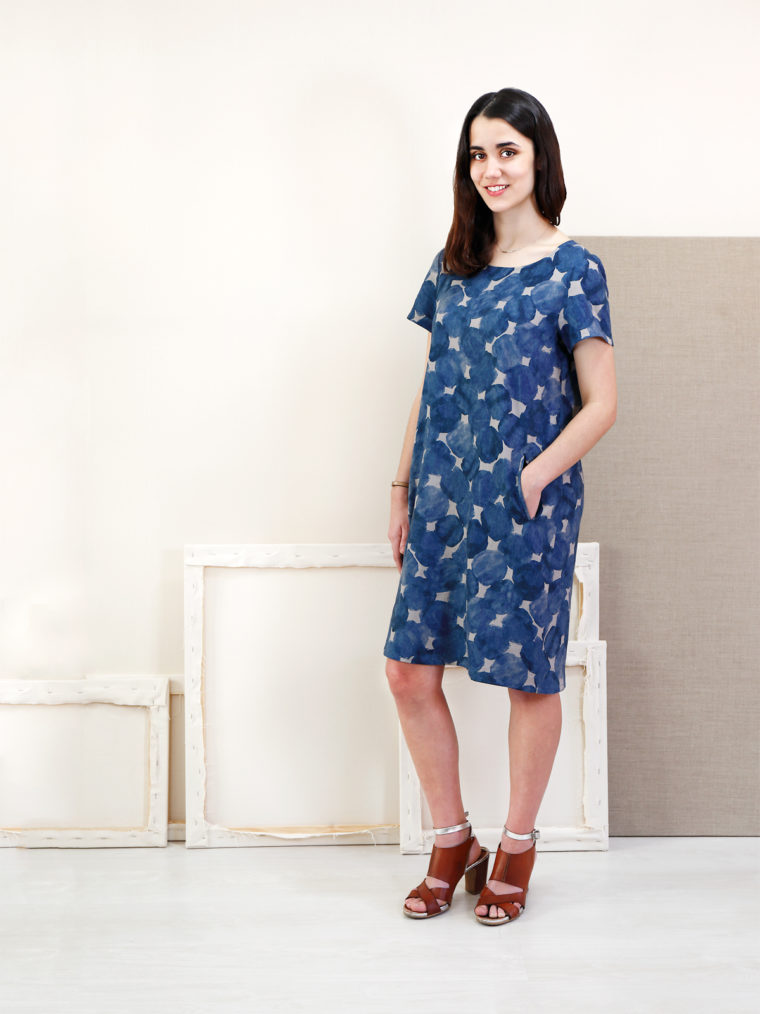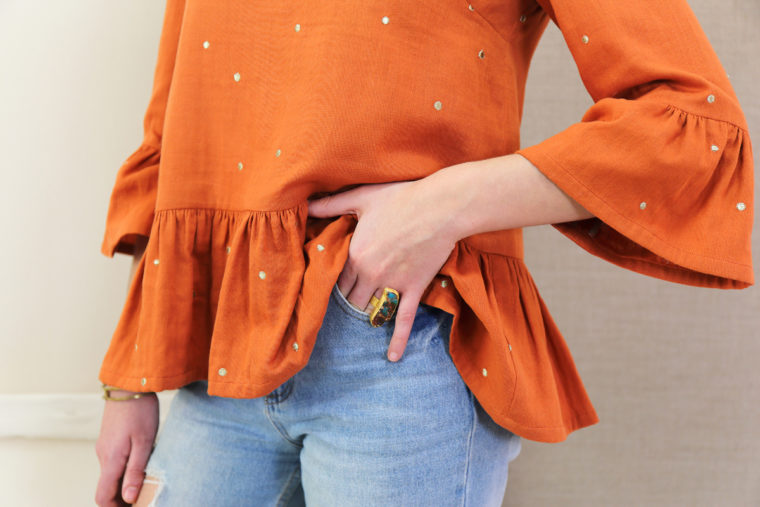 My current favorite is one that I made for myself with a beautiful wool checked suiting. It's loads of fun to wear. It's sort of like the cool version of a mullet if there were such a thing–business in the front, party in the back–because the fabric says serious business and the peplum and ruffled sleeves say cute and feminine and fun. I'll show it to you soon.
Here are more styling ideas for you. I love the idea of color blocking this dress! A great yarn dye or summer print will carry you through the next season beautifully. Choose linen or gingham checks for now and then sew it again in flannel or wool or denim for next fall and winter. You can absolutely wear  this with tights and boots when the weather turns cooler!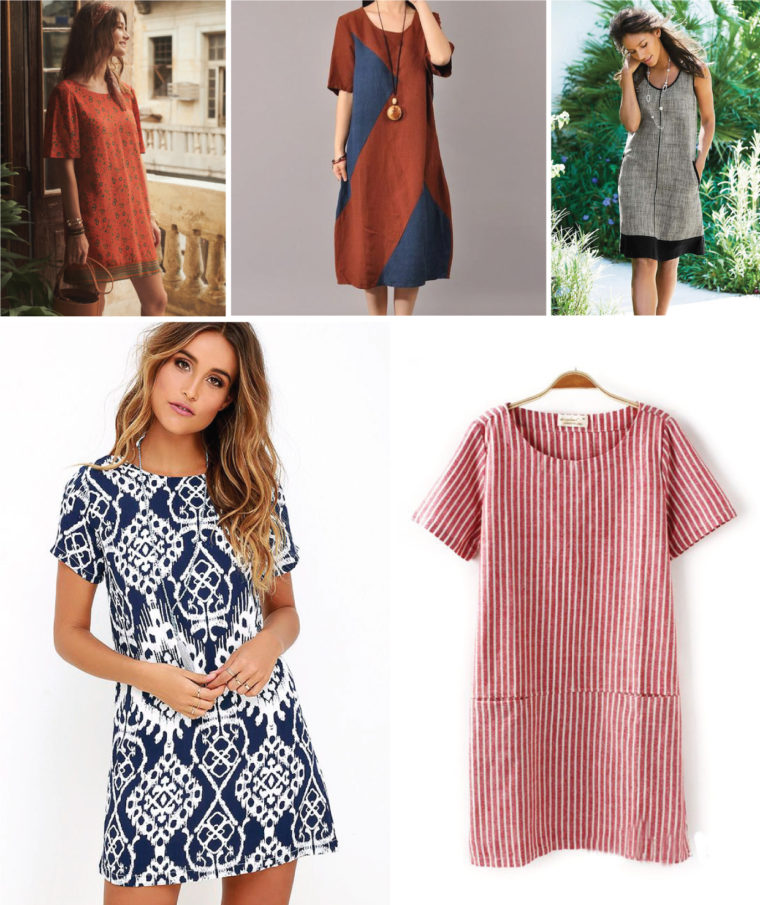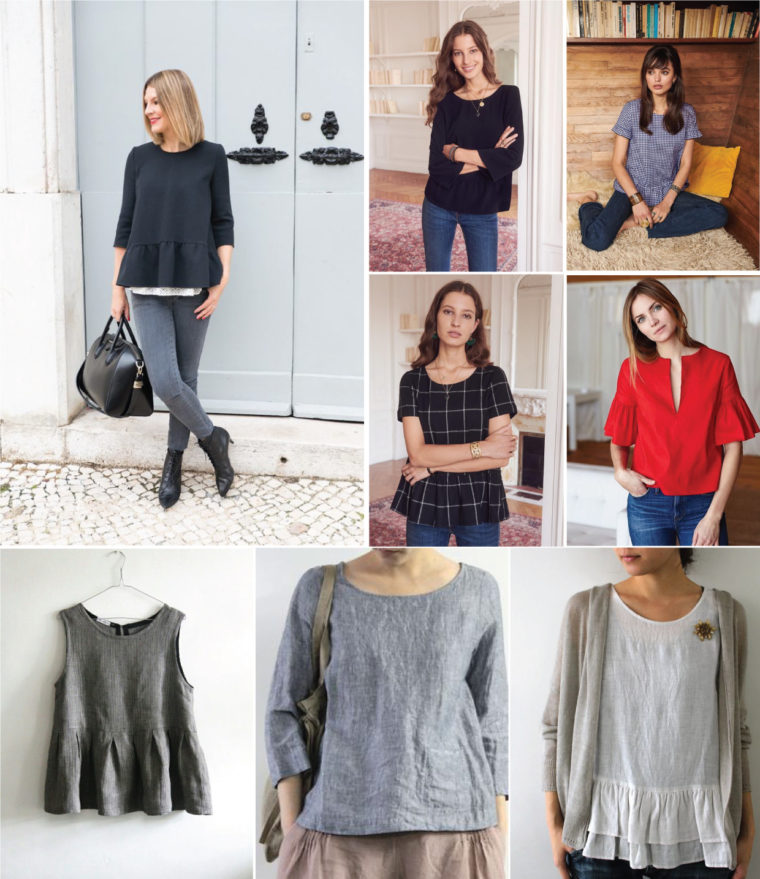 The Gelato Blouse + Dress will be available for sale next week in both paper and digital format. You can sign up to be notified when it's ready for you by visiting the page for the version you want and leaving your email address.
I'll be back soon with more ideas for all these patterns, and I can hardly wait to see how you make them your very own when you get busy sewing them.