On an impulse this winter (very unlike me), I purchased a cheap sweater. I wanted to see what I've been missing with a well-known popular brand here in Spain. Turns out, I wasn't missing much. The sweater is mostly acrylic and started pilling almost immediately. I kept after it with my sweater comb and wore it during Christmas holiday because it was warm, comfortable, and cozy around the house, despite looking ratty (due to the instant pilling).
This is what I mean about quality fabrics and fibers. On the opposite end of the quality spectrum, last year I finally retired a hand-me-down cashmere sweater my aunt gave me in 1985 and which I have worn frequently for more than 30 years. (S begged me for it and now wears it, although it really is on its last legs.) That's a lot of wearings for one sweater! You get a lot more mileage with good quality. And that sweater never pilled.
Anyway, feeling pretty annoyed with myself for making a dumb purchase that isn't going to last more than a year (I hate the thought of sending something to a landfill!), I decided I'd better make the most of it and at least do something interesting with the experience. So I forced myself to wear it every day for one more week and turned it into a style challenge. How many different ways could I wear a single oversized sweater?
Here's the rundown of all the different ways I wore it, all from my Instagram account (and taken with my very old phone, thus the not-so-great quality of the photos, sorry). I also posted the photos to the Liesl + Co. Friends Facebook group just for the fun of it. I've given an explanation of each outfit below, if you're interested.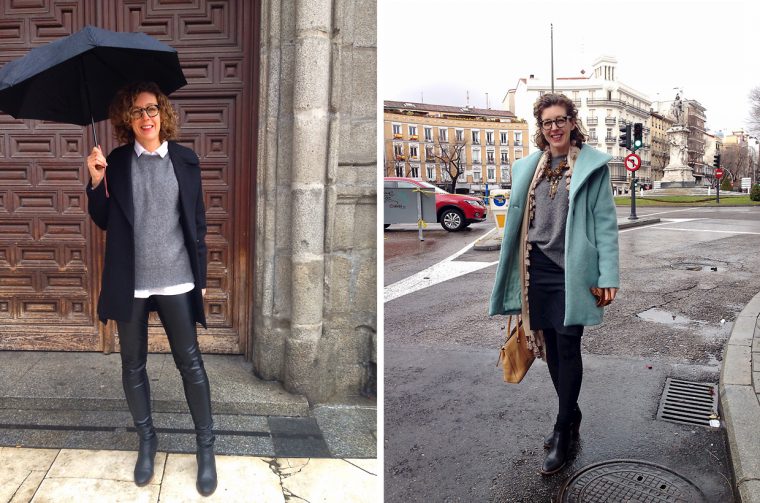 Day 1, Saturday: Rainy and cold on Three Kings Day here in Central Madrid, when absolutely no one was out. (The first time in six weeks that the sidewalks have been absent the masses of tourists who descend on Central Madrid during the holidays.) I paired the sweater with my white Liesl + Co. Gallery Tunic (I thought I had blogged this one but can't find it) and my faux leather Lisette for Butterick B6295 leggings (from this post), both of which get loads of wear. As I commented to someone regarding the leather leggings, it's much easier and less intimidating to wear leather or faux leather if you downplay the rocker aspect and style them a little preppy: thus the collared shirt and crew-neck sweater.
Day 2, Sunday: I wore the sweater with my Lisette for Butterick B6493 pencil skirt (from this post) and my super-warm Lisette B6423 coat (from this post). S calls this my Cookie Monster coat, although I keep telling her Cookie Monster is much, much blue-er than I am. I piled on a couple of really big necklaces to distract from the sweater pills and wore this to church.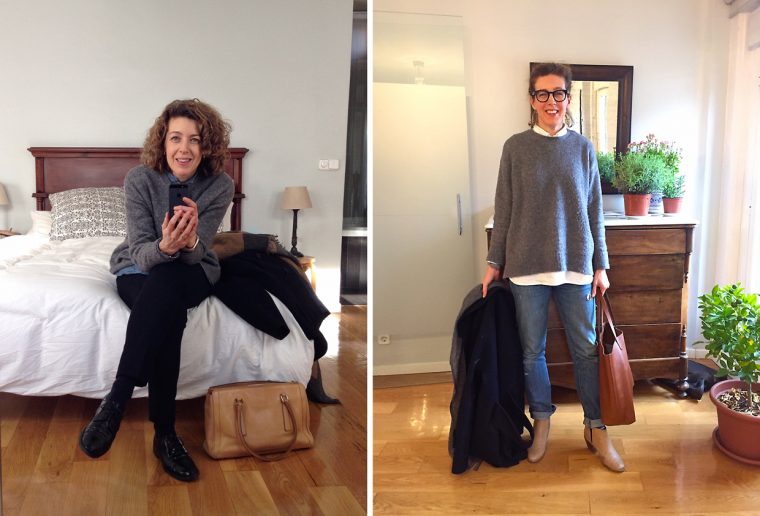 Day 3, Monday: First day of intensive Spanish school for me, and first day of a class ski trip in Andorra for S. It was too dark to take photos before S got on the bus, so I resorted to a selfie after school. Worn with my chambray Recital Shirt (from this post) and slim black wool trousers with my favorite brogues. Lots of layers (tights under the trousers, T-shirt under the Recital Shirt) because we had to stand outside in the cold and dark for about 45 minutes to wait for the bus, and mornings here in Spain are harsh!
Day 4, Tuesday: Cold again, and I just wanted to be comfortable after a late night of studying and because I needed to run errands after class. Old, faded and ripped jeans and that white Gallery Tunic again. I like to mix the ripped old jeans with the dressy Italian herringbone fabric of the Gallery Tunic: a little high-low action.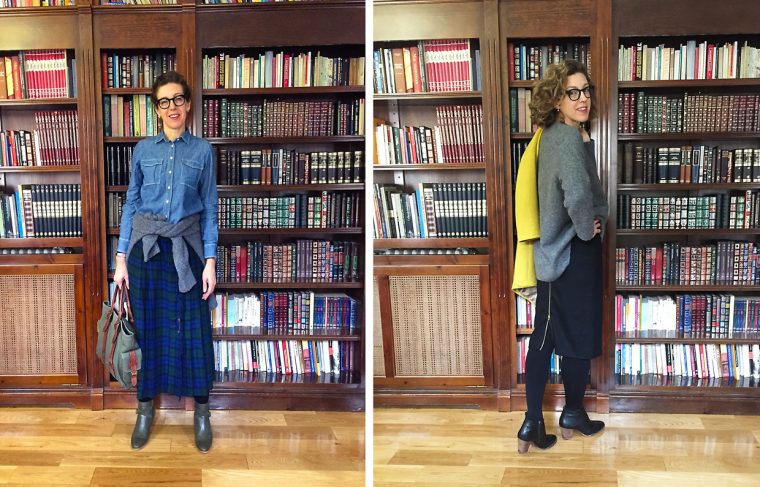 Day 5, Wednesday: I bought this vintage kilt skirt on eBay many years ago and it always gets compliments, but I think it requires clever styling to save it from looking too traditional/dowdy. So I wore it with my chambray Classic Shirt and tied the sweater around my waist. I think the booties help to update the kilt, too.
Day 6, Thursday: On the opposite end of the fashion spectrum, I paired the oversized sweater with a sexy back-zip Alexander McQueen pencil skirt I purchased a couple of years ago at deep discount from a second-hand store. I like the contrast between the oversized sweater and the super-fitted sleek skirt, so I went for "librarian chic" with my glasses and booties. For a little color, my Lisette for Butterick B6423 yellow coat which I took off to show you that cool back zipper.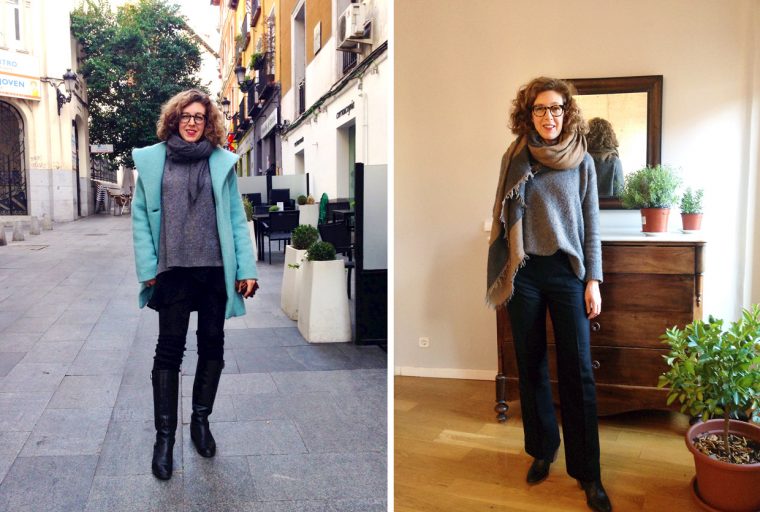 Day 7, Friday: I went all dance-inspired for this one. Leggings, legwarmers, and a little wrap dance skirt I made for my ballet classes a few years ago, along with tall boots and my Lisette Cookie Monster coat again. Being quite tall, one trick I've found for wearing a short skirt is to cover up more of my legs below the skirt. The boots and legwarmers balance out the silhouette. This one was very comfortable and cozy and is a new favorite for me!
Day 8, Saturday: I wore a pair of very old wool trousers for my last day. I bought these MiuMiu trousers when I was designing for Tommy Hilfiger more than 13 years ago, before S was born, and they still look and feel great. Giant scarf to combat the cold, and I wore this with my Lisette for Butterick B6244 coat (from this post), which didn't get photographed.
***
This was a fun challenge! Here's what I learned from it: The first four days were easy because I wear these items frequently, so they felt very natural to me. I had to push myself and get a little more creative starting on Day 5, and I probably wouldn't have thought to wear Day 7 at all had I not been doing the challenge. I'll definitely wear that outfit again, so I'm glad I tried it. In the process I also thought of several other ways I'd like to try wearing the sweater, so I'll try wear them in a week or so–after I've had a break from the sweater. Also, I hadn't worn my kilt or back-zip skirt yet this year, so this was a great way to wear them again. If you're anything like me you have a few old, favorite items in your closet that you just don't wear very often. This exercise got me wearing them in ways I wouldn't have thought, and it broke me out of my most frequent outfit habits.
So I'll definitely do this again, and I'm looking forward to trying it with other items in my closet, including with more of my hand-made clothing. The Gallery Tunic and Classic Shirt would both be easy to style in a lot of different ways! This challenge is a great way to push yourself to experiment with what you own and discover some new outfits in the process.
Do you want to join me? I'm going to call it #thewaysiwearit to see how many combinations I can come up with for one item of clothing. It might be only three ways, it might be a whole week of combinations. I don't think I'll wear them all in a row–it will be fun fun to spread them out a bit. Let's see what we can do with what we have, shall we?