Like many teachers, I love to learn from my students. When I'm teaching fit workshops, it's always helpful for me to see the challenges you face in your sewing and to hear what you want to sew. I love to work with each person individually because we both learn from each other.
About 1 1/2 years ago, I was teaching a workshop and realized that we don't have many princess seam patterns in our Liesl + Co. pattern offerings. I love princess seams because they're so much easier for sewists to learn to fit. This is especially true if you're full-busted because the seam runs over the bust itself, which means you can customize the fit to your own body.
Anyway, at the time of that particular workshop I was also wearing a favorite shirt that I've owned for quite a while now. It has deep tuxedo pleats, and one of the workshop participants commented that she wanted a sewing pattern for my shirt.
Well, here it is.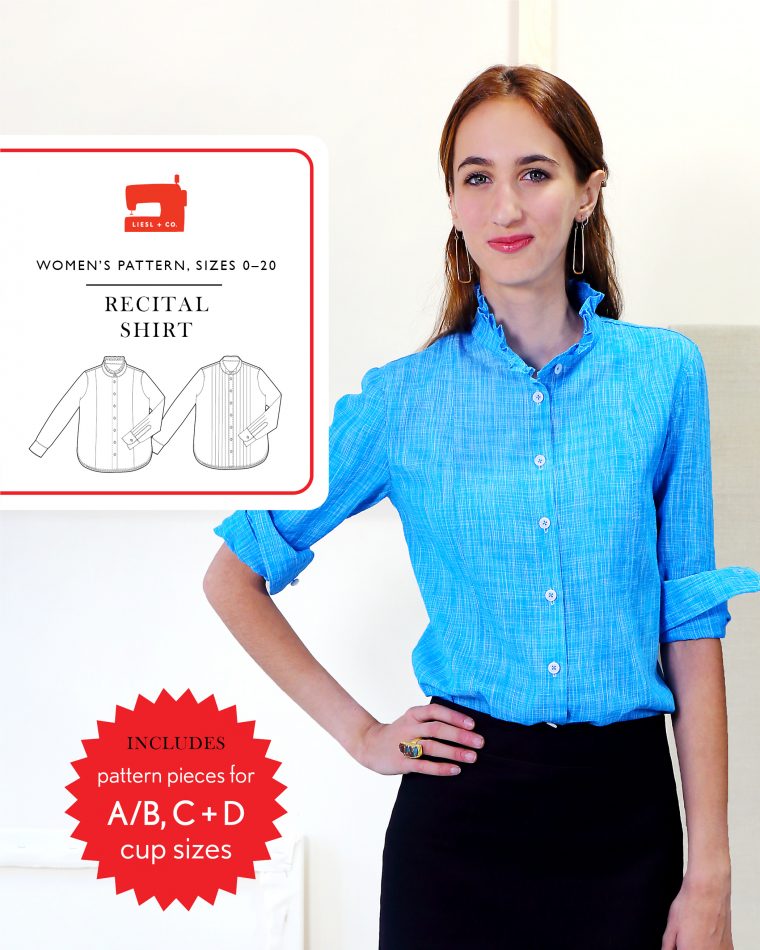 But it's actually improved over the shirt I was wearing the day of that workshop. As sometimes happens, those two requests were perfectly timed. When I returned home after the workshop, I started developing a princess-seam pattern and–at the same time–thinking about that specific request for a tuxedo-pleated shirt. Once the basic princess-seam pattern was ready, it occurred to me that the two ideas complemented each other perfectly. For the tuxedo shirt I could hide the princess seams behind the tuxedo pleats and the result would be a really elegant-looking shirt with no visible darts or seams! My original tuxedo shirt had a shoulder dart, so after taking a close look at the pleats, I got busy drafting a tuxedo pleated front panel and, sure enough, it works!
So here you have it: a classic button-front shirt with princess seams. View A of our Recital Shirt is a classic princess seam shirt with a ruffle collar (you can also swap the ruffle for a classic band collar) and a continuous (cut-on) placket. View B includes the tuxedo-pleated front pattern which hides the princess seams entirely, as well as a cute little tuxedo collar and a separate (set-in) front placket.
Both views include those lovely details that make a shirt so special: tower sleeve plackets and proper sleeve cuffs with a separate facing piece. But the Recital Shirt has a ever-so-slightly more fitted shirt back with darts for shaping. And, like our Liesl + Co. Classic Shirt (which also includes those special details), this pattern comes with pieces for A/B, C and D cup sizes. So I've already done much of the fitting work for you!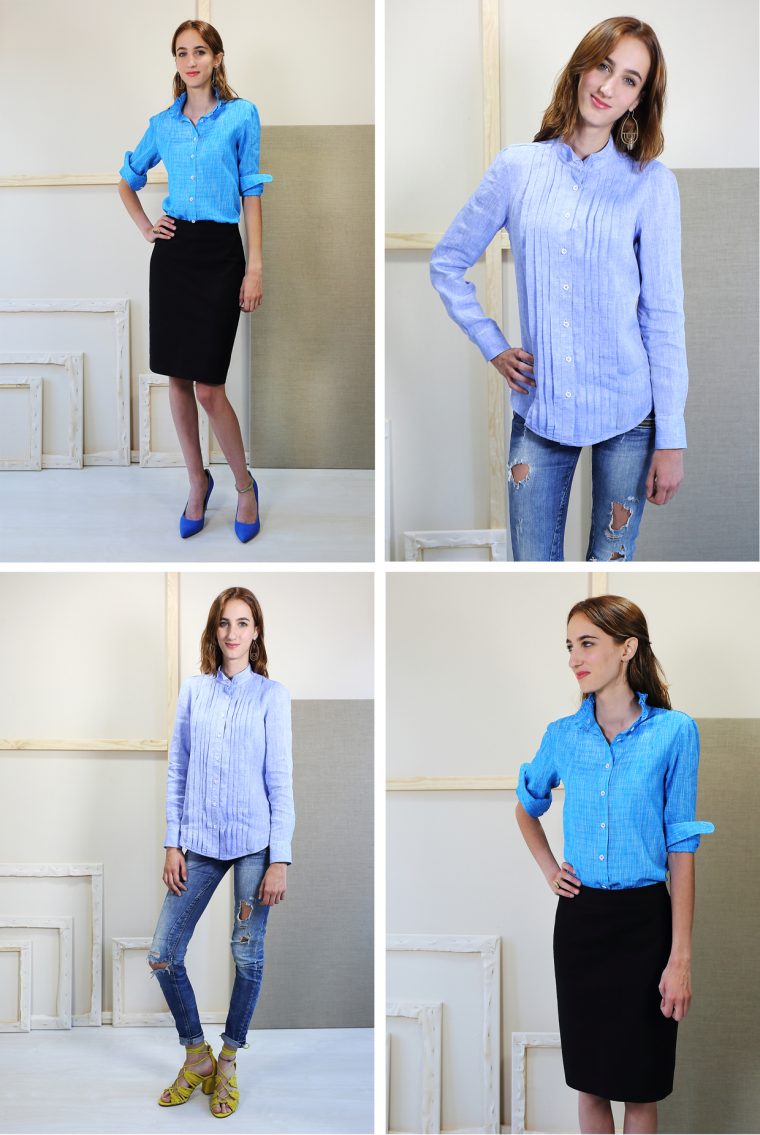 And here's the cool thing: the Recital Shirt pattern pieces coordinate with our Classic Shirt pattern pieces–by which I mean that all the pieces work together. If you prefer the collar on one pattern, it will work perfectly with the other pattern. If you prefer the slightly more fitted Recital Shirt back with darts, you can easily use it on the Classic Shirt pattern as well. (The sleeve, yoke, and cuff on both patterns are the same.) I like to give you options.
Here are some styling ideas for this pattern. You can find all these photos, plus lots more, on my Liesl + Co. Recital Shirt Pinterest board.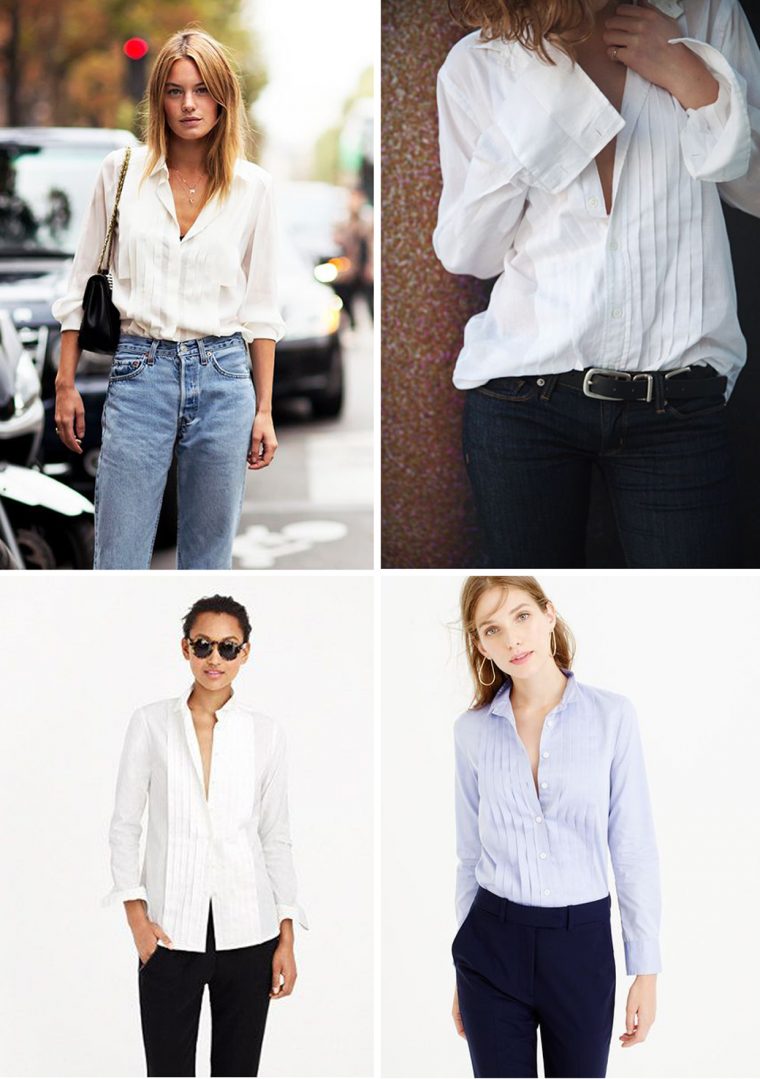 The customization options for this shirt are almost endless, especially when combined with the Classic Shirt sewing pattern and a few of our tutorials! What about princess seams with a pussy bow? Or you could insert a ruffle into the princess seams for a very current look. I'll be back with more ideas, and probably a few tutorials, in the weeks to come.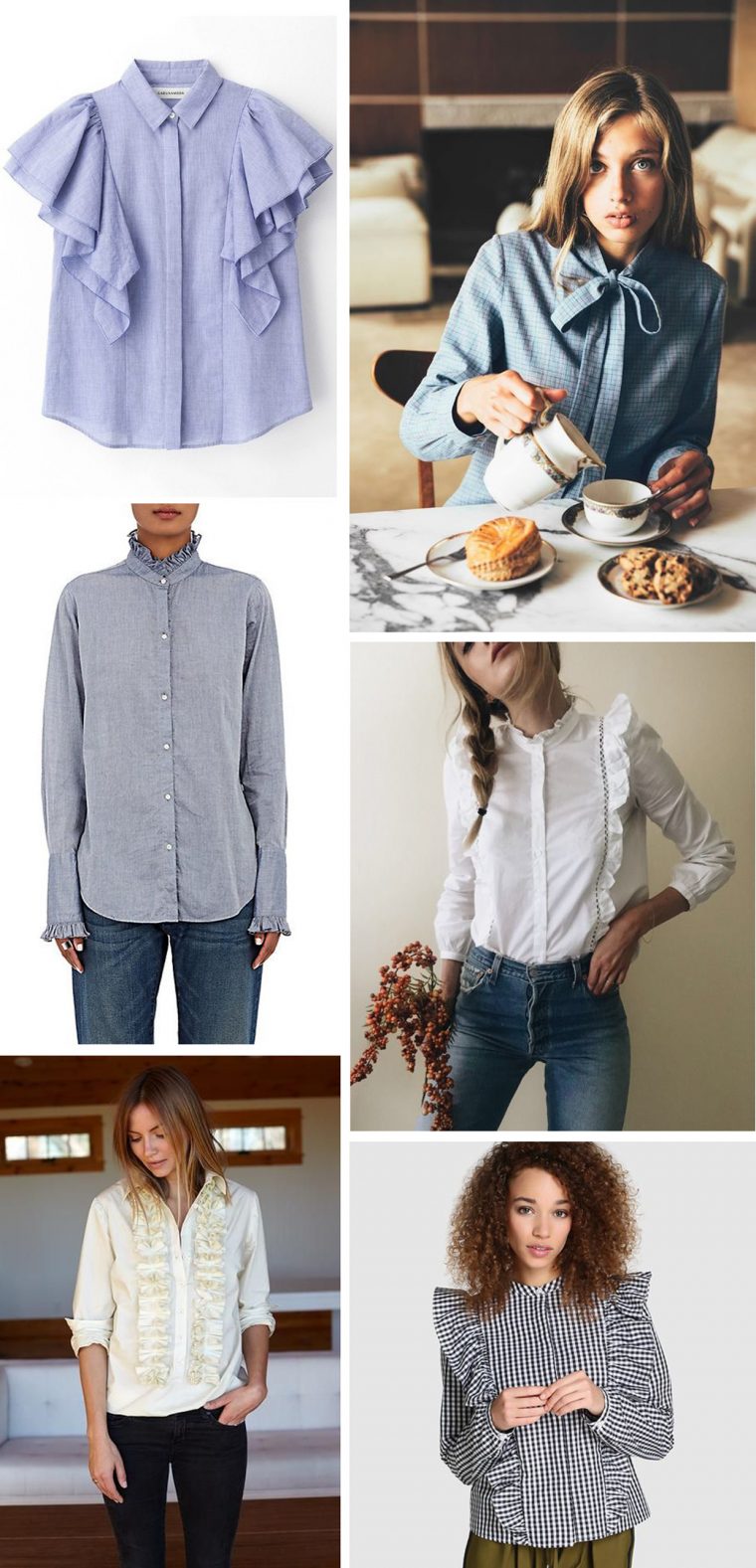 Obviously this pattern will also work really nicely with almost any shirting fabric (tartan would be amazing!), as well as lawn, gingham, oxford, etc. You can review this post for more fabric recommendations. The only fabric from this post that I wouldn't recommend is the double gauze, which would be too bulky for the tuxedo pleats on View B. What other fabrics can you use? I think this pattern works best with light- to medium-weight woven fabrics like voile, lawn, shirtings, poplin, broadcloth, chambray, and linen. But you can absolutely use quilting cottons as well, and for View A you can even use flannel. (I just wouldn't recommend heavier or bulky fabrics for View B because of the pleats.) For the turquoise-colored View A shirt in these photos, I used a beautiful handwoven cotton that our friend Giulia brought me from India. For the light-blue shirt in the View B photos, I used Limerick Linen from Robert Kaufman in Marine color. (It pleats beautifully.)
You can pick up your own Recital Shirt sewing pattern later this week. It will be available in both a paper version and a digital version. Check the countdown clock on each page to see how much time is left until you can purchase. If it's not available yet, you can leave your email and we will inform you when the pattern becomes available. And if you don't have it already, you might also want a copy of the Classic Shirt pattern as well which is also available in both paper and digital formats.
I can't wait to see what you do with this! Be sure to tag it #lieslandco and #recitalshirt in your Instagram posts, and we'd love to see it added to the Liesl + Co. Flickr group as well. And don't forget our Liesl + Co. Friends Facebook group where you can share your makes, ask questions, and see what everyone else is making with the pattern.