I promised you a while ago that I would write more this spring about the process of developing a personal core wardrobe. Now that the new patterns have been released, spring vacation is over, and we're all back to work, I thought it was finally time to dive into that topic a little more deeply.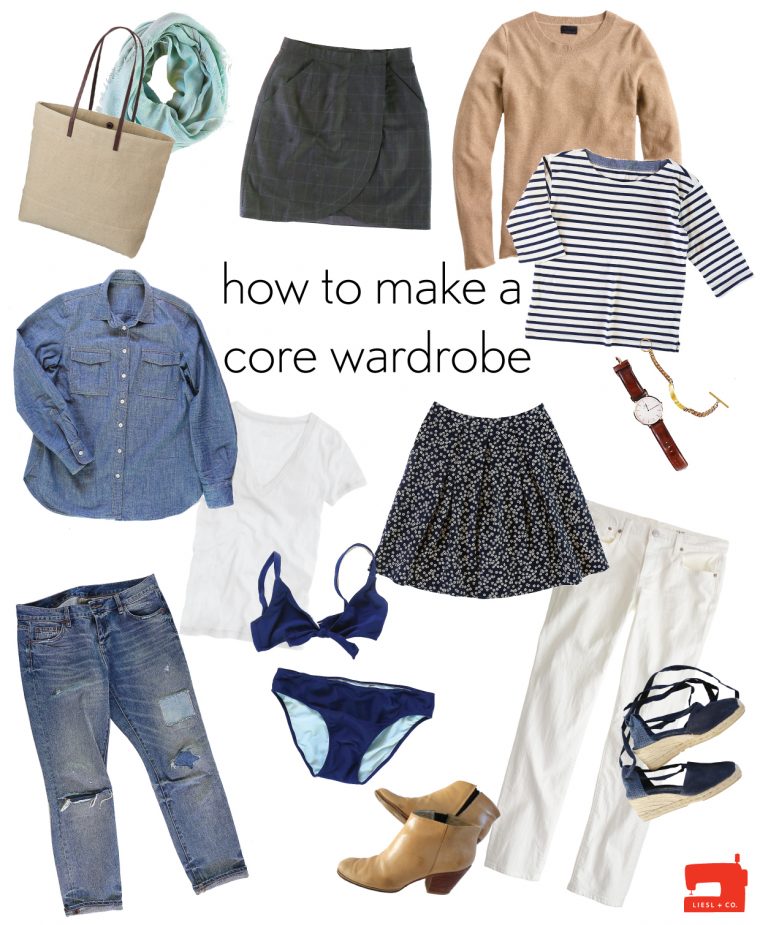 Last week a good friend and her daughter came for a visit. When we have visitors here in Madrid we like to give them the master bedroom because it has its own bath. (Our New York apartment has one bedroom and one bathroom, so this multiple bedroom and bathroom thing is really new to us. Not to mention the fact that we can host guests for long stays, which is completely impossible in our tiny New York apartment.) Anyway, when we give guests our bedroom we also pull a handful of clothes out of our closets so we don't have to be bothering them to get clothes all the time. I usually just grab a few of my favorite, most versatile items rather than trying to put together an outfit for every day. And that's my core wardrobe. In fact, it's the same collection of clothing I packed for our spring break vacation, so I thought I'd share it with you to show you how I assemble my core wardrobe.
Here it is all together. As you'll see, I didn't sew everything. I'd love to do that, but if I did, I wouldn't have time to develop new patterns! I'll walk you through my choices to help you make sense of it.
First of all, you can see my color palette quite easily, right? Navy, white, and camel. Also lots of denim and chambray. A little bit of black, and a pale turquoise accent in the form of a scarf. But I'll break it down for you.
When I plan out a core wardrobe I usually start with tops. Actually, I always start with tops. It's just how my brain works. My current transitional core wardrobe consists of two striped Maritime Tops (one navy with cream stripes and one cream with navy stripes), one Classic Shirt in chambray, a white and a navy T-shirt (not our Metro Tee because I haven't been able to find really lightweight cotton or linen knits in Spain yet), and a dressy pull-on sweater (in winter I prefer a V-neck or a cardigan). I also added a long-sleeved indigo-dyed cotton T-shirt that's made of a heavy jersey and acts more like a sweatshirt. (When this one finally wears out I'm going to sew a new one using our Bento Tee pattern.)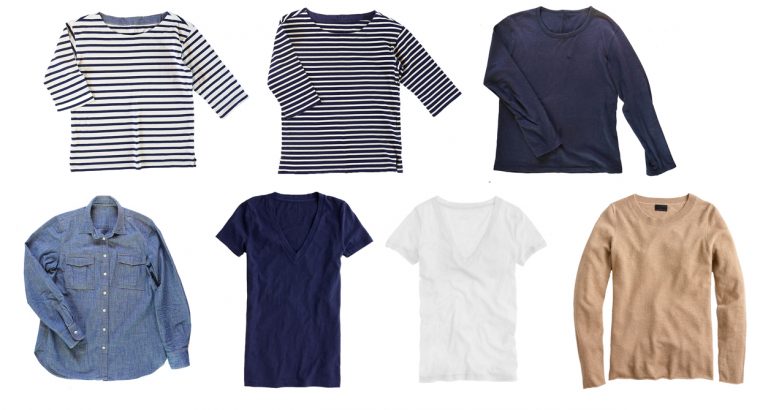 Then I move to bottoms. Right now it's a pair of slim black trousers, slim-fit (not skinny) boyfriend white jeans, my old ripped boyfriend jeans, a City Stroll Wrap Skirt in a faint windowpane, and the navy floral SoHo Skirt I stole from the photoshoot for that pattern. (I guess I didn't really steal it; I was just lucky that it fits me.) Eventually I'll get around to sewing slim navy trousers for myself, but for now I've purchased them in black.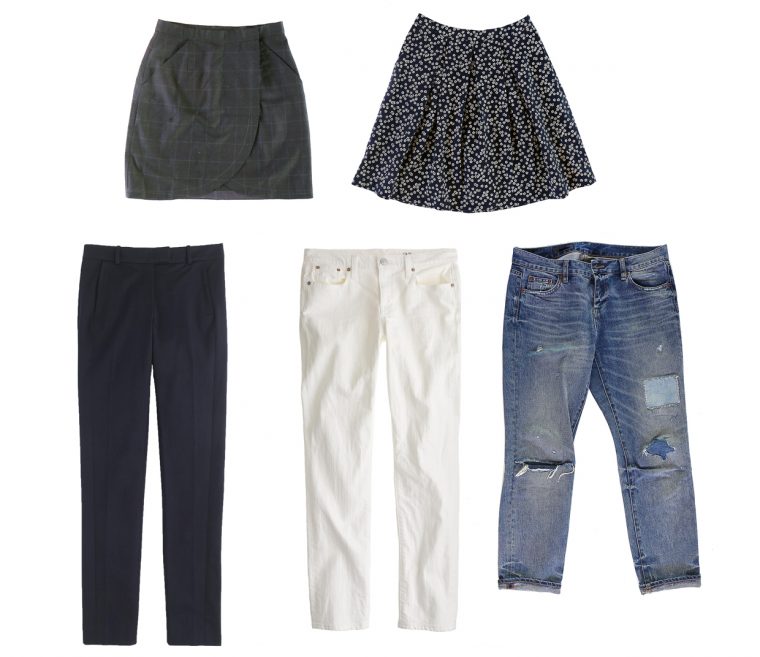 Then a couple of jackets because the temperature in spring is so variable. In Madrid, the change from morning to afternoon is especially dramatic. All our Portuguese friends say, "Dress like an onion so you can peel off a layer." And they're right! My jackets right now are a favorite wool camel blazer, a denim jacket, and a lightweight down vest I layer underneath either of them or just wear over my sweater or  long-sleeved sweatshirt/tee.

Next, accessories: always my trusty watch, the earrings I almost never take off, and two scarves. Here's where I add a little bit of color. I don't leave the house without a lightweight scarf, even in the summer. Also a narrow belt, which can finish off any outfit elegantly and which I forgot to photograph. Then, two pair of shoes. When I travel I usually wear a pair and bring a pair. Almost never more than two pairs of shoes for any trip, so everything has to work with at least one pair. Versatile shoes are the trickiest part of wardrobe planning, and these short boots have been ideal for me. I wear them in black all winter long and then switch to the tan/camel for fall and spring. They work with trouser, jeans, and skirts and dresses. I'm also breaking out the navy espadrilles I purchased months ago in a frenzy of spring fever. In Spain these shoes are called alpargatas, and the line of tourists waiting to purchase them at Casa Hernanz is at least 12 people deep from April through November. (Go early. The line gets longer as the morning gets later, and they close for siesta!)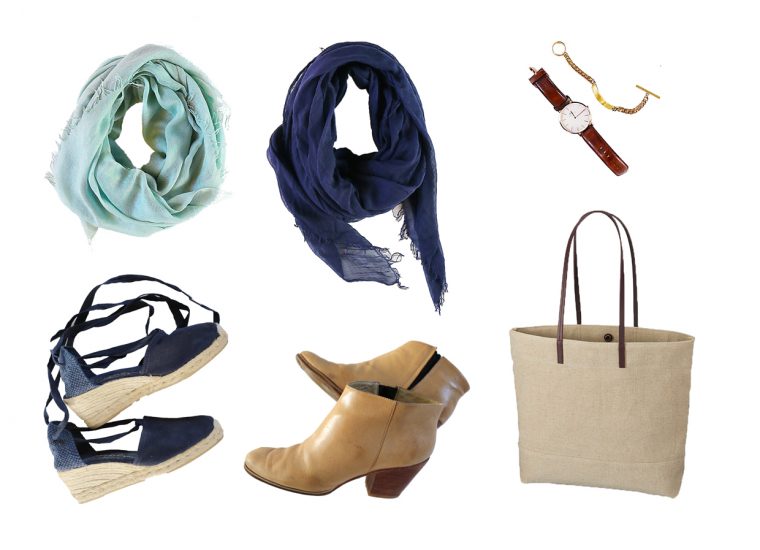 When I travel by air I usually pack quite a bit less than this, but since we drove to France I was a bit indulgent and took everything except the skirts and the blazer. I also included a swimsuit I just finished sewing, which was great because the weather was nice enough that we went to the beach. But this is where, if you have space, you get to add something fun. I added my custom-printed pencil skirt, which isn't really versatile at all but adds a little bit of personal style to my core wardrobe. Maybe a cocktail dress for an evening out? If we were going to a big city or planning anything fancy I might add a dress, but for the most part I just pack separates and dress them up with shoes and maybe a fancy top and it works just fine.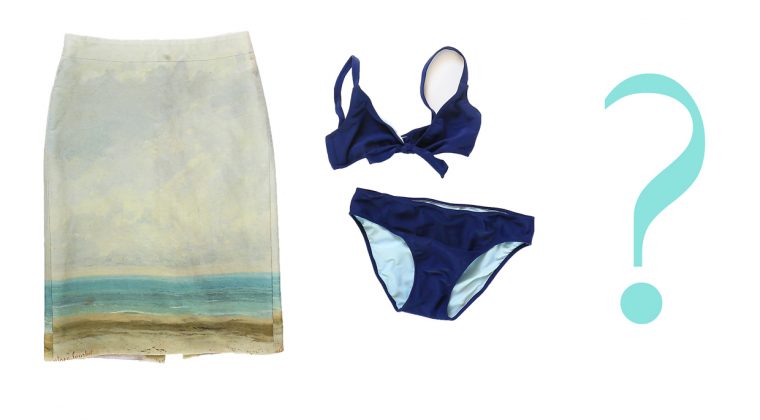 Can you see how everything in the wardrobe works together? The limited color palette allows me to mix and match pieces easily. And the pale turquoise accent of the scarf got picked up in the colors of the printed pencil skirt for a bit of variety. Also, lots of solids. And all the pieces can be mixed and matched. I could swap out the black trousers and the black City Stroll Skirt for navy, but I like to wear navy and black together so it's OK for me as is. Here it is again so you can see everything together. Do you see how almost every top works with almost every bottom? And things can easily be layered for various types of weather.
What's missing from this wardrobe? Well, as I was packing for France I was really wanting to include a navy trench coat, which has been on my sewing list for quite a while. I started sewing it this past weekend and it's nearly finished, so I'll show you that soon as well. It will be extremely useful in the transitional months. I would pack that in place of the camel blazer.
Is this all I wear? Absolutely not! I'm a clothing designer, remember? And I like more diversity in my clothing choices. But this is the basis of my wardrobe, and right now I wear these pieces more than anything else I own. On any given day I'm probably wearing at least one of these items. I combine them with other items in addition to wearing them together, which is why I call them a core wardrobe.
Does this help you to think about your own core wardrobe? If this is useful to you I'll do another post like this when we get closer to summer. As the weather warms up I'll gradually swap out the warmer pieces for a few summer dresses and more skirts.
I've also been Instagramming my daily outfits from this group, just to show you how I style everything together. You can see them on my personal Instagram account with the hashtag #dailycorewardrobe. I'd love to see yours, too. Feel free to use the same hashtag for your own core wardrobe. Maybe we can make it a project!