Hello friends!
This week, I'll be introducing you to two new Liesl + Co. women's patterns that I've developed specifically with a core wardrobe in mind. They're both styles that are versatile and timeless. They can also be customized to your preferences. I felt like our pattern line simply wouldn't be complete without either of these items, so I'm really pleased they're finally ready to share with you.
But before I show them to you, I thought it would be useful to talk briefly about what a core wardrobe is and why it's useful.
Years ago when I graduated from college and started my very first job in book publishing, I had very little closet space in my tiny New York apartment–and even less money to spend on clothes. I regularly met with authors and attended meetings and presentations, so I had to look professional. That's when I first learned about a core wardrobe, and it really saved me. (Sometimes you'll hear people refer to a "capsule wardrobe." It's the same thing.)
How does a core wardrobe work? It's essentially a collection of versatile pieces that all function together to form a basic wardrobe. They can be mixed and matched to create lots of different looks, but they can also serve as a base for other more unique or unusual items in your closet.
Different people offer different advice on what items should be in a core wardrobe, but I like to include one or two pair of trousers (one casual and one dressy), one or two skirts (a full skirt and a pencil skirt), a jacket or cardigan, a dress, and three or four tops. I also think you need two pairs of shoes. When all of these pieces coordinate both in terms of color palette and silhouette, you've got yourself a core wardrobe!
A core wardrobe also makes travel really easy. When I travel, I like to bring as little as I can–just a backpack, if possible–so everything I pack needs to be versatile to be worn in different ways, in different types of weather. My travel packing is a good example of a core wardrobe. This is my core wardrobe for a trip to Paris last year.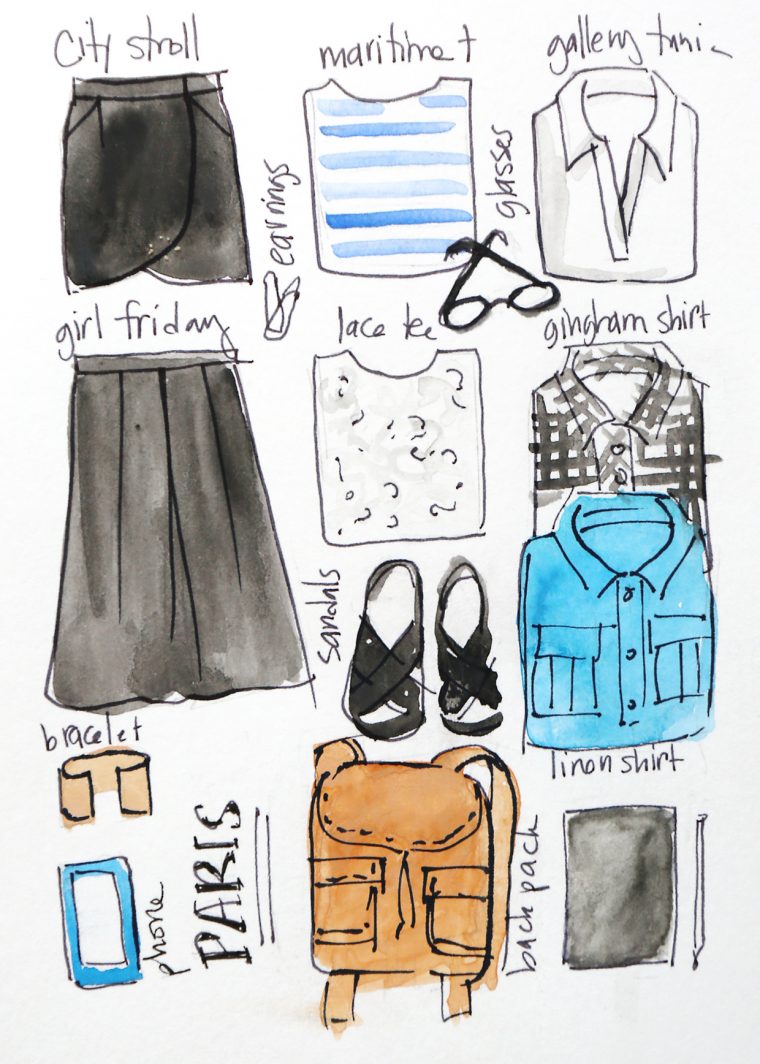 Really, a core wardrobe can be the basis of your entire wardrobe, but that doesn't mean it has to be boring. Everyone's core wardrobe will be a little different since those items have to work well for your own lifestyle and personality.
So let's talk very briefly about building a core wardrobe, shall we? I plan to talk about all this in more depth in the future, but to get you started here's a quick overview of how to build your own personal core wardrobe.
Start with a color palette: Generally, you want to pick two or three base colors and an accent color. The pallet you choose will depend on your climate, geographic region, lifestyle, and personality, but it's a good idea to include at least one neutral in your palette. Your core wardrobe can be any two colors you like, as long as you're happy to wear them a lot. Here are a few ideas to get you started.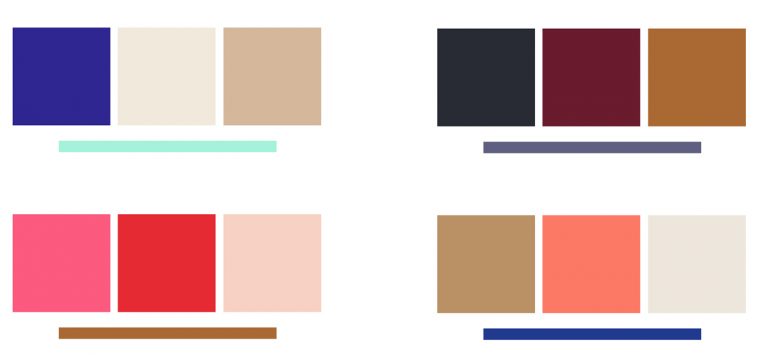 Think about your lifestyle: A lot of your choices will depend on your job or whatever you spend most of your time doing. Do you wear heels or flats? Dressy or casual? Are you on your feet and moving around a lot, or do you spend a lot of time sitting at a desk? Maybe you wear a uniform to work and your core wardrobe will be mostly for casual wear.
Consider your body shape and what silhouettes look good on you: What are your best features that you like to highlight? What do you feel good wearing? When do you get the most compliments? Try on different silhouettes that you might not usually wear and you might be surprised at what looks good! Don't be afraid to play with volume to see what works, too.
Think about what you want to communicate about yourself: Clothing speaks volumes about us, whether we like it or not. Is your clothing communicating who you are to the people you come into contact with? If not, what would you like to be saying instead?
What types of fabrics and pattern do you like? Do they need to be machine washable, or are you comfortable with hand-washing or dry cleaning fancier fabrics? What about prints and textures? It's important for most people to have some solids in their core wardrobe, but a fun printed shirt and something with some texture can help to add visual interest to the basics.
Once you've answered these questions, you can start to think about what items will be included in your core wardrobe. We'll talk about this all in more detail over the coming weeks and months. But first I want to introduce you to our two new styles that I think you will want to consider including in your own core wardrobe.