We have another visit from Lyndsey Stanfill, a member of the Adviser's Circle! We've been following along as she finishes her spring wardrobe capsule. Today she is sharing her finished  Sintra Halter Top. Take it away, Lyndsey!
Hi, I'm Lyndsey, and I'm here to talk about how I style my new Sintra Halter top.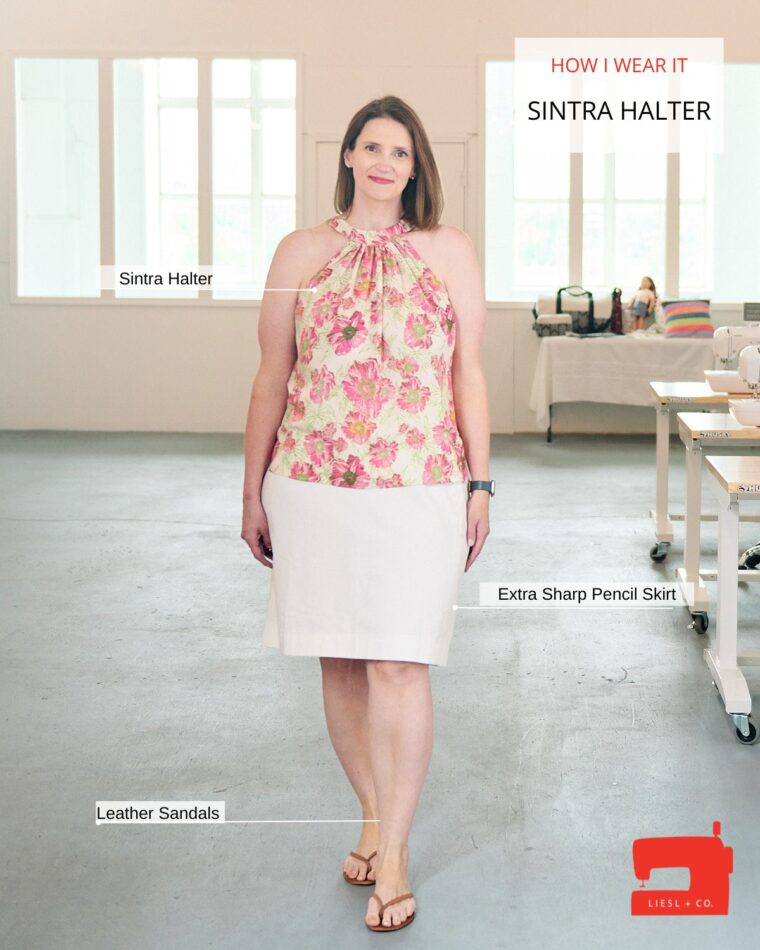 Tell Us About Your Outfit
We are in the dog days of summer where I live, and I'm constantly reaching for the lightest pieces from my wardrobe to stay cool. I chose a lightweight rayon from Art Gallery Fabrics, perfect for hot and humid days. I've paired the Sintra Halter with my white canvas Extra Sharp Pencil Skirt. This basic skirt is a workhorse for me in the summer. It pairs with so many pieces in my wardrobe. Throw on a pair of sandals, and I'm off to brunch.
This versatile top has been worn many times since I made it. I've worn it with this white skirt, a denim skirt, jeans, and even a light-colored suit for a day in the office. For the summer, I appreciate that it doesn't have sleeves, but I've found this a great layering piece as well. As we roll into fall, I want to make another version that I can wear under jackets and cardigans.