Are you ready to transition your wardrobe to fall in the Northern Hemisphere? How many handmade pieces do you have that span multiple seasons? Lyndsey shares how she styles her Melville vest for an early fall look.
Fall is my favorite season! I'm always chomping at the bit to drink Pumpkin Spice Lattes and start wearing my fall clothing. However, I know it will be warm in my area for several weeks. In this transition period, I look for new ways to combine my fall favorites with summer staples. Of course, it helps that I can wear many of my handmade pieces year-round.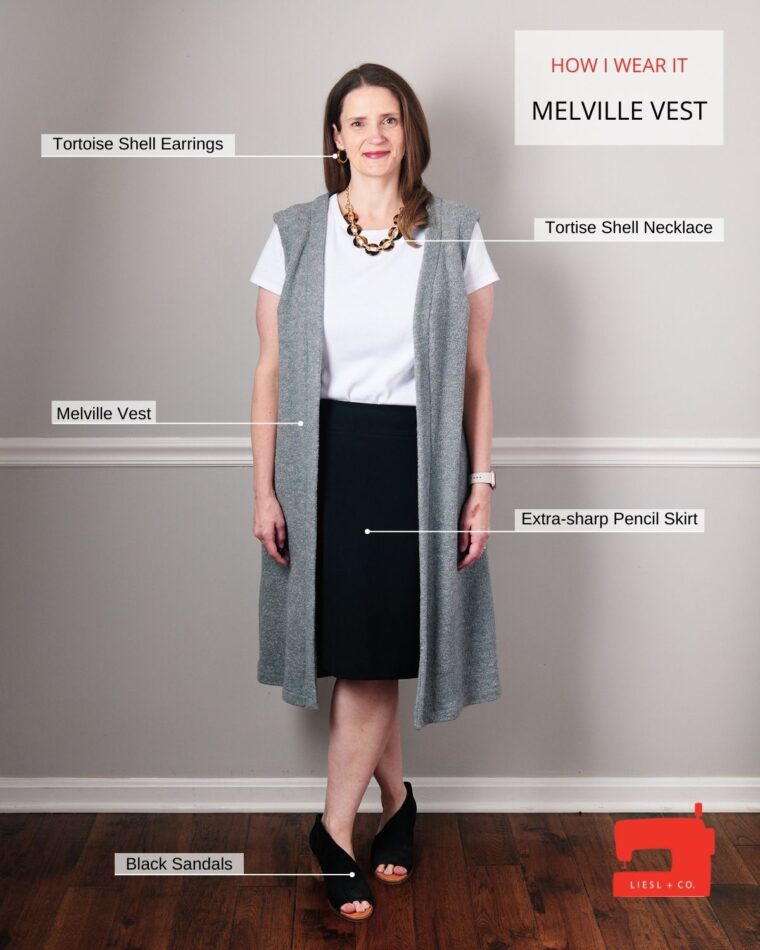 Tell us about your outfit
I made this cozy Melville Vest with boiled wool, and it was a great layering piece through the fall and winter last year. The neural color choice means I can wear this vest with most of my wardrobe, and it dresses up and dresses down very easily. Also, since I made this version of the Melville as a vest instead of a cardigan, I think it will be a great transition piece in these last warm weeks.
I made the black Extra-sharp Pencil Skirt with lightweight wool twill fabric. I thought the wool would be light enough for three seasons, but I was able to wear this skirt all summer, and it has become a go-to piece for me to wear on days when I have to go into the office.
Right now, it is still warm enough to wear short sleeves, but as it gets cooler, I'll switch out the T-shirt for a long sleeve T-shirt (like the Metro Tee) and switch from sandals to booties. But for now, I like that I can start wearing some of my fall makes!
Do you have many pieces that work in multiple seasons? How do you handle transitioning from season to season with your handmade wardrobe?