Erica is back with the Tribeca Knit Camis that she made for herself. She shares how she raised the neckline and added extra support to the shelf bra. She's scrap busting with both versions! Take it away Erica!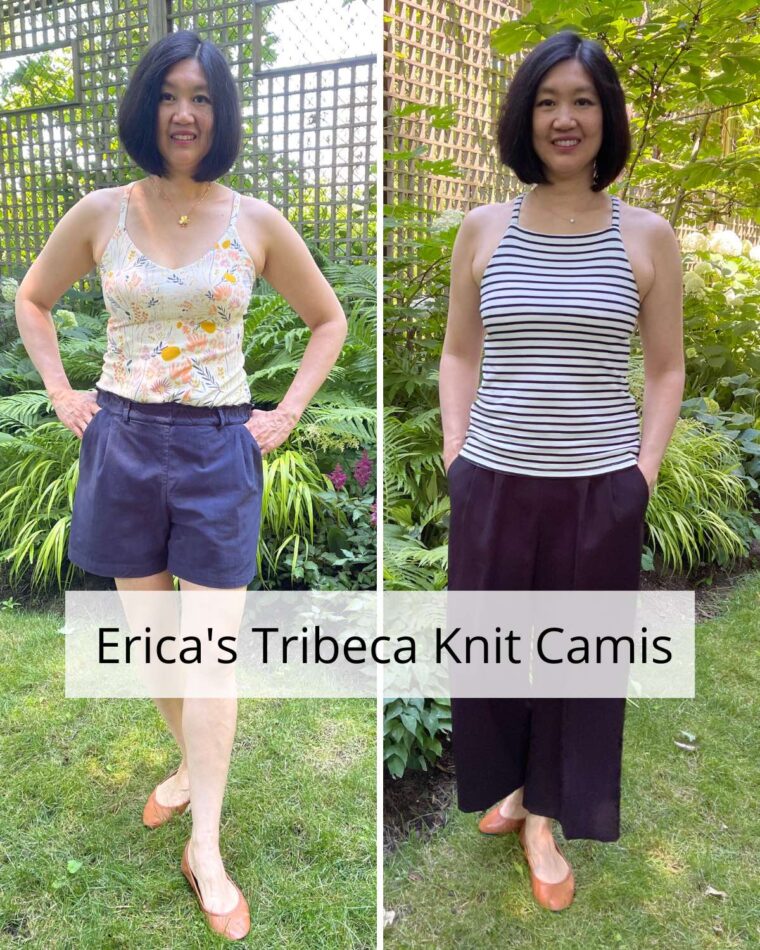 After I made my teenage daughter a swim top with the Tribeca Knit Cami pattern, I was inspired to do some stash busting for myself. I also know that it is efficient to sew multiples of a single pattern at once, especially if they share the same thread color, so I picked out two small remnants and batch-sewed them by completing each step on both tops sequentially. The odd-shaped cuts of fabric, leftover from other projects, were not even large enough to make an adult short-sleeve tee, but I was saving them in case I could use them one day for toddler-size clothing or, in the matter of a few hours recently, Tribeca cami tops for me!
For my View A version, I wanted to raise the plunge of the V-neckline. Of course, the easiest solution is to shorten the length of the straps, and even the pattern instructions indicate the best time to check that fit. However, I didn't want to alter the placement of the armscye line, so I made a very simple adjustment to the paper pattern.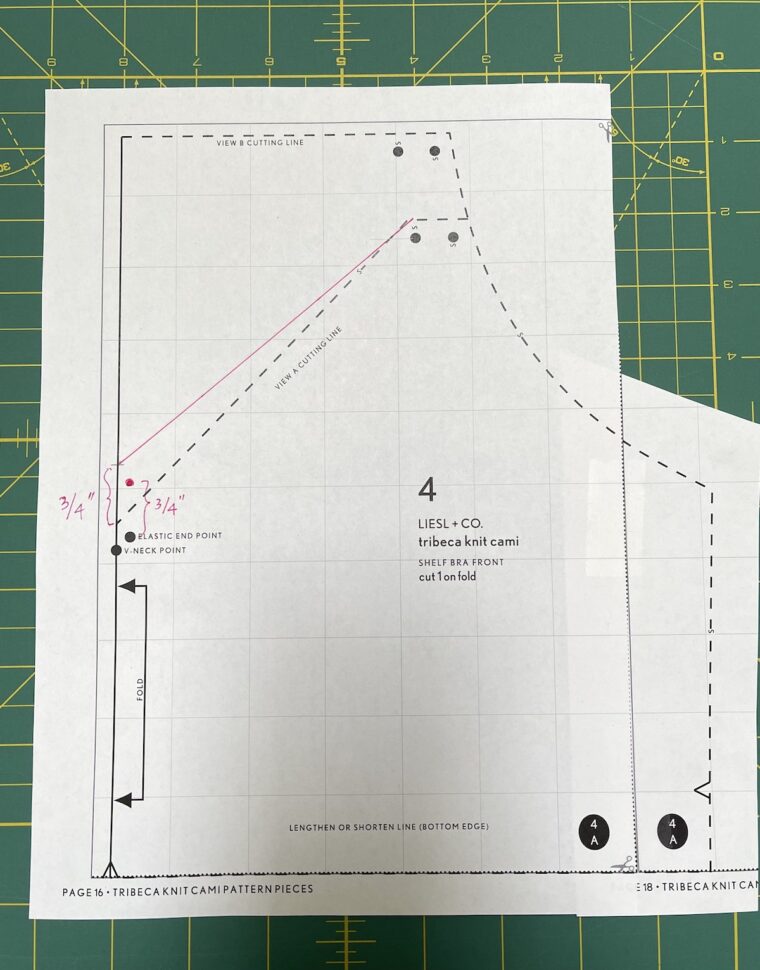 To raise the deepest part of the V by ¾ inch, I marked ¾ inch higher from the cut line to extend the pattern along the "fold" line. Since I did not want to change where the strap is attached, I found the point where the former seam line intersected with where the strap was drafted to be attached (as marked by the dots). I then used a ruler to re-draw a new cutting line (in pink) to connect those two points. I did this on both the cami front and shelf bra front pieces. Finally, I cut out the pattern along the pink line instead of the original V-angle for my size and sewed it exactly as instructed in the pattern. Raising the plunge by ¾ inch is as simple as that!
I used an Art Gallery Fabrics knit, which is 95% cotton with 5% lycra. I used this fabric several years ago to teach my daughter to make the Girl on the Go Dress and when I tested the Chai Tee pattern. This fabric is beautifully soft and comfortable, and the mix of colors in the print means that it will match a great number of bottoms. I have paired it here with the Lisboa Walking Shorts.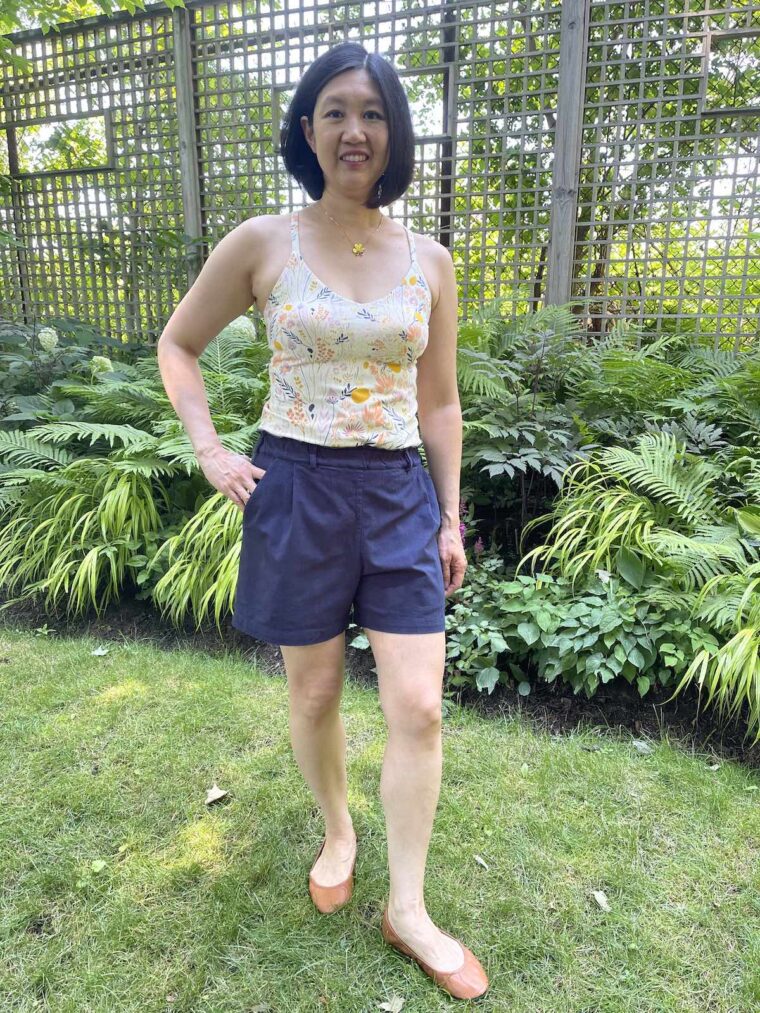 For my View B version, I used the very small offcuts from a rayon and polyester blend ponte-knit top made several years ago. I thought the stripes and the high horizontal neckline would pair well to achieve a nautical style. However, I know from the experience of washing and wearing that particular fabric countless times that it will eventually lose some of its original body. Also, I did not even have enough fabric left to cut out the shelf bra lining, so I used a flesh-colored "power mesh" fabric for the shelf lining, which would help preserve the feeling of stability.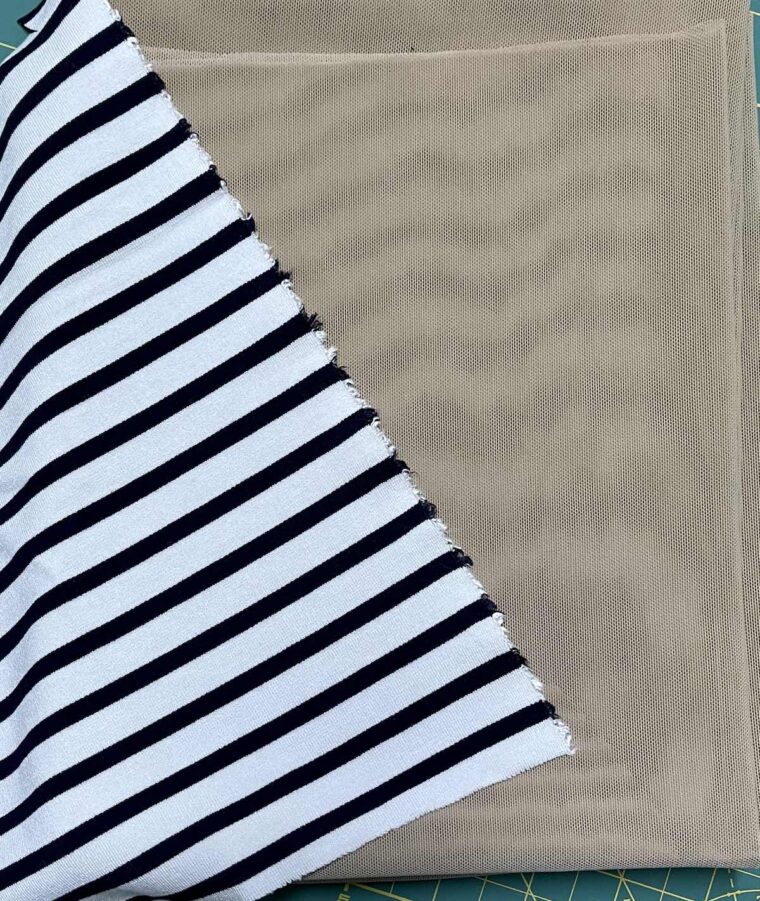 I am very happy with this choice of lining, as I feel that power mesh provides a good amount of support while being much thinner than my fashion fabric. After successfully inserting swim cups into my daughter's version of the Tribeca, I again inserted bra cups so that I can forego wearing an additional bra with both versions of this top. I followed a simple method similar to Lyndsey's tutorial.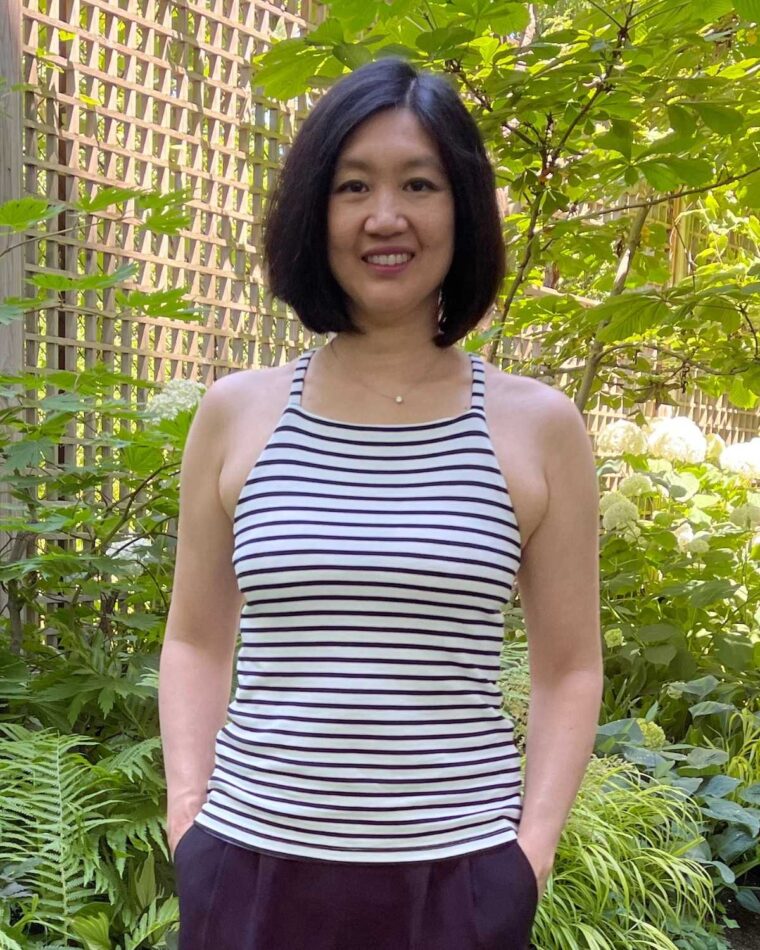 After seeing these two versions, my daughter has requested some slightly cropped versions for herself, and she has given me the green light to use additional small remnants in my stash. The Tribeca pattern is turning out to be a very versatile, warm-weather, stash-busting style for us!