Today we have another visit from Lyndsey Stanfill, a member of the Advisor's Circle. Earlier this week, she told us about her 4-piece wardrobe capsule sewing plans. She had already sewn the Tribeca Cami. Today she is here to show us how she styled the second piece, the Camp Dress.
Hello! I'm Lyndsey Stanfill, and I'm here to talk about how I wear my new summer Camp Dress. Earlier this spring, I fit the Camp Shirt pattern, and I decided to make the dress while I still had the pattern out!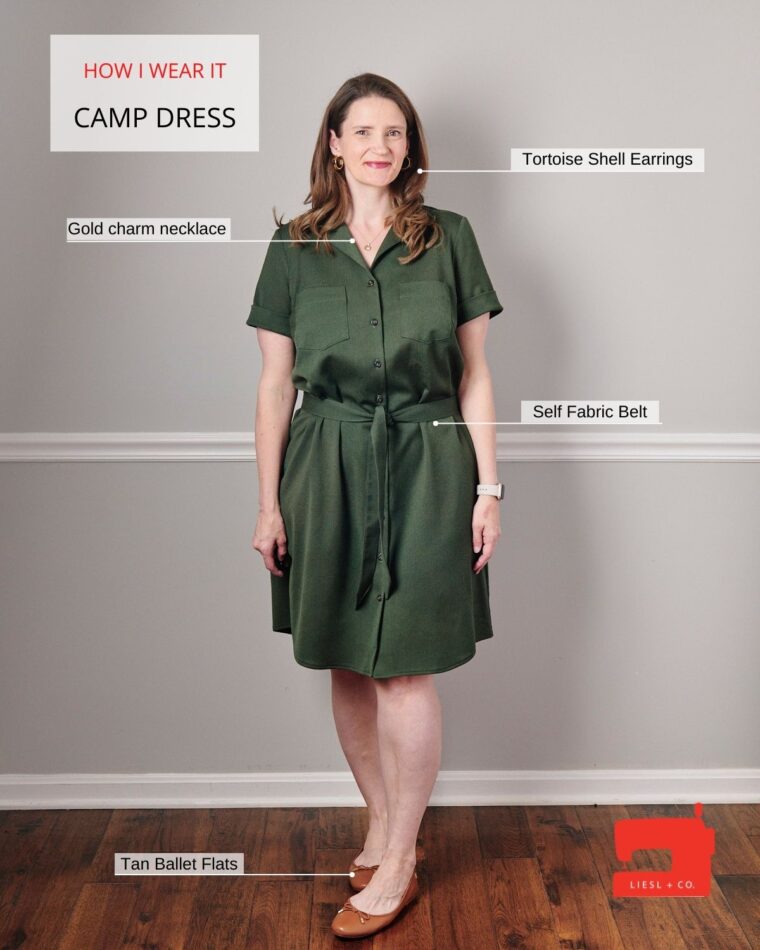 Tell us about your outfit.
My first Camp Shirt was sewn in a lightweight silk/cotton batiste. For this version, I wanted a heavier weight that I could wear year-round. A quick search through my fabric stash turned up an olive stretch wool gabardine. I purchased this fabric six years ago! I like that this fabric has some drape and is completely opaque. I've worn this dress several times since I finished it, and I think it will be in constant rotation.
I had enough fabric to create a self-fabric belt when sewing the dress. I am usually more comfortable in dresses with a fitted waist. I improvised the belt by tying a measuring tape around my waist to figure out how long I wanted the belt to be and added 1 inch to the length (for a 1/2″ seam allowance on both ends). Then, I cut the width of the belt 5″ so the final belt would be 2″ wide (with 1/2″ seam allowance). Next, I interfaced the belt with scrap pieces of interfacing. Easy peasy! The belt is nothing more complicated than a long tube. To finish styling, I paired the dress with tortoiseshell earrings, a gold charm necklace, and tan ballet flats.
I like this dress with and without the belt, and I didn't add belt loops because I think I'll wear it both ways.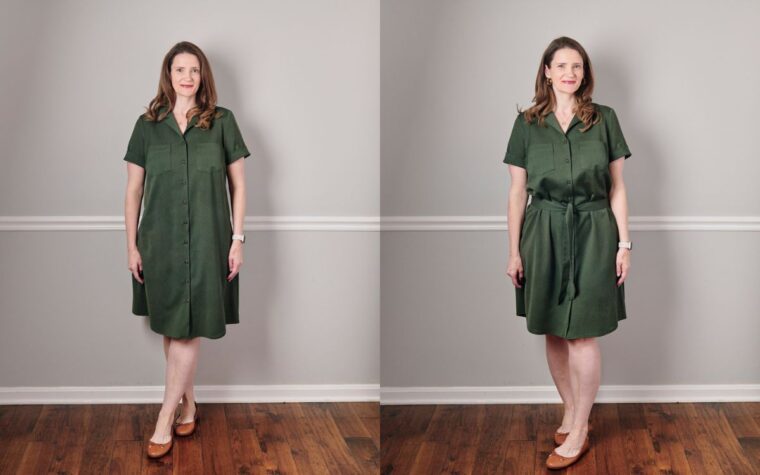 Do you have a uniform or a "look"?
I'd call my look "minimalist classic." I tend to prefer solids over prints, and I stick to the same color pallet. In 2015, I realized I couldn't create a single outfit from the clothes I had sewn. Until then, I chose pretty prints for each project without considering my sewn wardrobe as one unit. I had so many lovely, hand-sewn pieces in my closet but wasn't getting the most out of them. Wanting a change, I started participating in the Project 333 challenge. Project 333 is an online challenge in which you choose 33 items from your closet and only wear those items for three months. I've participated in the challenge several times and, over time, have cultivated my wardrobe to be an interchangeable capsule. Now I am confident that I am creating pieces that I will wear!