We'd like to welcome back Asmita from the Advisors Circle, who always has a creative take on our patterns. Today she's showing off her patchwork Breezy Blouse.
For us in India, summer is around the corner. I wanted to make a simple and comfortable cotton blouse that would become a summer staple, something that I could wear through our long hot months. Enter the Breezy Blouse.
Truth be told, I have eyed this pattern several times ever since it came out. I loved the fact that it had side panels and a curved hemline. But what always stopped me was the silhouette; it seemed too boxy, and I was afraid that it wouldn't quite work for my "triangle" shaped body. In the meantime, I sewed other things, which meant that increasingly, I had a growing pile of smaller yardages of fabric.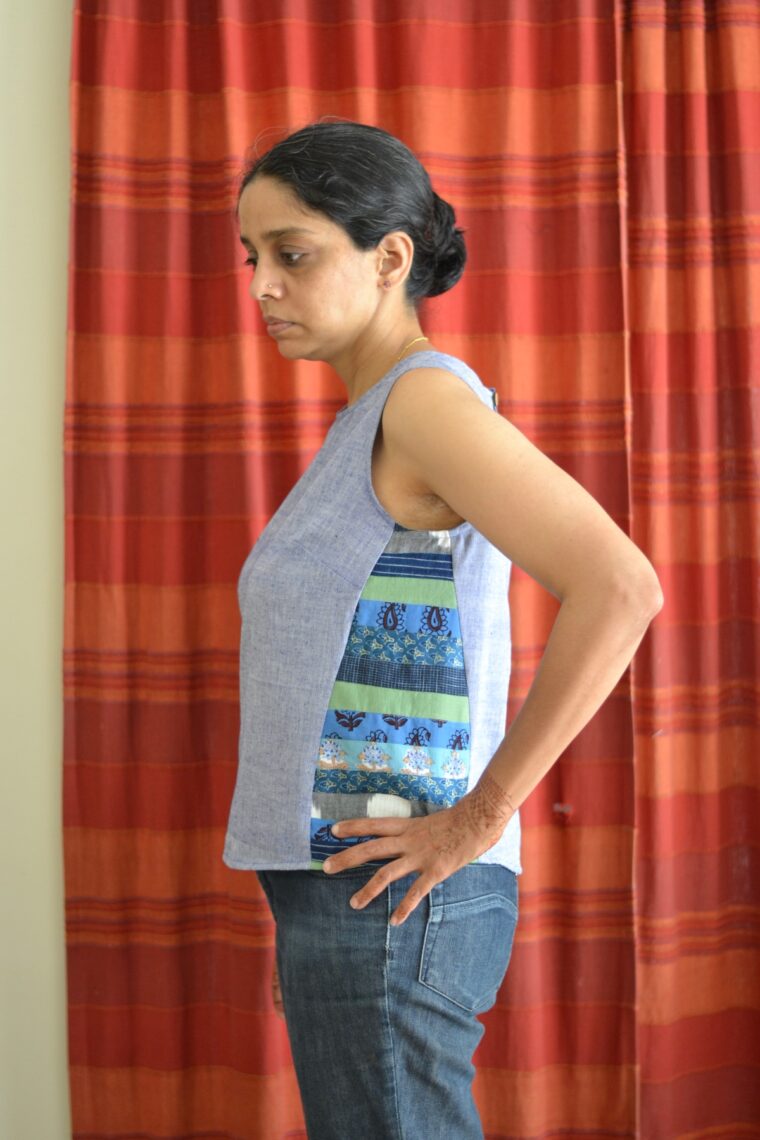 As is not unusual, some of these are quite precious to me, and I have been unwilling to part with them. And yet, I don't always want to embark on yet another quilt. I decided to revisit the idea of making the Breezy blouse again, this time with the possibility that I could use the smallest pieces from my stash.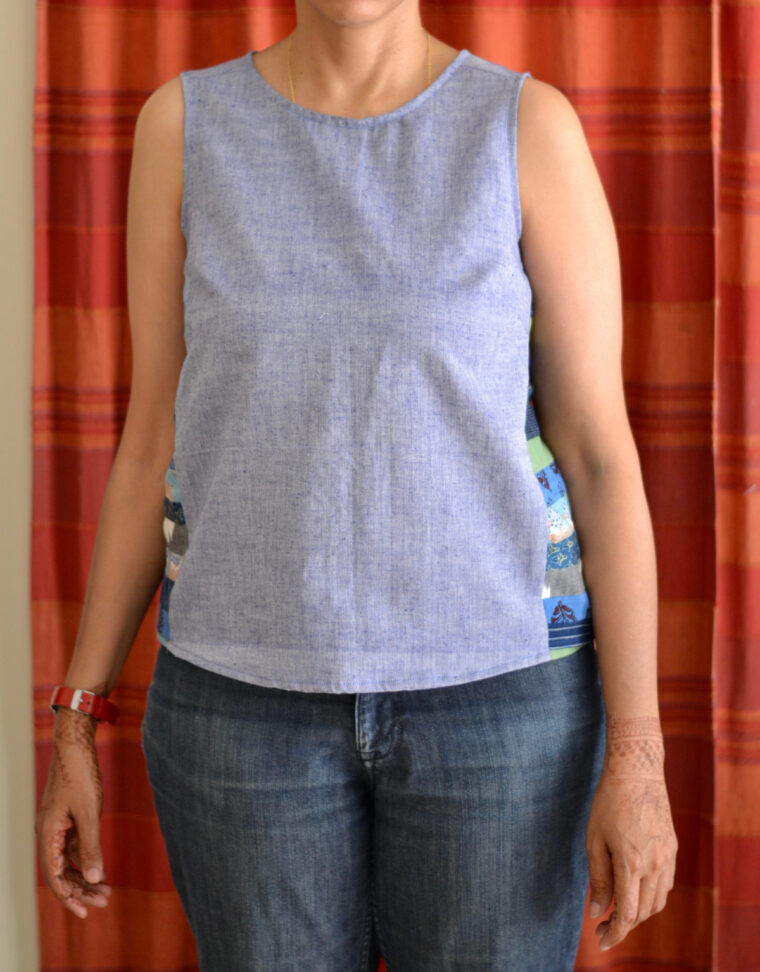 Sizing: Based on my measurements (upper bust 33", bust 35", waist 30", hips 40″ and height 5″4′) my final version was made in a size 4 C cup graded out to an 8 at the hips.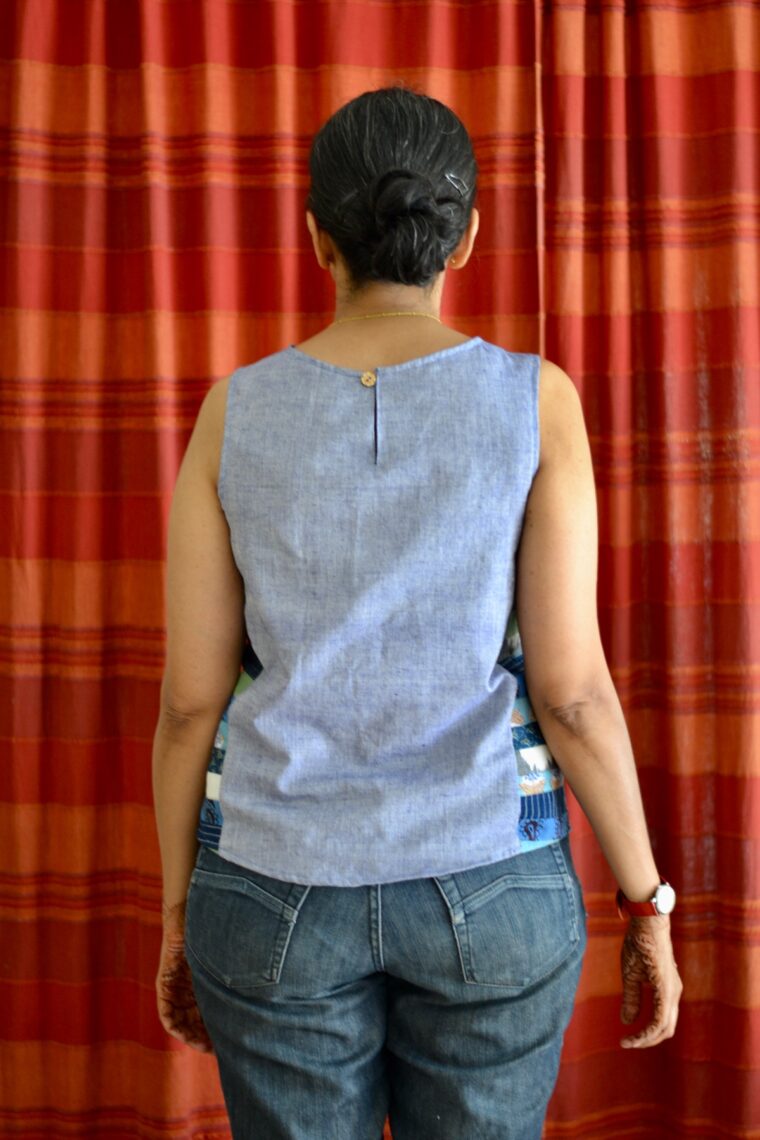 Fabric: Not surprisingly, my chief aim here was to use as many scraps from my stash as possible. To make the side panels I decided to cut scraps into long strips and sew them up together to make "fabric" for side panels.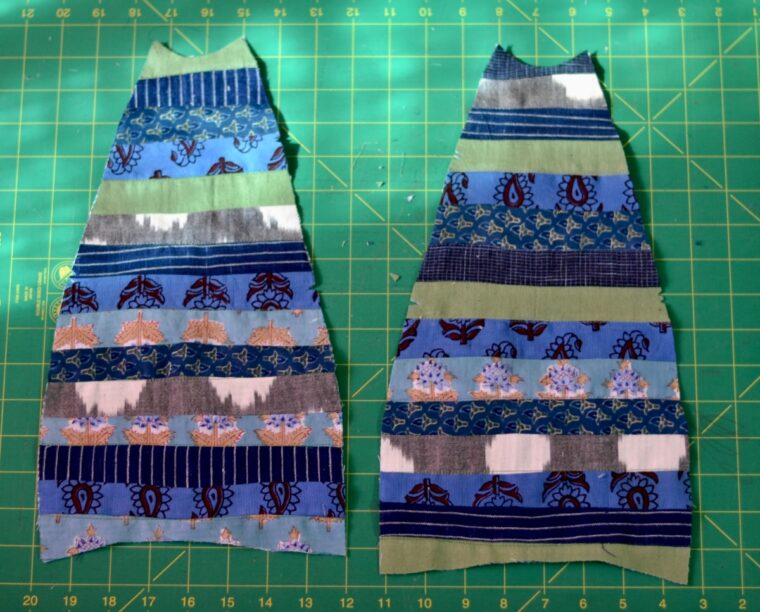 Each strip is roughly 1 1/2" wide (unsewn), but I think any size can work here. Because the pieces are so narrow, I also was able to use fabric with different weights. There is some mashru silk and ikat also thrown in the bunch! I lined it with very thin handloom cotton to give the patchwork some stability, and that became a single piece of fabric out of which I cut my pattern piece.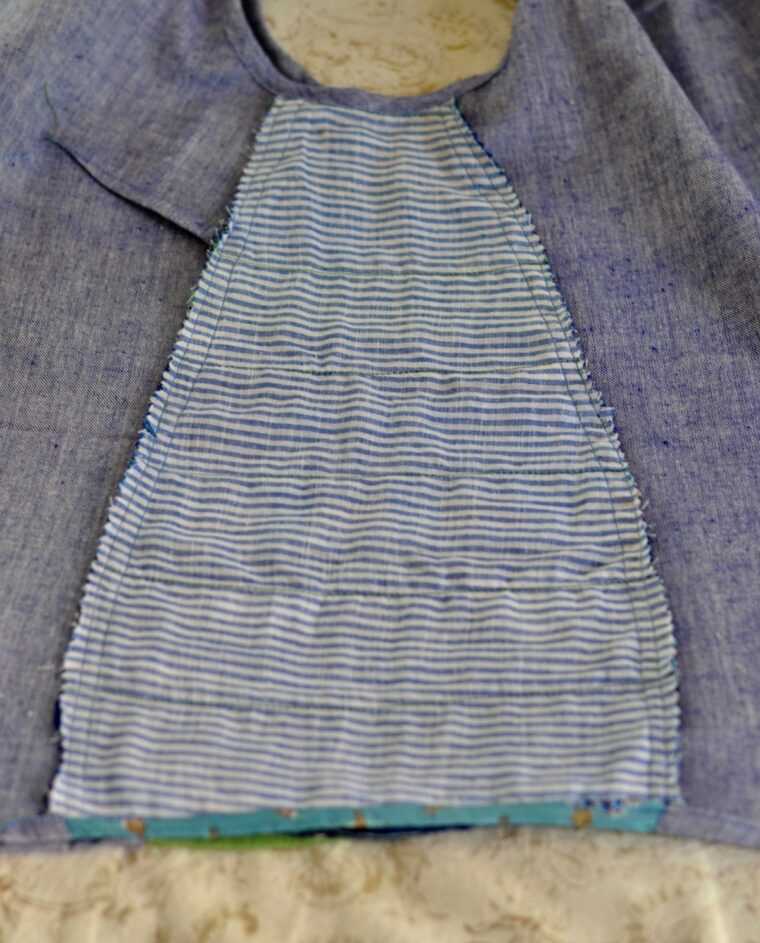 The main two panels, in ikat, are cut from leftover yardage from my husband's shirt. That makes this a blouse entirely from leftover fabric, which makes me truly very happy!
Modifications/ Making muslins: This is a one-scissor pattern because once you "get" it, it is truly a very simple pattern that can be put together quickly. But because I am "triangle" shaped, it took a few muslins to get the shape I wanted. Here is my list of modifications:
1. Forward shoulder adjustment: 1/2"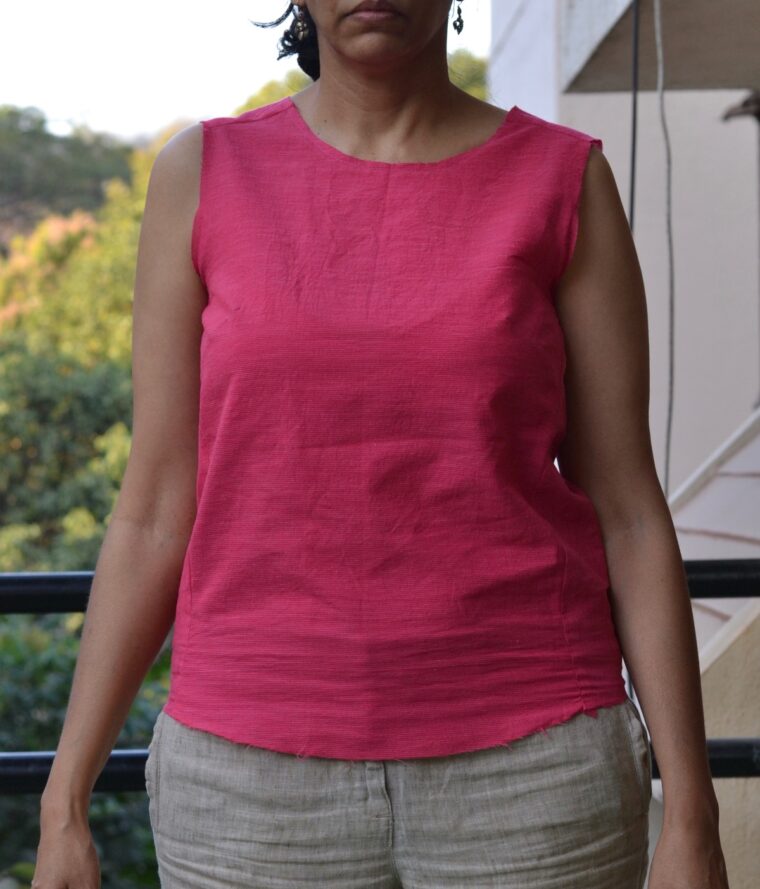 2. Overall length reduced by 1 1/2"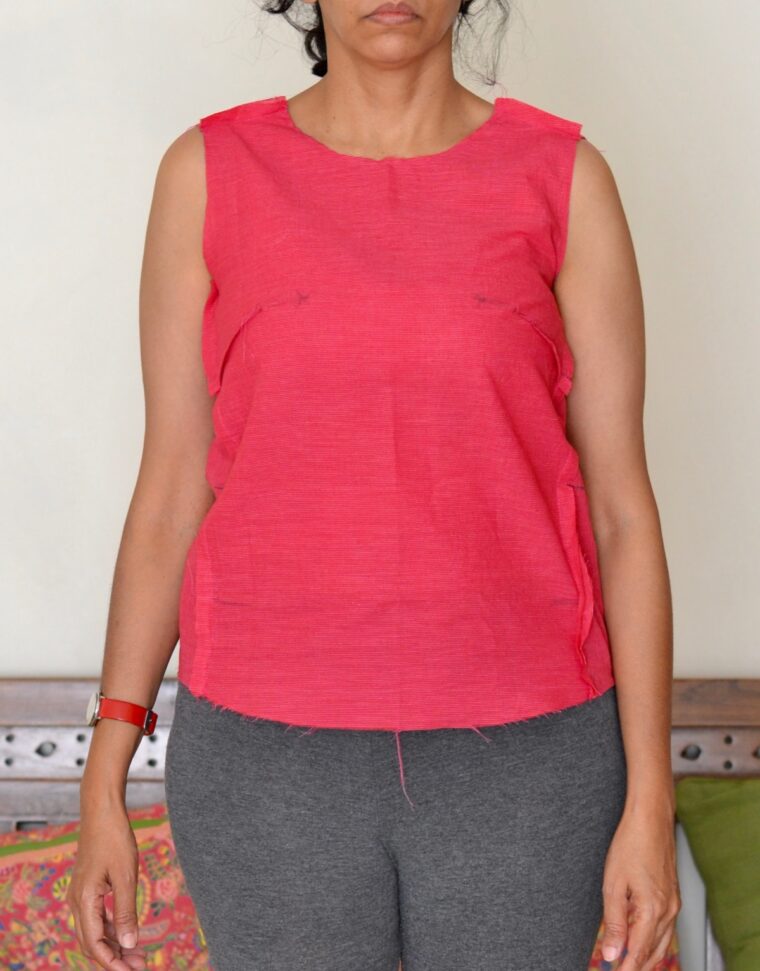 3. To give myself extra room around the hips, I used the slash-and-flare method for the side panels. I had already graded the pattern out to an 8 at the hips. The slash-and-flare added an extra 3/4" width at the bottom.
4. Despite having a 2" difference between my upper bust and bust measurement, the A/B cup size wasn't quite working for me (drag lines suggest the tightness). I moved to a C-cup pattern in size 4 (again grading it out to an 8 at hips). I also shortened the dart by
3/4".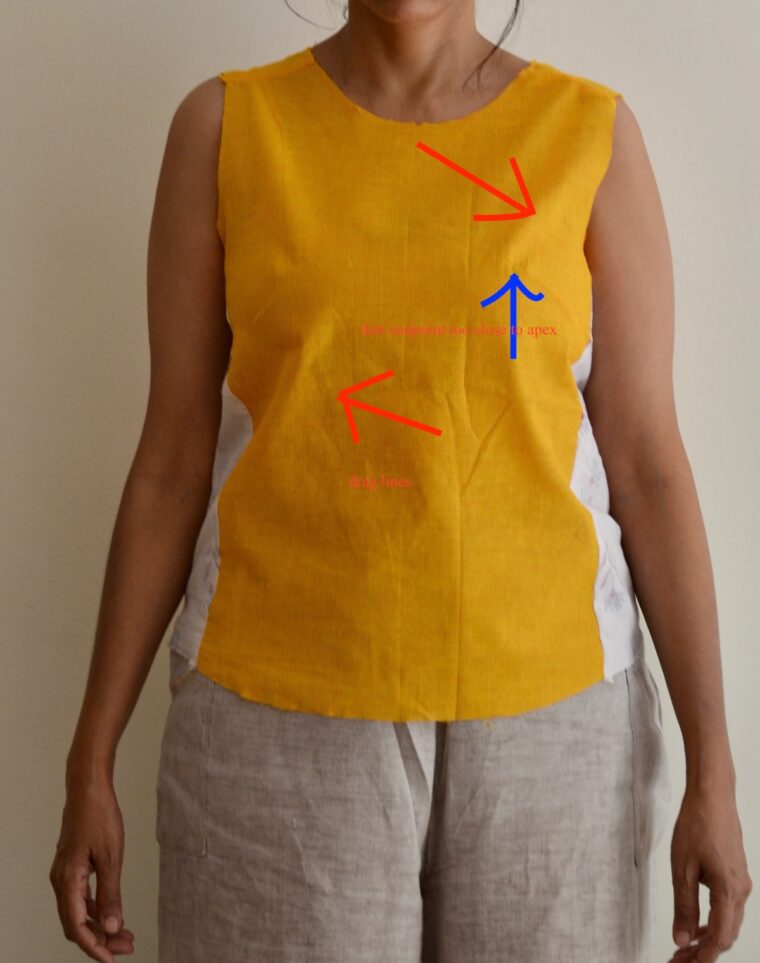 5. I reduced the front arm curve (taking it in) by about 1/4".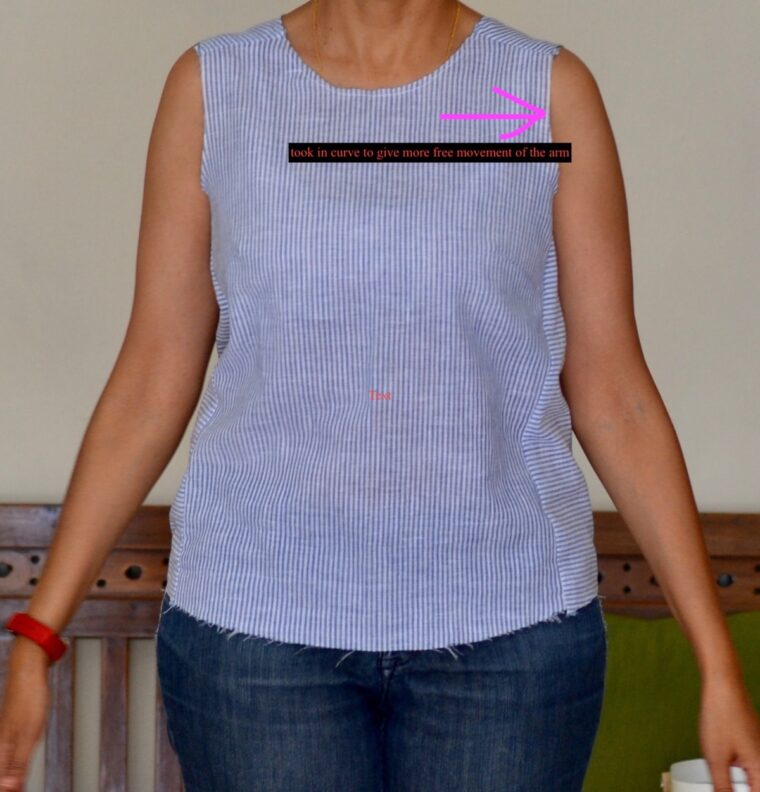 Making these changes took time and four (!) muslins, but I am glad I persisted. Most significantly I felt that I could change the shape of the pattern ever so slightly to work for my body shape, and I am very happy with the result. I can see myself making endless variations of this pattern, both because the possibilities are endless (different necklines, patchworked, color-blocked panels) and the summer is long!