The Advisors Circle made some beautiful garments from the new Melville Cardigan + Vest pattern. We have all the views represented in this post, as well as a number of different fabrics and a couple of fun sleeve hacks.
Erica's Melville Cardigan
Erica made her Melville Cardigan with a statement sleeve. She sewed a size small out of cotton knit.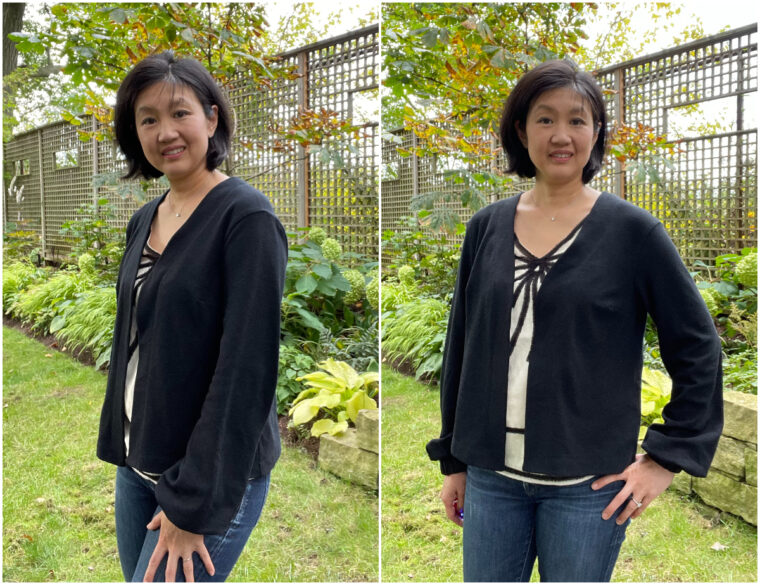 You may have noticed that her sleeves aren't the original sleeves on the pattern. Erica had a vision that she turned into reality with a clever hack. She tinkered with the pattern piece to get  shape that didn't add bulk at the bicep, but had a pleasing volume at the wrist. She gathered the knit fabric into a woven cuff made of Tencel.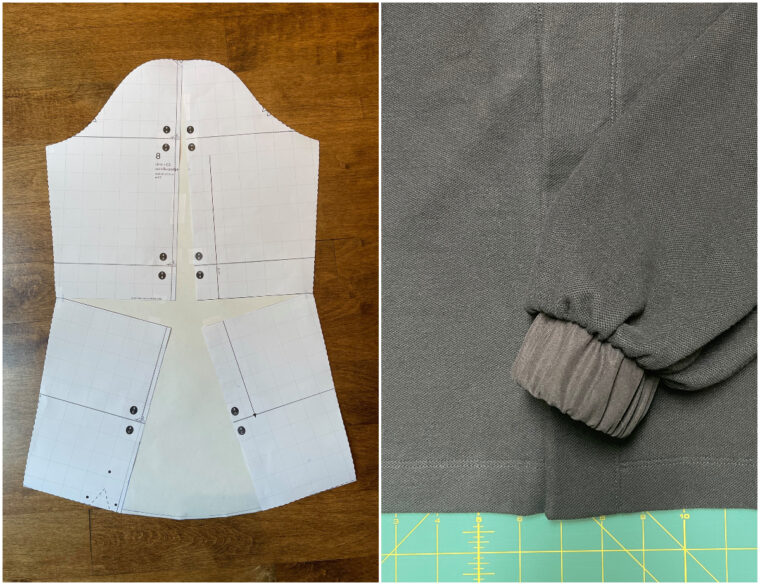 Mire's Melville Cardigans
Mire says:
I wear cardigans all the time. When I saw the Melville pattern I knew I wanted to sew several cardigans. For my first cardigan I decided to use this fun French terry from my stash. The back side of French terry is brushed soft and the surface of the fabric is smooth. The fabric is quite firm. I made the view A and my usual size S to test the fit. I was very pleased with the result and now I have a bright cardigan for Christmas.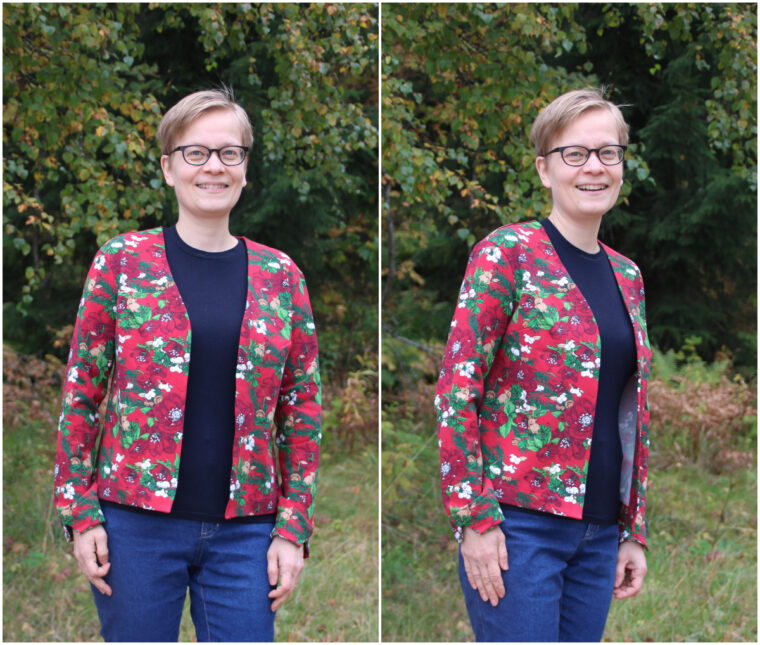 My next one is made of merino wool interlock. I had some remnants from previous projects that I decided to use to make a color-blocked version. Unfortunately, I didn't have enough fabric to use three different colors, which was my plan. Again I made the view A and size S. I didn't make any fit adjustments. The cardigan is soft and warm. It will keep me warm during cold winter months.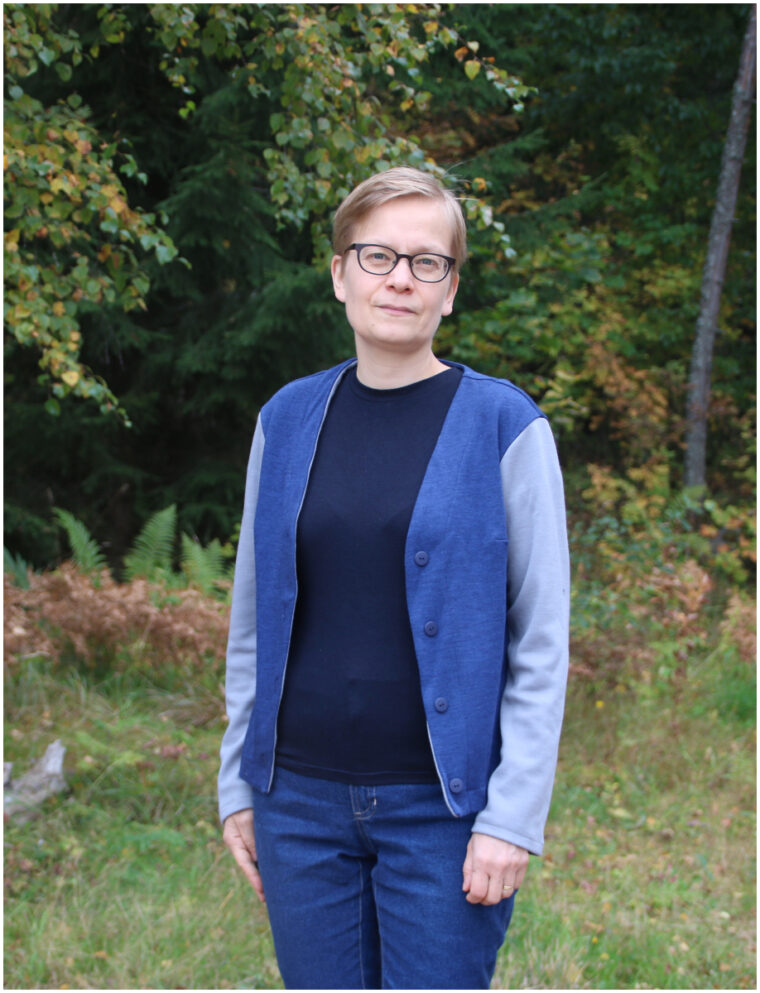 My daughter wanted a cardigan with gathered bell sleeves. I used the slash-and-spread method to add fullness to the sleeve. The width of my sleeve cuffs is the same as the original sleeve width.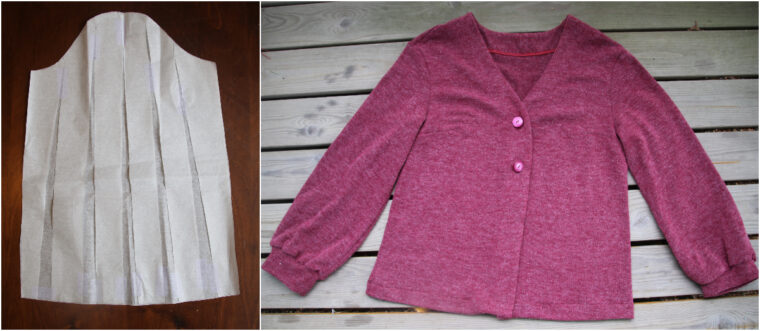 My last cardigan is view B with sleeves. Pockets are useful, so I decided to add in-seam pockets using the Bento Tee pattern. To do this, I added seam pockets to the front pieces and then I followed the Bento Tee instructions. After I sewed the pockets I followed the Melville Cardigan instructions. This cardigan is my favourite of all my four makes.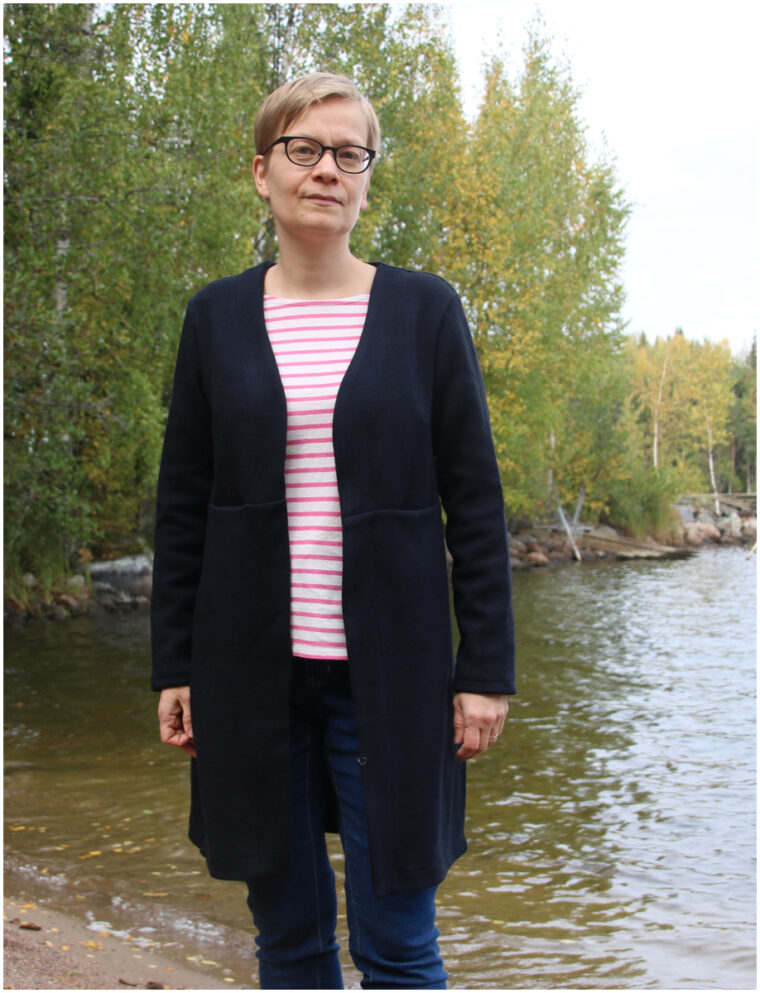 I am so happy with my makes. I got four different-looking cardigans just using one pattern.
Lyndsey's Melville Vest
Lyndsey says:
For my Melville Cardigan + Vest, I wanted to make a minimalist long cardigan in the Scandinavian style. I had a fantastic grey boiled wool fabric from my stash that would give me the look.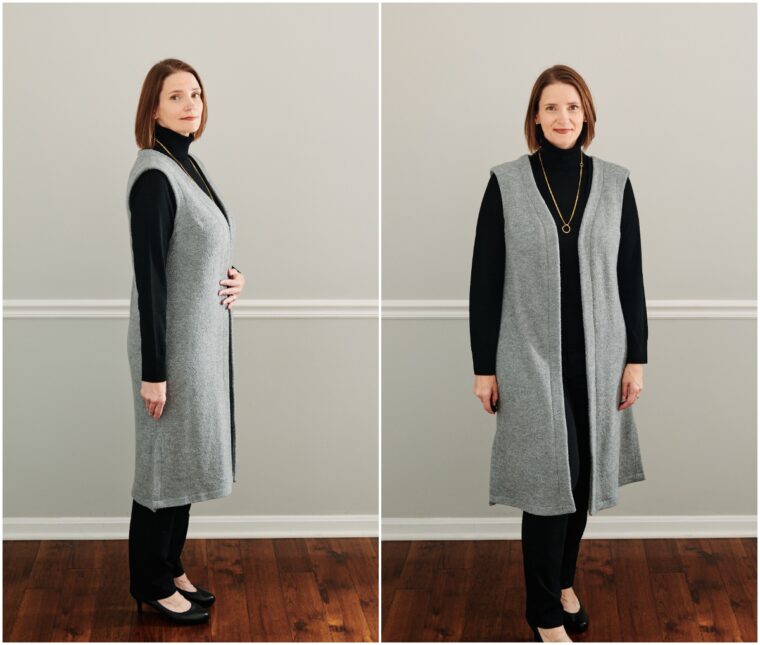 I sewed View C in medium with a D cup. I applied my usual pattern adjustments:
grading to a large in the hips
high round neck adjustment
and forward shoulder adjustment
I usually make a sway back adjustment but decided with this relaxed style I could go without the adjustment. The fit is great! I think next time I may just sew a straight large, fitting for my hips which is my largest measurement.
I do think it was important to do the high round neck and forward shoulder adjustments to have the garment hang properly from my shoulders.
Boiled wool is so enjoyable to sew. It is such a forgiving fabric and the top stitching will always look amazing. I thought about using a different fabric for the facings, but I just went with the boiled wool and was happy with the result. The areas under the facing were a little thick, but my machine handled it fine. The garment has the exact look I had in mind, and it is very cozy! I will wear it many days working from home.