I couldn't choose just one favorite Liesl + Co. pattern, so this post is about my top two: the Gallery Tunic + Dress and the Late Lunch Tunic.
I've made the Late Lunch Tunic twice and the Gallery three times, the latter with significant modifications.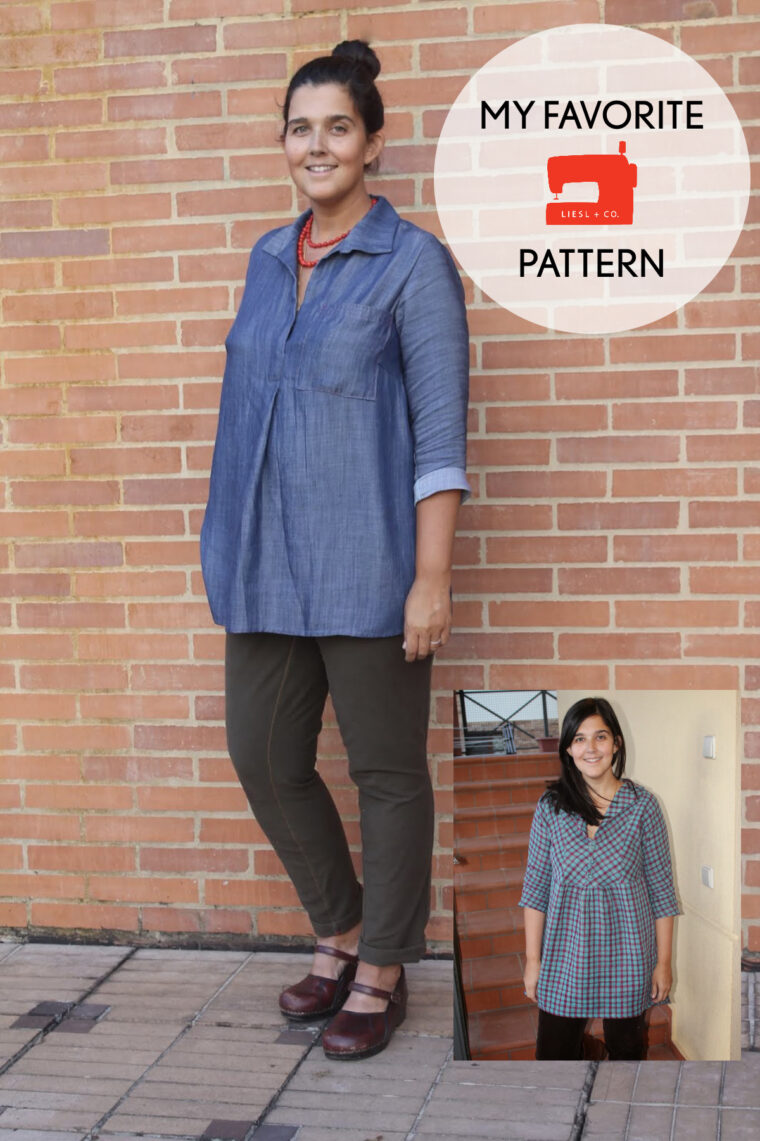 Why I love tunics
I love tunics for the same reason many of you do:
They're easy to wear.
They're cute and make me feel put-together.
They tend to cover all the parts of me that I like to have covered.
If the tunic is long enough, I can wear it with leggings without feeling self-conscious.
Depending on the fabric I use, a tunic can be a three-season garment here in northern Virginia.
Tunics look fantastic with tall boots, which I wear at least five months out of the year.
So that's why I love tunics in general. Here's why I love Liesl's tunics in particular.
Why I love the Gallery Tunic
This pattern is simple to sew and simple to modify, as you'll see below. The popover placket style is classic while feeling modern and stylish. Because the pattern comes with both a band collar and a one-piece collar, it's versatile. I've even added ruffles to the band collar.
The fit of the tunic is roomy and flowy. It's lovely in a drapey woven. The pattern is drafted with a single back pleat that you can sew down as far as you'd like to add more shaping.
I've sewn this pattern three times.
Gallery Tunic #1
My first tunic was a wearable muslin in a poly voile. I lengthened the placket 1 1/2″ for this one and sewed the pleat down an extra inch. I did a full bust adjustment (FBA) and a full bicep adjustment, but I didn't widen the biceps quite as much as I should have.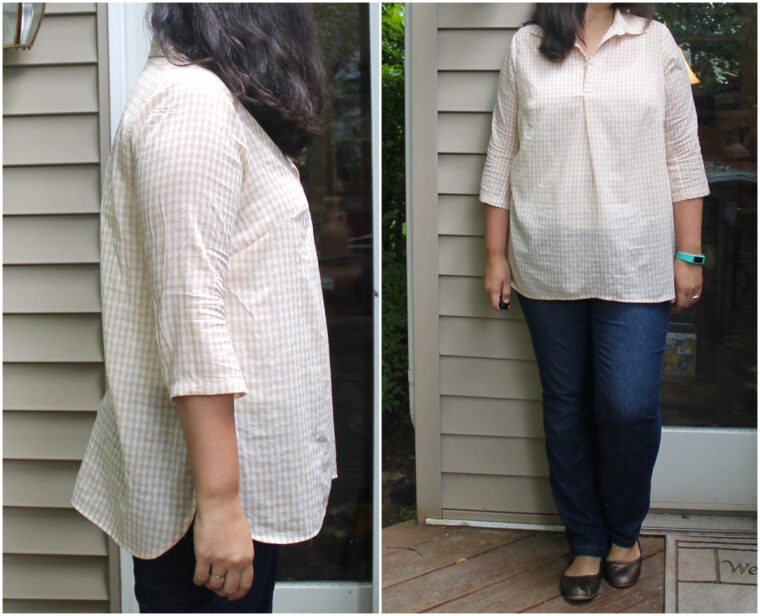 The fabric is sheer, so I wear it with a camisole underneath.
Gallery Tunic #2
I modified the pattern a bit on my second go. I added a back yoke and a ruffle to the band collar. I also made the tunic a full button-up shirt. That last modification was actually a mistake; I cut the front in two pieces instead of on the fold.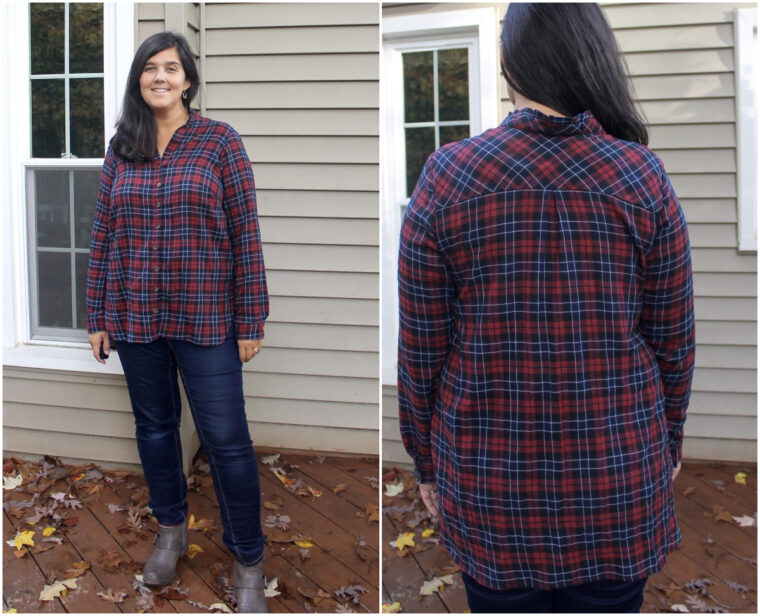 The fabric is a cotton twill voile that also seemed to have some wool content. It is light and warm and I wear it with long cardigans in the winter.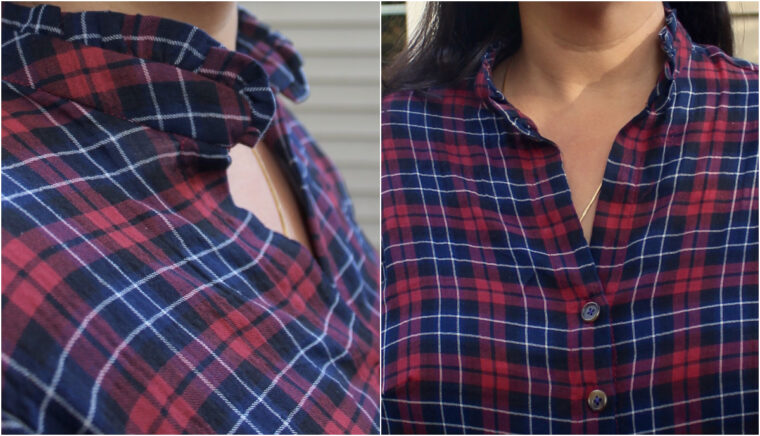 Gallery Tunic #3
I lengthened the placket further on my last tunic, for a total of 4″ extra in length. I also lengthened the back yoke that I had drafted for my second tunic and turned the inverted pleat below it into a box pleat. I also added a pocket. I had planned to add a couple of buttons to the bottom of the placket, but it stays closed without them.  This version is made of a modal denim that is very flowy and substantial. It's not quite long enough to wear with leggings, but I plan to make one soon that is.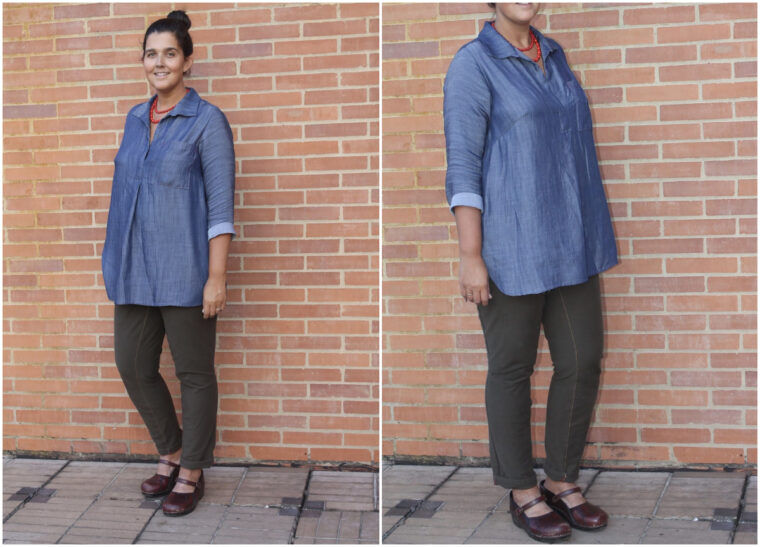 Why I love the Late Lunch Tunic
The late Lunch Tunic was one of Liesl's first women's patterns, and I sewed up these two versions seven years ago! I absolutely love the front yoke with its buttons and the princess seams. The cut-on sleeves are easy to sew, elegant and flattering.
And though the pattern was released before Liesl + Co. started including cup sizes, it does come with excellent instructions for a full bust adjustment on those seams. I used them to alter the pattern for my bust.
I made the first version out of a denim-look linen and modified the center front to be an inverted pleat instead of gathers.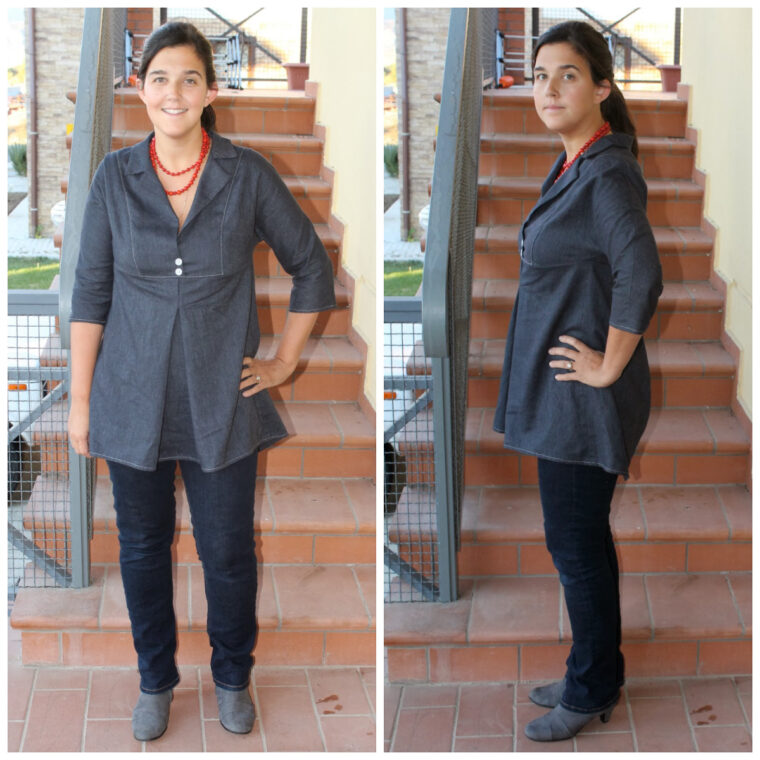 For my second version, in a double-faced gauze fabric, I lengthened the yoke and gathered the skirt.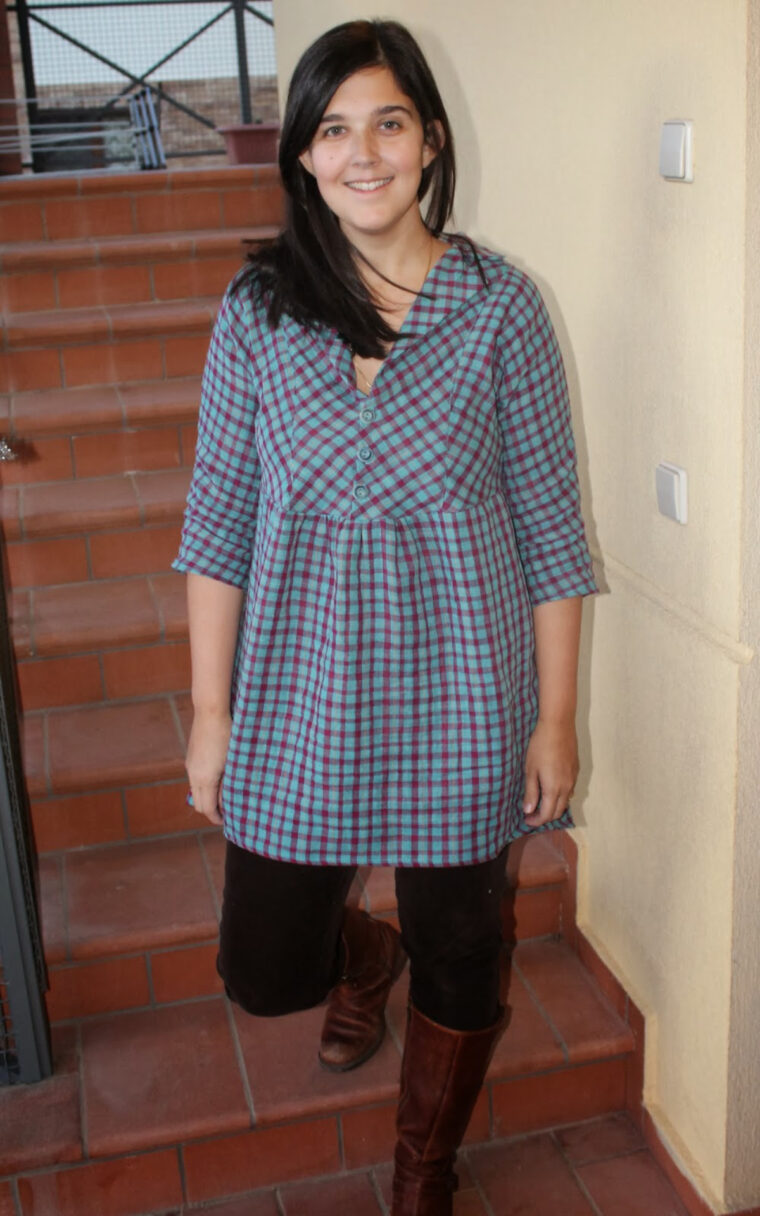 I gave these away a year after my fourth child was born, when I had despaired of ever fitting into them again. I always meant to make a replacement but haven't gotten around to it yet. Looking at these photos is inspiring me to make it soon. This pattern is a great one and if you love tunics as much as I do, I encourage you to try it!