Today we're sharing a few versions of the Verdun Woven T-Shirt from our Advisors Circle. Each of them did a great job making the pattern their own. Take a look!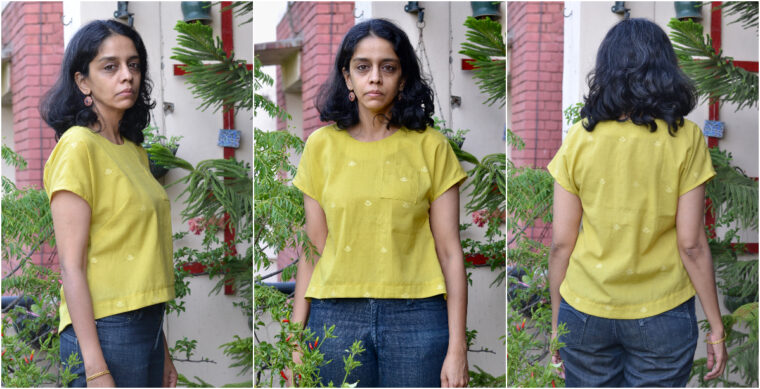 I have never made a woven tee before but have always coveted one, so the Verdun presented the perfect opportunity to sew one up. Based on my measurements I made an XS at the bust with an A/B cup and graded it to an S at the hips with the length shortened by 3".
There are only two main patterns pieces; the sewing itself is very simple and it's a perfect single scissor pattern. Because of its simplicity, it can become a perfect canvas for beautiful fabric. I used some "jamdani" fabric. This is a kind of high quality handwoven muslin which is very soft and comes from Bangladesh and West Bengal.
Since the top uses hem facings, I think it might be fun next time to make the facing with a different fabric which coordinates with the main fabric. I am happy to have something so simple and elegant in my wardrobe, and I am definitely looking forward to making more of these.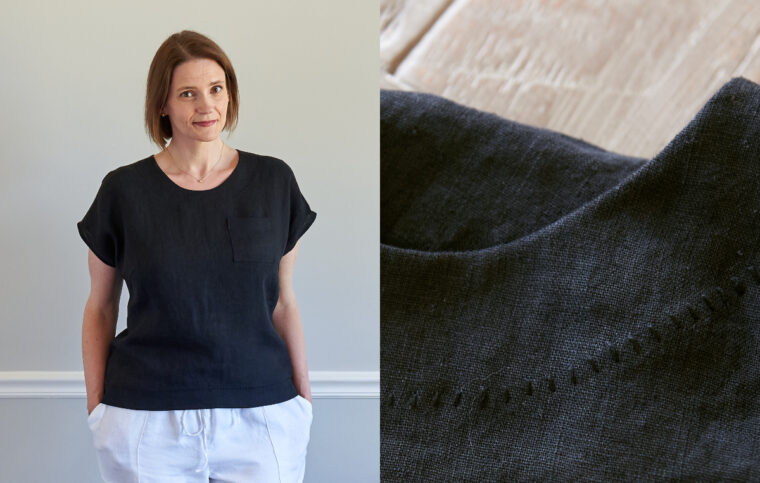 For my Verdun Woven T-shirt, I immediately knew I wanted to use this amazing medium weight black linen from my fabric stash. I love simple linen tops for the summer but didn't have any in my wardrobe. I wanted to make this top with a minimalist aesthetic that could be dressed up or dressed down.
I sewed View A in Medium with a D cup. I applied my usual pattern adjustments including: grading a Large in the hips, high round neck, forward shoulder, and sway back. I was really happy with the fit in this version, and I could see this pattern as a base for many hacks I have in mind!
For a hint of embellishment, I decided to stitch down the neck facings and hem by hand using an embroidered whip stitch. The cotton embroidery thread has the most subtle sheen, and the pattern adds just a tiny bit of interest while still maintaining that minimalist look. The pictures do not do it justice but it transformed this shirt into one of my favorite makes.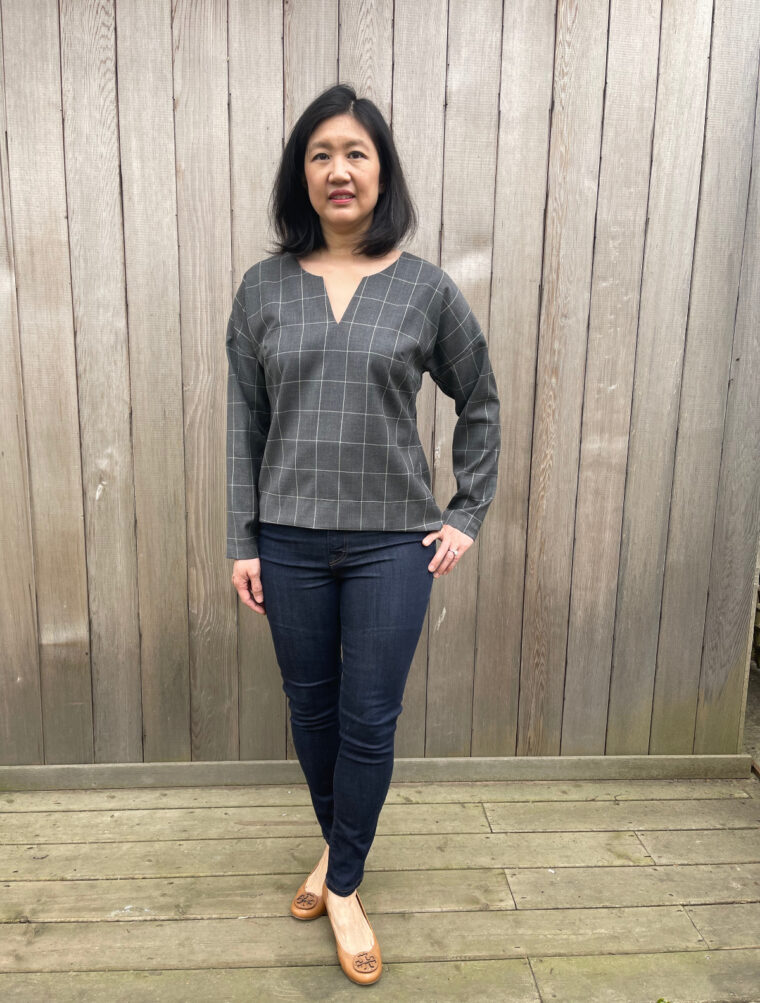 Erica:
When I heard that a neighbor wanted to discard an entire bolt of men's wool suiting, I happily volunteered to accept that "treasure." This fabric holds up well to machine washing in the delicates cycle, is a pleasure to sew, and is the perfect base for a cool-weather Verdun.
Sometimes I have to make shoulder adjustments to blouse patterns, but the dropped-shoulder style makes for an easier fit for me. I made a straight size small in my usual cup size, with no other adjustments except for making the sleeves 1″ shorter.
Mire:
For my Verdun tee I chose blue linen in my stash. I love how it turned out. This is a great pattern. I know I will get a lot of wear out of my Verdun. I can wear it underneath a cardigan or as a simple summer top. Also the pattern was simple and quick to sew.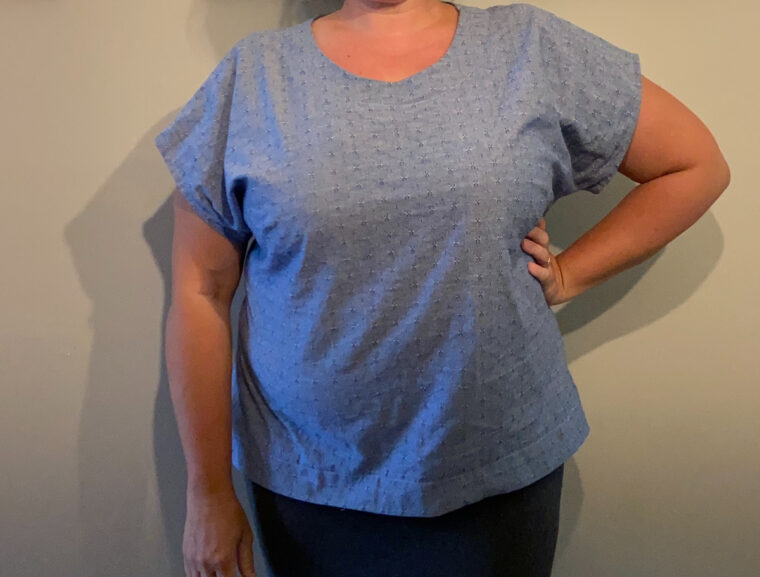 Liz:
As someone whose 'MeMadeMay' wardrobe consists of the Wyndham Robe and a Noord Sweatshirt, making a top for myself was something that I'd wanted to try, and the Verdun Top seemed the ideal starting point.
I loved the look of the sleeve length, the facing topstitching detail, and its simple lines and super simple looking construction. I found a 'dobby' chambray in blue (which now I also want in grey) which I hope is going to be nice and cool for the North Carolina summer
I added 2 inches to the length as I always worry about tops being too short. I shouldn't have been concerned, as although I like the extra length, it didn't need it, and the next version I make I'm going to leave it off (there will be a next version). I omitted the pocket, but might change my mind and add one at some point.
Particularly quick sew, so I think the next version I'm going to start working on my fitting. There are some fantastic blog posts on here about size and shape adjustments, and the east of sewing this makes it an ideal piece for me to start experimenting with. I think I'll take it down a size for next time and leave it as the standard length – I can see this being something that I'm going to want in quite a few colours!