The new Yanaka Jacket is a sophisticated style that isn't difficult to sew. Take a look at what two of our advisors did with the pattern!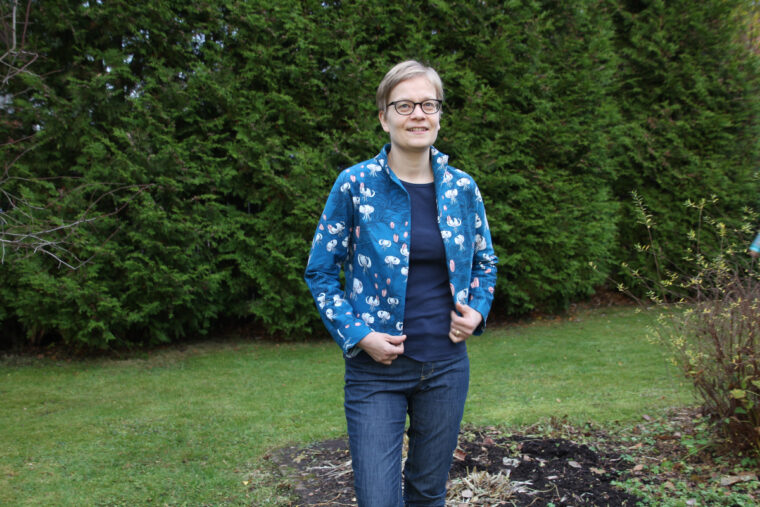 Mire says:
As soon as I saw the Yanaka Jacket pattern, I knew that I wanted to sew it. In winter I mainly wear long-sleeved t-shirts or shirts with cardigans. But sometimes I want to dress up a little bit and a cardigan feels too casual. The Yanaka jacket is a little bit dressier than a cardigan. I can wear it with t-shirts and layer it underneath my winter coat.
I decided to use French terry for the jacket. The back side of the fabric is brushed, so it feels soft on my skin. The surface of the fabric is smooth. The brushed terry is a little bit less elastic than regular French terry. This was a great choice for the jacket. I feel so comfy but stylish when wearing it.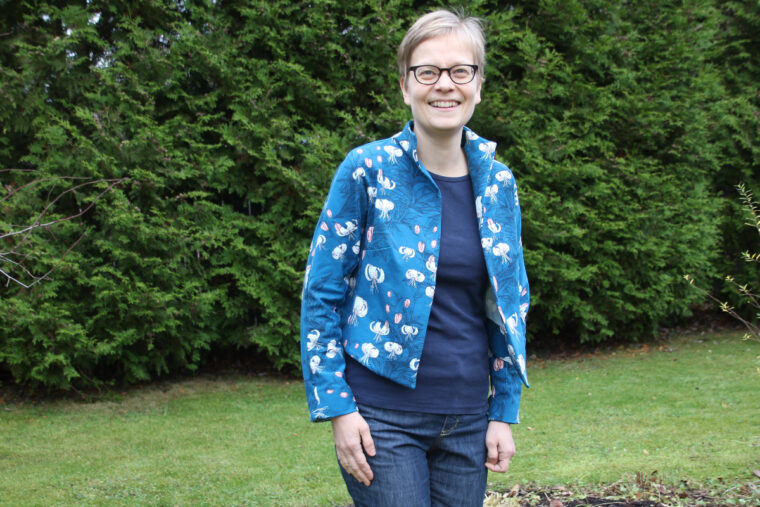 I didn't make any alterations. I just sewed size 2 with the C cup. My waist is 27″ (which corresponds to the size 4) but I knew that wouldn't cause any fitting problems.
The sewing went easily and quickly. I sewed all seams with the sewing machine and then finished the seam allowances using my serger. At first I thought that I would sew the hem of the sleeves with the sewing machine, but in the end I decided to hand-stitch them and I am happy that I did. I also blind-stitched the hem facing as instructed. The end result is much more stylish this way.
I have already worn my jacket a couple of times and I love it so much. The jacket is comfortable to wear and a great layering piece for my autumn/winter wardrobe.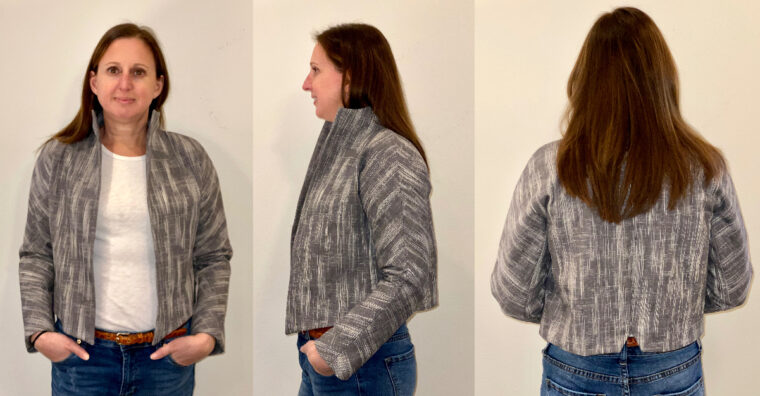 Jennifer says:
The Yanaka Jacket was such fun to sew. I used a medium-weight gray and white cotton in my stash that I purchased on sale a few years ago. I'm not exactly sure what it is, but it had the feel of a textured canvas.
Sewing up the jacket was fairly simple. Finishing the seams with bias tape took as much time as the main jacket construction, but the results were well worth the effort. The hand sewing also took a little time, but in any sewing project it's my least favorite thing to do.
In the end, I love the jacket. It looks great with jeans, over a casual dress or skirt. I'll be making more, finished seams and all. Maybe in wool or faux suede?