We've got a new post from Advisors Circle member Aimee today, showing you how she added a contrast interior placket to her Gelato Blouse.
A peplum-style blouse has been on my to-sew list for a while, but I never could settle on a pattern to try. Enter the Gelato Blouse by Liesl + Co.
Immediately what I loved about this pattern was the versatility for many different garments from one pattern. Not only could I satisfy my desire for a peplum-style shirt, but this particular pattern gave me simple sleeve options along with a dress option (with pockets!). Both of these provide such a great canvas to alter and modify and let your own design styles shine a little.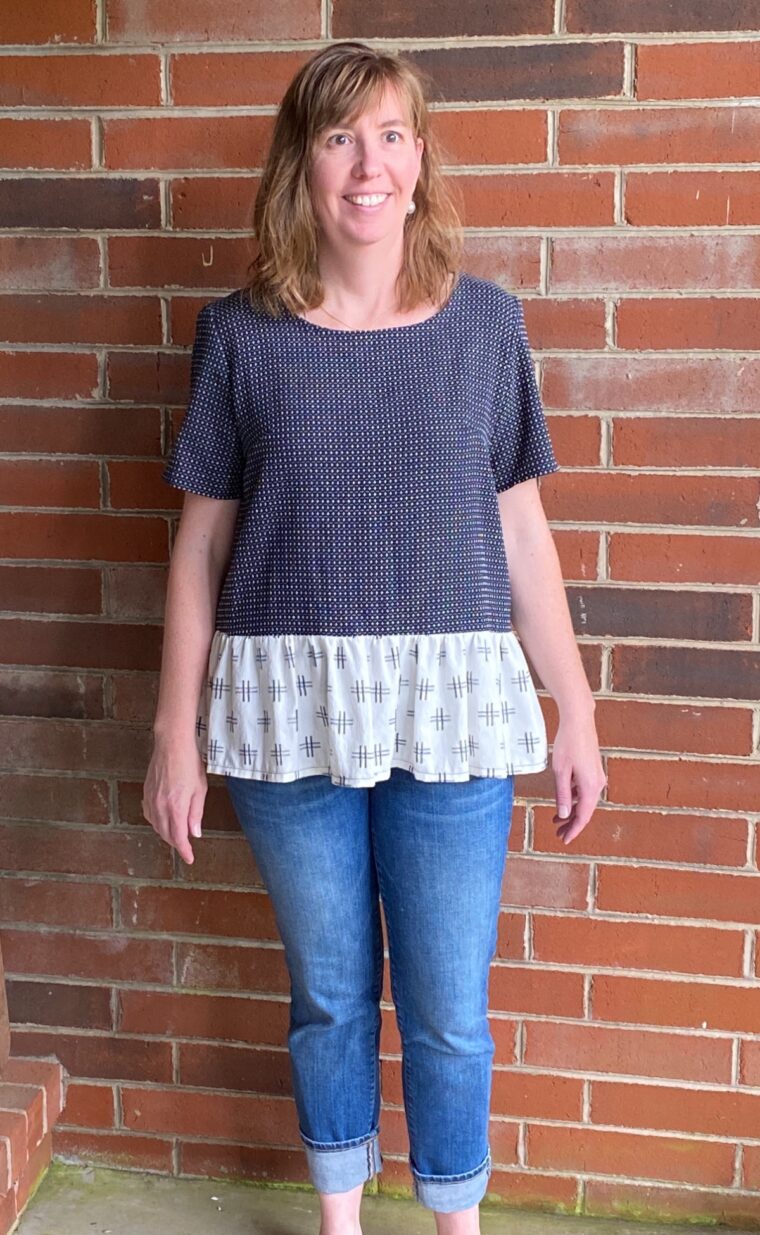 View A is the blouse, which has a button-up back, a simple bias-bound neckline, and a gathered peplum on the bottom. The sleeve options for View A are a longer three-quarter-length sleeve with a ruffle, but I opted to use the short sleeve pieces from View B.
Working with limited fabric
For my blouse, I had pretty firm parameters to work around. I'm sure all of us have times when we have purchased fabric intended for one pattern and then changed our minds. Am I right?
I had a little more than a yard and a half of this amazing Moda Boro Foundations Dark Indigo fabric that I had originally intended to be a pair of shorts. This woven fabric has an amazing flow, and I quickly realized what an awesome blouse it would make. I knew I didn't have enough of it to make the blouse and I was fighting a losing battle trying to find some extra yardage. Fortunately, our local quilt shop offered up another option. The same line of fabric, but a coordinating pattern.
Because I was using coordinating fabric, I wanted to figure out all the ways to play up the different pieces. I knew right away I wanted to use the indigo blue for the main body of the blouse and sleeves and the coordinating white for the peplum.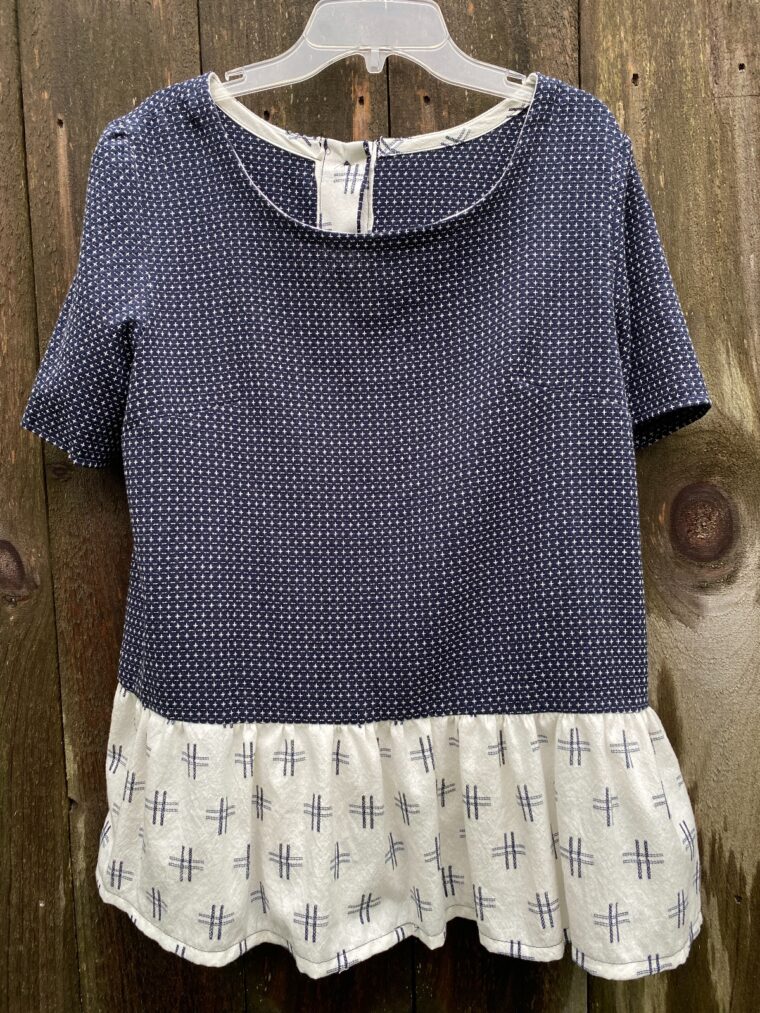 I decided to make the button placket out of the same white and then give the neckline a subtle pop of difference by using the white for the bias facings. Both of these little details are on the inside, but there's something I love about opening up a garment and seeing these playful pops of color. It's like a little secret.
I have a pretty large stash of vintage buttons and I had great fun digging through the piles of buttons to come up with the perfect set.
How to add a contrast placket
To be completely up front, I'm not the most adventurous when it comes to altering patterns, so I went forward with my attempt to add this little difference to my button placket very carefully.
The placket on the Gelato Blouse is cut-on, so I had to create a separate pattern piece for my contrast placket.
First, I cut out the main pattern as directed and measured the width from the edge of the back bodice piece to the fold line on the pattern to determine my placket width. I also had to add a seam allowance.
Then, I cut, pressed and folded the white placket pieces and applied the interfacing before I attempted to cut the main blouse. That first cut was nerve-wracking. Entering the process with a limited fabric supply and then trying to alter the pattern was enough to make my hand shake picking up that rotary cutter!
But I forged ahead. After I made the cut and stitched the pressed placket onto the main shirt, I held it up against the pattern piece and was pleasantly surprised when they matched up! Success!
I stitched up the rest of the blouse as directed, and it was a breeze to put together. This pattern is a great example of a pattern that looks difficult, but is actually very simple.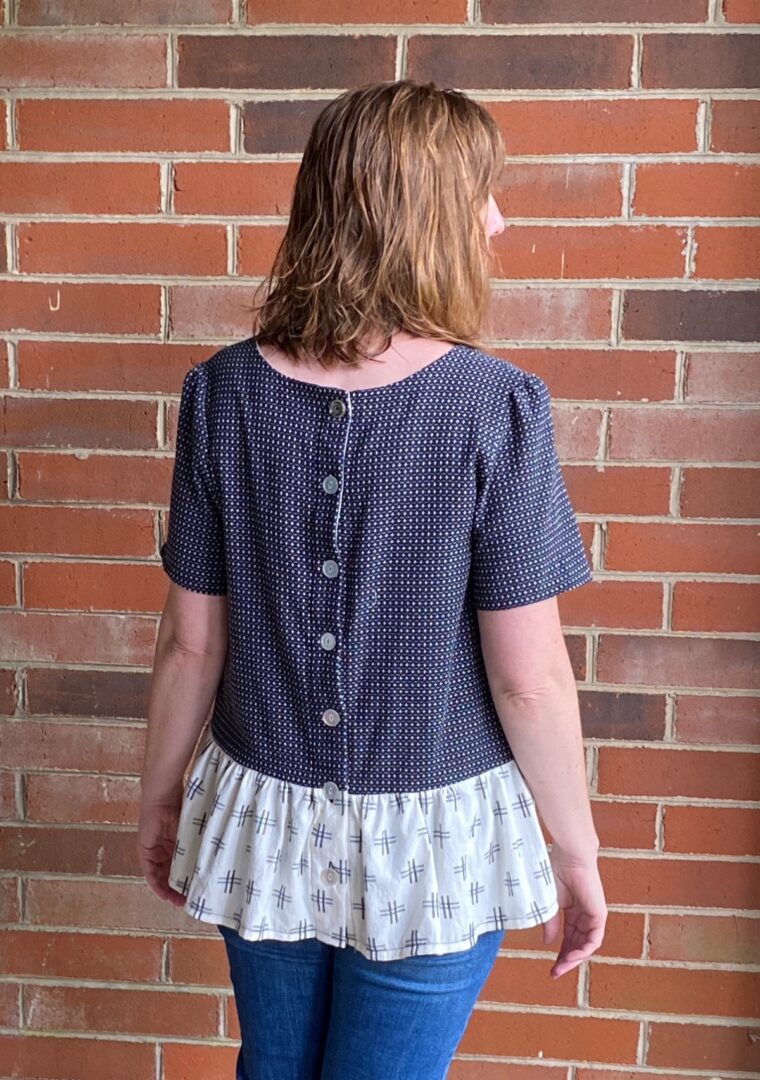 Looking at different inspiration photos from Liesl's Pinterest board for the Gelato gave me so many more ideas for altering the neckline and adjusting the length and placement of the peplum.
Fit-wise, I love the looseness of the blouse. I do notice that my dart lines don't perfectly match up with my bust area, but most of the time these peplum blouses hang rather loosely, so I'm not too worried about that. I'm planning another Gelato peplum out of flannel. It won't have the same flow to it as this woven Moda, so I think I might need to do a little more fitting with the darts.
I'm always nervous when I try to mix and match fabrics and alter pattern details. But even if you are fairly new to sewing, I'd love to encourage you to try. Take those languishing yards and match up a few and go for it.