Sometimes a simple pattern hack has a big impact. Such is the case with Shelley's mini Kensington Knit Skirt, which was made from a special fabric. Here's Shelley to tell you about it.
Name: Shelley (sewing alias: Lightning McStitch)
Country: Australia
Where can we find you on the Internet? Instagram   Blog
Project Details
Pattern used: Liesl + Co. Kensington Knit Skirt
Fabric used: A vintage (probably late 70s to early 80s) double knit for the skirt and navy ribbing for the yoke.
Did the fabric work well?
Perfectly for what I was imagining. I liked the tightish fit of my original Kensington Knit Skirt and wanted a winter mini skirt to wear with tights and boots. I only had a small amount of this fabric and so I cut the yoke from navy ribbing. I'm wearing it here with a Liesl + Co. Metro T-Shirt in stretch velour, which is a great fabric for turning a simple, long-sleeved T-shirt into something quite fancy looking!
How did the sewing go?
Really quick and easy. Without the wrap, the Kensington Knit Skirt is almost an instant garment.
Of course, I took a moment to make sure I cut my side seams and hem straight to match the fabric's stripes. Maybe I basted the side seams to match my stripes, or maybe I just used plenty of pins and jumped straight in with the overlocker. We all know what we're meant to do, right?!
The fabric helped me out as it was very amenable to laying straight, not curling, stretching or warping. Sometimes mystery vintage synthetics are the best.
At the length I shortened to, the side seams are pretty much perpendicular to the hem, so cutting the hem straight to match the fabric stripes doesn't alter the line of the skirt much. A longer, or more flared skirt would need the hem to curve and so would be less suited to a horizontally striped fabric.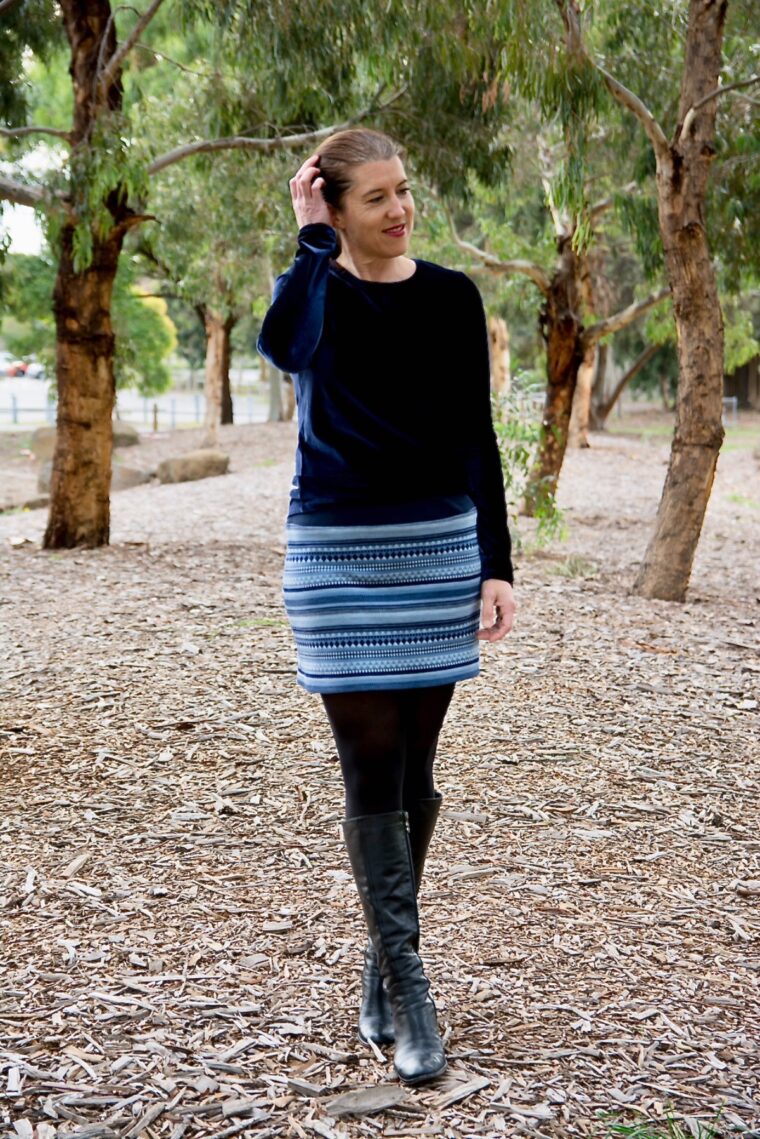 What was the best part?
At the risk of sounding grim, this fabric was given to me by the mother of a good friend about two years ago. It was part of a huge stash of fabrics and patterns from the late 70s to mid-80s, lots of which went to the charity shops, but plenty of which I kept. My friend's mum had sewn everything for her kids when they were small and kept all her bits and pieces. She was elderly and unwell and was doing the big clear-out. At the time I sewed an Everyday Skirt for my friend and a matching Tea Party Sundress for her daughter from one of the cuts of fabric.
This skirt fabric was part of the remainder of the haul. I sewed it up just a few weeks ago, and was sitting on the couch, enjoying its comfy warmth, when I heard the news that my friend's mum had passed away. I was happy to be able to tell my friend I felt like I was wearing a warm hug from her mum.
What a sweet story.
Have you sewn the Kensington Knit Skirt yet? If you have, don't forget to enter our spring pattern challenge! You can enter by sewing this pattern, our new Montauk Trousers pattern or the new  Belgravia Knit Dress pattern. Check out the pattern challenge post to learn how to enter to win two PDF patterns!