We happy to introduce you to almost a dozen new PDF patterns that are available in the shop this month. Here's a quick rundown of these offerings.
The Kosice Top + Dress from Itch to Stitch makes a beautiful peasant-style top or dress. Designed for lightweight woven fabric, the Kosice comes in different cup sizes. A Kosice dress made with floral fabric would certainly stop traffic. Or use a bright and fun print to make a top that is suitable for everyday wear. The Kosice includes options for short flare sleeves and short sleeve with elastic hem.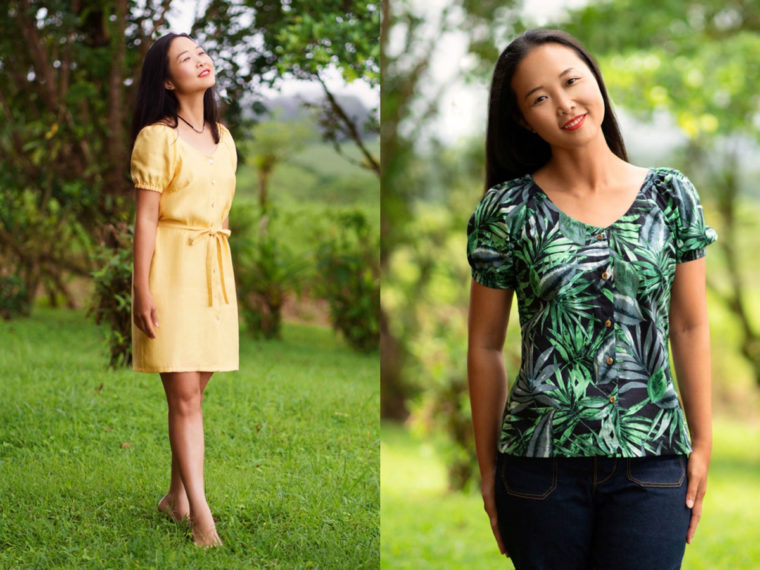 The new Underwood Tank Dress + Top from Sew House Seven is a super-easy knit pattern to both sew and wear. It was designed with hot weather comfort in mind and is the ultimate warm weather travel piece. This style was meant to cover a wide spectrum of summer weather wardrobe needs–anything from a swim suit cover-up to an out-to-dinner dress. All versions are sleeveless, fitted through the upper bust and then flowing into an A-line shape with a deep, curved back neckline that falls just above the bra-line for a little drama. The long (above the ankle) length dress also features long, knee length side vents. There are three options for hem lengths, two options for front neckline depths, and two options for neck and armhole finishing.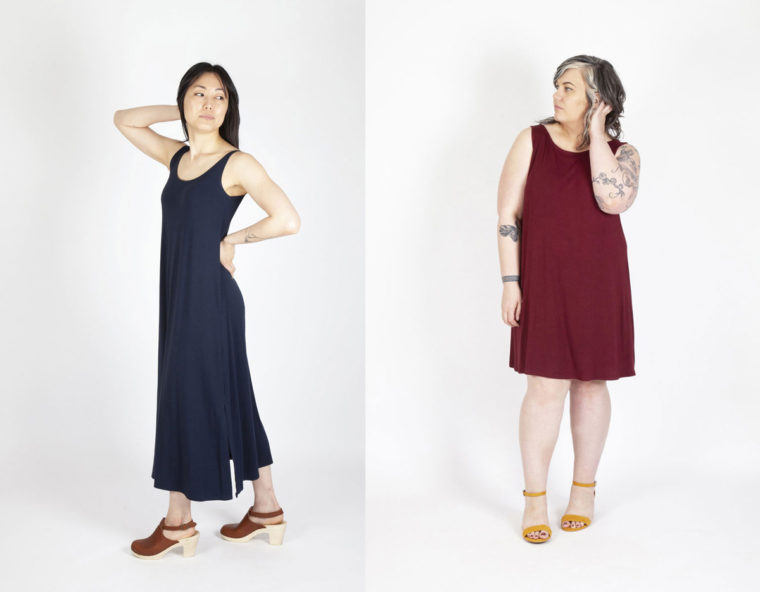 Waffle Patterns has five new designs available this month. The Lychee Pleated T-Shirt pattern makes a short kimono-sleeve-style top with a draping accent on the front bodice. It is a relaxed loose-regular fitting shirt with a hem band. There are two options for the neckline: V-neck and scoop neck. It is very easy and quick to sew without difficult details.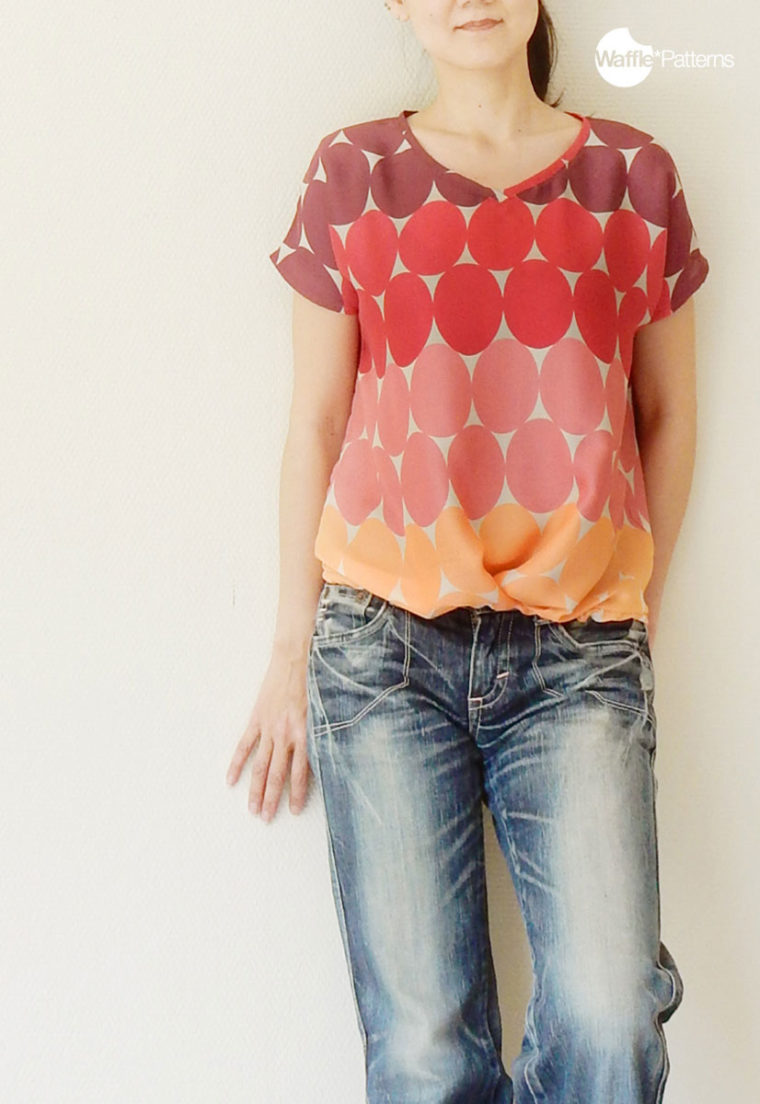 The Pine Yoke Blouse is a regular fitted blouse with front and back yokes. It features a back button opening and has two options for collar design: stand collar and round neck. The pattern also includes two options for sleeve length: long with cuffs and short sleeve.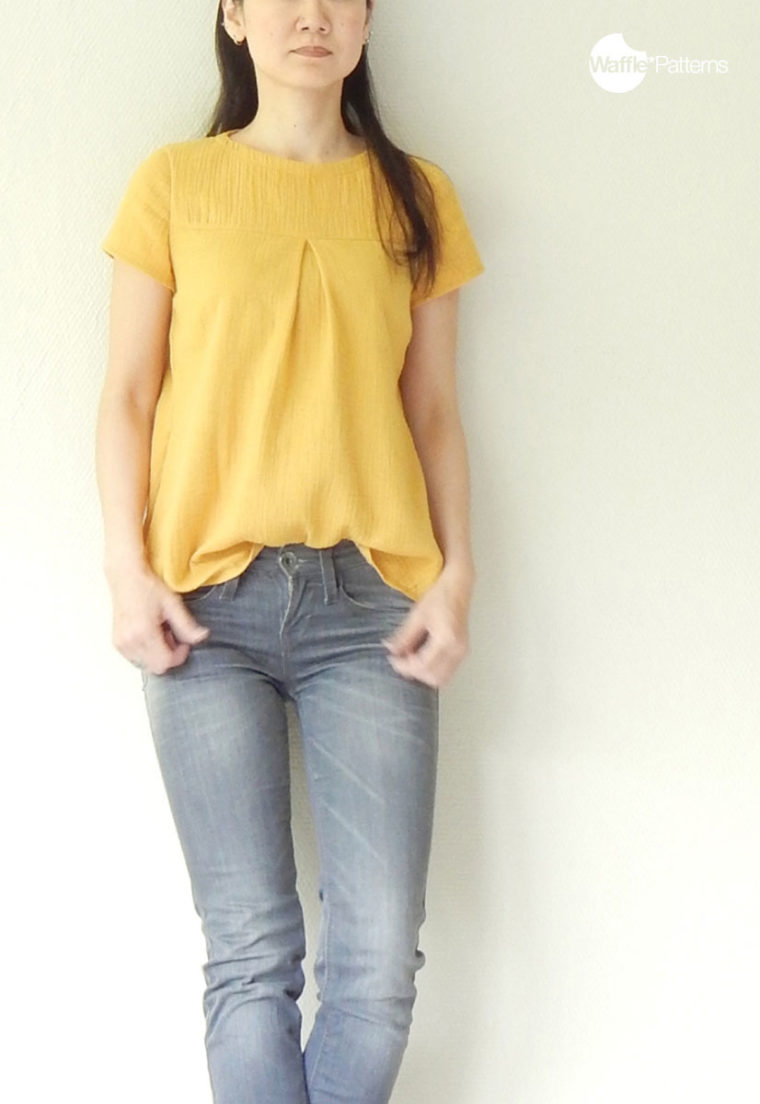 Starting to think about sewing for fall? The Walnoot Wide Pants pattern makes a pair of wide leg pants with a high rise waist. The pattern has three options for the front design: sailor style, flap pocket + front fly zipper opening, and edge pocket + front fly zipper opening. The pattern also includes three options for back side pockets: welt pocket, flap pocket, and patch pocket.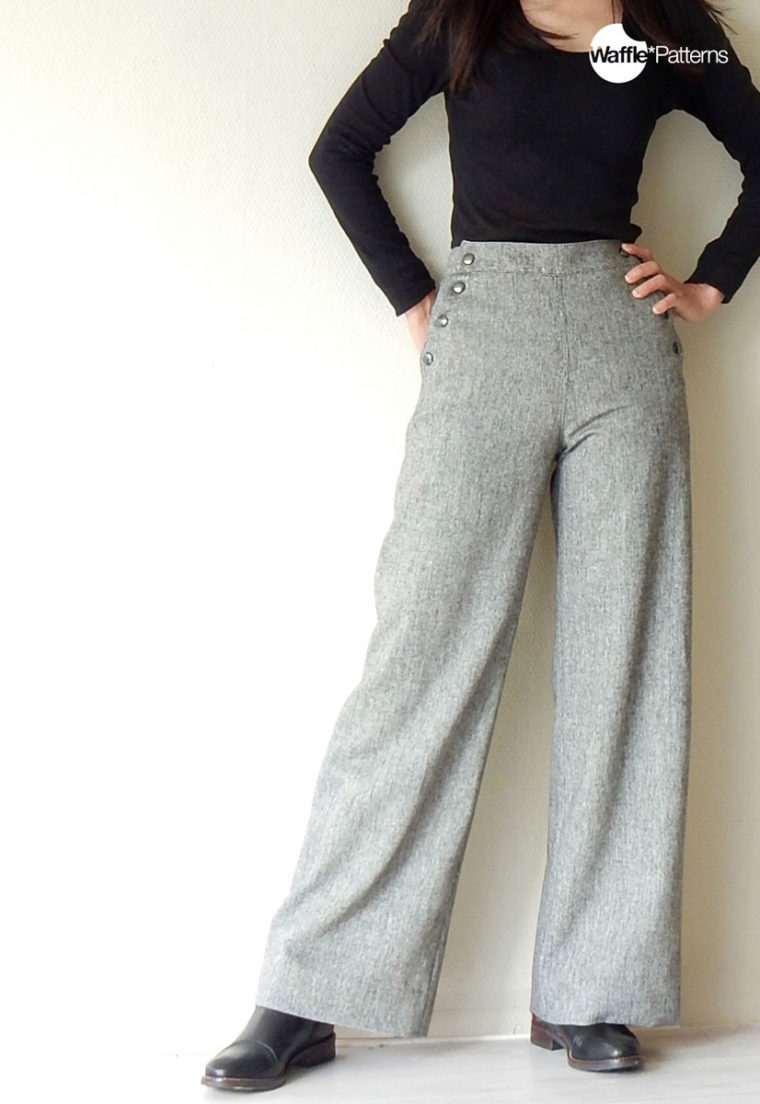 The Kaneel Moto Jacket pattern is a fitted jacket with details inspired by moto jackets. It includes a front zipper opening, zipper pocket welt on chest, and a two-piece sleeve with darts. The pattern has three options for hem length and two options for side pockets. The lining pattern is included.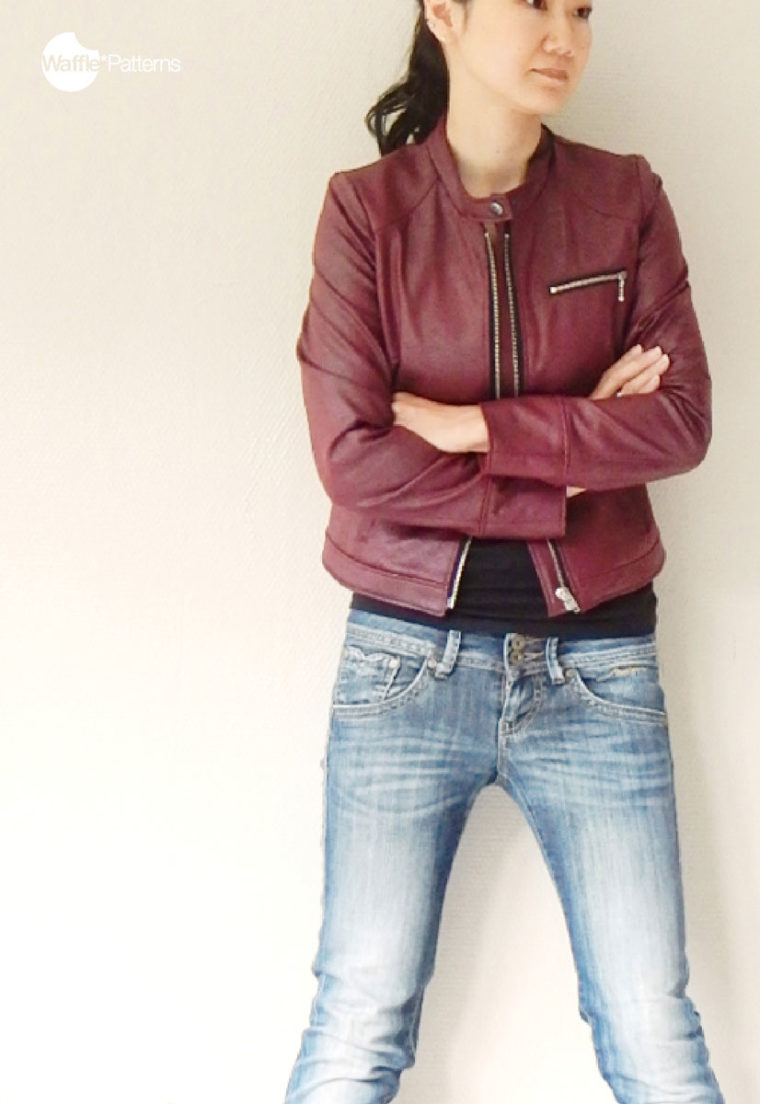 And because men need cold weather gear too, the Tosti Utility Jacket for Men pattern makes a regular fitted jacket with outdoor heavy-duty inspired details. It has a front zipper opening with plackets, a detachable hood, customizable pocket options, and an inside pocket. It also features two optional vents on the back.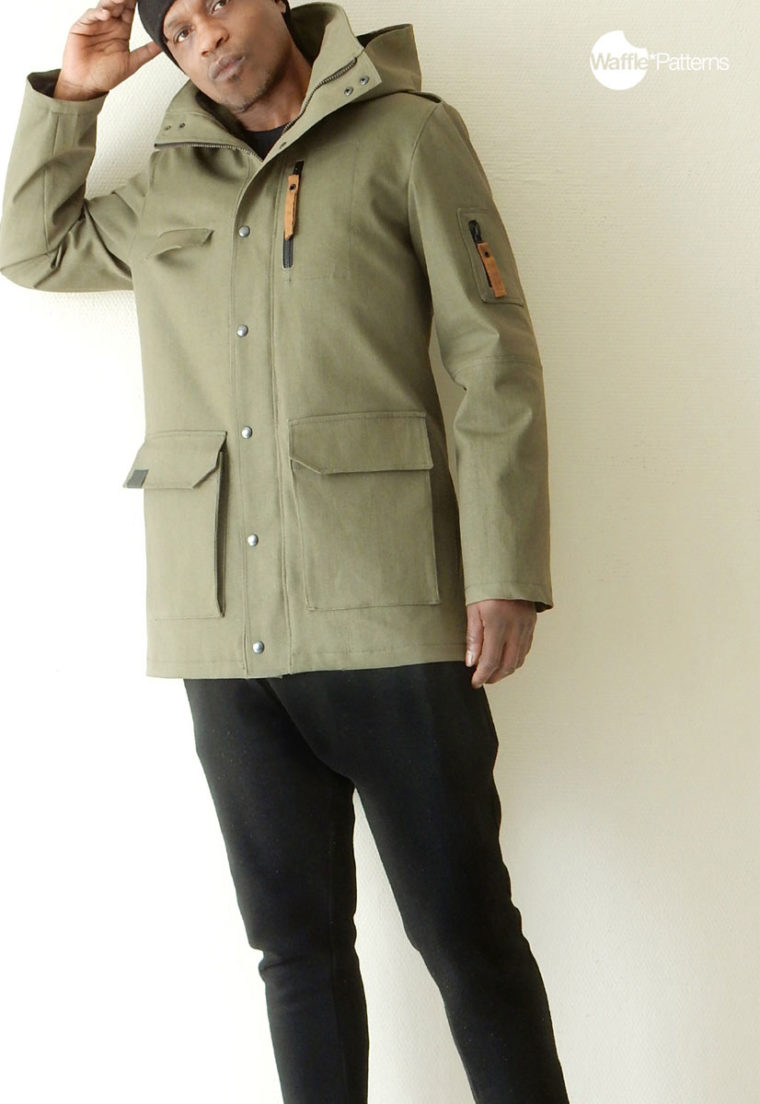 Friday Pattern Company has four new patterns available. The Seabright Swimmer is a one-piece swimsuit pattern that can be made with or without sleeves. It features a plunging neckline with gathering at the shoulder and waist. The instructions include a tutorial for adding a lace up neckline closure for added modesty. The sleeves let you look and feel glam while providing a bit of added sun protection.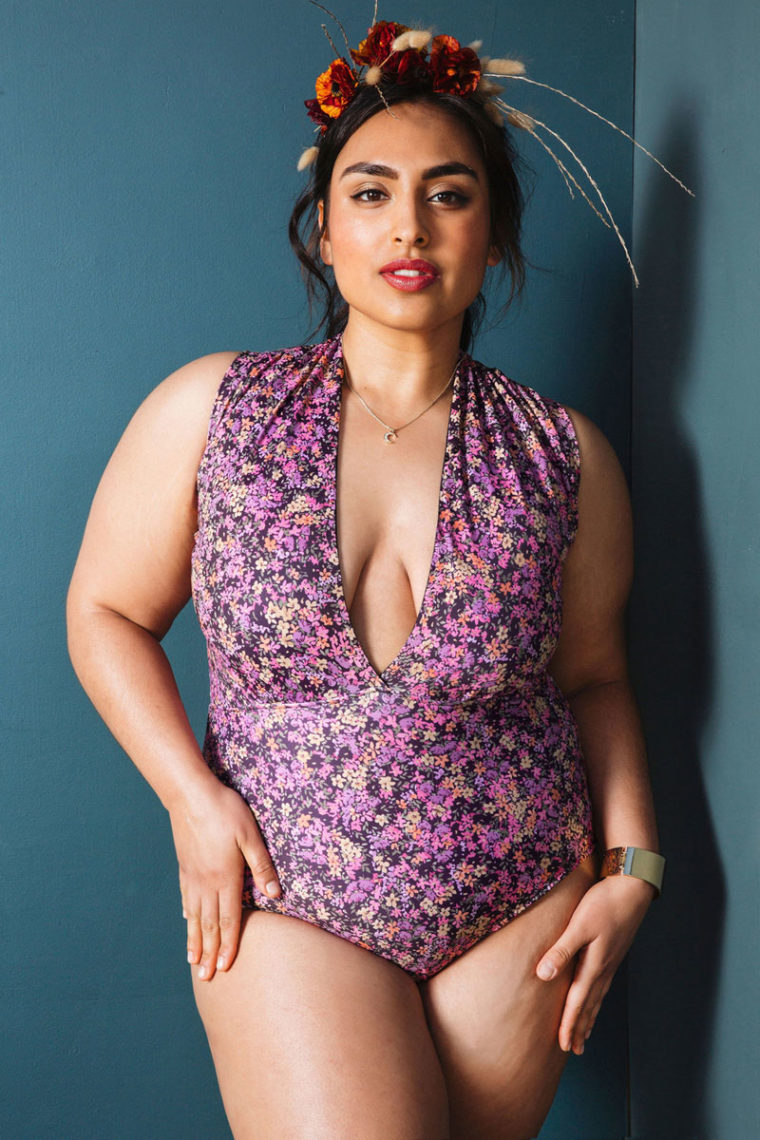 The Wilder Gown is a loose, flowy, tiered dress that can be sewn up in many ways. It has raglan sleeves and ties up at the neck. It is easy to sew and is perfect for drapey woven fabrics. The Wilder Gown can be made as a top or dress, long or short sleeved, with one skirt tier or two. The design is fairly modular so it is easy to customize to your vision.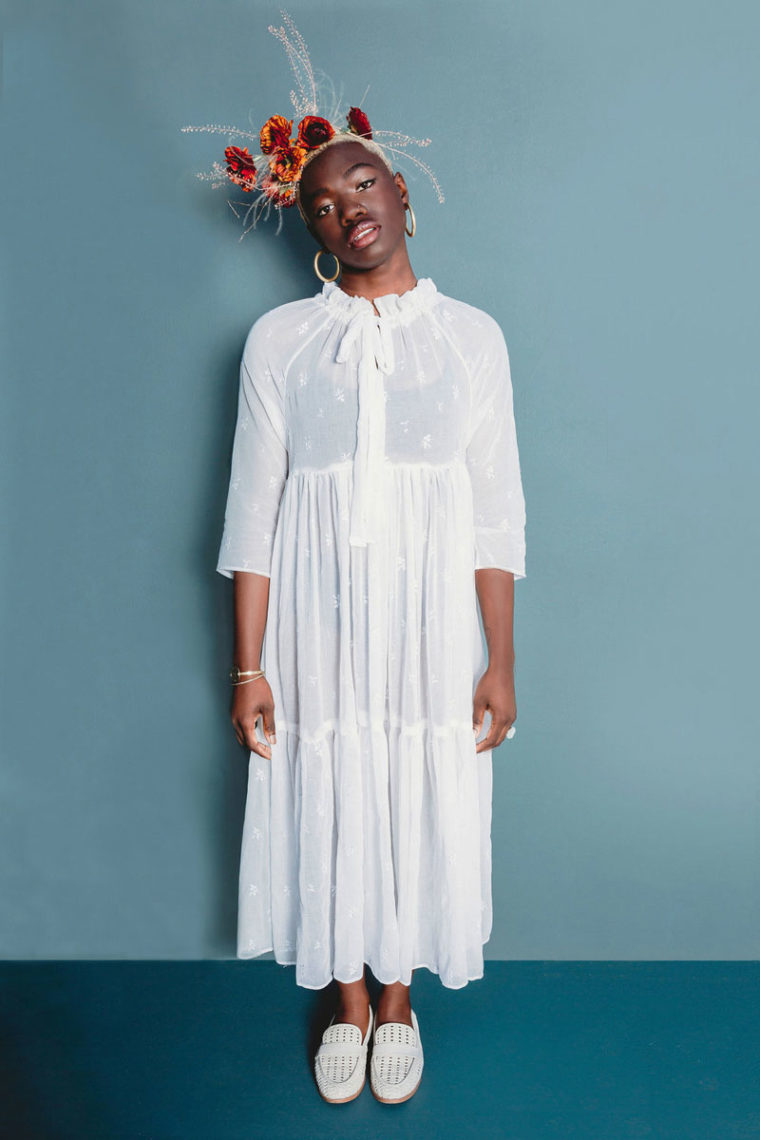 The Adrienne Blouse is a fashion-forward wardrobe essential. It is a knit top with billowy statement sleeves that are gathered up at the shoulders and hems with elastic. The length is slightly cropped with the hem hitting just below your bellybutton.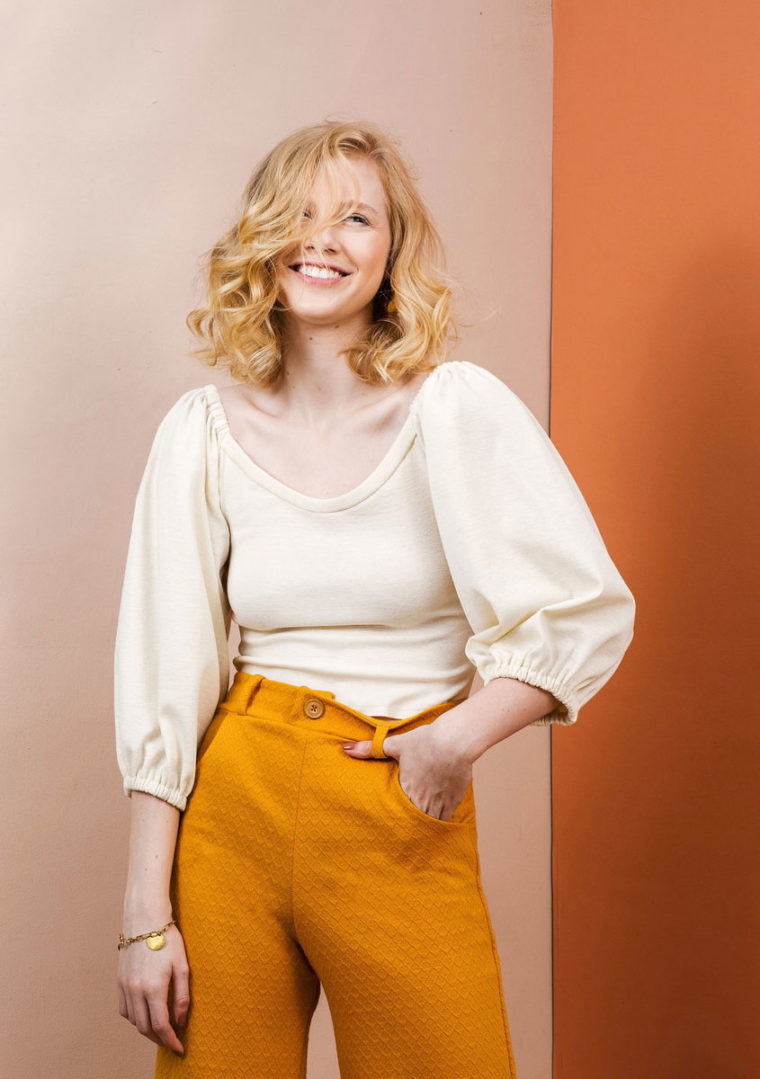 And, finally, the Joan Trousers are easy to make and look amazing. Sew them up in an evening and wear them to work the next day. The Joan Trousers are "treggings" (trousers leggings). They feature wide legs, a 2″ waistband with belt loops and a button, scoop pockets, and an optional sash belt. These editorial looking pants are the ultimate secret pajamas!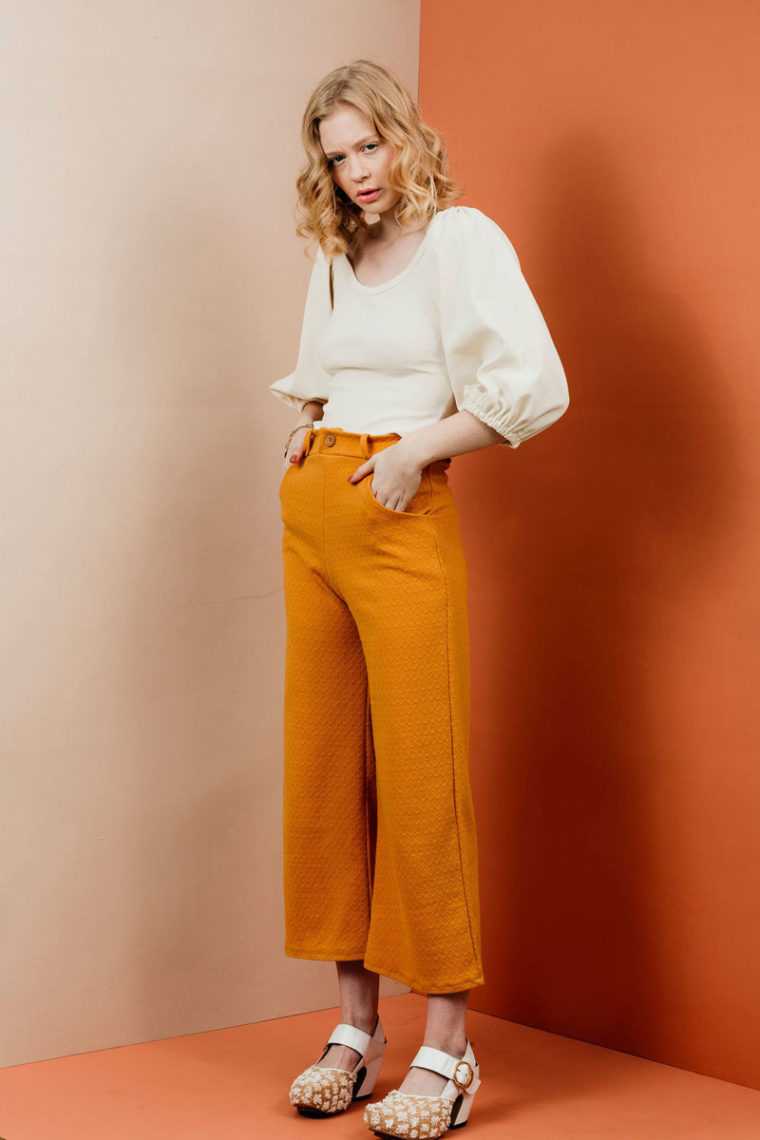 We hope you've seen something here that inspires you to get one more project in before the end of summer!