Visiting us today from our Advisors Circle is Lori who has stopped by with her Maritime tops, Weekend Getaway Blouse with pleats tutorial and Terrace Dress with shirt tail hem. Today she's here to tell us all about her Rush Hour Blouse that she sewed for herself.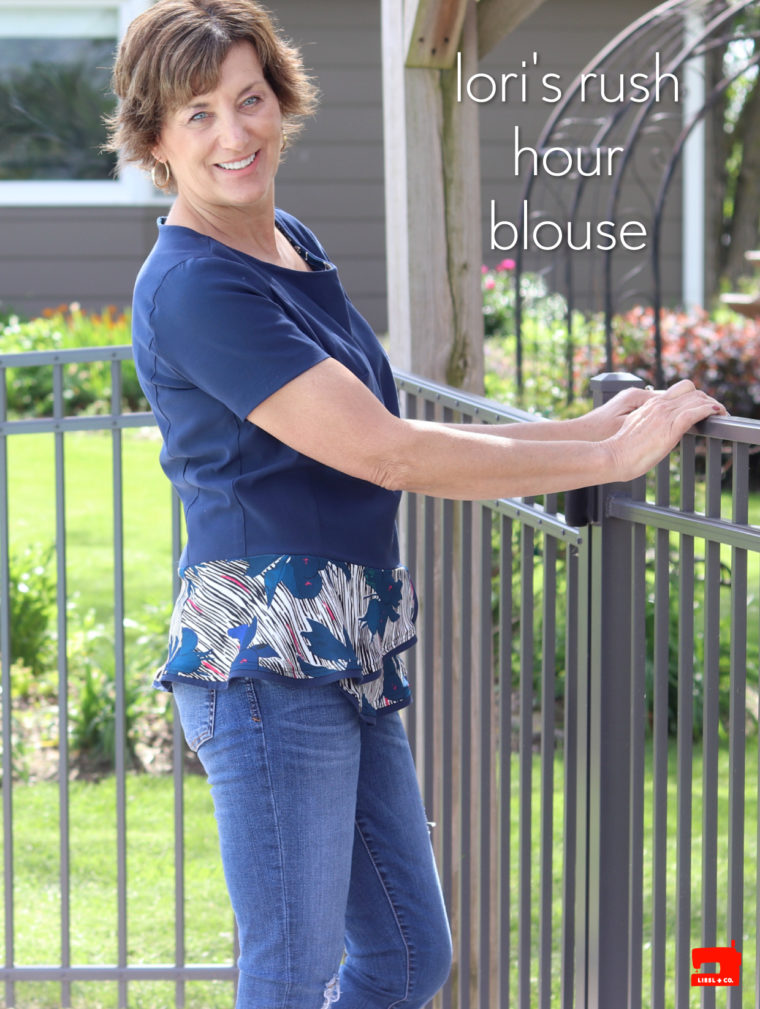 A peplum blouse and princess seams sounds like a great combination, so I went to work on it with just a few changes. This top is high waisted and I am not! I had a ready-to-wear top which had what I described as a drop waist and then the peplum, and I loved that top. The Rush Hour Blouse seemed like the perfect pattern to try this option. Plus, it has such a fun peplum with that front overlap.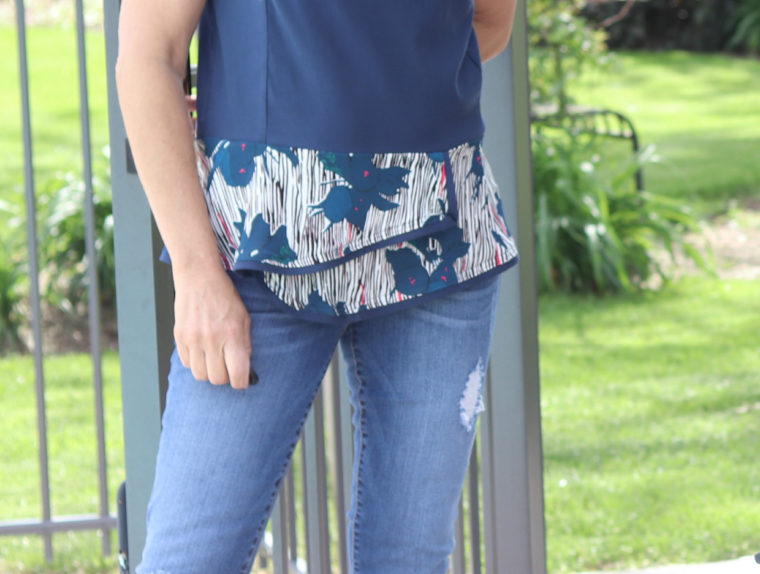 This pattern is for multi cup size, A/B, C +D which is such a plus for the pattern selection. I used the A/B pattern pieces and went with a size 12 but next time I will size down to a 10, possibly an 8. I did take this size 12 in at the side seams. My main change was adding three inches to the length to get the look I wanted.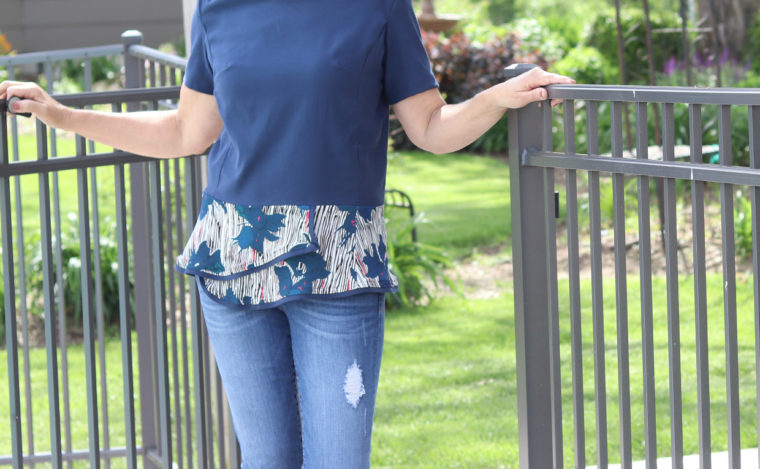 My fabric is a stretch woven for the bodice and really was a difficult fabric to work with. Hard to press, wrinkled immediately and just was a pain, so sorry for some of the wrinkles in the bodice. I wanted to use a navy with the printed knit for the peplum. The knit is an ITY type knit and was great to sew. It was thin, and I didn't want to worry with hemming it but wanted a finished look. My solution was to bind it with that difficult fabric. Sewing the binding wasn't as difficult as I thought and the end result was just what I wanted. Another plus to the binding, it added some weight to the lighter weight knit and it drapes perfectly.
I passed on the lining. My fabric was so stretchy, and it concerned me about lining this type of fabric. Liesl's instructions are excellent and I find them so thorough and helpful.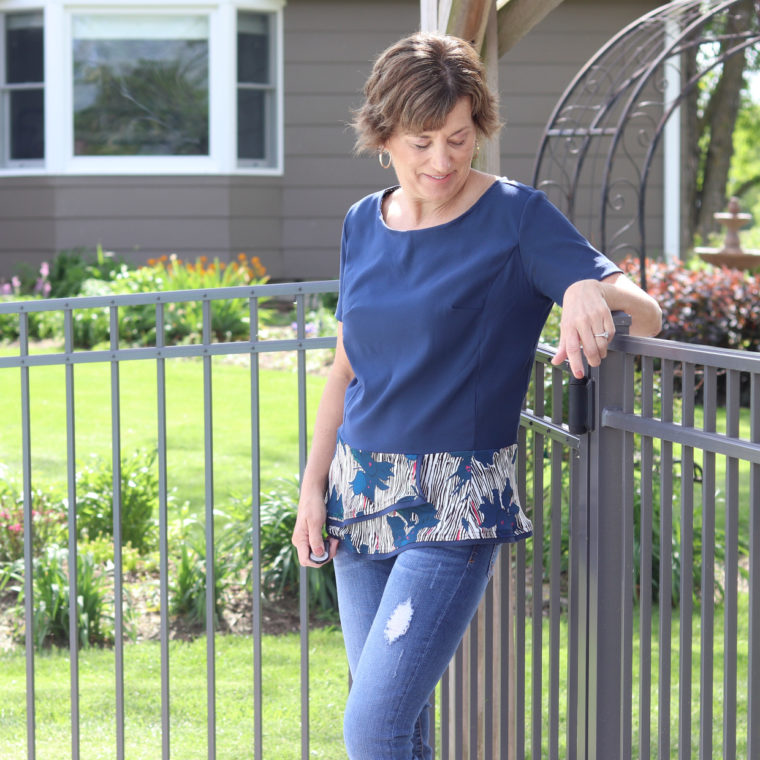 One benefit of princess seams is many more fitting options. I should have fitted these seams a bit more in the back and will correct this next time. I did insert the invisible zipper but with the stretch fabric, I did not need the zipper for my fabric. If your fabric is stable, yes, do add the zipper.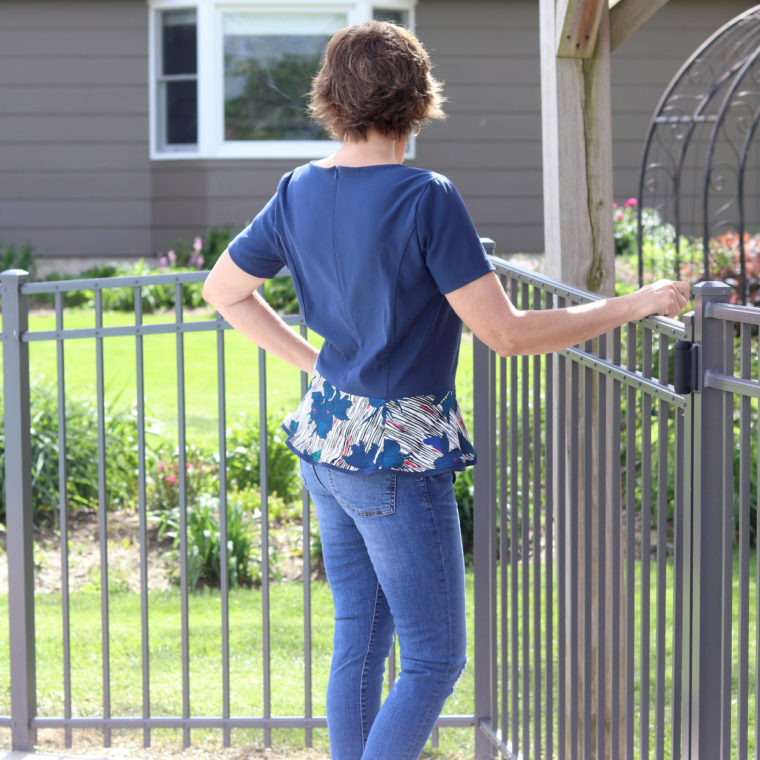 I will make this one again and adjust the sizing and try it in a stable fabric. Try this fabulous pattern just as Liesl drafted it or add your own changes to it. Either way you will have a top you will love!