Elisabeth from the Advisors Circle is visiting us today. She has sewn a lot of garments using Oliver + S patterns for her three children. You can see some of her work in her Henley T-shirt tutorial and Cartwheel Wrap Dress posts. She's back to share more. Thanks for being here Elisabeth!
When I showed my daughter pictures of the new Double Dutch Jacket + Skirt, she responded with squeals of delight. She was captivated by the idea of a reversible jacket, and she wears skirts or dresses most days and thought this one was particularly cute and looked good for running and playing. I knew it needed to come to the top of my to-make list!
I had two ideas for things I wanted to try with the jacket pattern. First, I wondered what it would look like if both the top and bottom were made out of the same fabric. I chose a light-weight cotton dobby stripe in pink and cream that would coordinate with both the skirt fabrics so my daughter could wear either side. Because one of my fabrics on the other side was a darker color, I chose to underline my thinner fabric so the colors wouldn't show through!
Stripe matching on that curved front seam was not the easiest thing! I drew a half inch on my pattern piece for both the top and bottom so I could see exactly where the pieces would need to match and that did work pretty well.
The sewing process went smoothly. The only tricky part is connecting the jackets at the sleeve, and Liesl has thoughtfully given two sets of directions so you can do whichever works for you!
Here's what it looks like all in one fabric! I think it shows off the overall cute shape of the jacket and is a good option if you have a very busy skirt fabric that you are having a hard time finding fabrics to match with.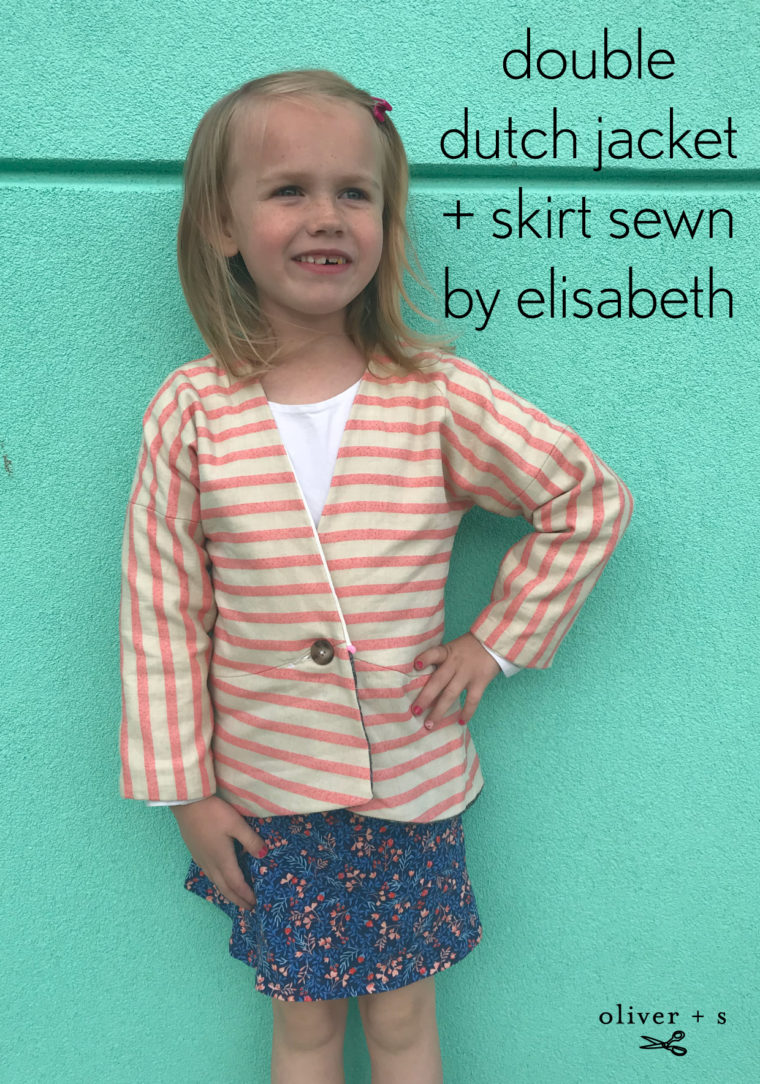 On the other side of the jacket, I wanted to try adding mini pom-pom trim to highlight the curved seam and add a fun pop of color. This was simple to do and I love how it turned out! I basted my pom-pom trim to the bottom piece and then sewed the seam according to the instructions. I sewed this jacket in two different colors of Brussels washer linen-rayon blend here and here and I love this weight for the jacket.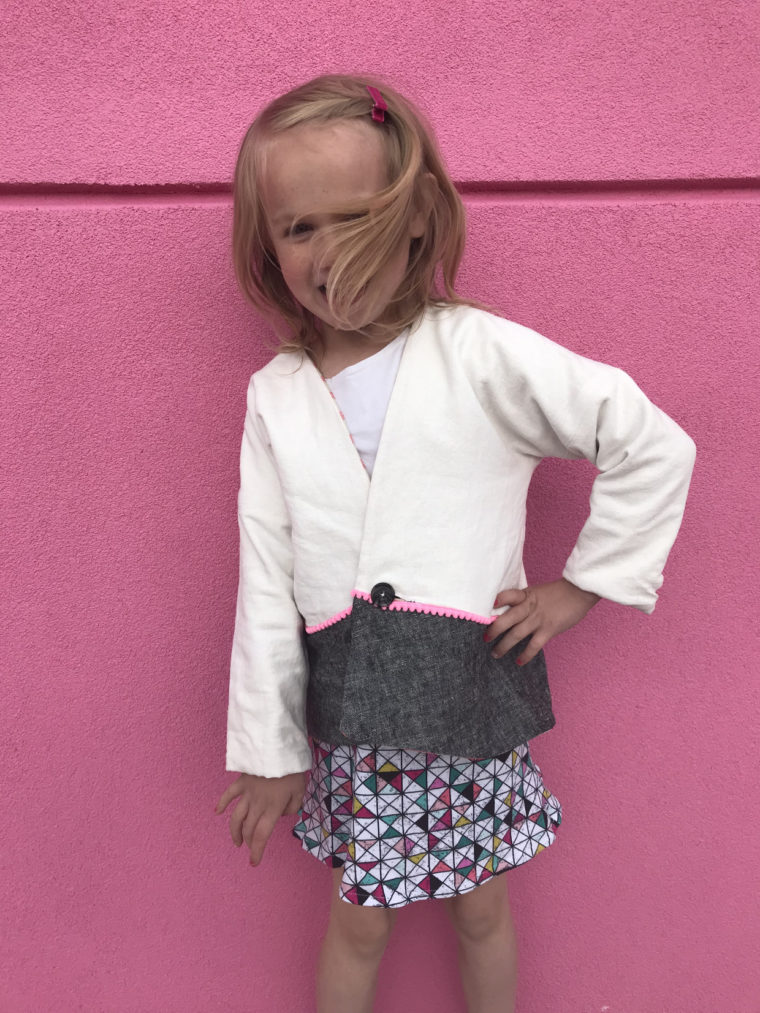 I chose to make two skirts because I know my daughter will wear them all the time! I used two different Art Gallery cotton spandex knits here and here. I liked these for this pattern because they are soft, not too slippery, and a nice weight so the skirt hangs well, keeps the cute flippy shape, and isn't see-through. I love the shape of this skirt! It's so cute, and the side panels are a fun addition. The skirt sews up very quickly.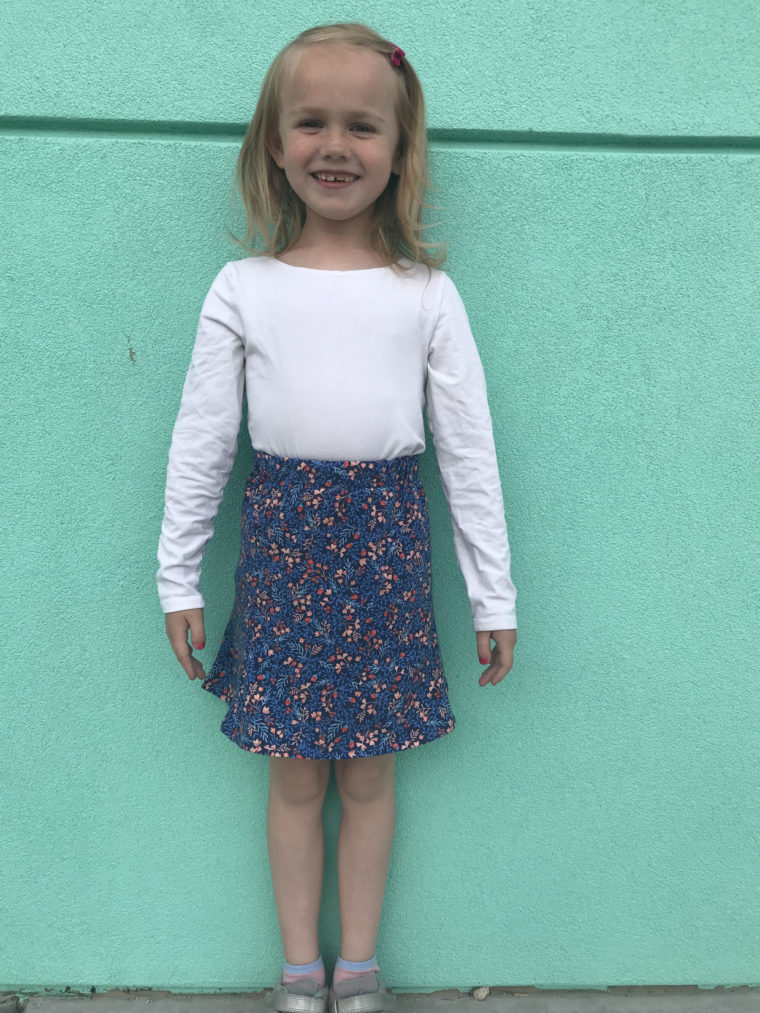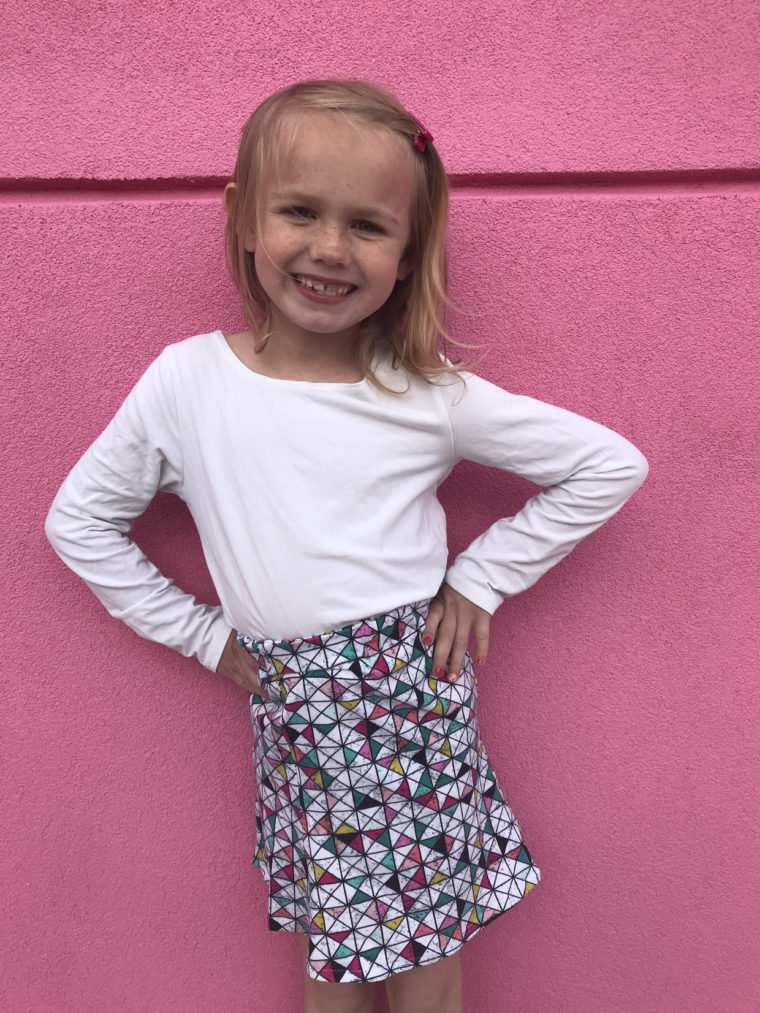 I never knew how much I needed a knit skirt pattern, but now I know I will be making more of these every time my daughter goes up a size.