Hello friends!
I hope you enjoyed the Hollywood Trousers sew-along! I'd love to see them when you finish, and keep in mind that the sew-along will be waiting for you any time you want to go back to it. Especially if you didn't have time to join us this time around.
Yesterday I went hunting for fabric for my own wished-for creamy-white wool Hollywood Trousers but could only find poly-wool blends, so they are on hold for the time being. (Never fear, I have plenty of other Hollywood Trousers to wear in the meantime. It's not like I don't have any clothes….)
Since the sew-along is finished, I thought I'd show you a couple of very easy, very fast Neighborhood raglan tops I've sewn for myself lately. The first one is a lightweight striped jersey that S and I found during a trip to Mood New York last summer. We both loved the fabric, so we bought a few yards of it.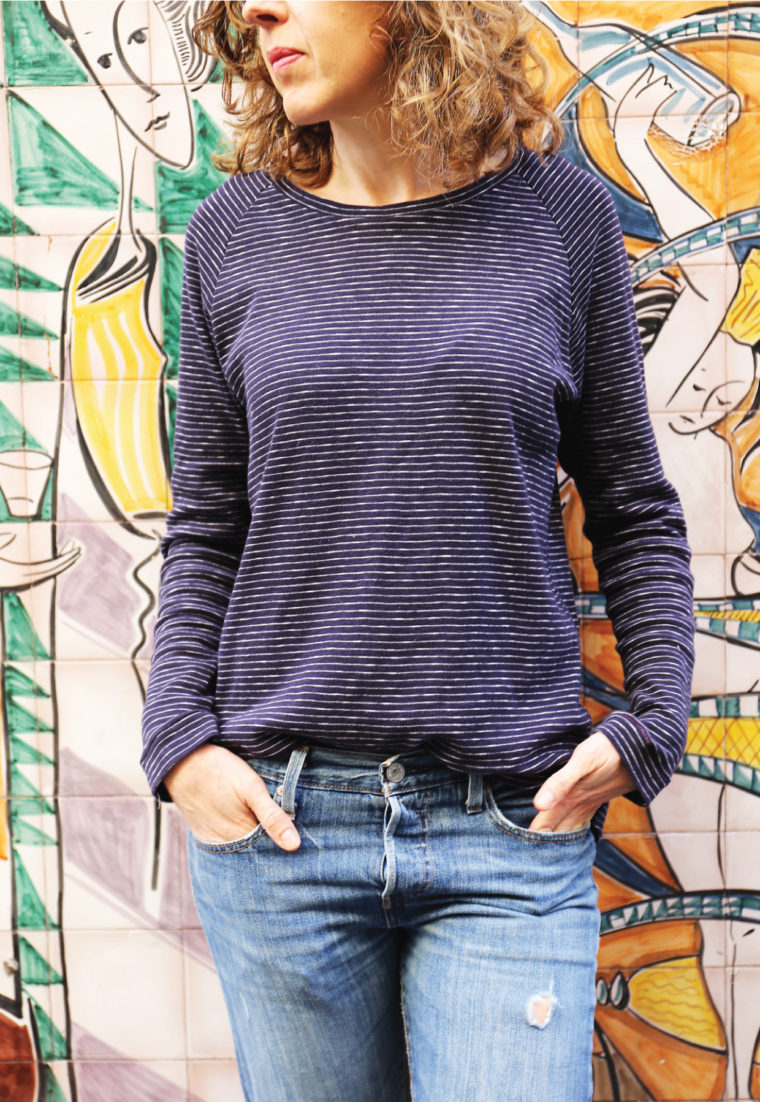 To make this one I combined the View A sleeves with the View B body. I also eliminated the hem bands, lengthening the body by an extra 3 or 4 inches to make up for absence of the bands. And because I wanted a slightly oversized, slouchy look I sewed a medium instead of my usual small. Oh, and I cut the neckband to be a little narrower. I love the extra-long sleeves!
Also, just for fun, I hemmed this one in red thread using the reverse side of Shelley's faux flatlock tutorial. Sadly, I couldn't loosen my stitches any more than this so the stitching doesn't show as much as I would have liked, but I love this effect and plan to use it a lot more in the future.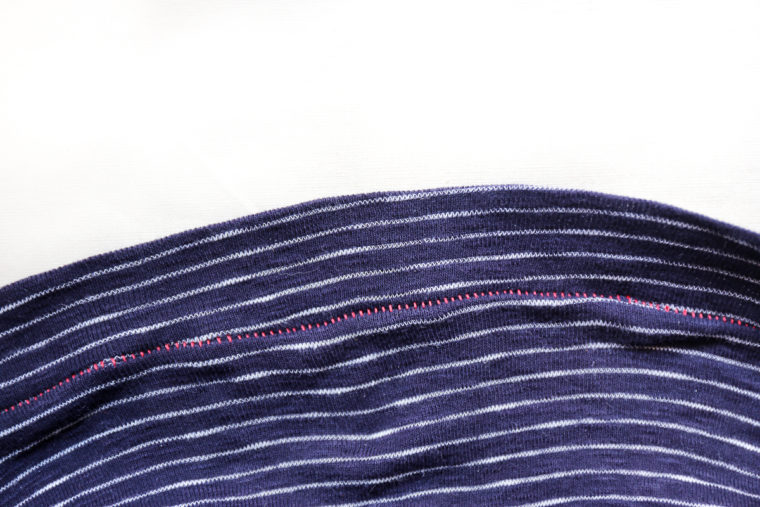 The second Neighborhood top I wanted to show you is sewn in a linen sweater knit. Have you ever wondered what to do with those sweater knits you sometimes see in fabric stores? Here's your answer. This linen is a fine gauge that's relatively densely knitted so it's quite stable. (S noticed another larger-gauge, more drapey sweater-y sweater knit in my stash the other day, and we're considering making it into another Neighborhood top with faux leather shoulders for her. I'll show you that if/when I sew it. There are several other items in queue for her right now as well, including faux leather leggings like mine, so who knows when I'll get to it.) In any case, I wanted you to see what this style looks like in a sweater knit since that could be another option for this style. I saw a lot of sweater knits in our local fabric store, so keep your eyes open for good sweater knits.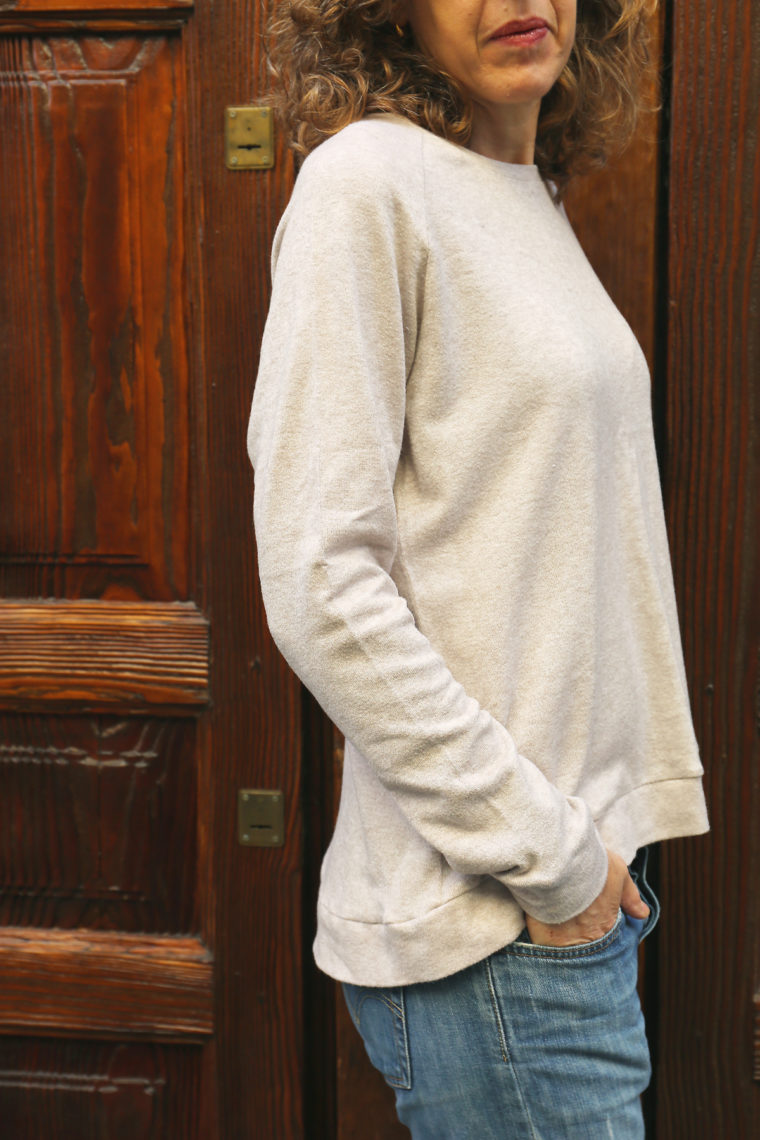 For this style I used the View A sleeves with the View B body, but I included the hem bands so there are very few changes to this style.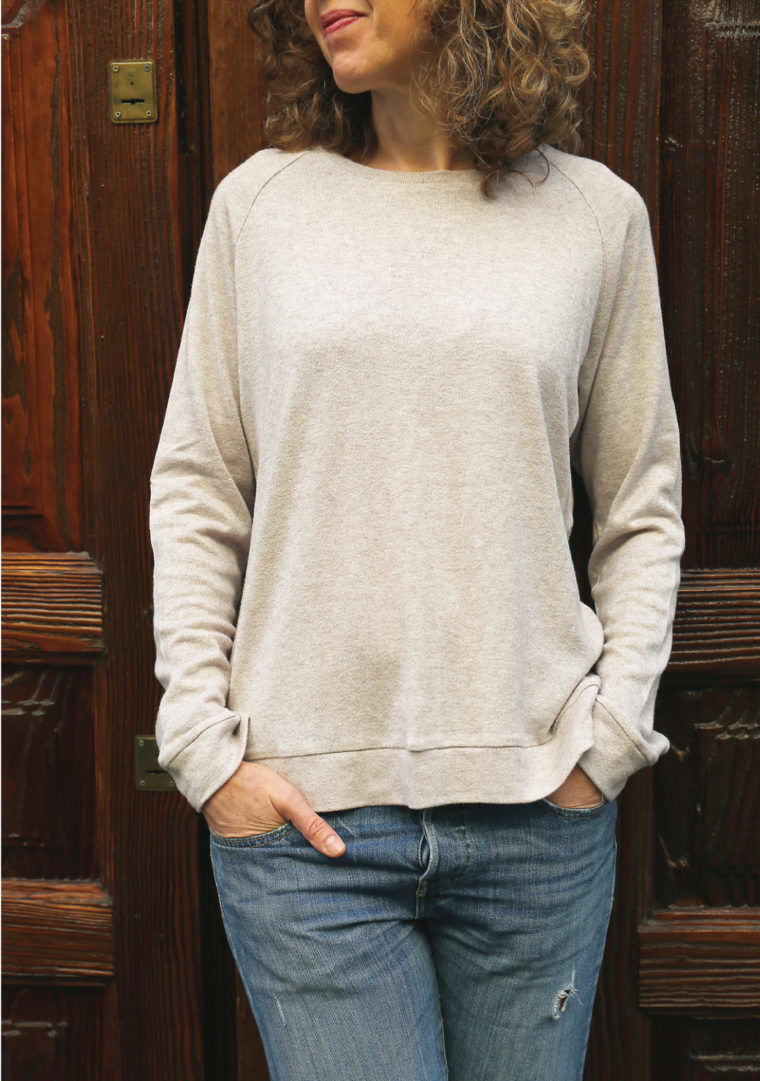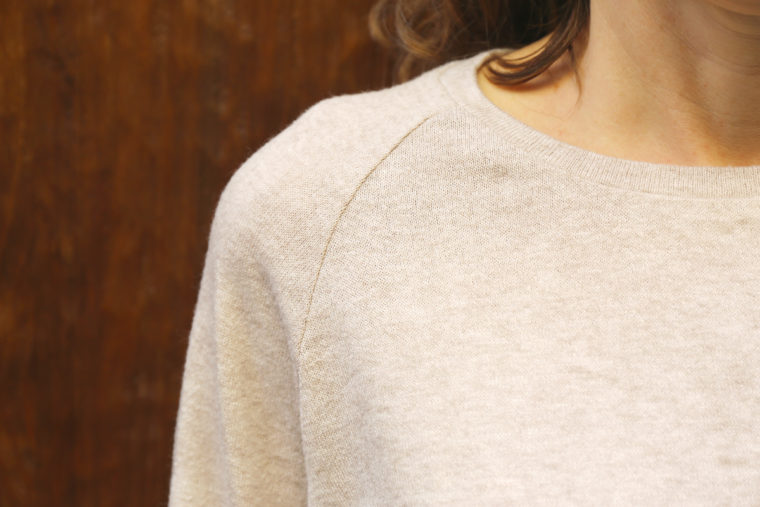 Both of these sew up extremely quickly, and the striped tee is my absolute favorite thing to wear right now. But I have a feeling S is going to steal it from me the minute I take it off….