If you haven't had a chance yet to sew that Extra-Sharp Pencil Skirt that you've wanted to, here is your motivation to get one done! We are happy to announce that we will be hosting an Extra-Sharp Pencil Skirt sew-along June 25th and 26th. And we hope you will join us!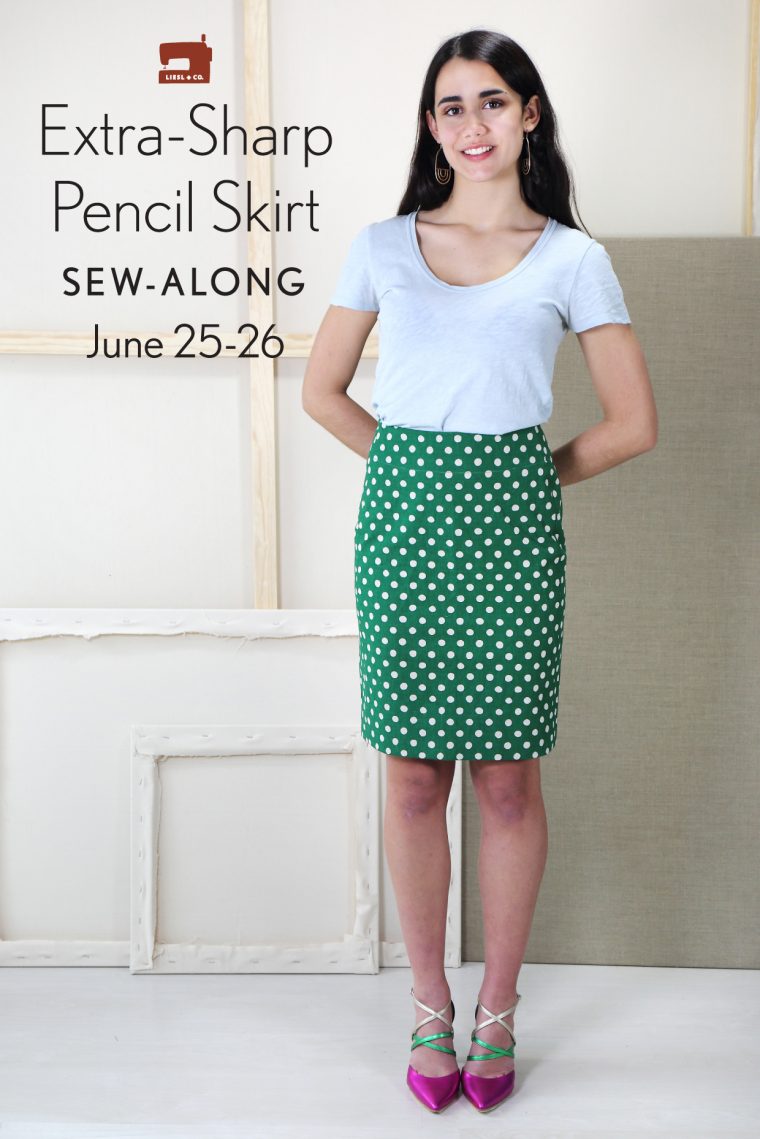 Be sure to check out Liesl's introduction post where she offers lots of fabric as well as styling ideas. She also put together a Pinterest board for the skirt. Also see some creations made by our testers.
Description
This classic, unlined pencil skirt will have you looking sharp whenever you wear it. The skirt includes side panels, a back yoke detail, and a back walking vent. Because it has no seams, the front panel allows use of almost any patterned fabric, including bold prints. View A is just-above-the-knee length with straight-cut side panels. View B ends just below the knee and features bias-cut side panels. Fit can be easily customized using the side-panel seams.
Suggested Fabrics
Suitable for light- to medium-weight woven fabrics like twill, canvas, linen, denim, wool suiting, and faux leather. Woven fabrics with some stretch are ideal for this style.
Meet the Panel
Five talented ladies have been gathered to form a panel. They all hail from the Liesl + Co. Advisors Circle and they are: Camelia, Darcy, Emily (who will also be taking the photos for the sew-along), Lisa, and Meredith. Each panelist will talk about their design decisions and fabric choices on Thursday June 14th.
Extra-Sharp Pencil Skirt sew-along schedule
Day 1: Getting Started, Prepare the Skirt Back and Attach the Zipper
Day 2: Finish the Walking Vent, Assemble and Fit the Skirt, Attach the Waist Facing and Finish the Skirt
How to Participate
Be sure to get your pattern if you haven't already. It is available in both paper and digital format. Also gather your fabric and supplies, and we will see you here on the blog on Monday, June 25th!
Tag your in process photos of your Extra-sharp Pencil Skirts with #lieslandco and #extrasharppencilskirt on Instagram so we can all see.
If you have a blog, please feel free to grab the sew-along badge you can add to your posts or to your sidebar, to let people know you're participating.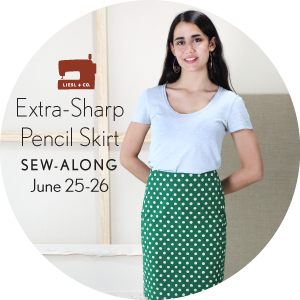 Enter for your chance to win a great prize
Enter to win a $50 gift certificate to the Oliver + S website! When you have completed your Extra-Sharp Pencil Skirt, post it somewhere and then add a link to it using the button below. Any Extra-sharp Pencil Skirts made since March 2018 can be entered, so go ahead and link in a skirt you've already completed. If you sew more than one, enter each one separately. All entries must be submitted by Monday July 2nd 11:59 PM ET. The five panelists will vote for their favorite, and the winner will be announced on Thursday July 5th.