Do you remember last spring when I was thinking (and sewing) about pencil skirts? After a bit of playing around with a few different drafts, I'm pleased to present you with a pencil skirt pattern that I think you're going to like quite a bit. It's the new Liesl + Co. Extra-Sharp Pencil Skirt.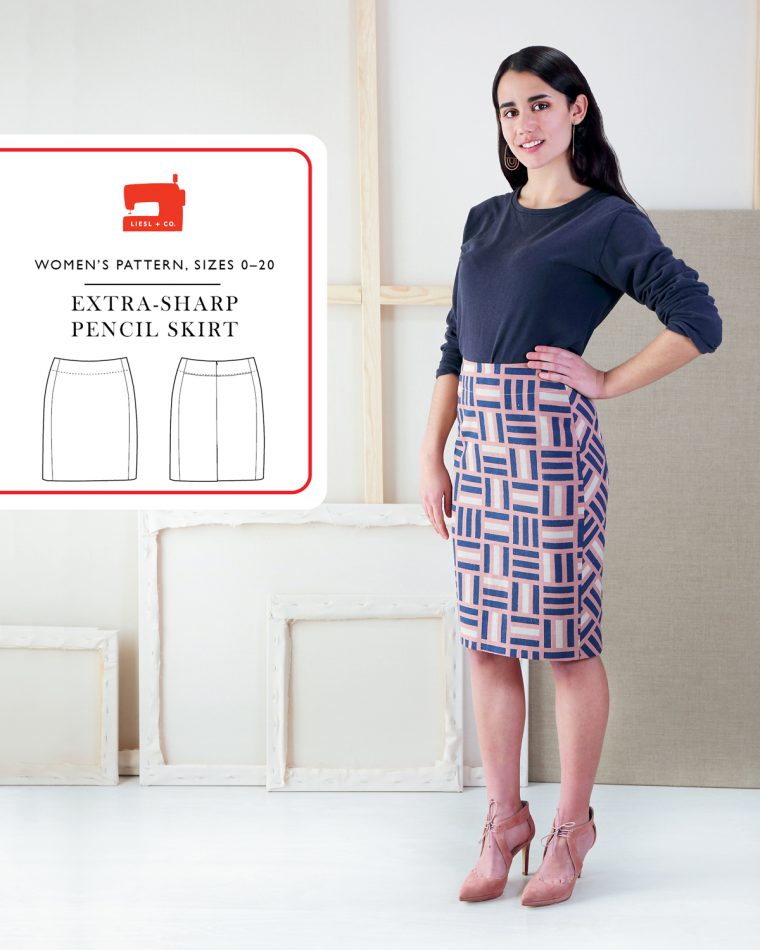 I'll tell you why I like this particular style. It's got a side panel, which is sort of the equivalent of princess seams that allow you to easily adjust the pattern to fit your body precisely. No darts, just four seams that will allow you to customize the fit easily.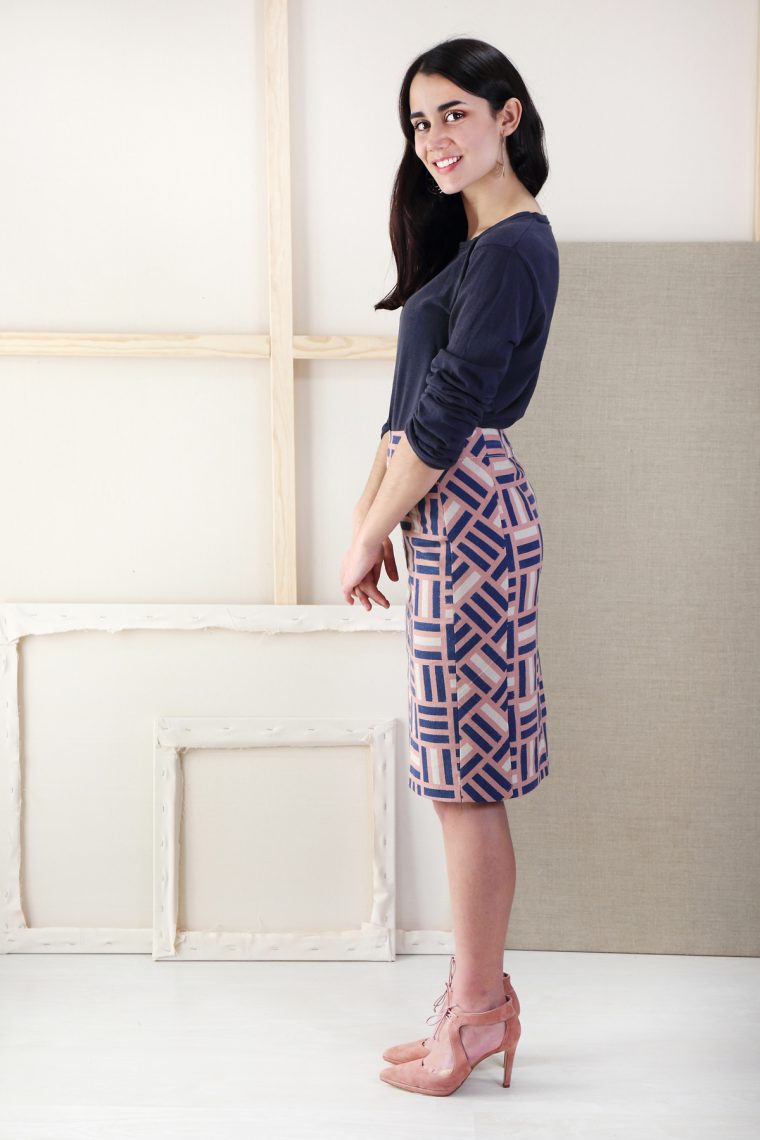 Those four seams are close enough to the side of the skirt that they don't interfere with bold prints, either, so you can use this pattern with almost any print that catches your eye. A bold graphic or a border print will work just fine. So would my custom-printed landscape. But you can also use the side panel for lots of fun effects.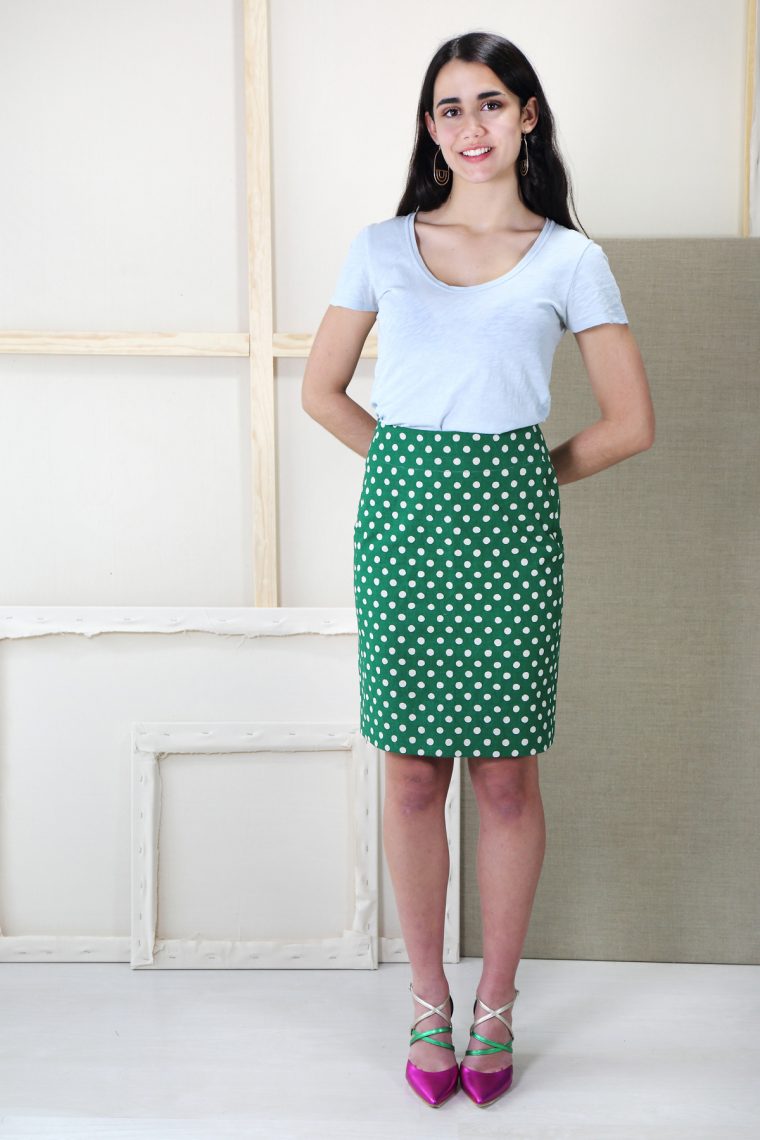 The pattern includes two views: View A ends just at or above the knee, and View B is a few inches longer to end just below the knee. View B also includes a bias-cut side panel, which will allow you to do all sort of fun things with the fabric.
But in addition to cutting the side panel on bias, you can color-block it or use your pattered fabric for different effects. For example, run a stripe up the side panel. Or use a different fabric. Stay tuned for a whole bunch of ideas for this; the Advisors Circle is working on a few things right now.
The pattern also includes an invisible zipper (the easiest zipper to sew, in my opinion, especially with our thorough instructions) and a proper walking vent (really easy to sew–you'll be surprised) which you can choose to topstitch or leave unstitched so it's nearly invisible when you're wearing the skirt. I love a good walking vent. It looks complicated but is so easy.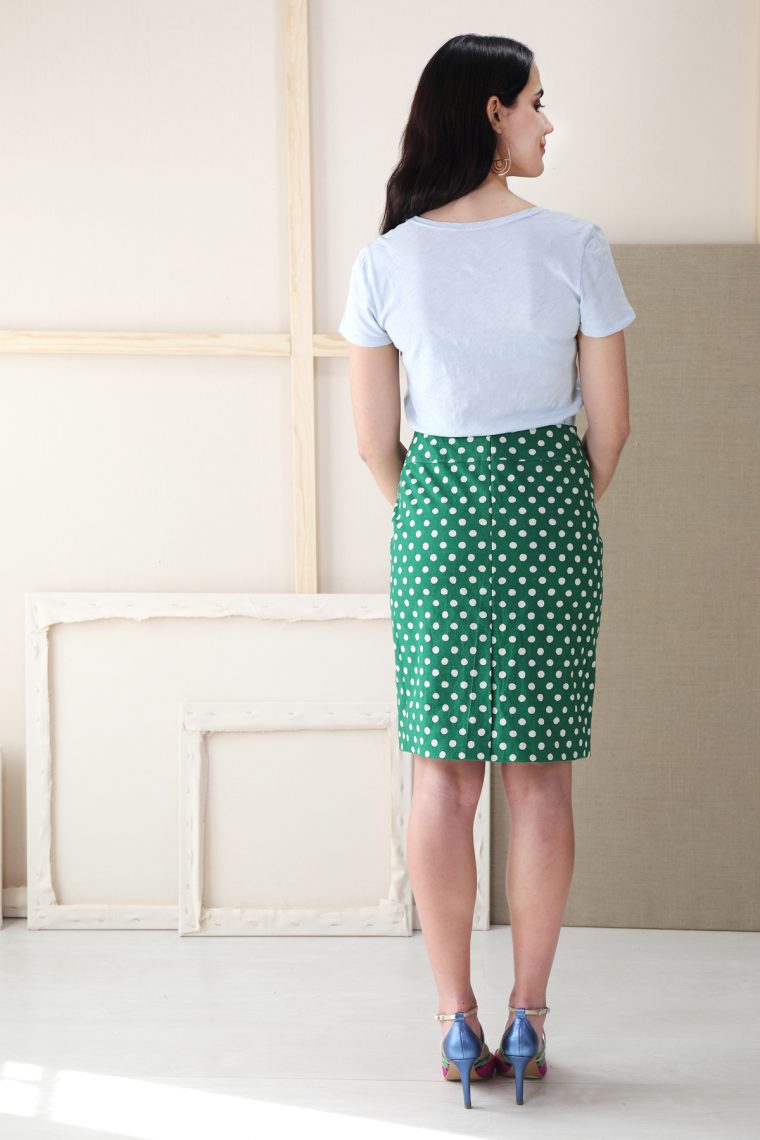 The pattern also includes a waistband facing similar to the waistband facing on our SoHo Shorts + Skirt, with thorough instructions for stabilizing the waistband so it doesn't stretch out.
Here's what the waistband facing looks like. I used a contrast fabric inside, just for the fun of it.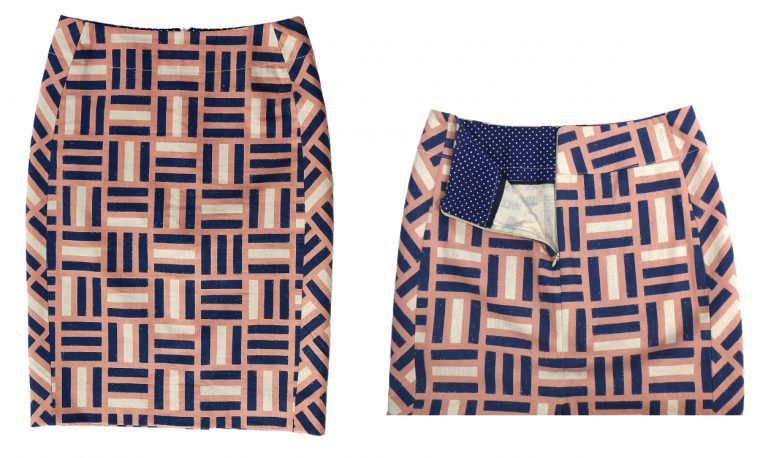 Speaking of fabric, I love using a canvas or lightweight home-dec-type fabrics for this skirt for their slightly more substantial weight that has a little more structure. You can also use twill, denim, suiting, or even faux leather. For the skirts in these photos I chose two fabrics from Robert Kaufman: Sevenberry Canvas Natural Dots in Green and Sevenberry Nara Homespun in Indigo. For the pink and blue skirt on the pattern cover, I used a canvas I bought at Drygoods Design in Seattle during my book tour last year. (I'm afraid I have no idea who the manufacturer or designer is.)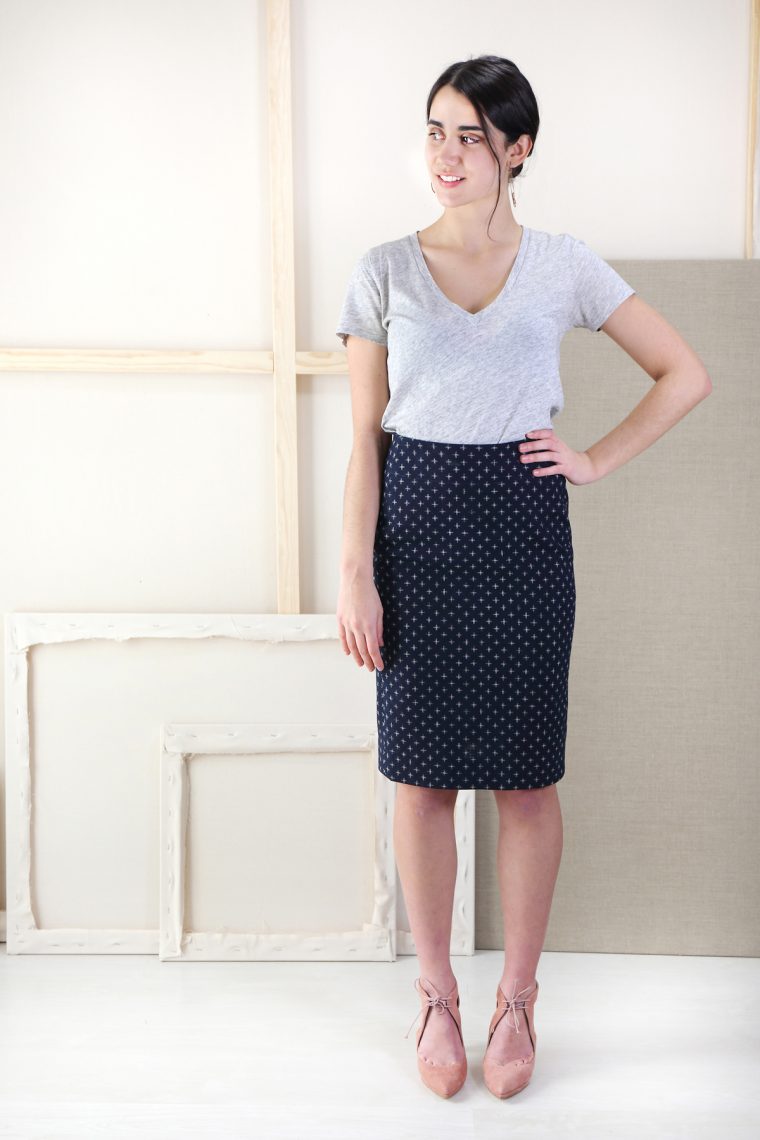 It's cute from the side, isn't it? Some fabrics are very subtle and some make the side panel more obvious, so you can choose whether you want to play it up or not.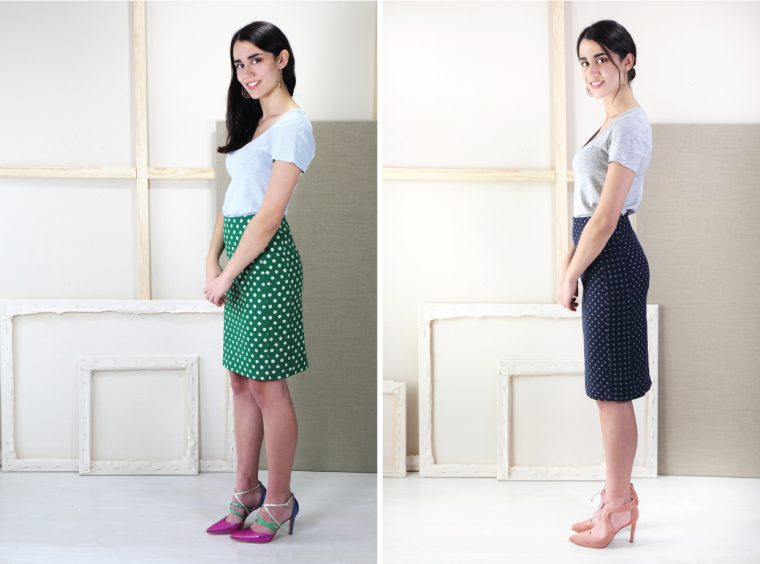 Contrary to popular belief, I think almost anyone can wear a pencil skirt, especially if it's fitted to your own body. Because it's such a trim fit, it can be worn a variety of ways and dressed up or down. We styled it with a simple tee for these photos, but it would look very elegant and professional with a blouse or Classic Shirt, and it can be cute with an oversized tee or sweater (or sweatshirt!) for a more relaxed look. I love it with classic heels, short booties, and sandals for summer.
Here are a few ideas for you. This first group of photos shows a very basic pencil skirt in black, cream, or a subtle tartan in one case. You can get lots of looks from one skirt this way!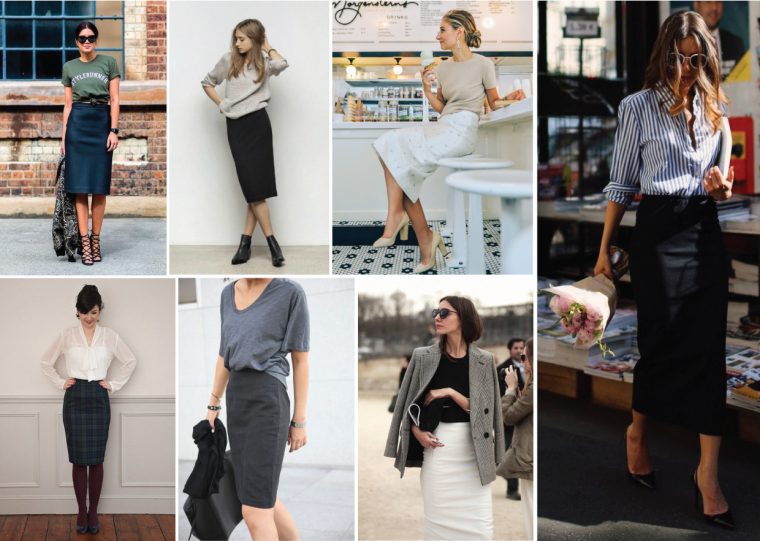 But it can also be fun to play with your fabric choices. I especially love the big black-and-white windowpane check, below.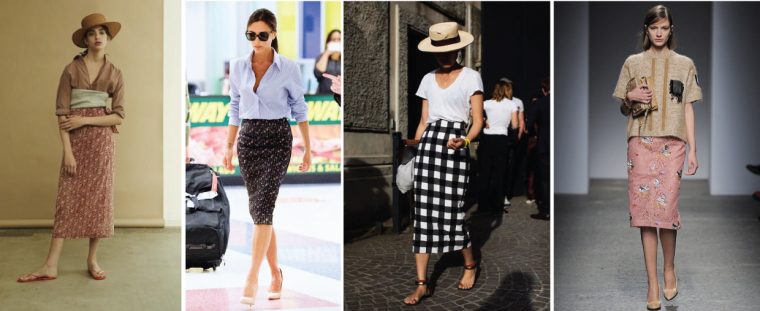 And then of course you can really have fun with your fabrics as well! I love the large floral and the wide stripes. Play with the stripe direction on the side panels, too!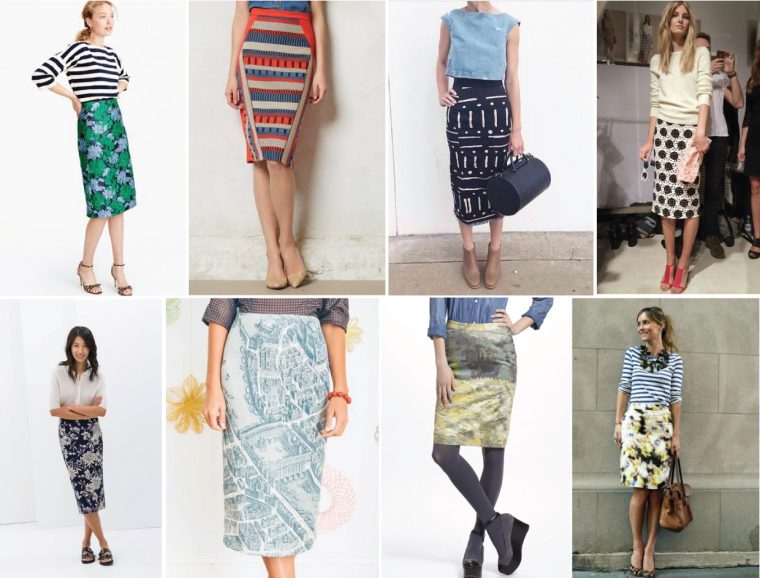 You can find all these photos and lots more in our Liesl + Co. Extra-Sharp Pencil Skirt Pinterest board. Stay tuned for more ideas for this pattern from our Advisors Circle members, too!
You can purchase the Extra-Sharp Pencil Skirt sewing pattern now in both paper and digital format.
I hope this pattern will be a wardrobe basic for you! After all, there are so many ways you can sew and wear it, and I'm looking forward to seeing how you make it your own. Please share your makes with our Liesl + Co. Facebook Friends group as well as on social media with the tags #lieslandco and #extrasharppencilskirt.