Did you know that pattern numbers get recycled? Once a pattern goes out of print for a period of time, the pattern number itself is re-issued with a new style. Which is why, when I first searched for my newest Lisette pattern which has just be released, Lisette for Butterick B6526, I came up with this.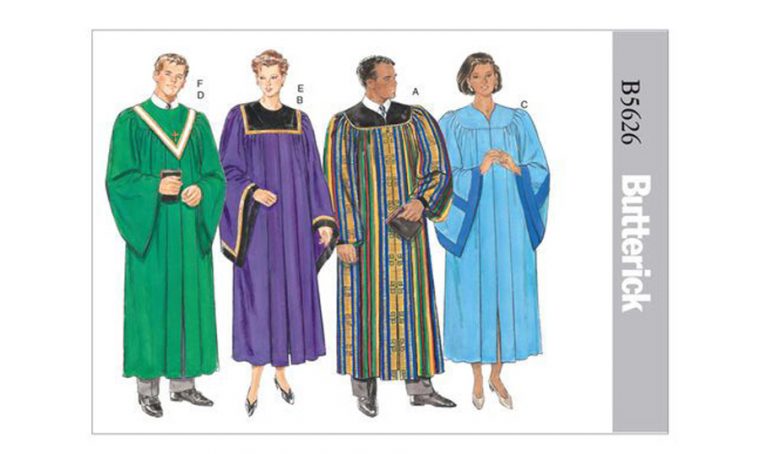 But no, I'm not designing choir robes. Although I'm sure there is a need for them! (Or was, at least, since now it's out of print….)
Here is the real pattern I want to introduce to you. It's part of Butterick's Winter 2017 collection, and I was definitely thinking cozy chic for this design.
First, the top. This one is an easy-to-wear and incredibly easy-to-sew knit pullover. I like the crossover styling, which is cozy and casual. This is a fitted style, but I plan to sew it a bit oversized because I think it will also be a great layering piece. (I think it could be cute worn over the Liesl + Co. Classic Shirt, for example, more like a cardigan worn over a shirt. I'll show you what I mean soon.)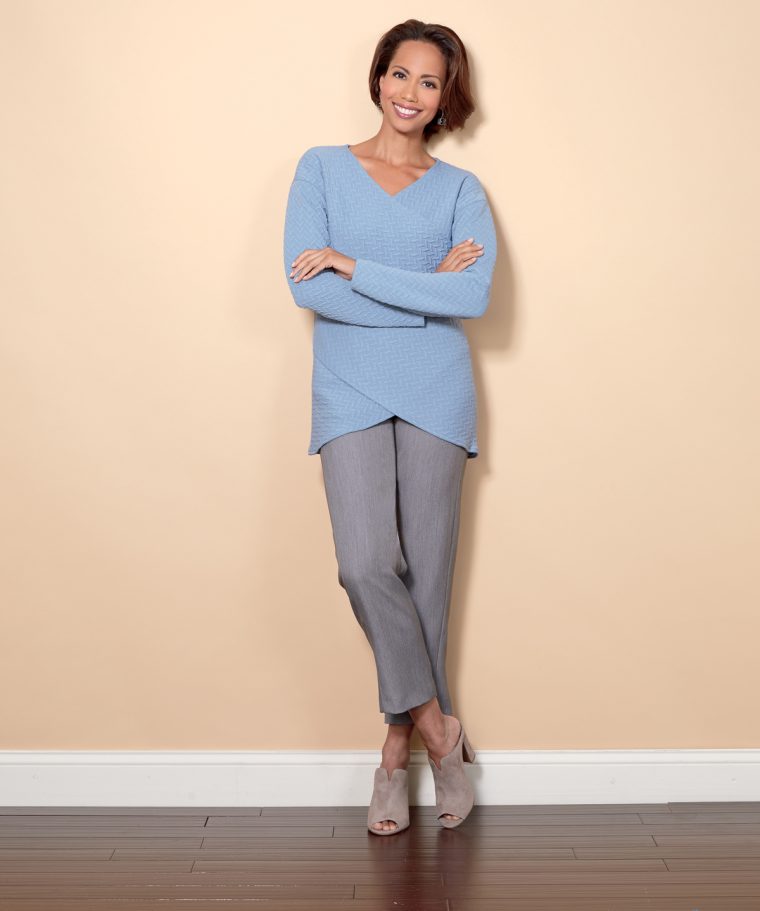 The trousers have a front zipper (if you want to add a fly shield you can always refer to our zipper fly tutorial), and side panel instead of a side seam. I think the side panel gives you a sleeker look and allows for fun color blocking, too. These are cut slim but not skinny and include on-seam front and back pockets, a back yoke (because a yoke seam almost always makes your butt look better, in my opinion, and it eliminates the need for darts). The design also includes a waistband with belt loops so that the  trousers can be worn with all sorts of tops, including the kind you tuck in. In my opinion clothing is always better when it can be worn many different ways.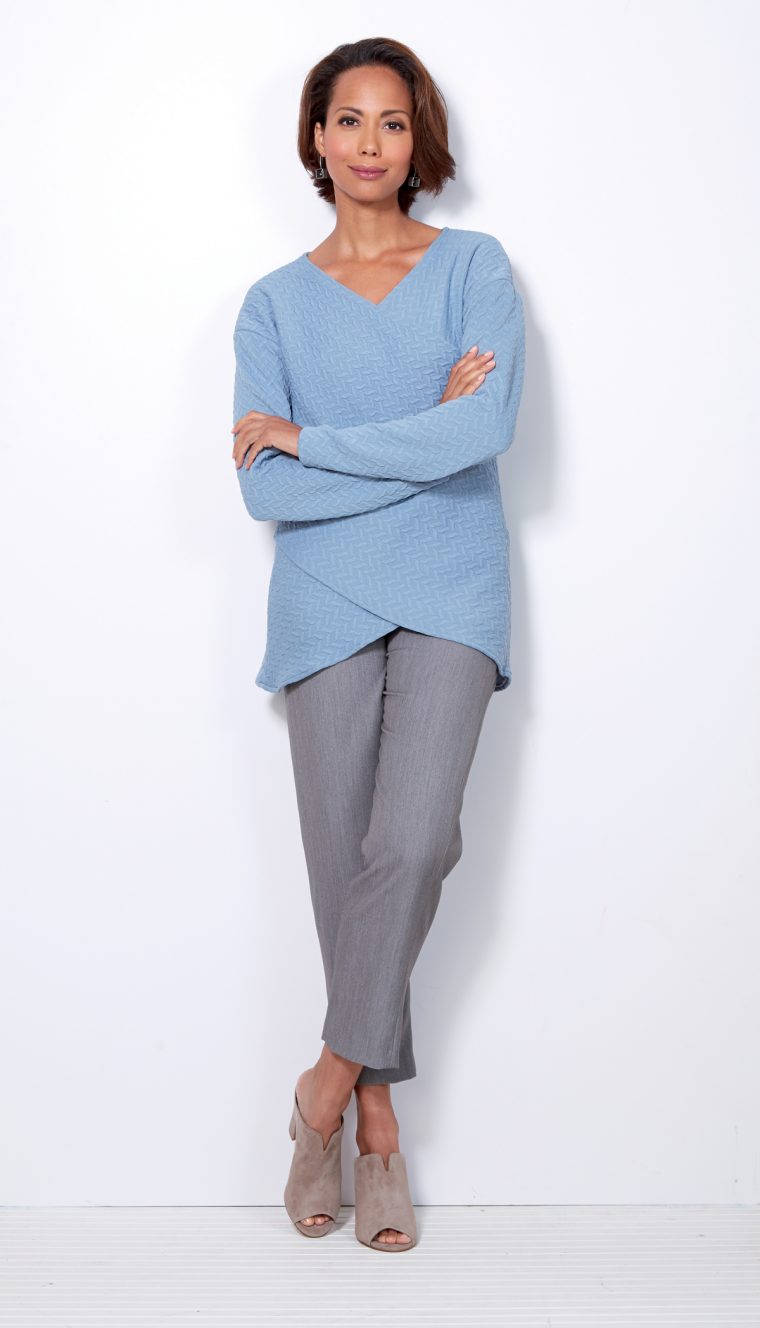 Here's the back view. I think it's nice to have a little more back coverage sometimes, don't you? If you prefer this style a little shorter, the Butterick patterns always include a lengthen and shorten line, so never fear.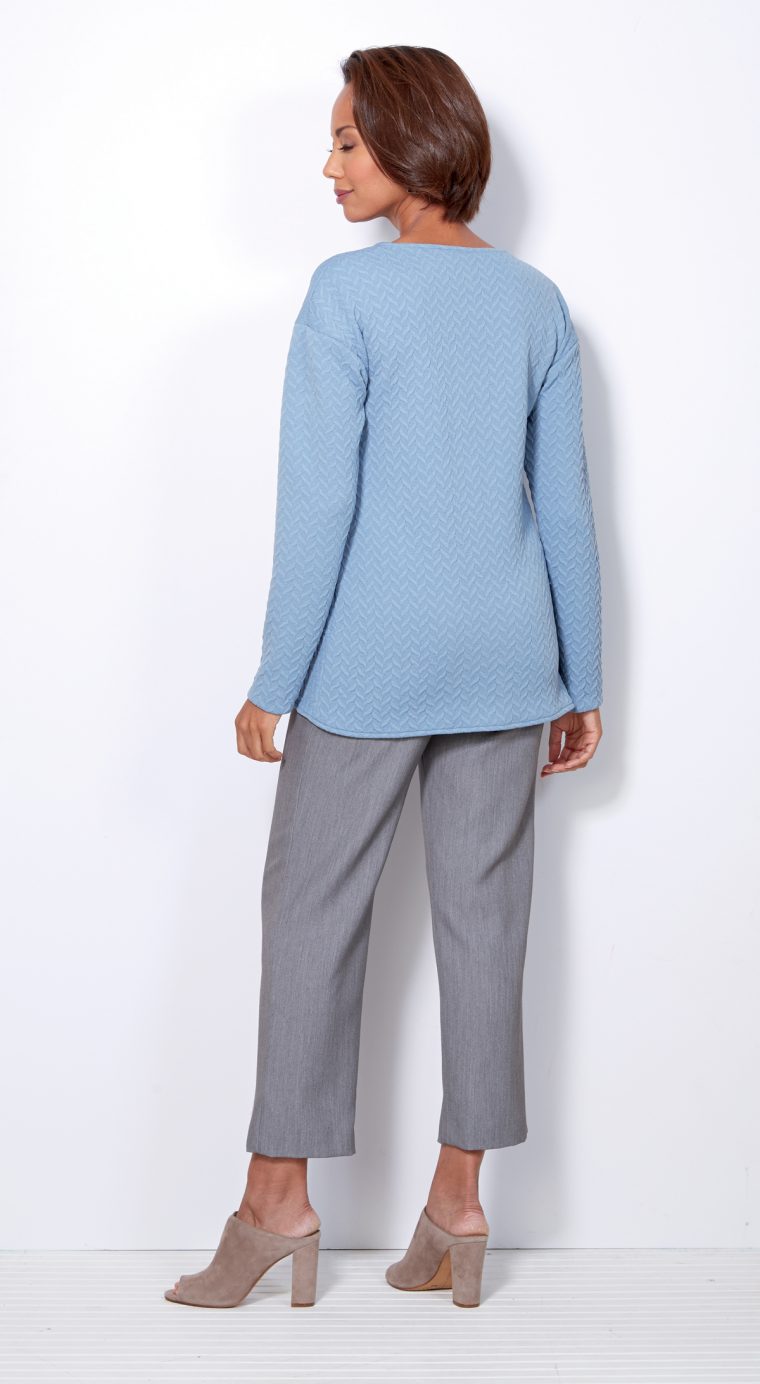 Styling Ideas
OK, so how will you wear these pieces? I love to collect inspirational images because the way I wear my clothes and the way they look on the envelope are always very different. Here's what's got me excited to sew them for myself. Like I said, I'll probably sew the top a size or two larger for more of an oversized feeling. The sweater knit will also give it more of a casual, relaxed look. I also love the idea of bunching it up a little bit and belting it around my waist, like the photo at the bottom, right.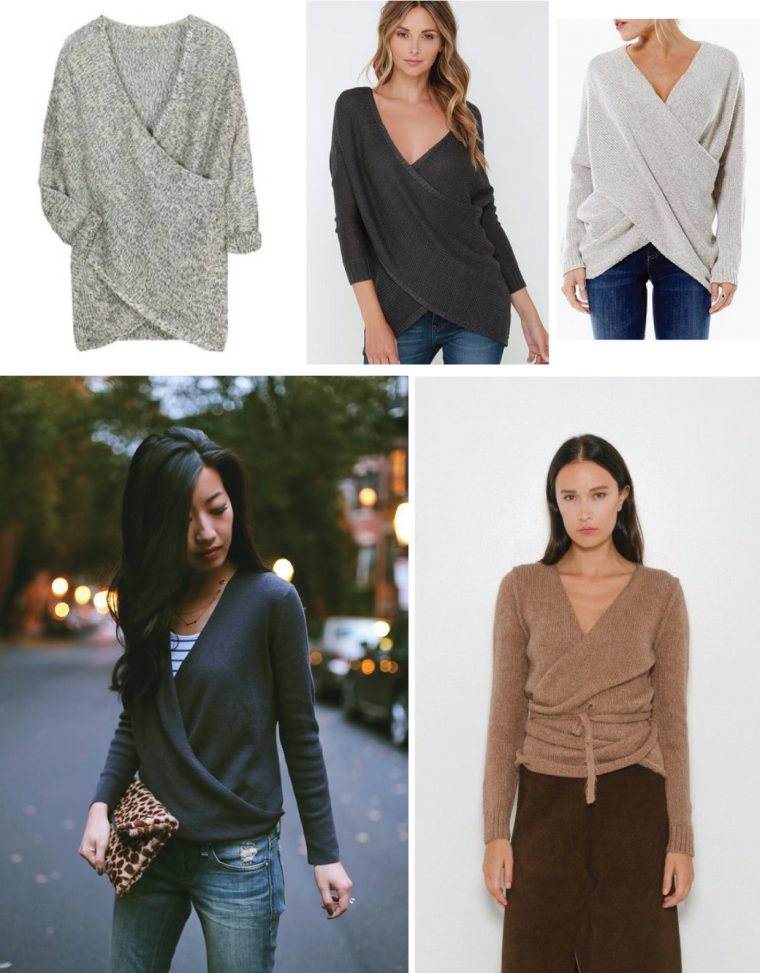 For the trousers, I can't wait to try a wild print! Initially I thought I'd sew them in faux leather, but I already own faux leather leggings (which I wear a lot, by the way) and don't really see the need for another pair in my life right now. So I'm channeling Jenna Lyons in these photos, since she's the queen of the printed trouser. I particularly love the trousers at top, left. That bold black and ivory print is amazing.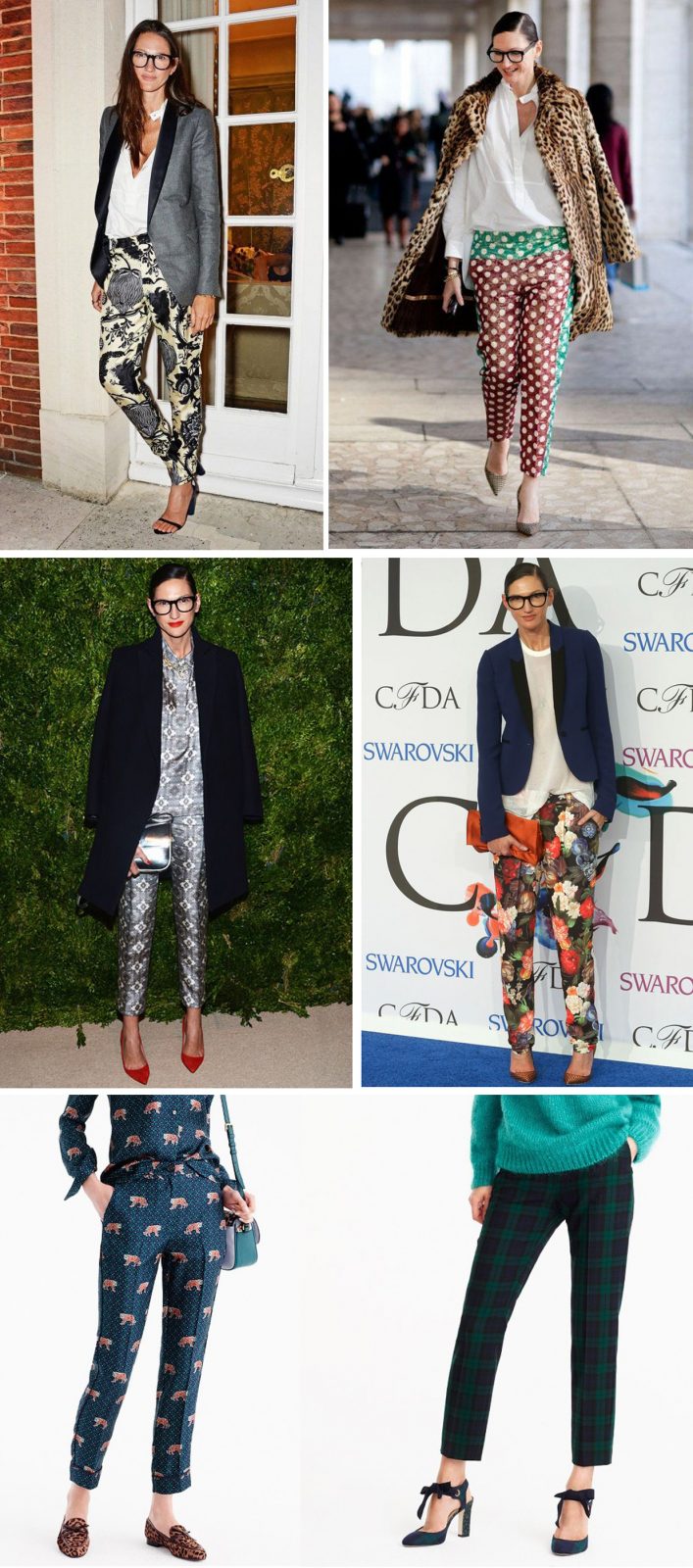 Fun, right? You can find more inspiration and ideas for this pattern over in my Lisette B6526 Pinterest board. As soon as I'm over this nasty cold, I'm marching myself over to the fabric store to see what I can find.
Fabric Suggestions
One of the challenging things about designing for, and sewing with, knits is that there is such a wide variety of knit fabric out there, and each one will have a different hand, weight, and amount of stretch. Your fabric choices are going to heavily influence the look you get when you sew this top pattern, for sure.
I was thinking about sweater knits when I designed this top, and they will give the pattern more of a relaxed look. But you could also use jersey, French terry, sweatshirt fleece, and maybe even polar fleece if you're so inclined. Watch the hand of the fabric. A stiffer knit will look more like the photos with the model, while a soft knit will look more casual.
The trousers will be easiest to sew and to fit if you choose a woven fabric with some stretch, but you know that won't stop me when it comes to trying other fabrics like jacquards, printed satin and sateen, and maybe a tartan plaid. More obvious fabrics would be stretch twill or denim, which will also help with getting a good fit more easily. But what about faux leather? You could even use the seams to narrow the legs a bit if you prefer more of a cigarette pant. Most faux leather has a decent amount of stretch, so don't rule it out! For the holidays, if you hurry, you could also sew them in a pretty silk satin for something both dressy and understated.
Show us Yours!
I can't wait to see how you sew these two pieces. You can pick up the pattern itself right here, and once you've sewn it be sure to tag us #sewlisette and #B6526 on Instagram and add your photo to the Lisette Flickr group so we can see what you've made!