It's very easy to add a zipper fly to a pants pattern that doesn't include one. It takes a few additional steps and a little more time, but if you're sewing pants for kids over the age of 5, they'll appreciate having a zipper fly.
Since we don't include instructions for a zipper fly in our patterns (it takes quite a bit of space on the instruction sheet and most little kids don't want or need a zipper), here is a complete tutorial that will help you to convert any of our faux fly pants patterns (which include the Art Museum Trousers, Field Trip Cargo Pants, Class Picnic Shorts, and Sketchbook Shorts) to a zipper fly. And even our patterns that don't include a faux fly (Sandbox Pants, After-School Pants) can be converted if you add a faux fly to the front pants pattern piece. Just use one of the aforementioned faux fly pants patterns to add the extension and pivot dot at the center front. It's that easy!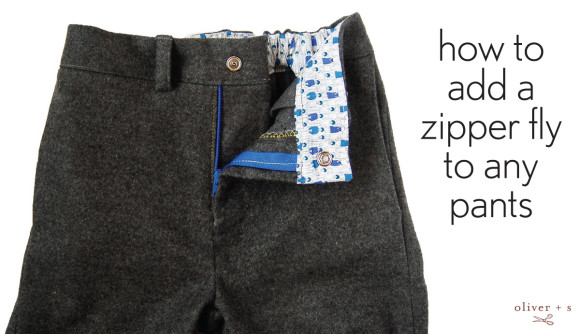 (Note that you can click on any of the photos in this tutorial to enlarge them and to get a closer view of the details.)
There are two things to keep in mind when you're adding a zipper to the fly: you'll need a longer waistband (I'd suggest either waiting to cut the waistband until the very end or cutting the waistband several inches longer than needed when you cut the rest of the pieces), and the construction of the pants will proceed in a different order than we usually recommend for sewing pants. So keep both of those issues in mind and you won't have any problems. In this tutorial I'm sewing a pair of Art Museum Trousers for a little friend, so you'll notice that I've already sewn the front pockets and the back welt pocket. You'll want to do the same with your pattern.
Supplies needed:
A zipper that's longer than the faux fly: any length is fine, since we'll trim it to size
Lightweight fusible interfacing: I prefer featherweight interfacing because it doesn't add any bulk or stiffness to the fabric
Zipper foot
A button or snap for the waistband
One more thing to note: In the U.S., boys' flies zip right-handed–wearer's left side overlaps the right side–and that's what I'll be demonstrating here. If you prefer a zipper that opens on the opposite side just remember to reverse these instructions.
Don't be intimidated by the number of steps. You know that I like to break things down so they're understandable. This may seem like a lot, but it's only because I don't want you to be confused. And the more you do this, the easier and quicker it will be. You'll be surprised! And be sure to click on any of the photos to make them larger so you can really see the details.
Done! Now you can continue with the rest of the pants construction, taking note that the construction itself will change a bit. Instead of sewing front to back at the side seam or inseam, you'll stitch the two back panels together at the rise, just like you did with the front panels. Then pin the front and back together and stitch the side seams and inseam. It's not tricky, just a different order of sewing.
For the waistband, you'll sew it more or less as you usually do, except that you won't sew the ends into a loop before attaching it. I think this will be pretty clear as you're sewing it. You'll need extra length to accommodate the fly shield, and I would suggest interfacing the waistband, especially at the button or snap placements. (I like to use a woven fusible interfacing for waistbands because it helps to keep the waistband from stretching when it's worn.)
Need help? Don't forget our fabulous discussion boards, where all sorts of questions and topics are discussed. The kind folks there can help you figure out almost anything.
The zipper fly looks so nice when it's finished, doesn't it? I can't wait to see how yours turn out!