Please join me in welcoming Elizabeth to the blog today! She is going to share a bit about her favorite Oliver + S pattern and show us the many fantastic versions she has made. Glad to have you here Elizabeth!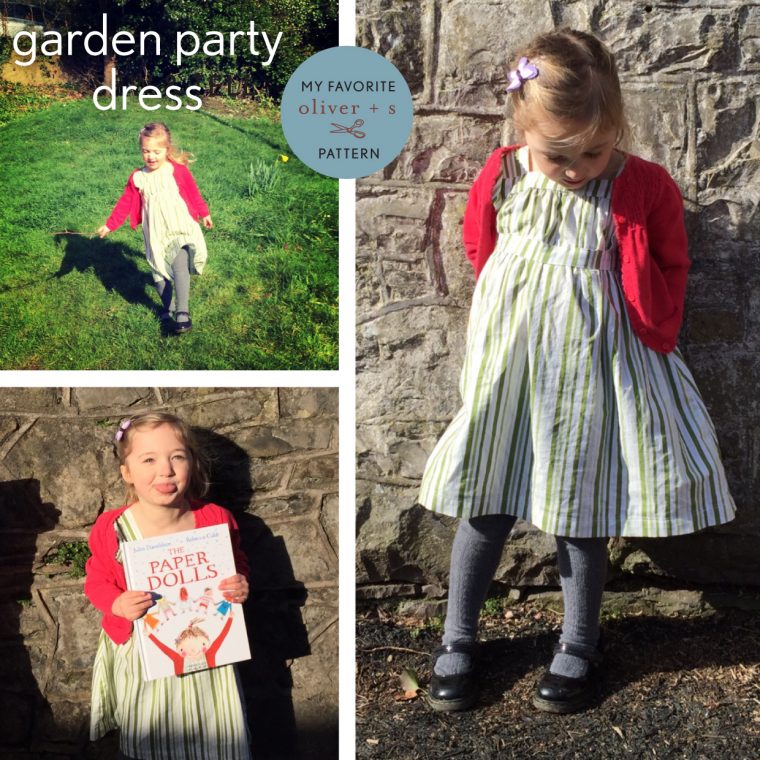 Hi – I'm Elizabeth, and today I'm here to tell you about my favorite Oliver + S pattern – the Garden Party Dress. I'd always sewn "stuff" – cushions, some patchwork, a few rag dolls, but it was only after becoming Mum to two little girls (ages 7 and 4), that I really started making clothing.
Oliver + S was a chance find here in the UK. We live on the beautiful south Wales coast, and on a visit to London we went to the fantastic Liberty of London store to admire the fabric. (The store itself is gorgeous – well worth a visit.) I noticed a mannequin displaying the most wonderful little girl's dress made from Liberty Lawn. It turned out to be the Oliver + S Tea Party Sundress – and I immediately bought the pattern, the "Little Things to Sew" book, and some Liberty fabric on the spot to recreate it myself at home. And so it began.
That first go at following the wonderfully explained pattern got me hooked – and so my "slight obsession" with Oliver + S began. We're a long way from London, so digital patterns make up my stash – with each size printed out and carefully stuck together, and filed away for the next version.
I eagerly awaited each release of another pattern, working my way through Jump Rope, Family Reunion, Carousel and Fairy Tale dresses, with a few Swingset Skirts and Reversible Bucket Hats thrown in. But having counted up, it's the Garden Party Dress that I keep coming back to!
When it was first released I loved everything about the Garden Party pattern: beautiful little capped sleeves, the gathering on the front that makes me think of the smocked party dresses I had as a child, the elegant, unfussy neckline and the sheer "little girlness" of it.
The first versions were made from a crisp blue and white Japanese lawn, with contrasting blue bands, and lined with white lawn. One each for my little girls, and soon became firm favorites – either dressed up for a birthday party, or worn with battered Converse for running and climbing trees.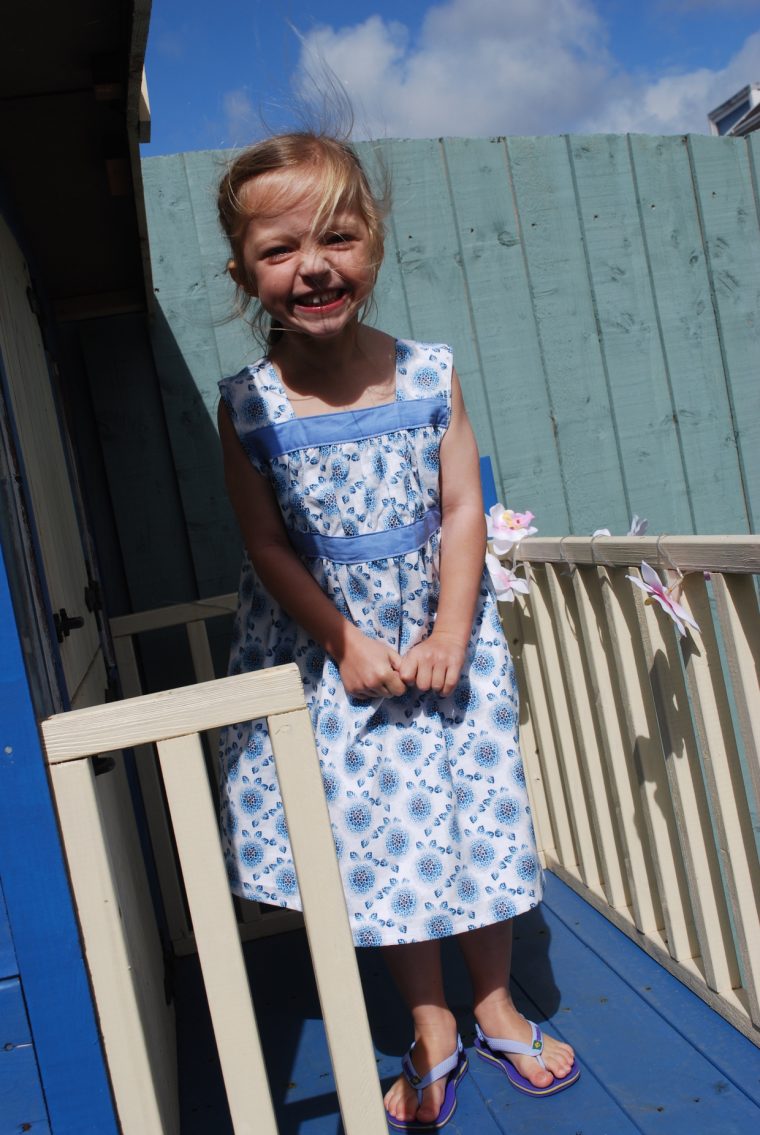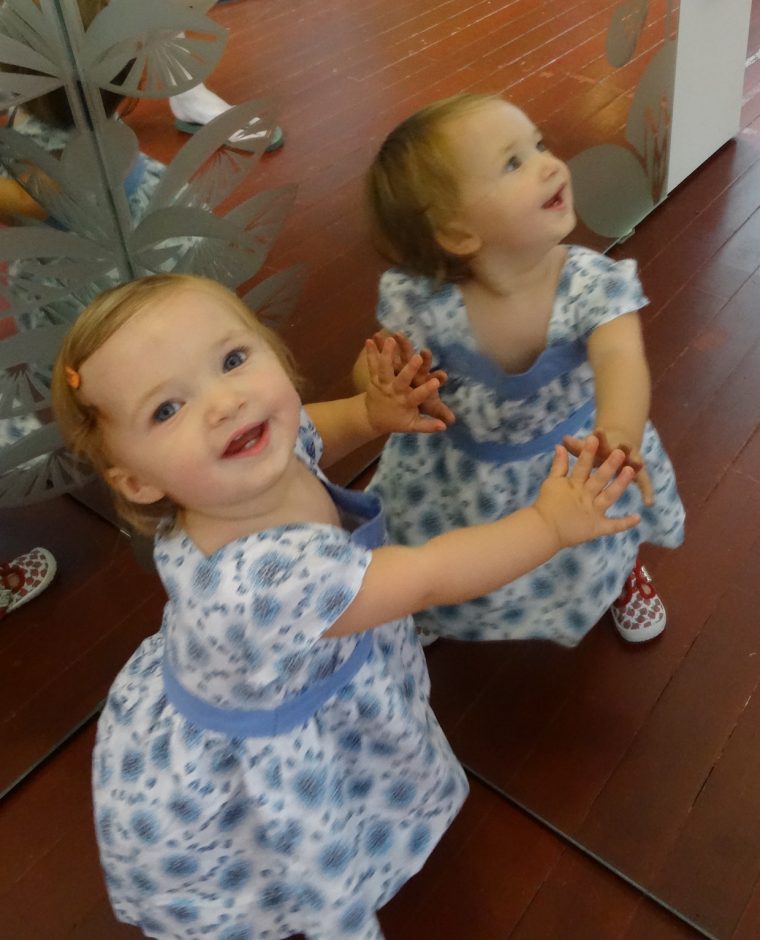 My two always love dressing up – for parties, or just for everyday wear. The "Everyday Elsa" dress came about after Jemima wore her birthday party dress (a floor length Fairy Tale Dress with tulle overlay and embroidered snowflakes) to play at our village castle – climbing the battlements of the 1000 year old ruin like a princess – and then "tumble tossing" down the steep grassy embankments around it. The dress survived, but only just, and so the need for an "everyday fancy dress" came about.
I started using the Garden Party dress to make "everyday" dress up outfits. Everyday Elsa had appliqued snowflakes, a detachable short train, and a super sparkly trim on the contrast bands. Made from a plain cotton it was soft, wearable, but still made her feel like a princess.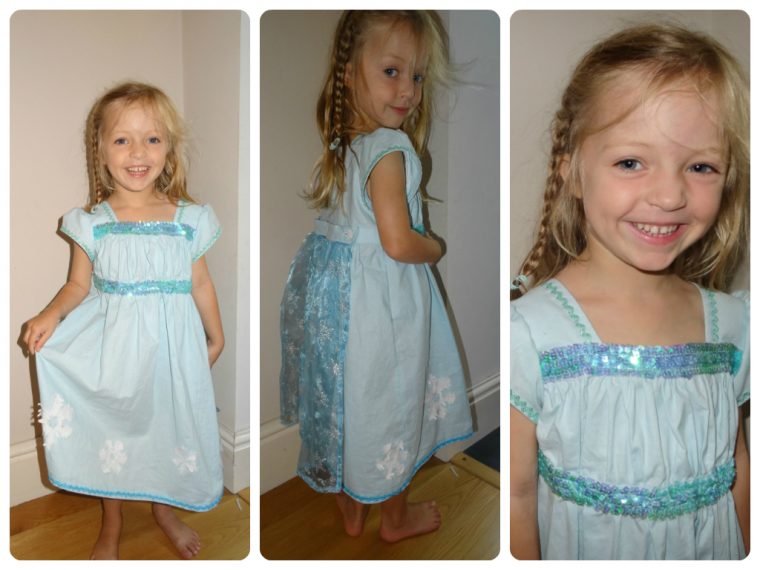 Everyday Elsa needed an Anna – a Scandinavian inspired dress with ric rac trim, appliqued felt decorations, and I split the front piece pattern to give a different color to bodice and skirt. A modified Red Riding Hood Cape (from "Little Things to Sew") completed the Anna look – with a collar instead of the hood, pom pom trim and a metal clasp, all on corduroy. This one still gets worn three years on, with or without the cape.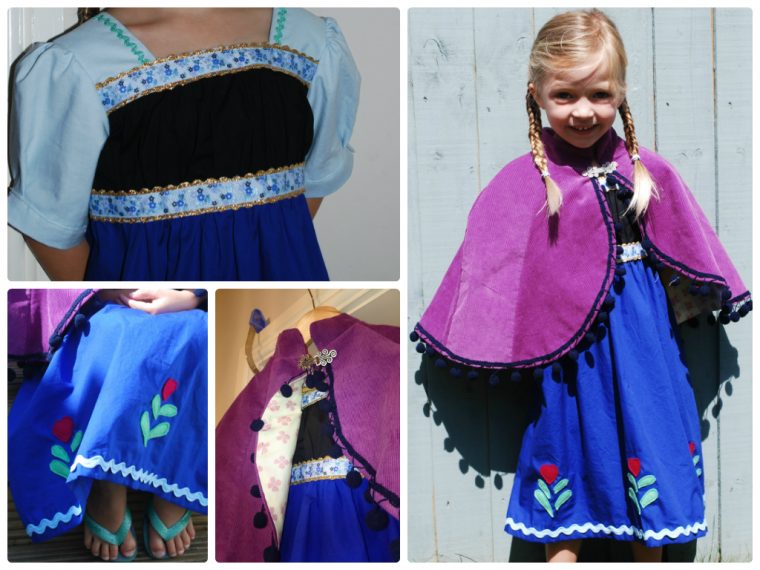 Other Garden Party dresses have been made from polka dots, sunflower fabric, blouse length, and it is such a versatile pattern that it's my go-to when needing something to adapt or inspire.
The last year has seen two more additions to the fancy dress collection. Jemima was an angel in her school play, and she requested a homemade costume. The Garden Party pattern made from an old fitted bed sheet (ideal soft white cotton), with lots of gold trim and a tulle sparkly over-skirt was the perfect floor length angel. She was so pleased and proud!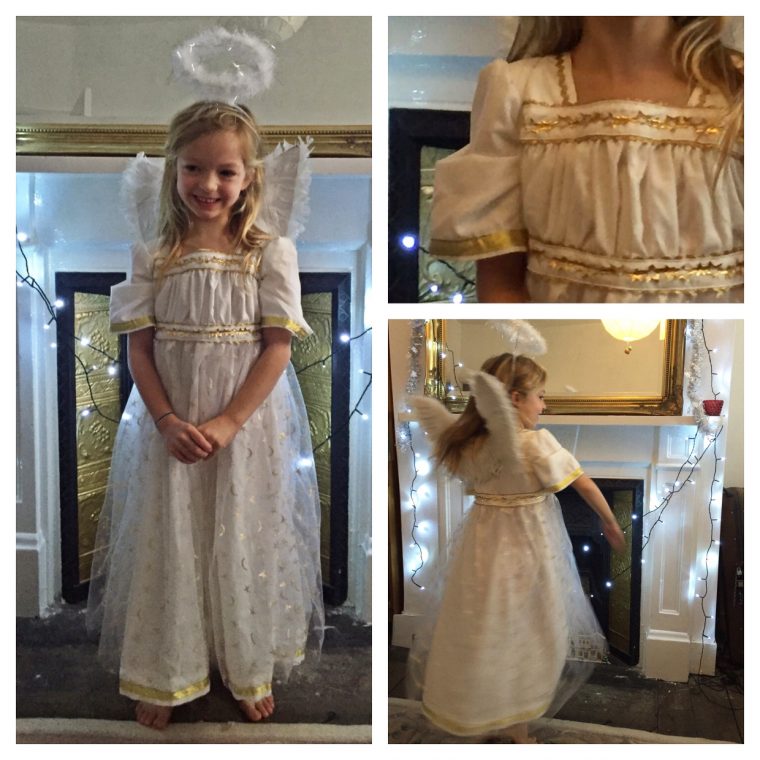 It was even adapted for World Book Day, with three-year-old Matilda wanting to go as the little girl from "The Paper Dolls" by the marvelous Julie Donaldson. (You may have heard of one of her other books, "The Grufallo.") The smocked look and simple lines made for a beautifully simple green striped version, which has been worn all summer long!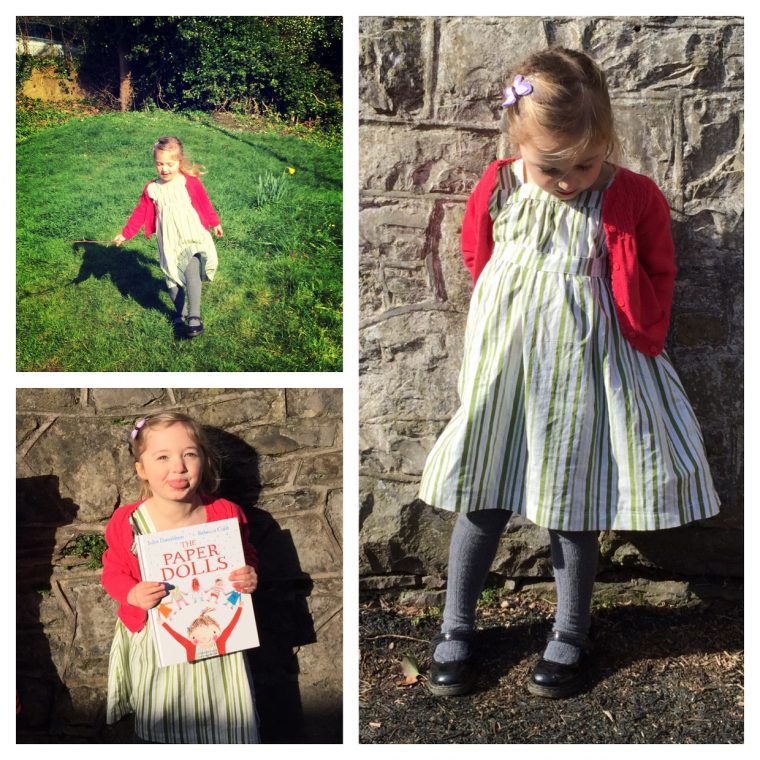 I love so many Oliver + S patterns: the Fairy Tale dress for its fabulousness, my relatively new discovery of the Carousel Dress for its pockets and swinging brilliance, and the endless possibilities for a Swing Set Skirt. But you can't beat the Garden Party Dress for being so easily adaptable, so quick to sew up, and looking just so gorgeous!