We're happy to have Debbie back on the blog again. Last time she was here she shared her Late Lunch Tunic Sew + Tell post. Today she's going to share a bit about her favorite Liesl + Co. pattern and show us the many fantastic versions she has made. Thanks so much for being here Debbie!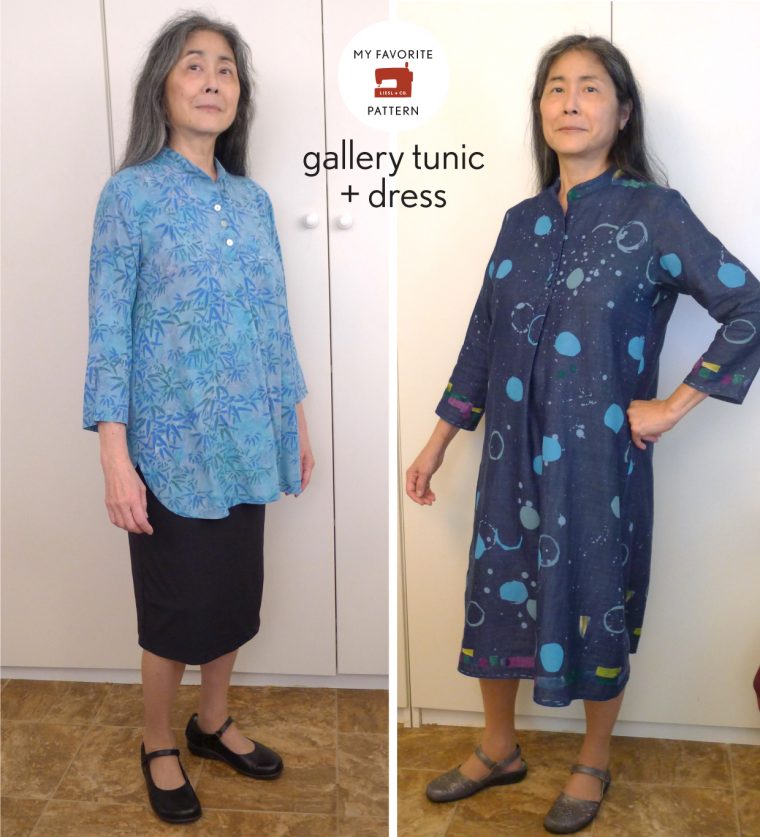 Have you ever found the pattern that's just right? The Liesl + Co. Gallery Tunic + Dress is that pattern for me. I'll often pick up a pattern and stash it away to make later, but as soon as I saw a photo of the Gallery Tunic, I knew I had to have it, and had to make it right then.
A couple of weeks earlier, I'd bought a gorgeous double gauze from the new Nani Iro collection that featured circles of color and a border of irregularly spaced rectangles along the selvage. But I was stumped for a pattern that could really showcase the fabric—until the Gallery Tunic + Dress showed up.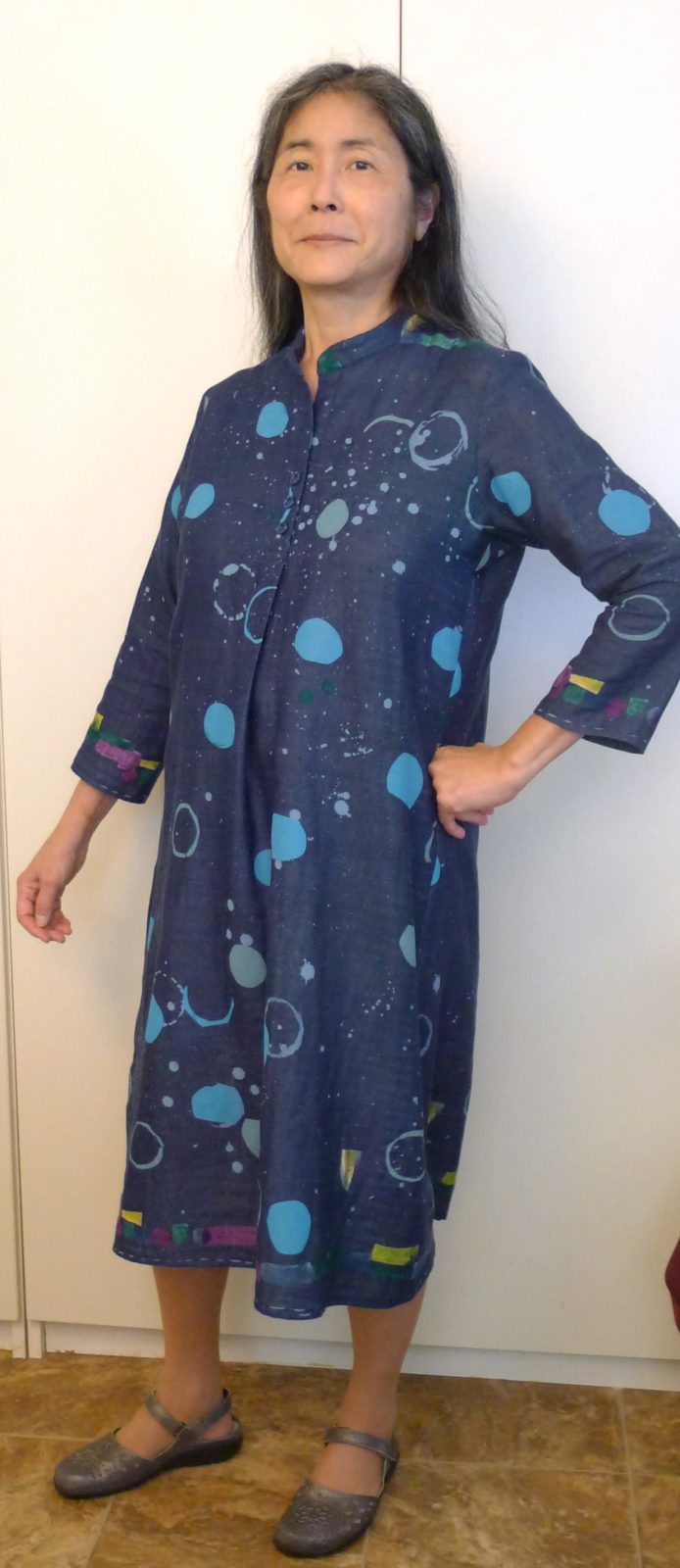 I chose to use the collar stand and three-quarter sleeves, and to match the back and front hem lengths and straighten them so that I could show off the fabric border. Since I'm only 5'2", I could fit the pattern crosswise on the fabric, which was only 44" wide. The dress was cut with the border on the bottom hem, as well as on the sleeve hems and collar.
I traced out all the pattern pieces and made duplicates of front, back, sleeve, and collar so that I could lay out the pattern pieces in a single layer, to avoid the problem of placing a circle of color directly over the bust point or rear. The double gauze was lovely to sew, stable yet kind of spongy, and it's fabulous and comfortable to wear at any time of year.
I've been so pleased with the dress that I just bought yet another Nani Iro double gauze with a border, this fabric from Hart's Fabric, to make my next Gallery Dress.
Even more versatile than the dress are the tunics. The first is in a sueded rayon that looks and feels like rose petals.

And this version is a rayon batik.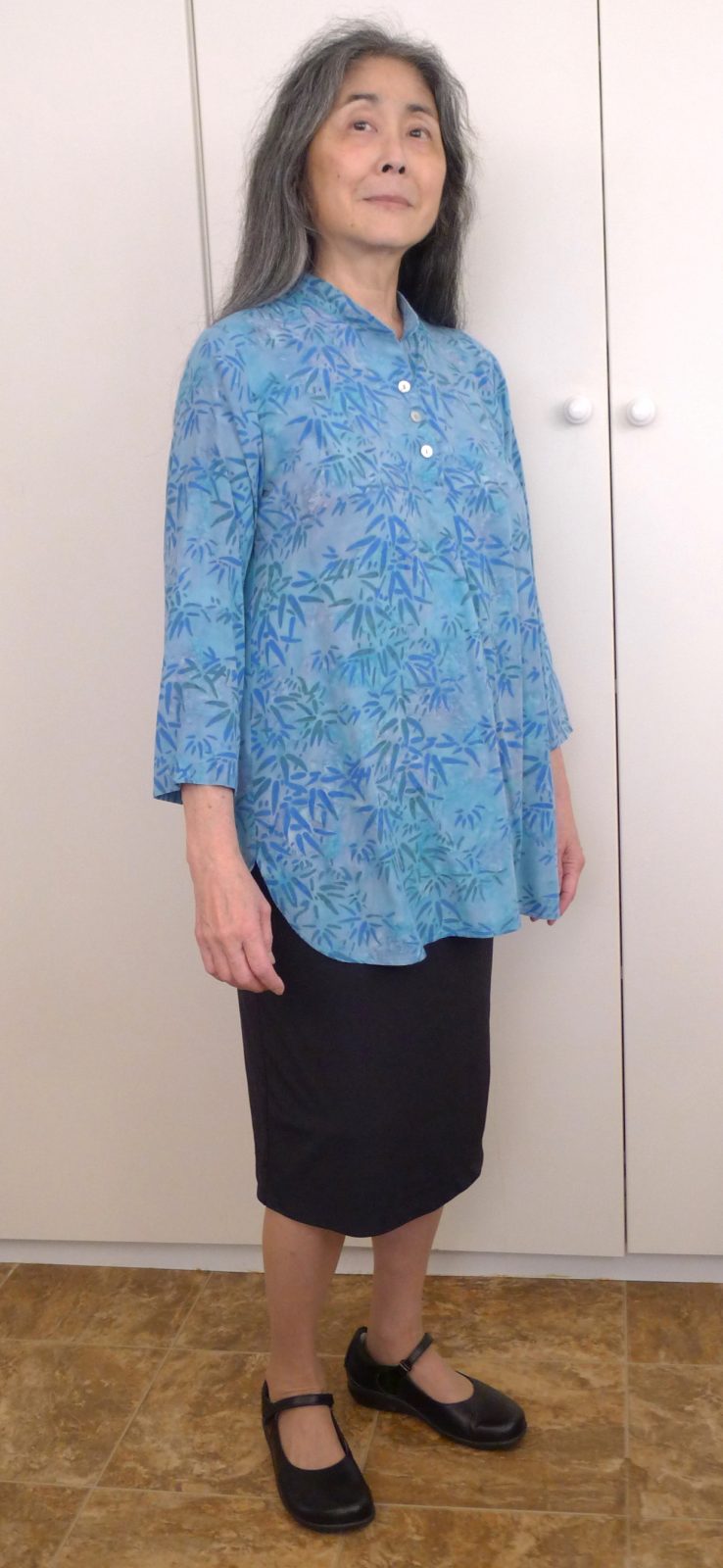 I'll probably end up with even more Gallery tunics or dresses. It's such a simple shape, but so very flattering. The instructions are comprehensive (I always have to refer to them when sewing the front placket), well illustrated, and easy to follow. Thanks, Liesl!