Creativebug offers classes that teach sewing, knitting, jewelry making, papercrafting and more. Their award-winning videos make learning a beautiful-to-watch and easy-to-follow experience.
Liesl has partnered with Creativebug on several inspirational and educational video workshops which can be streamed at your convenience. Workshops are available for purchase on a per-course basis, and others are available for free after creating an account with Creativebug.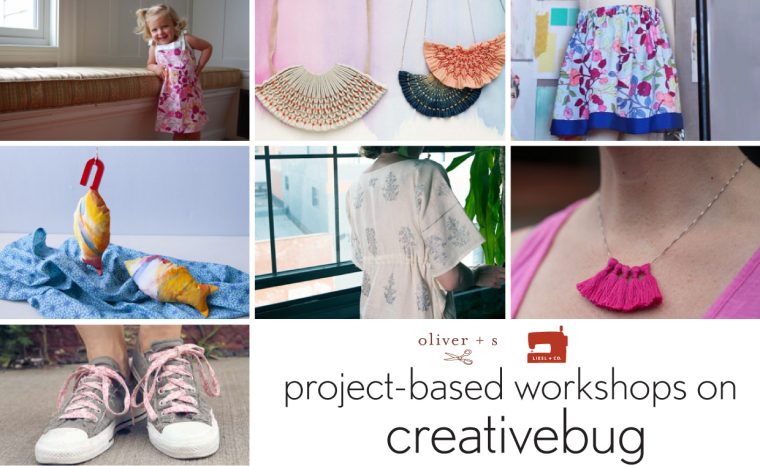 Liesl has seven project-based workshops available on the Creativebug site, including these.
1) Popover Sundress
Sewing this darling dress gives you a chance to learn tips and techniques directly from Liesl, including French seams, bias binding and sewing a narrow hem. The Popover Sundress works up quickly and is offered in sizes 2-8 as well as a matching doll version.
2) Smocked Necklace
Learn the classic art of hand smocking as you make a beautifully textured statement necklace. The scale of this project makes a perfect introduction to this rewarding technique. The overall effect is clean and symmetrical–while also organic and dramatic.
3) Lazy Days Skirt
Inspired by the lazy, unfussy days of summer, this quick project is perfect for beginning sewers, or sewers looking for an instant-gratification project. With her clear and precise instruction, Liesl will show you how to make this skirt from a single width of fabric, add an elastic casing for the waistband, and finish it with an inventive ribbon hem. The Lazy Days Skirt will become your go-to skirt when you crave a sweet and simple project.
4) Fabric Fishing Game
Paint your own fabric and then turn that fabric into fish for this clever game–so you can fish anywhere (no water required!). The fish are magnetized, and the process of creating the fabric and sewing the fish can be applied to making any other shape or size stuffed animal that you can dream up.
5) Linen Caftan
This caftan is an easy-breezy wardrobe staple, made from a single rectangle of fabric with a drawstring to add a lovely shape. Liesl shows you how to sew this as a top, or longer if you'd prefer a tunic or dress. Included in her instruction is how to use interfacing on the neck facing, and hand printing the caftan for a totally customizable, elegant garment.
6) Tassel Necklace
This tassel necklace adds an opulent note to any outfit, and makes a perfect gift. Liesl shows you how to make perfect tassels and attach them to a necklace–or to the corners of home décor items such as napkins or pillows. The result is a bright pop of luxury and color that will have you looking for items to tassel up.
7) DIY Fabric Shoelaces
Add a creative zip to your step when you make your own shoelaces. Liesl shows you how to make a quick frayed version, as well as a more finished, sewn version. Both pack extra pizazz with pops of bright artist's tape and nail polish. You'll have a creative and fun use for that extra fabric in your stash.