lazy days skirt free sewing pattern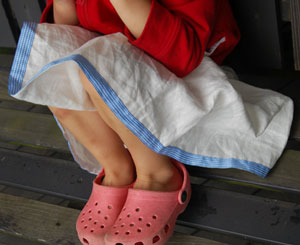 Lazy days are meant for relaxing and hanging out on the porch and walking the dog. At least, that's what we had in mind when we created the free sewing pattern for this skirt.
It's about as easy as can be to sew this free skirt pattern since it's made from a single width of fabric. And when it's finished you'll still have plenty of time to contemplate the day from the porch swing.
With a simple elastic waistband, it's also comfortable. But our favorite part is the ribbon at the hem. You can use almost any sort of ribbon, in any width you like, to give the hem a clean finish.
Interested in sewing along with Liesl to make the Lazy Days Skirt? You're in luck. This project is now available as a Creativebug workshop!