We are delighted to welcome Ashley and Emily from Frances Suzanne back to the blog. They have stopped by in the past to share their two favorite patterns (the Puppet Show and Music Class), to talk all about tucks, and to share their sewing for a trip to Disney. Now they have a post all about the Building Block Dresses they've sewn for their nieces. Here they are.
Hi all! It's good to be back sharing with the Oliver + S community today! Summer sewing for us often includes grand plans, with the potential for having more time to sew. Building Block Dresses always enter the picture when discussing what to sew next. It seems we have become quite the picky "pattern customers." You see, we like a lot of patterns…. Yet, more often than not, we find one minor thing we would "do differently" if we were to sew the said pattern.
Thankfully, Liesl's book Building Block Dress: A Sewing Pattern Alteration Guide walks us through those visions with clarity, ease, and with a much greater pace than if we were left to our own devices–not to mention, the success rate of the finished garment is exponentially increased when "going by the book" rather than by our mere brainpower.
To date, we have sewn six Building Block dresses–each differently styled by design elements or fabric choices. We would like to think it isn't obvious the same pattern was used to begin all of these projects.
Our oldest niece, EA, has been the recipient of three Building Block Dresses.
1. A casual, empire-waist dress with Peter Pan collar and notched, short sleeves.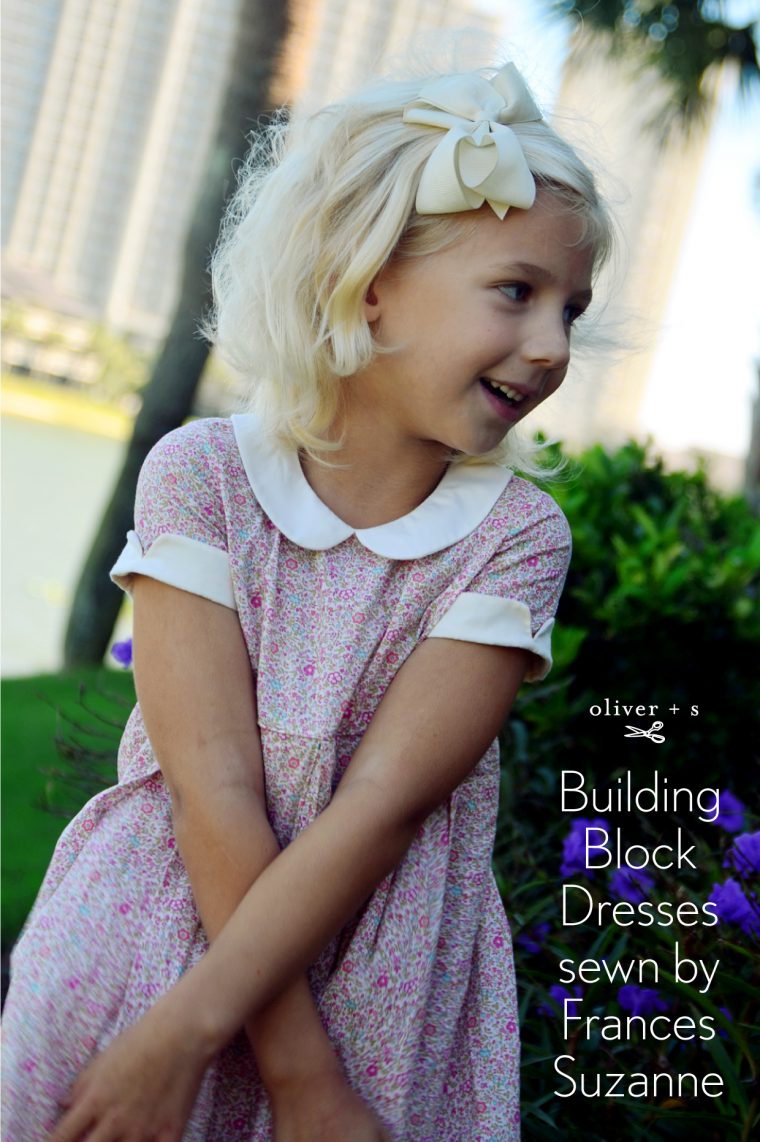 2. A princess-seamed navy dress with capped sleeves, a tie collar, pleated circle skirt, and fun pockets.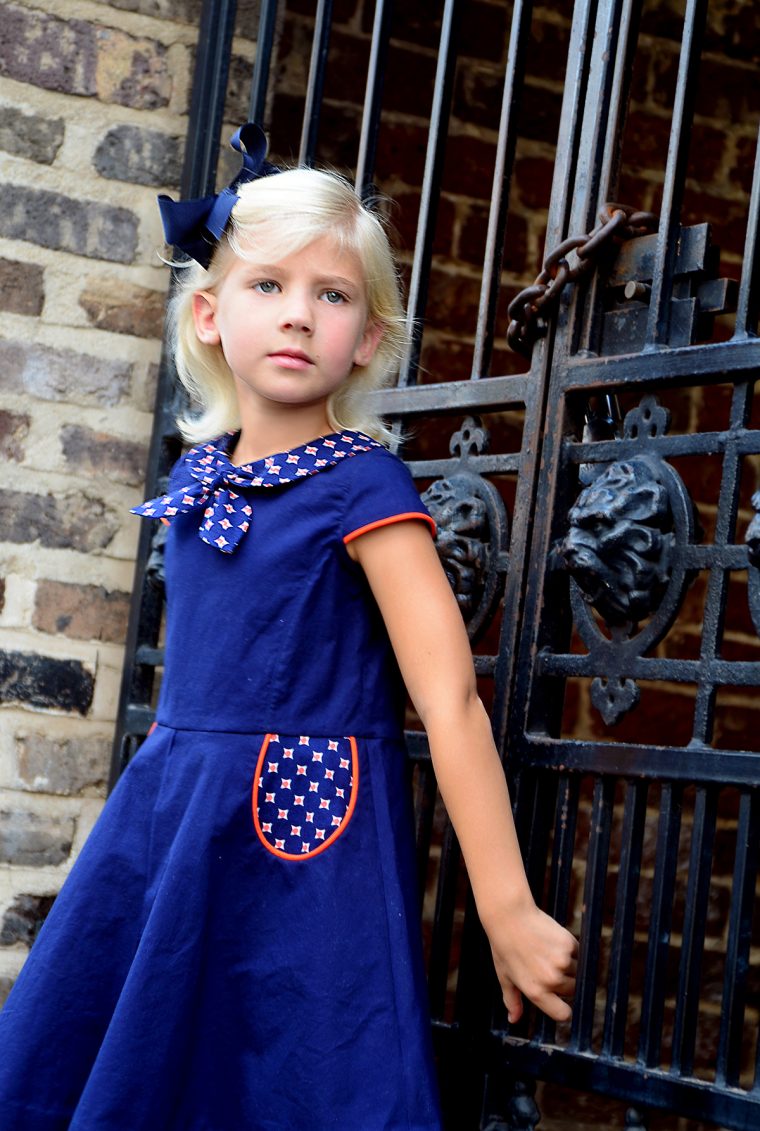 (If in doubt, this is the post that gives our most complete and comprehensive review of the book.)
3. An heirloom Easter dress with lace, lace, and more lace. We also made a slip, using the building block dress pattern as a guide.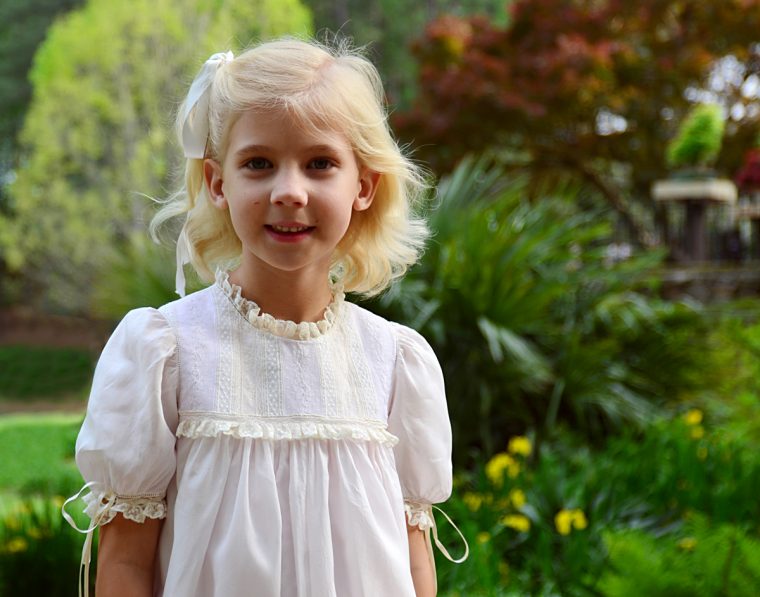 CL, the middle child of the nieces, has also been the recipient of three Building Block Dresses.
1. A sleeveless, striped dress with pleated circle skirt using upholstery fabric.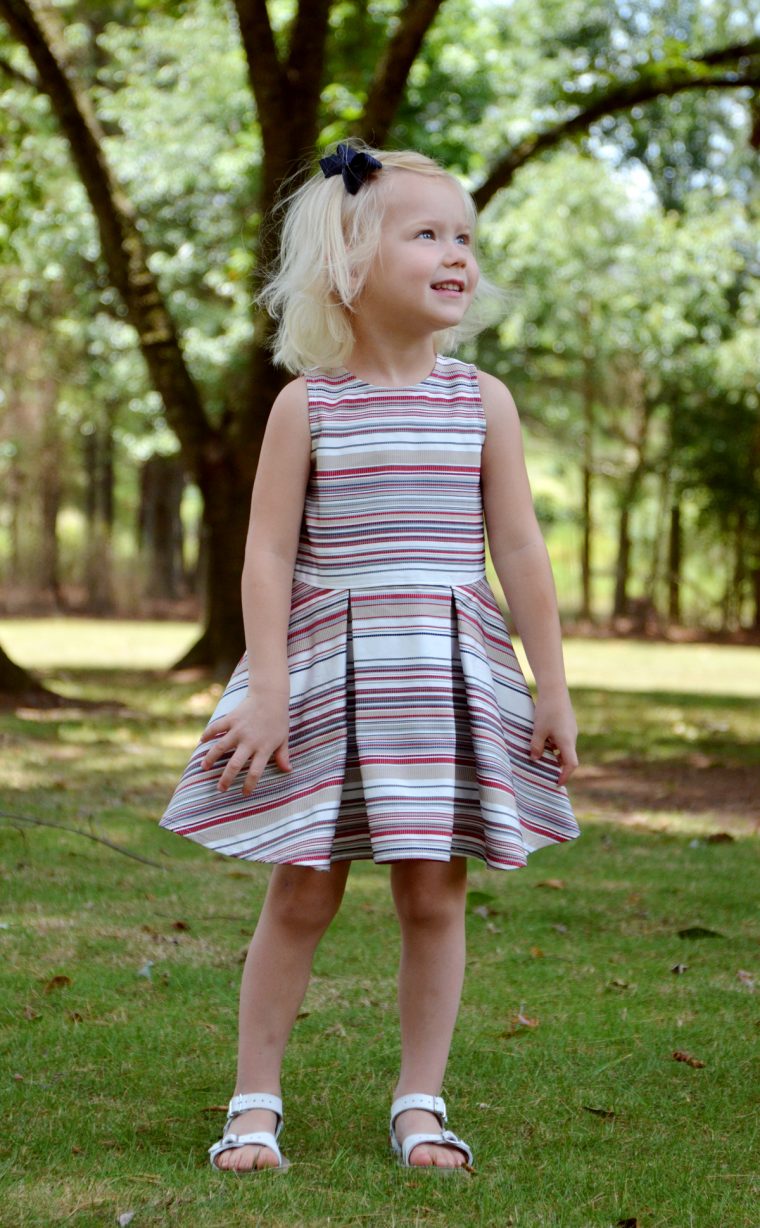 2. A princess-seamed floral dress with capped sleeves, a shaped collar, pleated circle skirt, and fun pockets.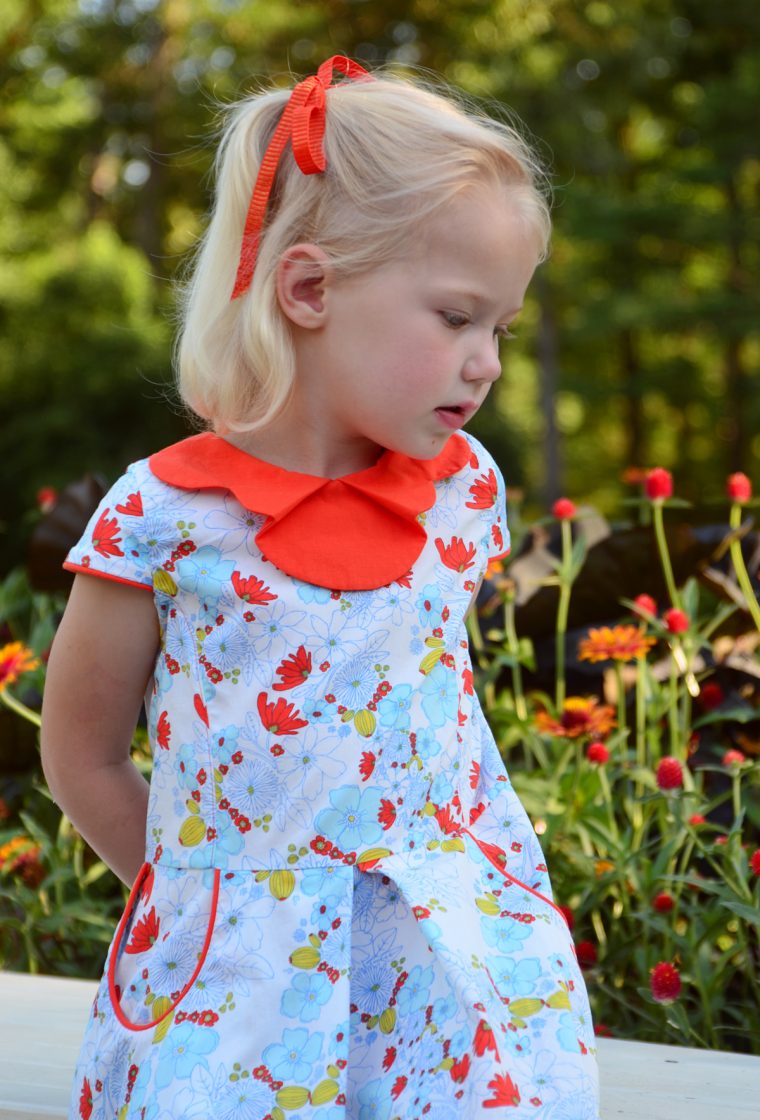 This dress actually used all the drafted pieces from EA's princess seamed, navy dress except for the collar. We perused the Building Block Dresses on Instagram and on Flickr, but did not find another sewn version of a shaped collar, as shown in "dress variation F" and featured on page 111 of the book.
That just would not do! So, we decided to rectify that . . . and make one of our own. Disclaimer: there probably has been a Building Block Dress made with this type of shaped collar since the release of the book; we just did not find it in our searching.
3. A sleeveless, knit nightgown (using the slip pattern from EA's heirloom Building Block Dress).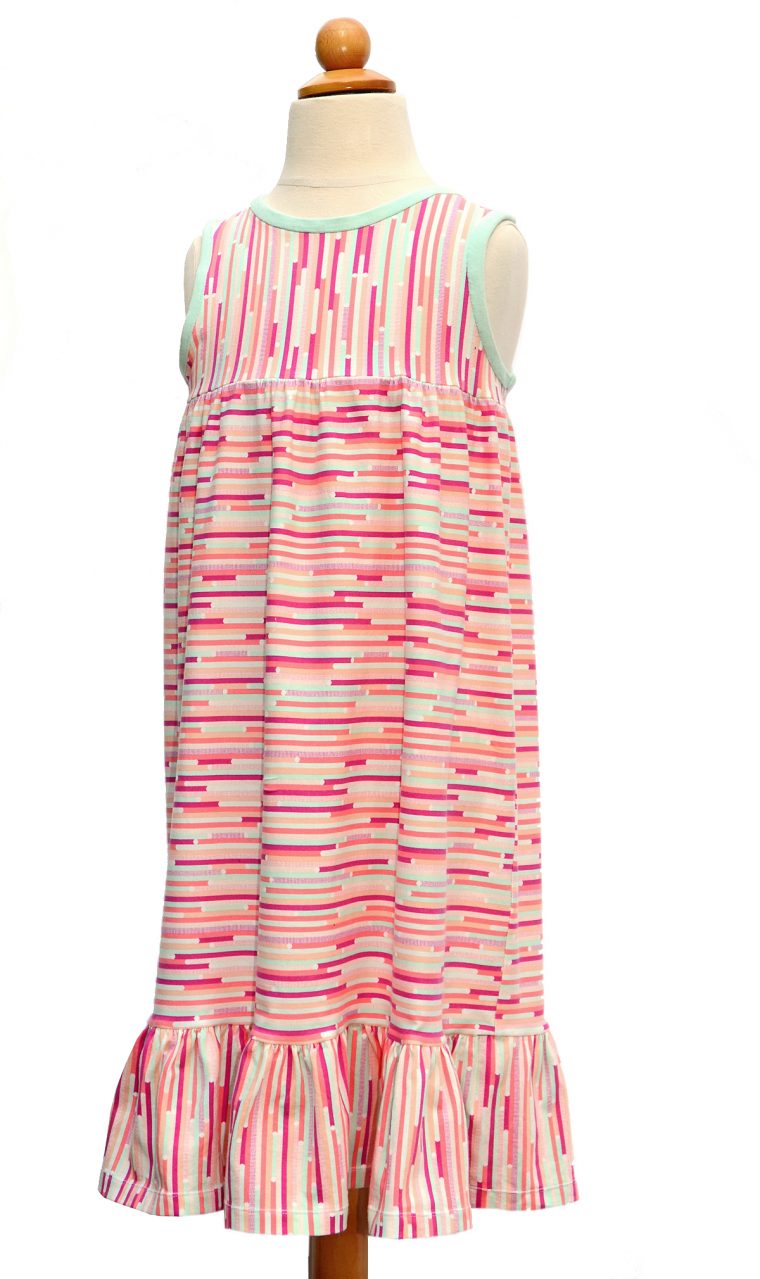 Shelley's post about sewing the Building Block Dress with knits was extremely helpful!
We are thrilled to have "alteration knowledge" when we want to change a particular styling detail. It gives us the freedom to take any pattern and use the alteration methods in the book to create a different variation. And, once you draft certain elements/pattern pieces in a size range, you can use them for multiple garments!!!
That is what we did with EA and CL's dresses here and here. Same pattern pieces, same size . . . the only change was the collar and fabric selection.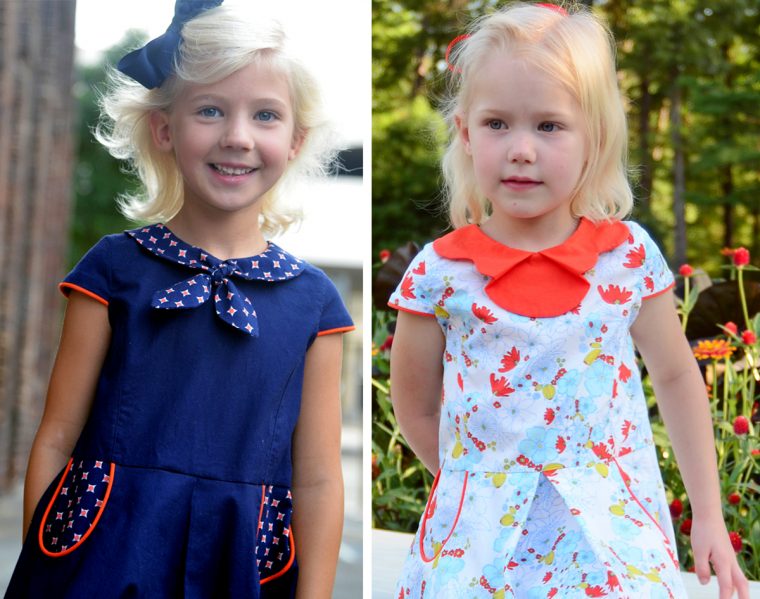 Or, when we used EA's heirloom slip pattern to make CL's knit nightgown. You cannot get much different than those two garments!
LG, niece #3, has not been the recipient of a building block dress . . . yet. Her time is coming though, especially since several variations of pattern pieces have been drafted in sizes 4 and 5. And you better believe we are going to put them to use when she hits that size range! The work is done at that stage. The sewing fun can commence!