No matter where we live on this planet, we come together and form a supportive global online sewing community here on the Oliver + S blog. We share the same passion and speak the same language. You sew wonderful things using our patterns and we are delighted to have you share your creations here. It's a pleasure for all of us to see.
Was 2016 your best sewing year yet? Let's ring in the new year with your 2016 sewing photo mosaics. You'll find more photo collages of your 2016 sewing in the Oliver + S Flickr group and at #2016oliverands on Instagram. Add yours if you haven't yet, we'd love to see them.
Let's hear from four Oliver + S fans. I reached out to a few sewists who made and posted photo mosaics to tell us a bit about their work. I asked them to reflect a little on their sewing in 2016. What were their accomplishments, new skills learned, what they were most proud of, and any personal favorites. Thinking ahead to 2017, I also asked them to talk about their sewing goals for 2017. Here's what they had to say.
First up is Sarah who is known as sberseth on Flickr.
2016 Accomplishments: I sewed a lot more for myself this year. I made a few tanks, several pairs of shorts and this fall I made a Woodland Stroll cape which I love! I also sewed a lot of dresses for my two girls, most of which were Oliver + S!
2016 New Skills Learned: I sewed with knits for the first time using the Oliver + S Playtime dress. I would love to continue to sew more knits this year and the Playtime dress is a really great pattern to help me "stretch" my knit skills.
2016 What I'm proud of: I work in a professional environment as an engineer. When I wear my Woodland Stroll cape to work I always get a lot compliments and people are shocked to learn that I made it.
2016 Personal favorite(s): I made my girls matching bumblebee costumes for Halloween and they are two of my favorite things I made this year. It just made me happy to see my two bumblebees running around!
2017 Sewing Goals: I am planning on using the Building Block Dress book to design and sew a few dresses. In addition I'd like to use some of my fabric stash before buying more fabric.
Thank you Sarah!
We are now moving along to Laura who is known as @drlbennett on Instagram.
2016 Accomplishments: This was the first year I did any serious garment sewing. (I started garment sewing in 2015 with the School Bus T-shirt and self-drafted baby leggings.)
2016 New Skills Learned: I did my first garment lining, with the Tea Party Dress and Romper, and the Lisette B6183. It wasn't nearly as scary as I expected!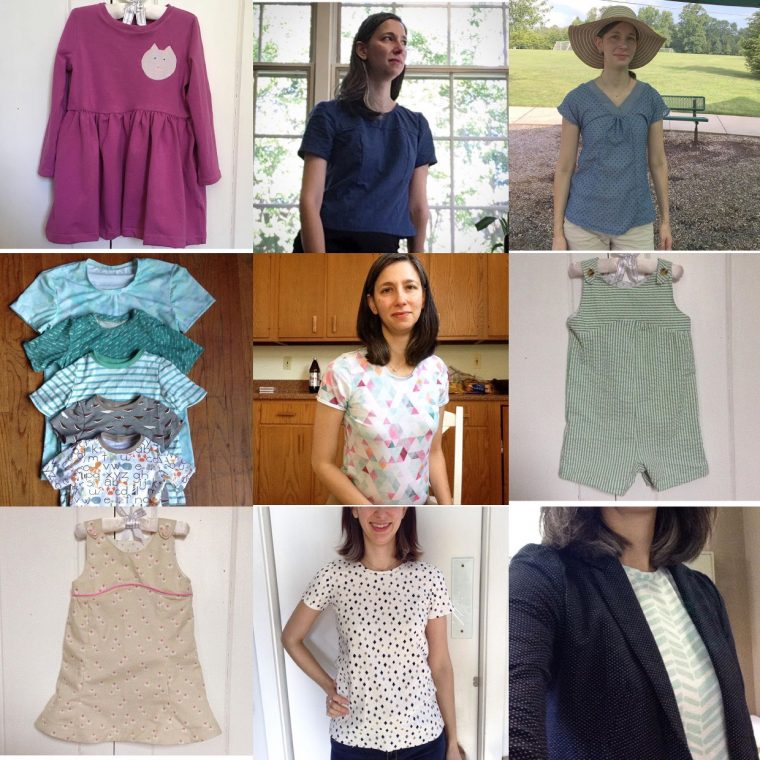 2016 What I'm proud of: I'm very proud that, with all of my daughter's (age 2.5) possessions, she now says, "Who made this for me?" I've made enough of her wardrobe that she assumes that everything comes from someone she knows!
2016 Personal favorite(s): While I loved the Tea Party dress I made my daughter for Easter, she only wore it that one time, and never again. I like that I'm figuring out how to sew workhorse items that will be staples for both me and her. If I make her items purple (her favorite color), they're much more likely to be a hit! She adores the purple dress that I hacked from the School Bus T-shirt pattern (and then appliquéd her favorite white kitty onto), and it makes me happy that something I made her is put back on the moment it comes out of the dryer.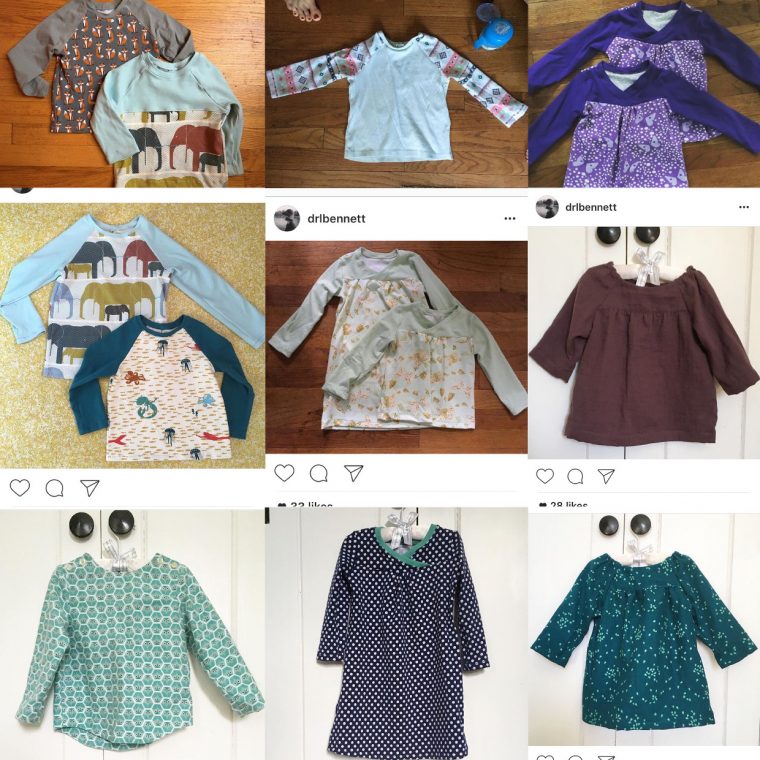 2017 Sewing Goals: I'd like to make a good portion of my daughter's and my wardrobes. (Half the trick here is to not be seduced into buying RTW items.) I want to really master fitting the Bistro Dress to my body, and make several staple dresses from the pattern to wear to the office.
Thanks so much Laura!
Next up we have Hilde who is known as iandvi on Instagram and @iandvi on Flickr.
In 2016, I finally managed to make more time for sewing and I'm pleased with the amount of clothes I made for my kids, most of them Oliver + S patterns of course. For instant gratification, I use what I call the basic patterns like the Playtime, Roller Skate, and Ice Cream dress, they are quick to make and get worn a lot. My daugther has also reached an age where she has an opinion on what she likes when I sew for her and I started to involve her in the process of picking out fabrics and patterns: sometimes kids can surprise you with their choices and combinations, in a good way!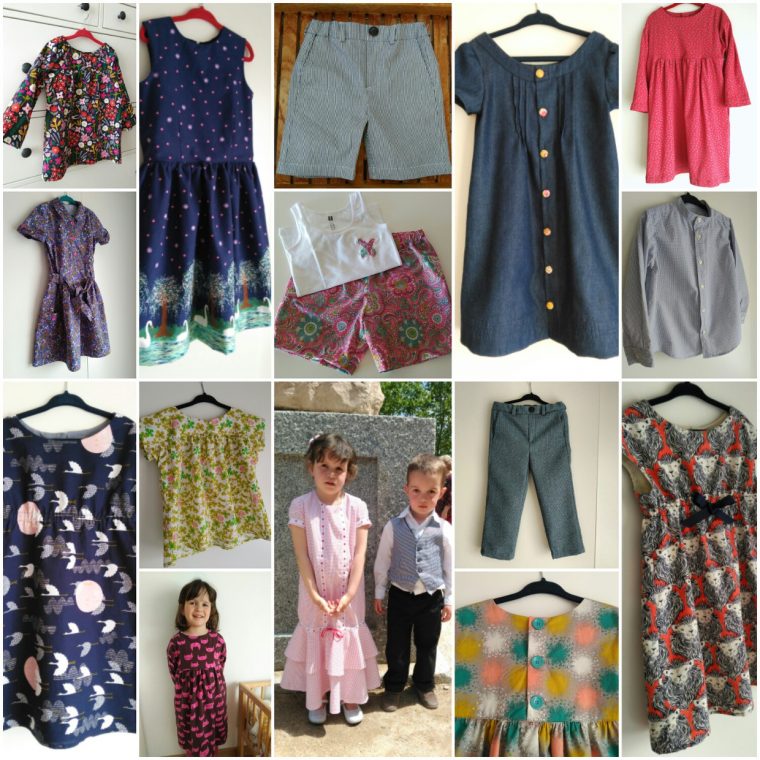 I also sewed the more fancy patterns like the Fairy Tale dress, the Jump Rope dress and the Art Museum trousers + vest for the first time and I really enjoyed those a lot! By using these patterns, I learned to sew welt pockets with a different and more accurate technique than the ones I sewed some years ago, they look so much better! I also learned to sew a placket and I sewed with knits for the first time, now I really don't remember why I was so afraid of sewing with knits before, it's so easy!
I'm especially proud of the Jump Rope dress and the Art Museum trousers and vest, they are my favorites!
My sewing goals for 2017 are to keep sewing clothes for my kids as much as possible, try to sew some trousers for my girl that fit well (After School pants) and sew more with knits (School Bus t-shirts). I received the Building Block Dress book as a Christmas gift and my idea is not only to adapt the pattern that comes with the book, but any other pattern I own, let's see if I finally manage to do it!
Thank you Hilde!
And lastly we have Maria who is known as mariajsanroman on Flickr.
2016 accomplishment: I've sewn things for me that I actually wear!
2016 new skill learned: Sewing with knits for the first time.
2016 what I'm proud of: My family! Or was it all about sewing…?
2016 personal favorite: Gallery Tunic
2017 sewing goals: Finding more time to sew! The Three Kings (Santa doesn't stop at our house here in Madrid) brought me a new sewing machine. I had also asked for a couple hours per week to sew, but I couldn't find that in the box… Maybe they understood a couple of hours per month.
Thanks Maria!
I wish you all a Happy New Sewing Year. And we're excited to see what everyone creates in 2017!