Today I'm happy to welcome Inder from Inder Loves Folk Art to the blog. She has been busy (and I mean busy…) over the past several years sewing Sketchbook Shorts and she's here to show us the many fantastic versions she has made. Thanks so much for being here Inder!
It's no secret that I love Oliver + S patterns generally, but it also won't come as a surprise to any long-time reader of my blog, Inder Loves Folk Art that I have one very strong favorite Oliver + S pattern: the Sketchbook Shorts. It was the second Oliver + S pattern I ever tried (the first was the Sailboat Pants) and I've made too many versions to count for my son Joe. In some ways, it's a humble little pattern – simple little pleated shorts with a faux fly and elastic waist, in a style I would characterize as "British Schoolboy" – but I've learned that the fit is perfect and the possibilities are endless!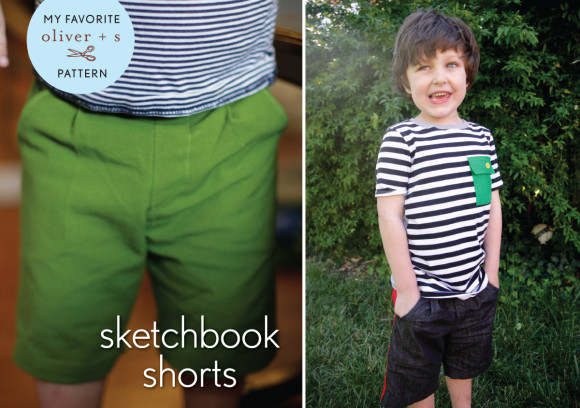 My first version was in Leprechaun Green for Joe. These were made in the days when I sewed everything on an old 1970s Singer and Joe was a big, bouncing 18 month old who wore size 2T. After taking more than a decade off from sewing, I was just getting back into it, sewing simple things for Joe. My blog was still a baby blog back then!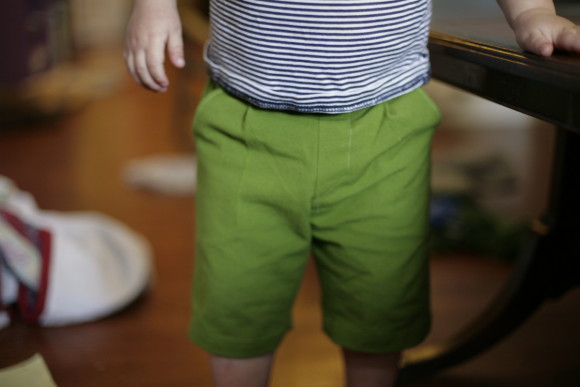 The nice waistband, pleats, pockets, and faux fly made for such a satisfying finish! So I made a red pair for a friend's daughter, and a striped pair for Joe! It was the beginning of a long, beautiful friendship.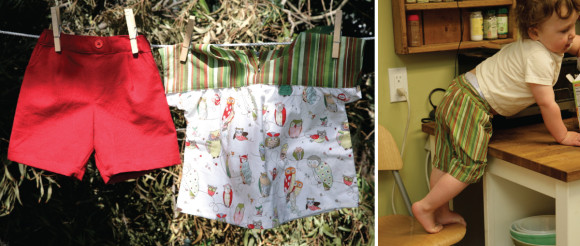 These were followed in short order by a dog printed pair, because, um, DOG FABRIC, hello!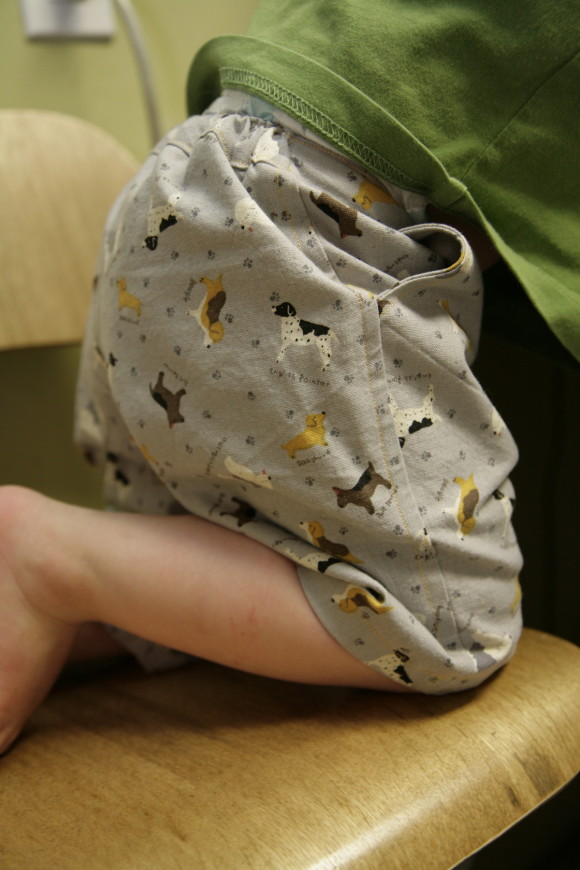 At some point around this time, it occurred to me that the shorts could be lengthened into pants. Behold, my first pair of Sketchbook Pants, in soft green baby wale corduroy.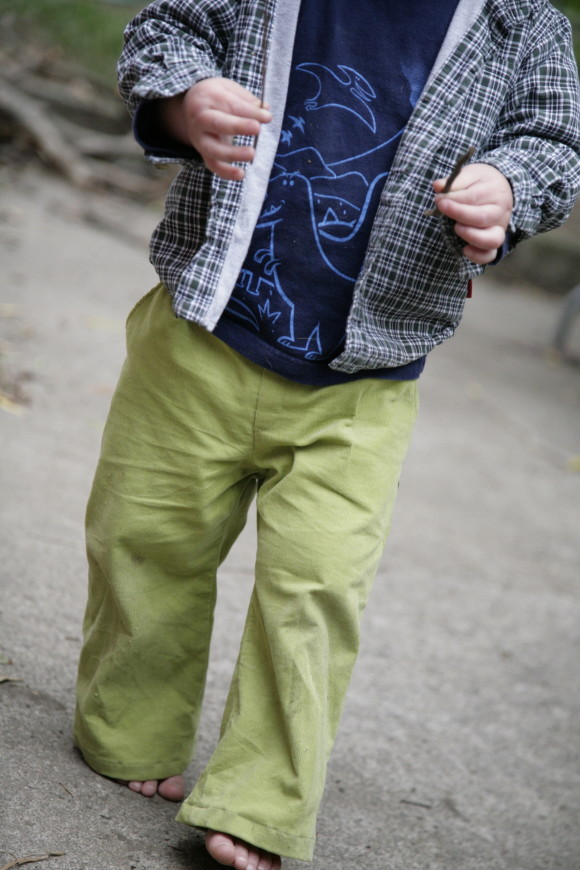 Later that winter, I made a pair of flannel lined denim Sketchbook Pants that we called "Old Man Jeans" for obvious reasons; the waist was high, the pants were pleated, and the denim was bright blue! They looked a little silly at first but once the denim softened, they became a regular favorite of Joe's and he blew out the knees, which I patched with train fabric for my then train-obsessed boy. Those pants were worn to shreds!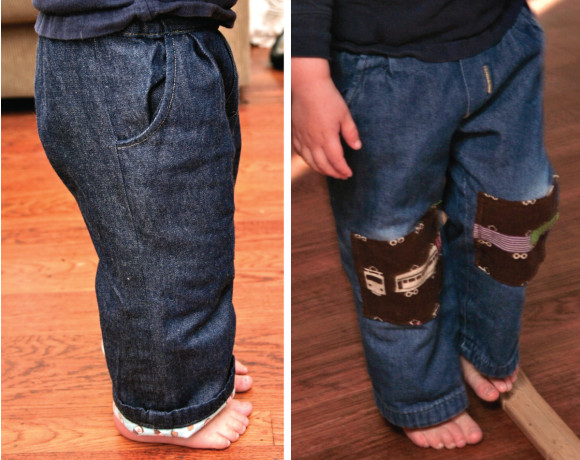 I've tried many other shorts and pants patterns over the years, but I keep coming back to the Sketchbook Shorts because they are so simple to sew and the fit is so perfect, especially around the waist and tush. Hey, when you're sewing for kids, you want bottoms that stay on, don't ride up (or down), have plenty of room to move, and don't show plumber's crack! Whatever complex calculus goes into drafting a crotch seam (and sometimes it seems like black magic!), these pants (with a flat front and no pleats and in corduroy) have exactly the right rise for my kids and plenty of room in the trunk.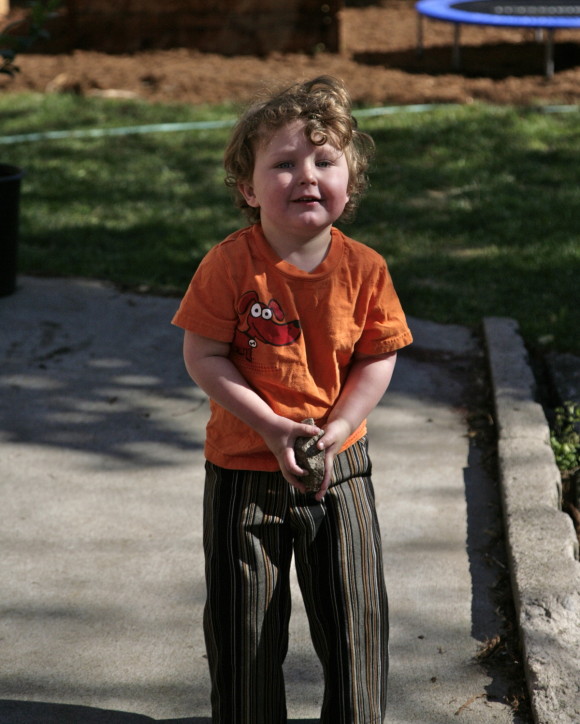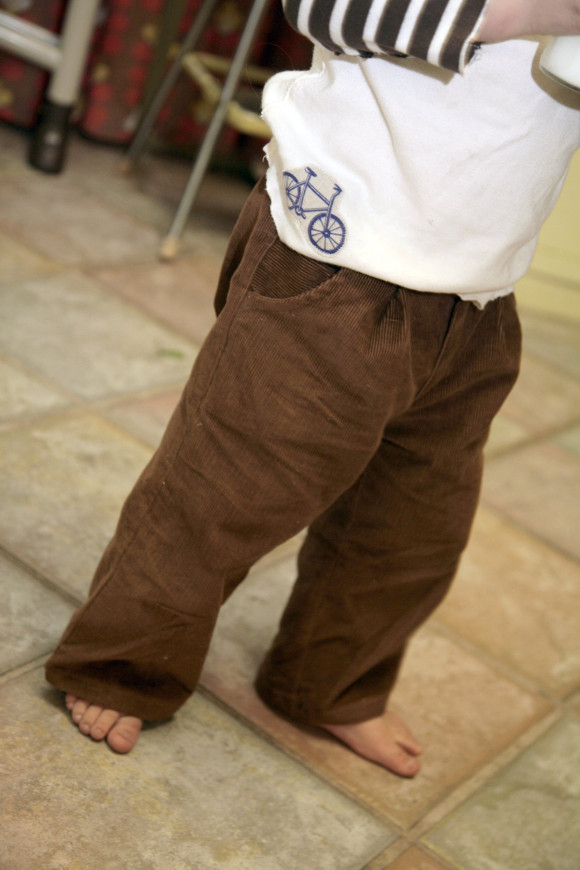 As I became more comfortable and knowledgeable with sewing, I became more adventurous and began to experiment more. Once I tried binding the pockets and bottom hem of the shorts for a retro adorable look that is still one of my favorite versions.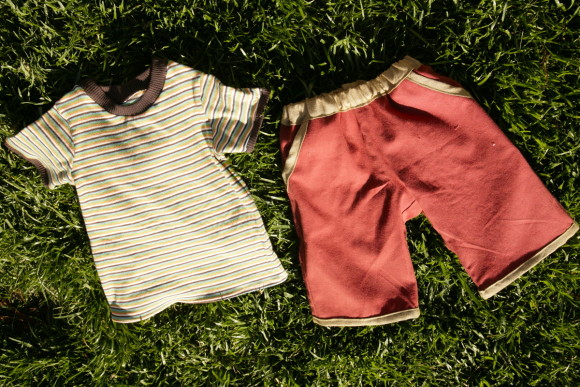 I did not make any Sketchbook Shorts during 2013 – Joe had graduated to the larger size range at that point, and I made Art Museum Trousers and Field Trip Cargos instead! But in 2014, I finally purchased the larger size range Sketchbook Pattern and made knit ponte shorts for Joe to wear with the Sketchbook Shirt to a wedding, which are still in regular rotation for nicer occasions even now (the great thing about shorts is that they may get shorter but they still fit years later).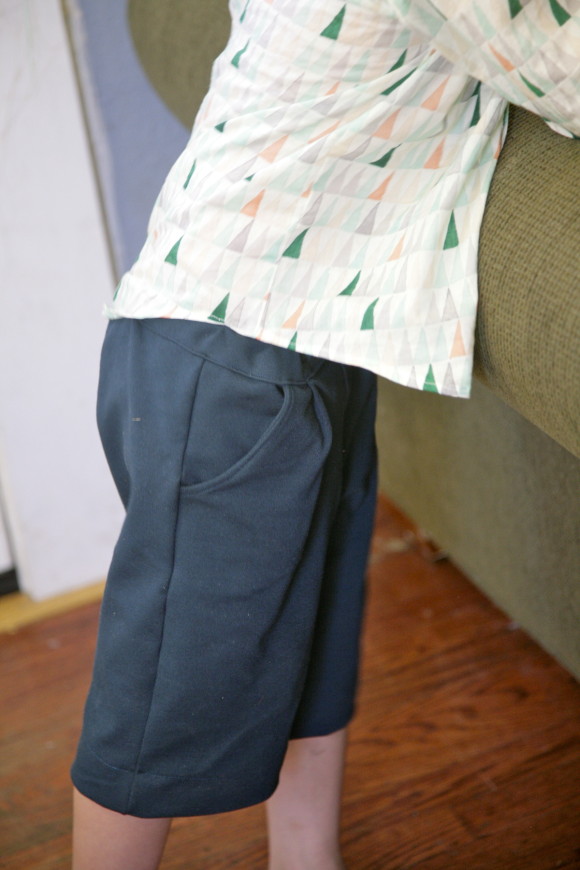 The Sketchbook Shorts work great in knit fabrics! The ponte shorts are quite fancy and dressy, but a more casual sweatshirt fleece would be great too. Another option I've now made many times for my very picky and comfort-obsessed Joe is a knit waistband. I made a black pair with a red stripe and knit waistband for my "Belgian Knockoff" post last year, which was the year of the shorts for Joe – he didn't wear long trousers once for well over a year!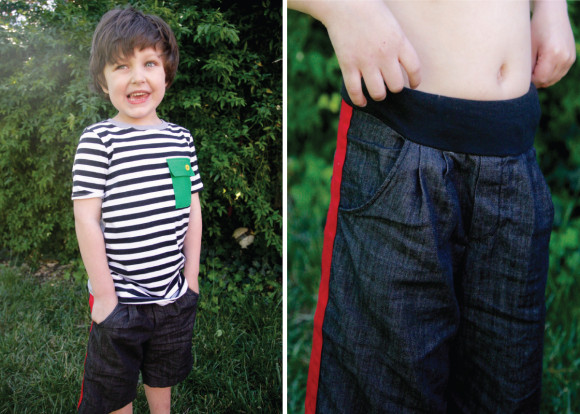 These shorts were so popular that I made Joe two more pairs (never blogged)! Such an easy modification if you've got a sensory kiddo like mine, and these show off some other possibilities for this pattern: The striped pair were made with a thrifted pair of women's pants, and the colorblocking on the blue pair allowed me to use up some tiny pieces of linen!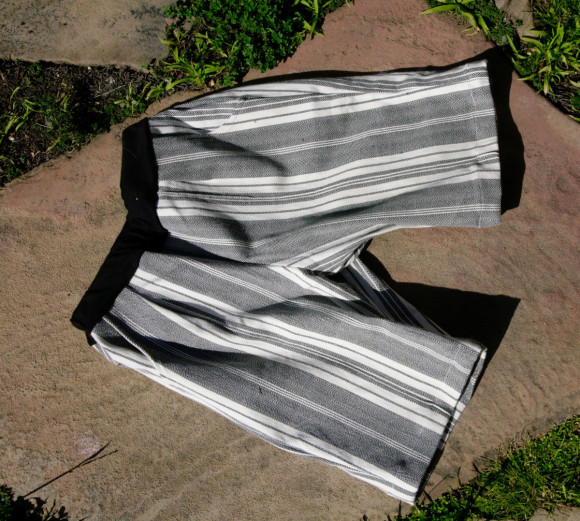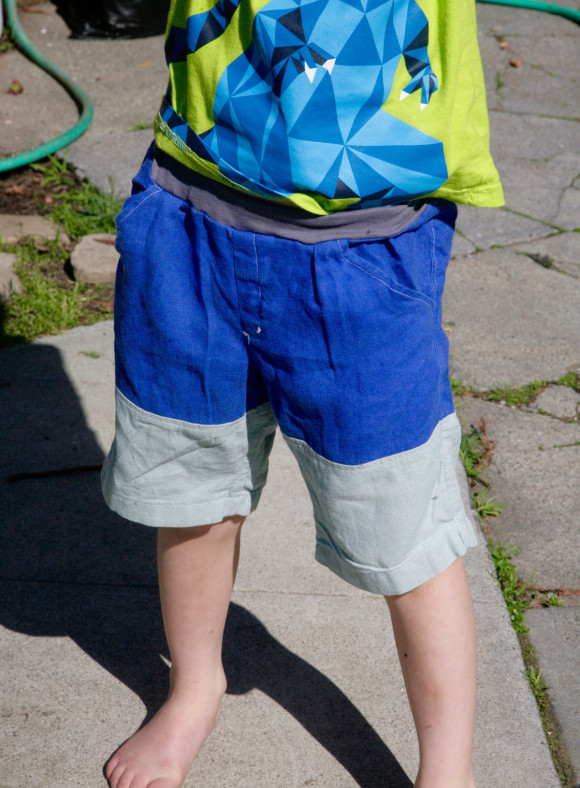 The possibilities with this pattern are really endless, and I have by no means exhausted all of them! Nicole of Five and Counting practically puts me to shame with all of her inspiring variations on this pattern! It's really such a fantastic starting point.
In thinking about this blog post, I realized that there was a glaring hole in my collection of Sketchbook Shorts and Pants; I had never made a pair for Maggie! This is a perfectly gender neutral pattern and great for boys and girls. I first bought it because it was one of the few and best boy's patterns on the market at the time, but I think the dozens that I've made speak for the versatility of this pattern!
Presenting: Maggie's first pair of Sketchbook Pants! Like the very first pair of shorts I ever made for Joe, these are size 2T. Unlike Joe, who was a giant diaper-wearing 18 month old, Maggie is a tiny, potty-trained 3 and a half year old. And unlike the Leprechaun Shorts, these are bright pink and lengthened into pants, with pegged legs and cuffs. Pretty hip, right? Maggie is totally pink-obsessed (these children! le sigh), so I used a soft fine-wale corduroy in "Flamingo" for these, tapering the legs of the pants from the hips down to the ankles and tacking up a little cuff.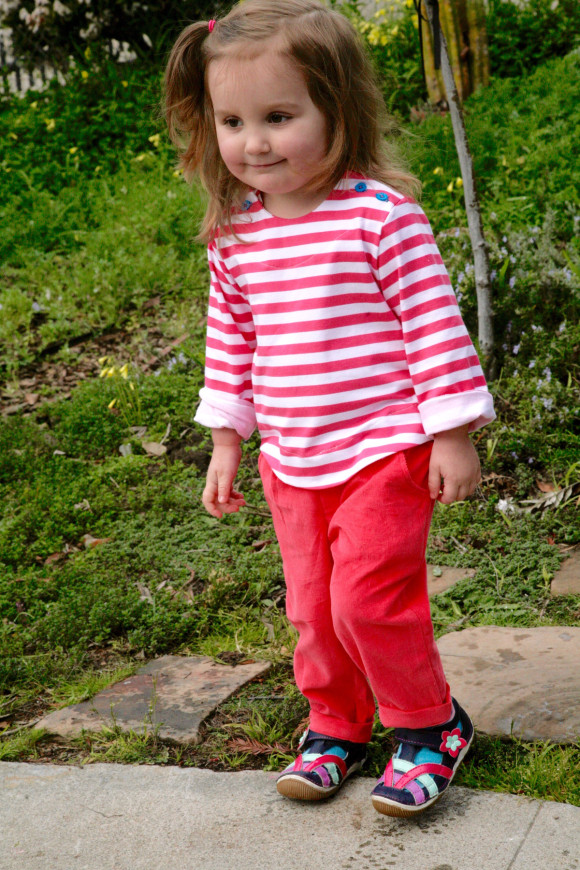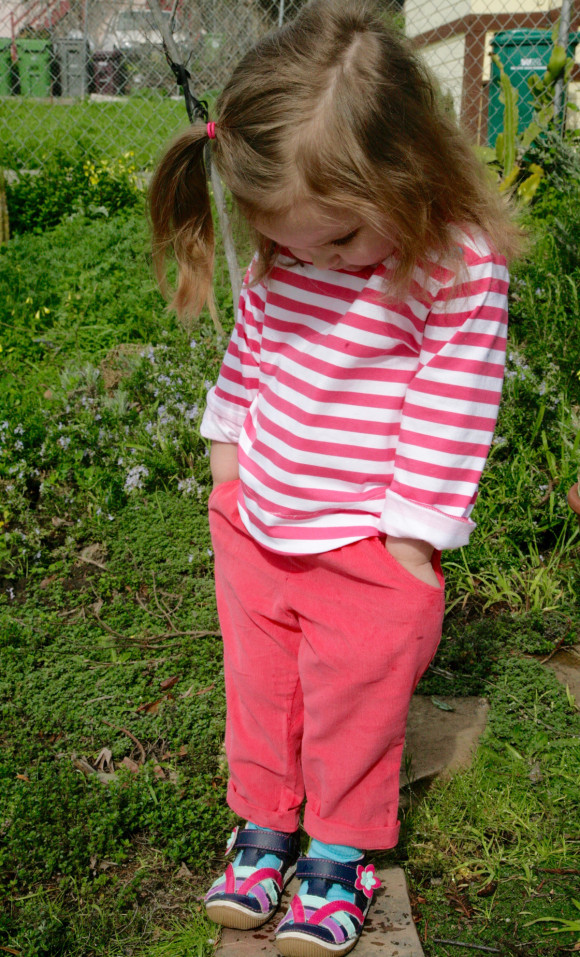 Sewing this pattern again, I was reminded of how easy and fast it is to make up and how fun it is to dream up modifications. Putting the finished product on Maggie, I was reminded of how well they fit!
Pleated pants are totally back in style these days, making this oldie-but-goodie style super hot for right now! I have a feeling this will continue to be one of my most-used patterns in the years to come.
Whew! That was a lot of shorts/pants! I count fourteen pairs just in this post, which is a LOT for me. I'm the type who tends to use a pattern maybe once or twice or if I really love it, three times. But that's why it's my favorite, right? It always works!