Don't forget our Gallery Tunic + Dress sew-along takes place February 15th-19th! Haven't gotten your Gallery Tunic + Dress pattern yet? No worries, it's just a click away in paper or in digital format.
Kristi is joining our talented panel. In the past, she stopped by with her tutorials on lengthening the Sunny Day Shorts pattern and adding a thumbhole sleeve, and now she is sharing her plans for the Gallery sew-along. Take it away Kristi!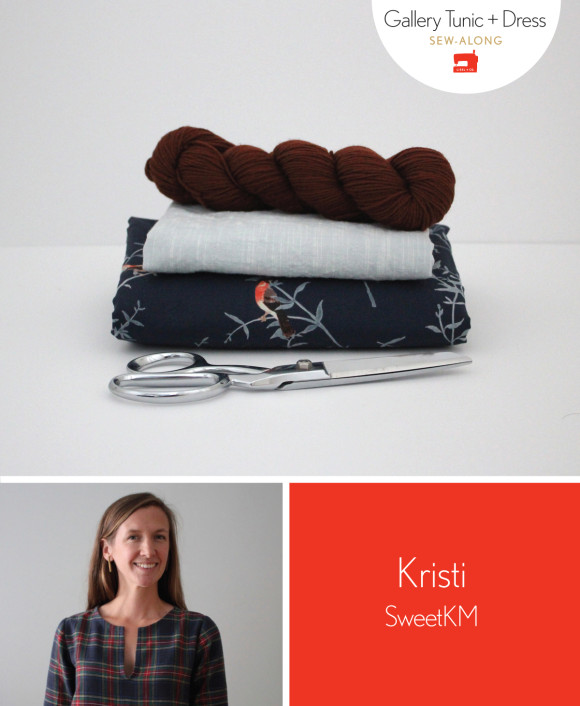 Kristi: Blog, Instagram, Pinterest
Hi, I'm Kristi. I knit and sew for my family, and am building my own handmade wardrobe one garment at a time. You can find my finished work, and a link to my knitting patterns at SweetKM. If you'd rather see work in progress, and boneheaded mistakes check out my Instagram or Facebook.
I'm excited to sew the Gallery Tunic along with the Liesl + Co. community. I gave the Gallery Tunic pattern as a gift last Christmas, and have been meaning to make one for myself ever since. I'm happy to have a reason to bump it to the top of my sewing queue.
My fabric selection for this project is based on colors I wear a lot: blue and gray. I'm using cotton lawn from Liesl's Woodland Clearing Collection for my Gallery Tunic. I think the wispy brush strokes of the print, and the lightness of the fabric are perfect for the relaxed fit of the tunic. The pale blue, subtly textured cotton on top will add a little interest to the placket on the inside. I'm planning to make the tunic version of the pattern with long sleeves and a collar. I might shorten the front length by a couple of inches, and lower the front opening a bit. Otherwise, I'll make the pattern as specified.
This top will work perfectly with my daily uniform of jeans and cardigan. As you can see from the conspicuously placed hank of yarn, I have a cardigan on the needles that just so happens to work with this color scheme.
Well, those are some big plans! Time to get sewing.