If you haven't had a chance yet to sew that Gallery Tunic or Dress that you've wanted to, here is your motivation to get one done! We are happy to announce that we will be hosting a Gallery Tunic + Dress sew-along next month from February 15 to February 19. And we hope you will join us!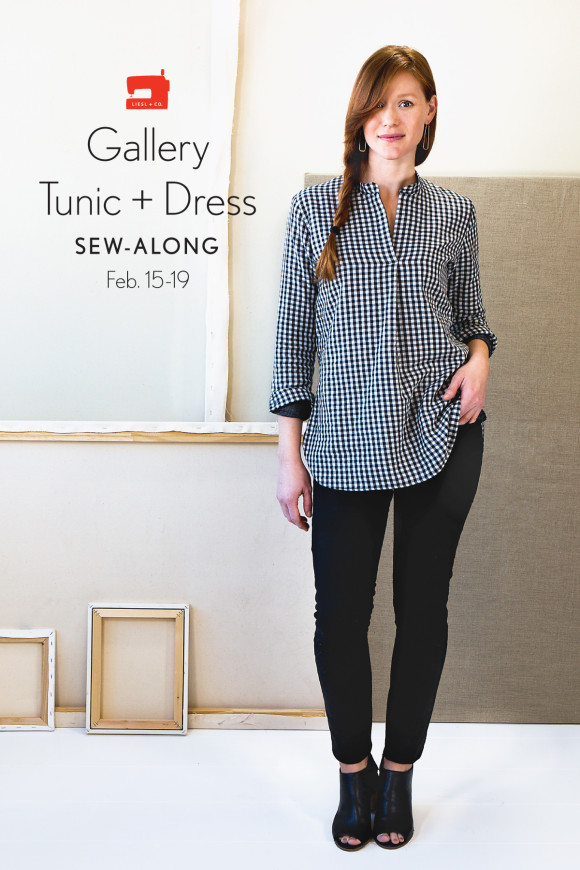 This pattern was very well received when it was released last May. At that time Liesl also offered some great styling inspiration so be sure to check that out. Liesl will be back here next week with some fabric suggestions.
Pattern description
Relaxed-fit pull-on tunic or dress. The tunic features cuffed three-quarter-length sleeves and a one-piece collar. The dress includes in-seam pockets, button-cuff, full-length sleeves, and a band collar. Both versions include an inset front placket with a fun pleated detail, an inverted box pleat at back, and a curved shirttail hem that's slightly longer in back. Effortless and feminine, this flattering classic-but-contemporary piece can take on many different looks depending on how you style it.
Meet the panel
Five talented ladies have been gathered to form a panel. Are you ready to be amazed? Here they are!
To kick off the sew-along, the second week of February we'll feature each panelist on the blog. Each panelist will talk about their design decisions and fabric choices.
Gallery Tunic + Dress sew-along schedule
Day 1 Prepare the tunic/dress back
Day 2 Assemble the placket
Day 3 Prepare and attach the collar
Day 4 Attach the sleeves and pockets and sew the side seams
Day 5 Sew the sleeve cuffs, hem the tunic/dress, and finish the sleeves cuffs
How to participate
Be sure to get your pattern if you haven't already. It is available in both paper and digital format. Also gather your fabric and supplies, and we will see you in the Discussion Forums Sew Alongs group on Monday February 15th! The sew-along will be hosted by our good friend Brittney from Sewing for Four (Plus One!). Tag your in process photos of your Gallery garments with #lieslandco on Instagram so we can all see.
If you have a blog, please feel free to grab the sew-along badge you can add to your posts or to your sidebar, to let people know you're participating.
Enter for your chance to win a great prize
Enter to win a $50 gift certificate to the Oliver + S website! When you have completed your Gallery Tunic or Dress, post it somewhere and then add a link to it using the button below. Any Gallery Tunics or Dresses made since January 1st, 2016 can be entered. If you sew more than one, enter each one separately. All entries must be submitted by Friday February 26th 11:59 PM ET. The five panelists will vote for their favorite, and the winner will be announced on Monday February 29th.