The last of our new Liesl + Co. patterns is the Gallery Tunic + Dress. Actually, it's not quite the last, but it's the last of the new patterns. We're also releasing the extremely popular Everyday Skirt in paper format, and I know a lot of you will be very happy about that!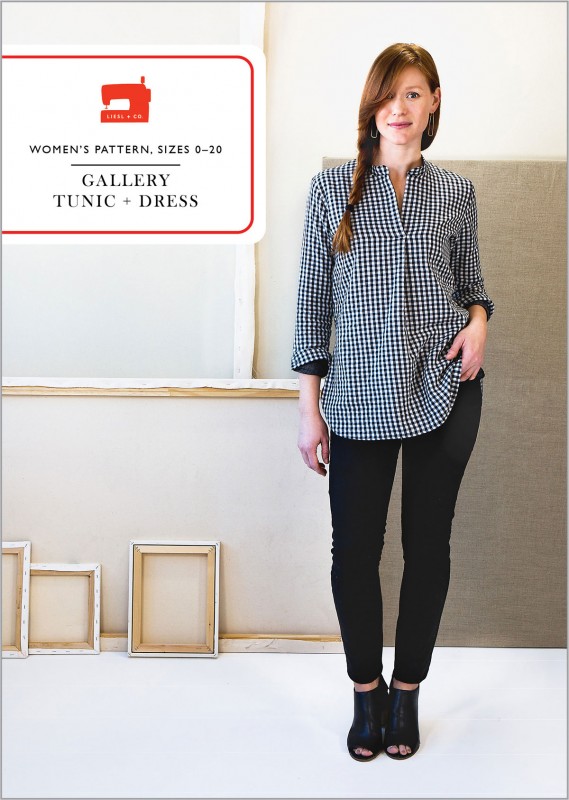 The Gallery Tunic + Dress pattern is an updated version of a classic tailored shirt with contemporary styling and relaxed, classic details. I think of this as a contemporary take on the classic men's shirt. It's a silhouette that's showing up in fashion a lot lately in a variety of ways. It's tailored looking and classic, but it's also a bit more relaxed and casual in feel. It's also easier to sew than a full-on classic shirt.
This is a pop-over/pull-on style that's fitted through the shoulders and relaxed through the body, which makes it flattering and easy to wear without looking oversized. The details include a partial placket with a little pleat, which is a really easy placket to sew and also looks interesting (i.e., not boring). Choose from a mandarin collar or a one-piece collar that looks like a classic shirt collar but is much easier to sew. If you're familiar with our Oliver + S Sketchbook Shirt you know this collar. It's my favorite quick collar that gives professional-looking results.
And of course you can sew it as a tunic or shirt that is long enough to be tucked in securely, or you might also like to make the dress version, which includes in-seam pockets. Both versions have a shirt-tail hem. And you can also choose from a 3/4-length sleeve with a rolled cuff or a long sleeve with an easy button cuff. Lots of options: collar, sleeve and cuff style, and length, plus optional pockets for the dress.
I sewed the version on the envelope cover using a double-faced woven fabric that's very similar to double gauze. I used the reverse side of the same fabric to sew the dress version of the same pattern. Fun, yes?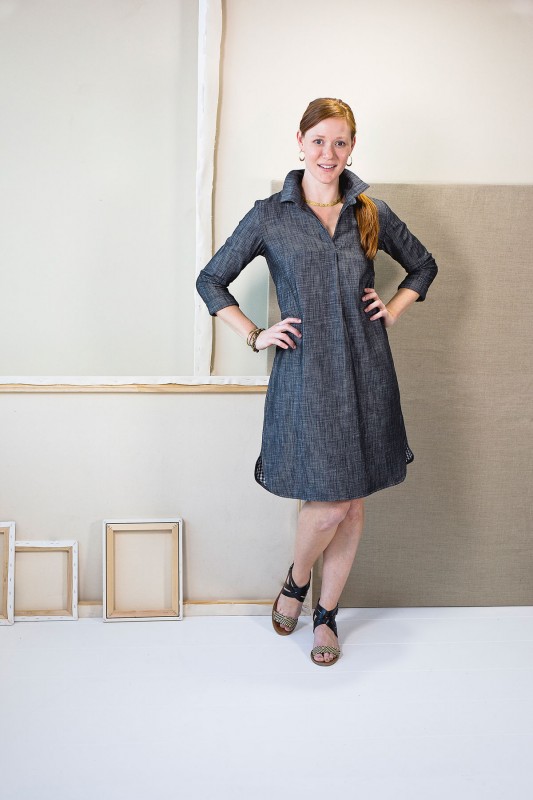 The dress also looks great in really drapey fabrics like rayon or silk. This navy silk version of the dress length is one of my favorites. I met a very chic museum curator the other day, and she was wearing a dress very similar to this. Which made me so happy! I like knowing that these patterns are classic and stylish at the same time.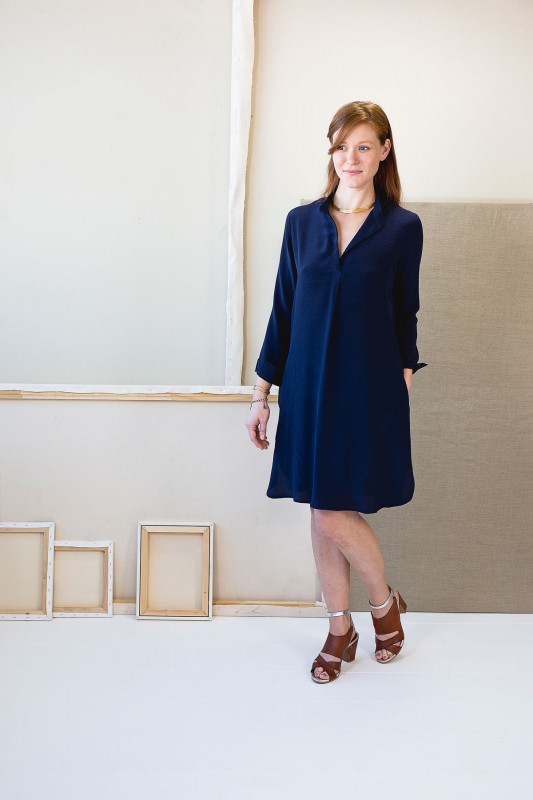 Our testers absolutely raved about this pattern. I don't usually include testers' photos when we introduce a new pattern, but Melanie gave me permission to share these. She looks great, doesn't she?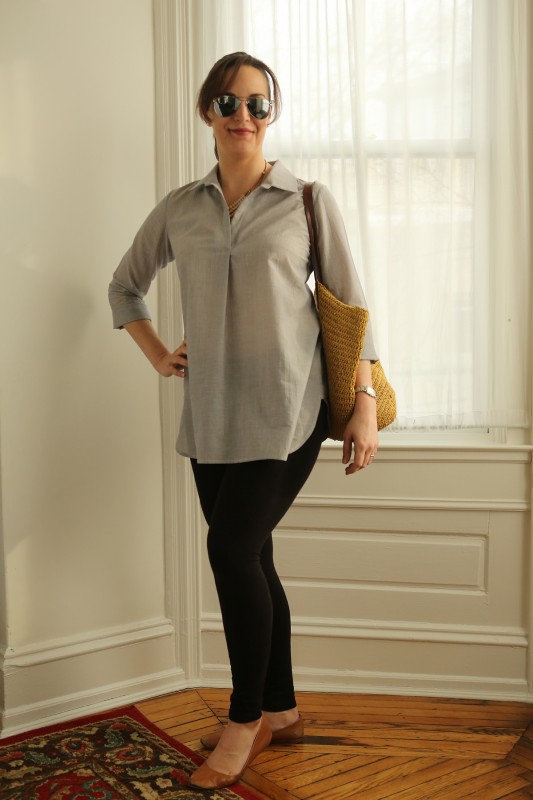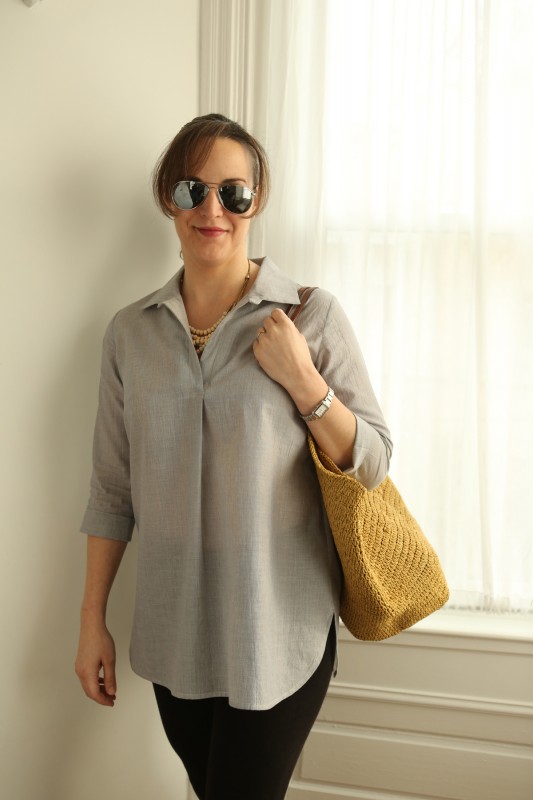 Yesterday I wore this shirt tucked into the City Stroll Wrap Skirt I showed yesterday (see where I'm going with this core wardrobe concept?), and it worked really well. Don't be afraid to try wearing this style in different ways. I'll talk a lot more about that next week when I show you fabric and styling ideas for each of the patterns. I love the versatility of a style like this. S has been teasing me a lot about only tucking in my shirts part way, but with a pattern like this it really works!
Here is how I've worn the Gallery Tunic for the past two days: tucked in and loose. It works both ways!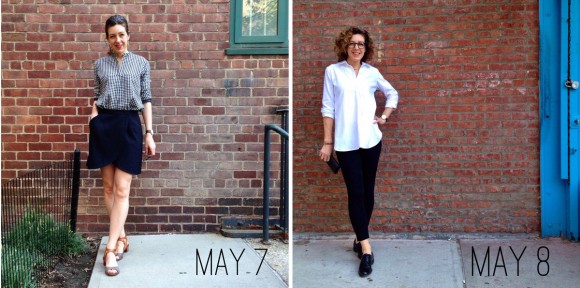 This pattern and our other new Liesl + Co. styles are scheduled to be released on Monday. But I just had a little bird whisper in my ear that if you keep your eye on the website later today you might be able to pick up your copy before the weekend.