We have a fun "meet the panel" week planned for you here on the blog. All week long we will be featuring our five Gallery Tunic + Dress sew-along panelists. They're going to be sharing the materials they've selected and talking about their plans for their garments. I think you're going to like seeing the fabrics these sewing gal-pals have selected for their Gallery Tunics or Dresses. We're kicking it off today with Carmen who was the winner of the first season of Cousu Main. What has she been plotting for the sew along? Have a look and see.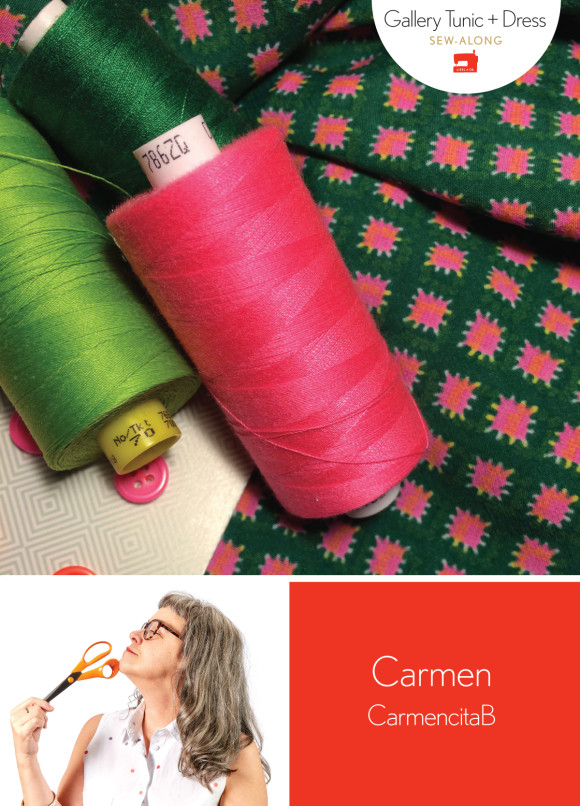 Carmen: Blog, Instagram, Pinterest
Hello! Such good company and talented seamstresses!
I'm Carmen Bouchard, I'm 53. I'm a Canadian expat living in Brittany, France. I've been sewing for as long as I can remember. In 2014, I won the Great French Sewing Bee Season 1. I have been sewing more since. I have also been teaching more and I am a spokesperson for Fiskars and Janome here in France.
My little dream project to promote is Les Petites Mains Nomades which is a 3 day sewing retreat at La Manufacture Bohin. It'll be a first in France and I hope there will be many more.
I still have no idea what I'm going to make with my Gallery pattern, but I am veering towards the tunic with a 3 quarter sleeve and a collar but then I look at the matching buttons and will have to find a way to use them too… The fabric is a really nice drapey polyester I got at Anna K Bazar and it's going to be the perfect Spring project.