Are you getting excited about the Gallery Tunic + Dress sew-along? We certainly are! It starts two weeks from today, and Rachel will be introducing you to our panelists next week so you can learn what they're planning to do with the pattern. I have a feeling we're going to see some interesting fabric selections and interesting ideas!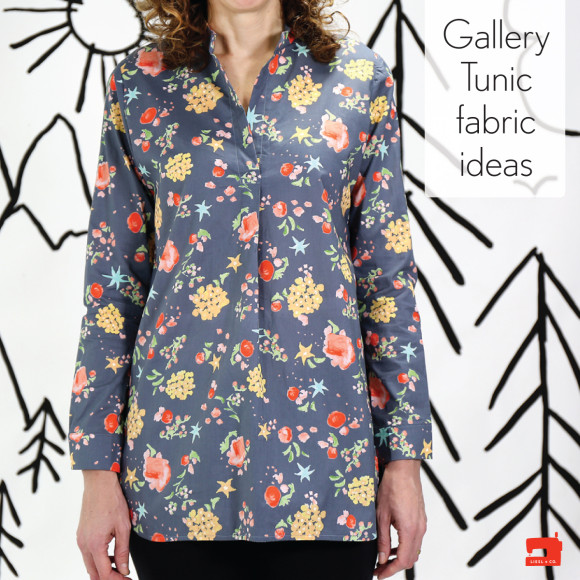 fabric details: Woodland Clearing by Liesl Gibson for Robert Kaufman
In the meantime, I thought it would be a helpful to give you some fabric ideas for your planning. One of the great things about this pattern is that it's quite versatile and you can choose from a lot of different fabrics options. So here are a handful of ideas to get you started.
Shirtings
One obvious choice for this pattern is cotton shirtings, and if you have a shirting section in your local fabric store you're in luck. If not, look for these fabrics on-line.

Flannel
Plaid flannel is really popular right now, especially Buffalo plaids. Here's a great article from the New York Times if you're interested in the history of this pattern.

Double Gauze
If you've never sewn with double gauze, you're missing out! It's a lightweight, drapey cotton that breathes beautifully and is wonderful especially in warm weather. It also comes in a wide variety of colors and prints.

More Double Gauze
The double gauze category is just so good, I had to include more options for you.

Cotton Lawn
Cotton lawn is another one of those fabric that is ideal for shirts and tunics. It stays crisp even on hot days, and it's lightweight enough to be comfortable no matter what.

Chambray and Linen
Chambray is always a favorite, isn't it? And with good reason! Both chambray and linen are easy to wear and extremely versatile. We've seen quite a few terrific versions of the Gallery pattern sewn up in both fabrics.

Quilting Cottons
I'm particularly in love with Carolyn Friedman's architecturally-inspired quilting cottons right now. The patterns are subtle, the colors are beautiful, and the hand is great for the Gallery pattern.

I hope that helps with your fabric inspiration and choices!