Liesl kicked off our new How I Wear It series with her Girl Friday Culottes and Bento Tee, and now it's my turn to show you how I wear the Lisette B6169 Moto Jacket!  This jacket may seem a little intimidating, but it's not too scary, really!  Just take your time and consult Liesl's sewalong if you need help, and you'll have a pretty awesome jacket at the end.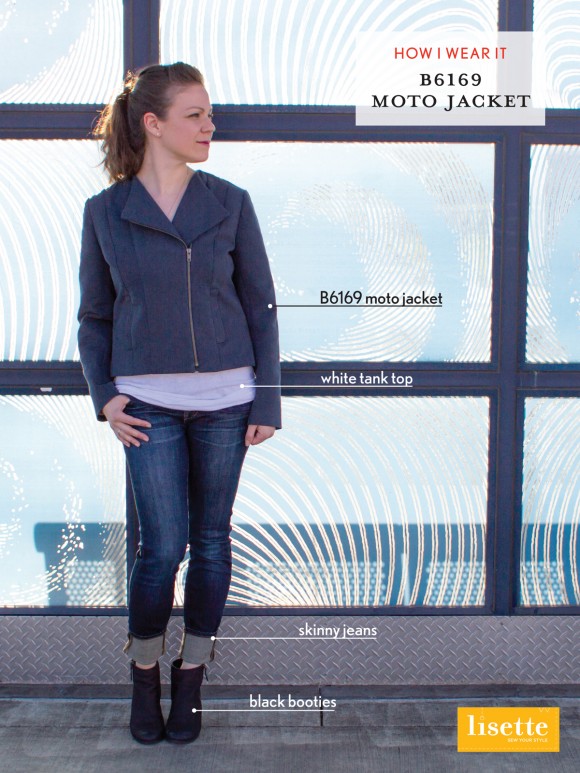 The moto jacket immediately stood out to me when I saw Liesl's new line of Lisette patterns.  I wanted one.  On the cover, the model is wearing the jacket with a loose fitting dress that's included in the pattern for a nice soft/hard contrast.  However, as I was sewing my moto jacket and trying it on along the way, I loved that it immediately transformed me into a "cool chick" (even when I was sewing in pajamas)!  I decided my favorite way to wear my moto jacket is to play up that cool vibe.  I'm usually a more laid back, casual dresser, but experimenting with style is part of what makes sewing for myself so fun!
Tell us about your outfit.  I'm wearing my moto jacket (blogged here), which is a navy blue and gray striped brushed cotton from Britex with a metal zipper, over a long basic white tank top.  I paired it with my favorite dark denim skinny jeans, which I like to wear cuffed with black ankle booties.  I kept my jewelry pretty minimal here so it didn't distract the eye.  I love that the jacket has princess seams for a really flattering fit – this outfit makes me feel put together and super confident.  I've told sewing buddies that in this jacket, I feel cooler than I actually am.
How else might you wear it?  I haven't gotten around to making one yet, but I'd love to pair my moto jacket with a full plaid skirt and leather sandals for summer evening dates.  I have the perfect Pendleton buffalo plaid in my stash that is earmarked for an Everyday Skirt, as soon as I carve out the time to sew it up!  The jacket would also work nicely with a knit pencil skirt or worn open over a pretty printed flowy summer dress like the one included in the pattern.  It'll be fun to experiment with different looks and see what makes me feel good!
I'm excited to see more moto jackets popping into the Lisette flickr pool!  It's really fun and inspiring to see the different fabrics people choose for it, and how others style it too.