Happy Monday, and I hope you had a great weekend! We're looking forward to an exciting week over here. Wednesday is my birthday, Saturday is Valentine's Day, and since next week is mid-winter break for the public schools in New York we'll be celebrating S's birthday with cupcakes in her classroom on Friday. Her birthday always falls during mid-winter break, lucky girl. At the studio we're planning a few photo shoots and finally sending off all the spring patterns to the printer, so I'm busy proofreading and making final adjustments here and there.
Here is the second post in our new series, "How I Wear It." It's been too cold and snowy to shoot outdoors, so we shot this in the stairwell of the studio. I hope this series will inspire you to think of different ways to style your own wardrobe and sewing!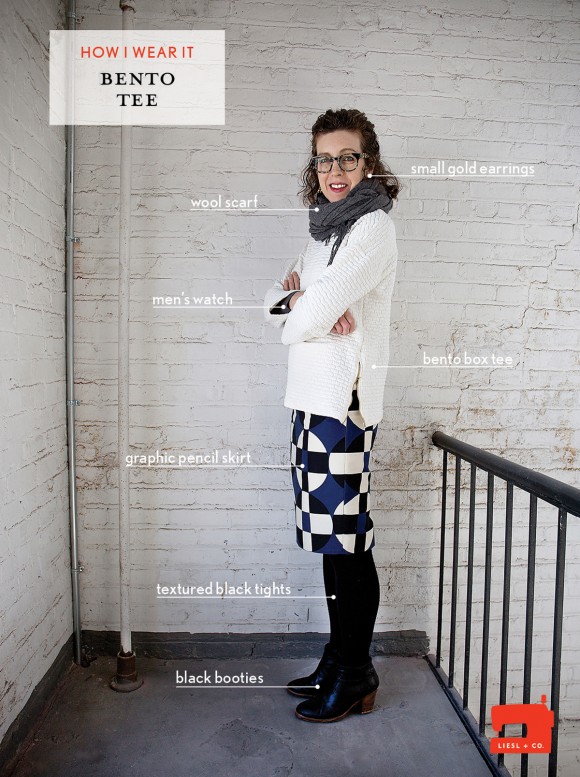 Tell us about your outfit. When we first introduced the Bento Tee, I sewed up a few samples to check the fit in a variety of fabrics. The quilted jersey from B&J Fabrics was one of my favorites, and I've been wearing it in black and cream ever since. A few weeks ago I decided the cream version needed zippers in the side seams, so out came the seam ripper. It was an easy add: just open the side seam to the length of the zipper and hand baste the zipper before machine stitching to finish it. As always, I added a strip of interfacing to the edge before basting to prevent the fabric from stretching too much.
The rest of the outfit is pretty straightforward: my trusty cashmere scarf, two pairs of black tights (one pair is wool for a little texture and the other pair adds extra warmth), my ubiquitous black booties, and a pencil skirt in a bold geometric print. It's a cozy outfit and perfectly suited to running around the city, which is what I was doing the day I wore it.
Do you have a favorite accessory? I think these glasses have sort of become "my look" now that I'm not wearing contact lenses very often. But I rely pretty heavily on several accessories: my booties, my big men's watch, and a necklace that I inherited from my Grandma that's very important to me. I'll talk more about that soon. But I've found that I prefer to dress quite simply and let the accessories do a lot of the work.