Hi everyone! I thought it would be fun to start a new series showing how we wear some of the items we've sewn, both for ourselves and for our kids. My hope is that this series will inspire you to look at your own wardrobe and sewing projects in a new light. It's always nice to get ideas for your own wardrobe or your children's wardrobe, right?
Since it's a new series, I thought I'd kick it off with a photo of myself.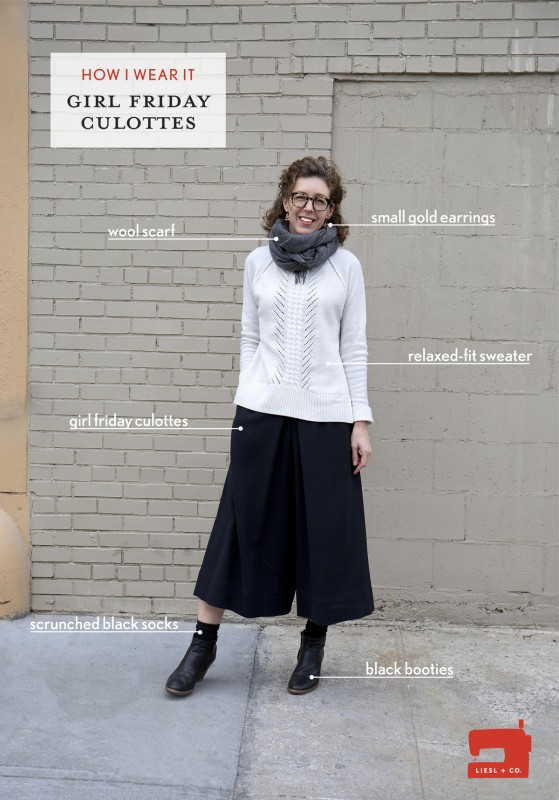 Tell us about your outfit. Earlier this fall I sewed the Girl Friday Culottes in black wool crepe, with Bemberg lining for the pockets. These have been a great staple for winter, and the crepe is really drapey and luxurious but also incredibly practical for everyday. I think I wear these culottes at least once a week. I can move easily around in the studio when I'm wearing them, and they're practical for running around the city while still looking stylish.
I treated myself to a new sweater last month, and it has a relaxed, oversized fit that keeps the culottes looking modern without being frumpy. Since it's winter, I wear leggings and socks or tights under the culottes for extra warmth, and my go-to shoe continues to be the trusty booties that have taken me everywhere for the past three years. I like booties because they look polished, but they're easy and comfortable to wear. You'll find me with a scarf around my neck for the better part of the year. They're a necessity during the winter, but they also pull a look together effortlessly.
Do you have a uniform or a "look"? I'd call my look "updated classics." I've been wearing many pieces in my wardrobe for more than ten years, and they continue to look current and stylish today. But not everything stays the same, and even classics need to be updated as our eye changes over time. So I look for changing silhouettes. That's one reason I like the culottes so much. I love wide-legged trousers and longer skirts because I think they really look elegant and lengthen your line. The culottes are an interesting blend of the trousers and skirt idea, and I think they'll be around for a while. Plus, when I wear them they make the rest of my wardrobe look more stylish and up-to-date.