Last week I did a short post to remind you about our free sewing patterns and how you can use them to start building a new spring and summer wardrobe for your girls. But there's only so much quick and simple sewing one person can do, right? Sometimes you want to take on a larger project that provides a higher satisfaction quotient upon completion. When you're ready for this, it's time to use one of our dress patterns to kick off your spring and summer sewing. Here are a few of our most versatile dress patterns.
I'm always partial to the last dress pattern I've designed, and in this case, that would be the Garden Party Dress.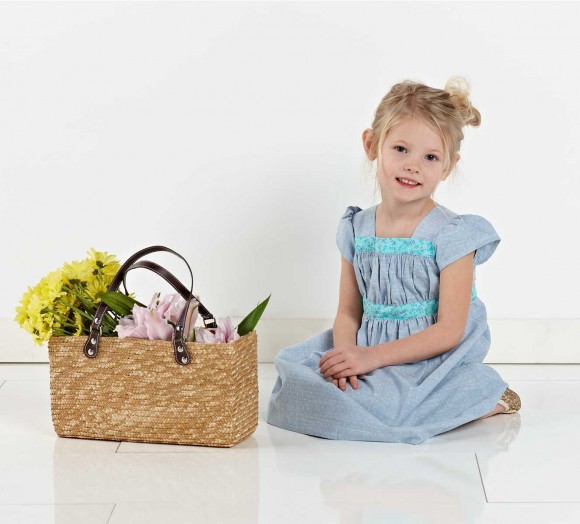 What I like about this dress pattern is that it can go either dressy or casual. The final look depends on the fabrics you select and the embellishments you decide to add.  (Remember Darcy's amazing smocked version of this dress?) This one dress pattern can serve many different functions–depending on how you want to use it.
I'm also a fan of easy, quick sewing projects that give you that great feeling of satisfaction. One of our first dress patterns that really hit this mark was the Ice Cream Dress. And that's a great summer dress pattern, but the one that I'm thinking of for this summer is the more recent Roller Skate Dress.
This pattern is really quick and easy to sew, and it makes a great everyday dress for the summer. And because of the style's relatively simple and clean lines, it works really well to highlight a special piece of fabric or an interesting or bold print. (Remember Celina's hand-screened printed linen version?)
One of our often overlooked spring and summer dress patterns is the Croquet Dress. This dress pattern never caught on to the same extent as some of the others, but it makes an adorable warm weather dress.
Like the newer Garden Party Dress pattern, the Croquet Dress pattern can be dressed up or down to create a fancy special occasion dress (like the orange silk shantung version that was featured in Sew Beautiful) or an everyday school or play dress (like the sailor-inspired version S has been wearing for a couple years now).
And last, but not least, every girl needs a sundress for summer, and that's where our Seashore Sundress pattern fits in.
Another quick and easy-to-sew project, this dress pattern is perfect for those hot July and August days. And, like the others, it can be dressed up or down depending on the fabrics you select.
So there we go. Four dress pattern suggestions to help you get your summer sewing started. Do you have any go-to favorites that I haven't mentioned?