Hello again, and here we are on day three of raglan week! Honestly, we could easily extend this theme to two weeks or more with all the different options for customization and different directions you could take this. Today I wanted to show you how to alter the raglan T-shirt pattern to make short sleeves.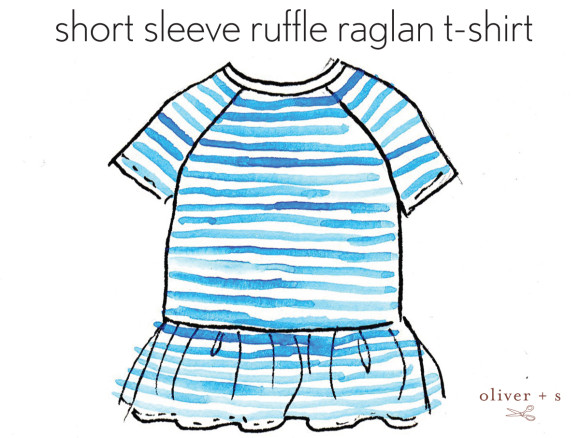 This is such an easy change to make, and you can use it to shorten sleeves to any length. Are you ready?
You'll simply decide how long the sleeve should be based on the underarm length of the desired sleeve, mark that length at the underarm edges of the sleeve pattern, and draw a line across the pattern piece to connect the marks. Add a hem, and you're all set.
Cut off the excess sleeve from your pattern piece and you're ready to go!
And that's really all there is to it! Shortening the sleeve is easy and can be useful for making sleeves of all lengths.
As a little inspiration (because a little of that never hurts, right?), here's a really short raglan sleeve in sorbet colors for spring:
And here's a 3/4-length classic baseball sleeve.
See? You really can make many, many different styles based on one simple pattern. Tomorrow I'll show you a really easy pattern alteration that a lot of people do incorrectly.