Happy Monday! And happy raglan inspiration week! I'm in the middle of designing a fabric collection, so there hasn't been much time for sewing. But how about a painting instead? I thought we'd start off with a color-blocked striped raglan shirt.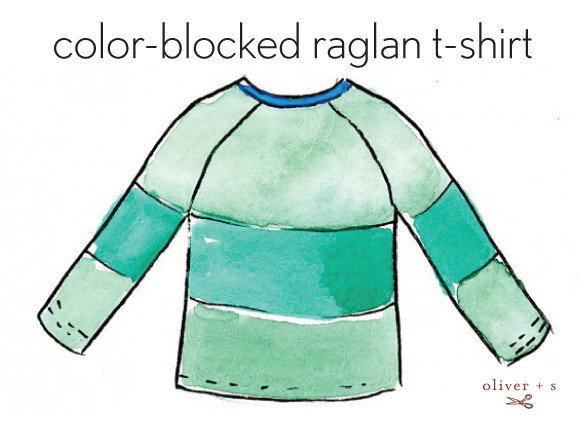 We talked about color blocking a while ago, and this idea is a great example and an easy way to start customizing a pattern like the raglan T-shirt pattern. And it's so easy to do! For this style, you'll start by deciding where you want the stripe to be located on the body of the shirt. If you line up the front and back pattern pieces at the side seams, it will help you to make sure the stripes match all the way around the T-shirt. Here's how you do it.
I'm using my mini-patterns again to demonstrate. Like this:
To color block the sleeve so it matches, you'll just line up the front sleeve to the front T-shirt at the underarm to mark the position of the stripe. Repeat with the back of the sleeve and the back pattern piece, then draw a line connecting the two marks to create a continuous stripe around the T-shirt. (If you want to match stripes above the underarm at the chest and neck, line up the sleeve pattern piece and the front/back pattern pieces along the raglan seam to mark the stripe placement.)
That's not so difficult, right? To make the actual pattern pieces you'll cut along the lines and add seam allowances to each cut edge, as I explained in the full post on color blocking. Then, as also detailed in the post, you'll stitch the pieces along the cut edges to re-assemble the front, back, and sleeve before assembling the T-shirt in the normal fashion.
And how about some styling ideas for striped raglans? Not all of these examples are actual color-blocked raglans, so you'll have to use your imagination a bit. But you get the idea, right?
And here's one more idea for a striped raglan. What about stitching ribbons onto the fabric before assembling the T-shirt instead of color blocking with seams? I think this would be really cute! (The shirt below is embroidered, which would also be cute, but I kind of love the idea of stitching ribbons down instead.)
I hope you'll try one of these ideas and post it to the Flickr group! I'll do a raglan round-up later this month, and I'll try to feature as many of your photos as I can.