Today we have a guest post by Alissa, who is sharing two beautiful versions of The Classic Shirt. We love seeing our patterns in different fabrics! Here's Alissa.
I have been on the hunt for the perfect button-down shirt pattern. I was looking for something that is both feminine and traditional with various options and can be made in a variety of fabrics. After much research and sewing, I think I have found my perfect button-down shirt, The Classic Shirt.
My name is Alissa, and I learned to sew in Junior High. I picked up sewing again in college when I had knee surgery and needed something to stay busy. Since then, I started a small business making small bags and accessories, which then moved into knit clothing. In addition to sewing for customers, I spend my time making myself a 98% handmade wardrobe with all of the things.
I spent many years making clothing in knit fabrics for myself and my customers. I avoided zippers, buttons, woven fabrics, and anything that required fitting. During lockdown, I began to challenge myself, build skills, and try all the things I had been avoiding for years. Now I love learning new skills and am up for almost all challenges, including zippers, buttons, jeans, and more. I approach my sewing with no fear of trying the "hard" things.
I have found that I love to make and wear a shirt dress. I am on a constant search for the best pattern out there. As someone who works from home but still likes to be dressed every day, a shirt dress looks professional on a Zoom call but is also comfortable. Working my way through various pattern companies and patterns, I have found a few that I truly love.
A shirt dress takes a lot of fabric, but a shirt takes less, so my exploration moved me to shirts. Who doesn't love & need a shirt? I truly enjoy the process of putting in a collar and collar stand, creating a cuff, and selecting the perfect buttons to finish the garment.
After making about five to ten other shirt patterns, I was still on the hunt for the "perfect" shirt pattern. I searched on The Foldline & the Foldline Facebook group, Instagram & Youtube, seeing a lot of great reviews for the Classic Shirt pattern. Based on the comments, I decided to give it a go.
For the first Classic Shirt I made, I used a Kate Spade twin sheet set that I purchased on sale to use as fabric. I made view B with the pleated pockets. As someone who often goes on autopilot when sewing, I find myself skipping over the directions, but these directions kept me engaged. I found the Liesl + Co directions clear and easy to follow, with newer techniques I hadn't done before. I enjoyed learning a new way to attach the collar & cuffs that created a beautiful finish. The sleeve packets, which can seem daunting, were so enjoyable to make; with just a few cuts and folds, everything was neatly enclosed.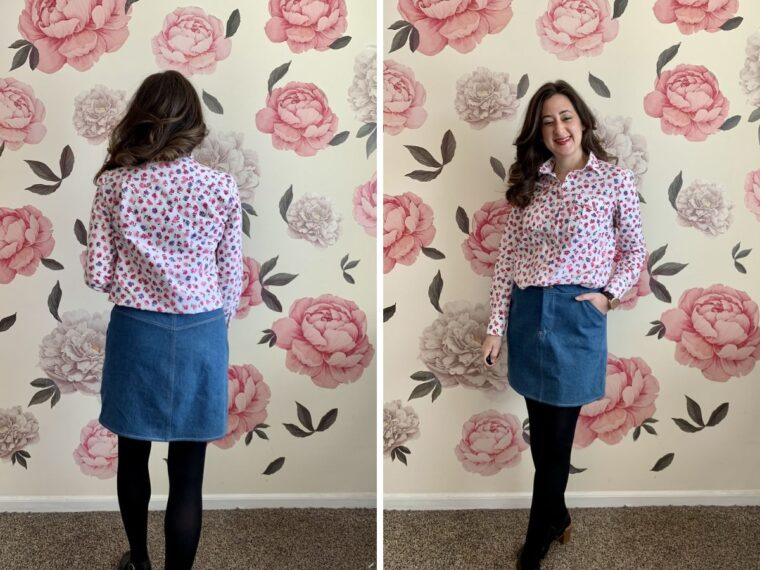 Part of my search for the perfect shirt pattern was finding one that worked for both crisp cotton and a drapey viscose or even something fancier. So my next Classic Shirt, I used a striped rayon Dashwood Studios fabric from Stylemaker Fabrics. While this fabric pressed beautifully, the fabric shifted so easily and required a lot of patience when cutting and sewing. I sewed view A, this time with French seams & maybe some unpicking.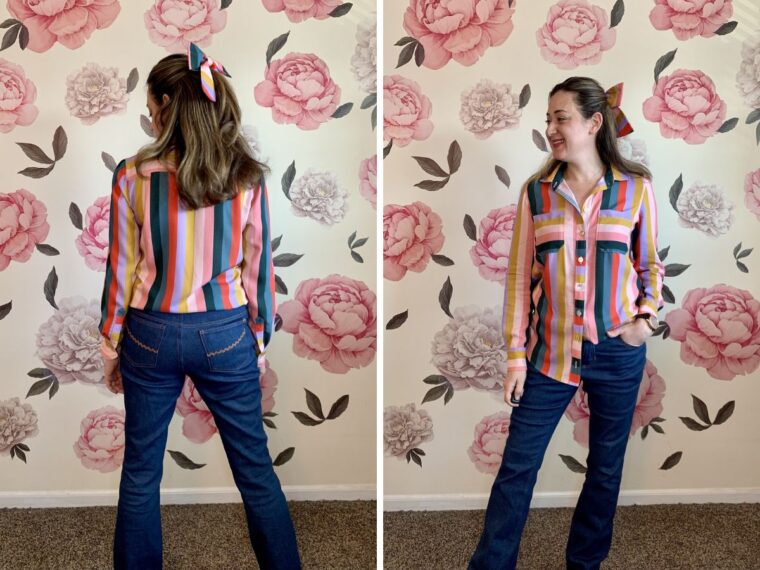 I have worn both of my new Classic Shirts, and I think that I may have found my new go-to shirt pattern. The finishes are almost perfect; the only thing I need to improve is the bottom of the side seam, I have just a few raw edges showing at the join. The fit is spot on, the length is perfect to be tucked in or worn out, and there are plenty of options to create a variety of shirts.
My next classic shirt will be in a chambray fabric with embroidered dots. I am also excited to make more patterns by Liesl & Co.